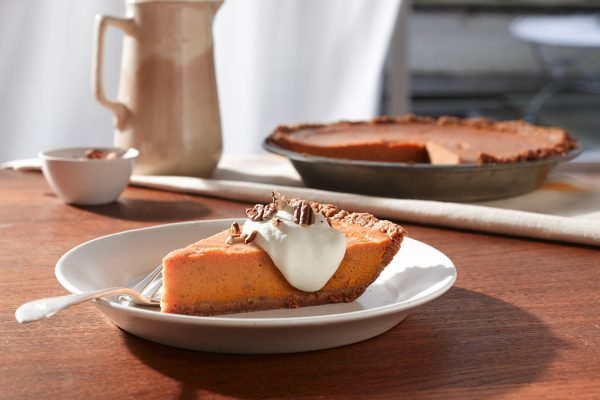 | | |
| --- | --- |
| | |
Wash and dry sweet potatoes. With a fork, prick the sweet potatoes all over about six times. Set sweet potatoes on a cookie sheet or baking pan.

Roast until soft and you can see bits of sugar bubbling where you pricked the potato, about 1 hour.

Cool, peel and measure out 2 generous cups of cooked sweet potato.

Remove flesh to the bowl of a food processor fitted with the "s" blade; puree until smooth.

While the motor is running, add the butter to soften the sweet potatoes.

Add the eggs. You will notice that the sweet potatoes will start to take on a lighter, almost peachy color.

In a small bowl, combine the cream, bourbon and vanilla extract.

Add the liquids as the machine is running. The mixture will look light and fluffy at this point.

Scrape the sides and add the sugars, cinnamon, nutmeg, ginger, salt and cloves. Puree to combine.

The sugar and spices will darken the color a bit but the texture will remain very fluffy.

Spoon the filling into the prepared crust and place on a cookie sheet.

Bake until filling is set, about 40 minutes.

To test, shake the pie; the center of the pie should jiggle slightly. If you aren't sure, stick a toothpick or a butter knife in the center; if it comes out clean, the pie is done.

Let cool and then chill thoroughly before serving.

Serve with Ginger Whipped Cream and toasted pecans.
In a mixing bowl, combine 1/2 pint heavy whipping cream, 2 tablespoons sugar and 1/2 teaspoon ground ginger.

Using an electric mixer or a whisk, whip until cream is thick and stiff.
Recipe by Elizabeth Karmel for North Carolina Sweet Potato Commission