Armando Vasquez and Joe Mondelli are chefs/owners of La Scarola – a Chicago landmark for over 20 years. La Scarola makes this specialty dish with crispy roasted chicken, sweet peas and Idaho® Potato wedges, all swimming in a mouthwatering garlic white wine sauce.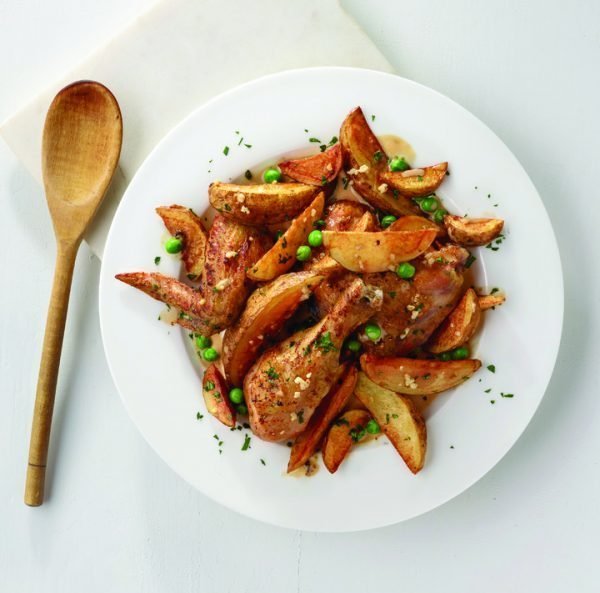 | | |
| --- | --- |
| | |
Arrange potatoes in single layer on one or two sheet pans. Add water to barely cover bottom of pan. Cover pan with foil; bake 15 minutes until potatoes are partially cooked. Remove from oven.

Season chicken with salt, pepper, and oregano.

Add equal amounts vegetable oil and olive oil to coat a deep, wide skillet. Heat over medium-high heat. Add chicken skin side down, leaving space in the pan to add potatoes. Use multiple pans if needed. Brown chicken on one side, about 10 minutes.

Turn chicken over; add enough potatoes proportionately to the number of chicken servings in the pan. Cook until second side of chicken is brown.

Add garlic and place pan(s) in the oven and bake uncovered for 20 minutes or until chicken is cooked through (165°F in center).

Return pan to stove. Add the stock, wine and peas proportionately to the number of servings in the pan. Bring to a simmer, stirring to scrape up any browned bits. Cook 5 minutes. Gradually add butter and stir until sauce is slightly reduced and creamy. Stir in parsley.