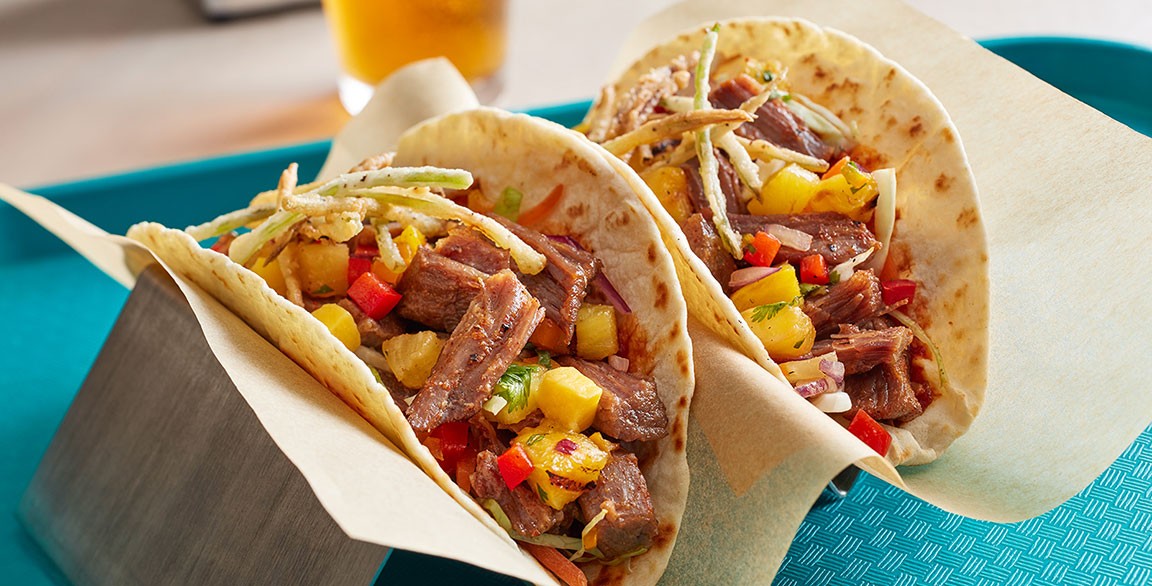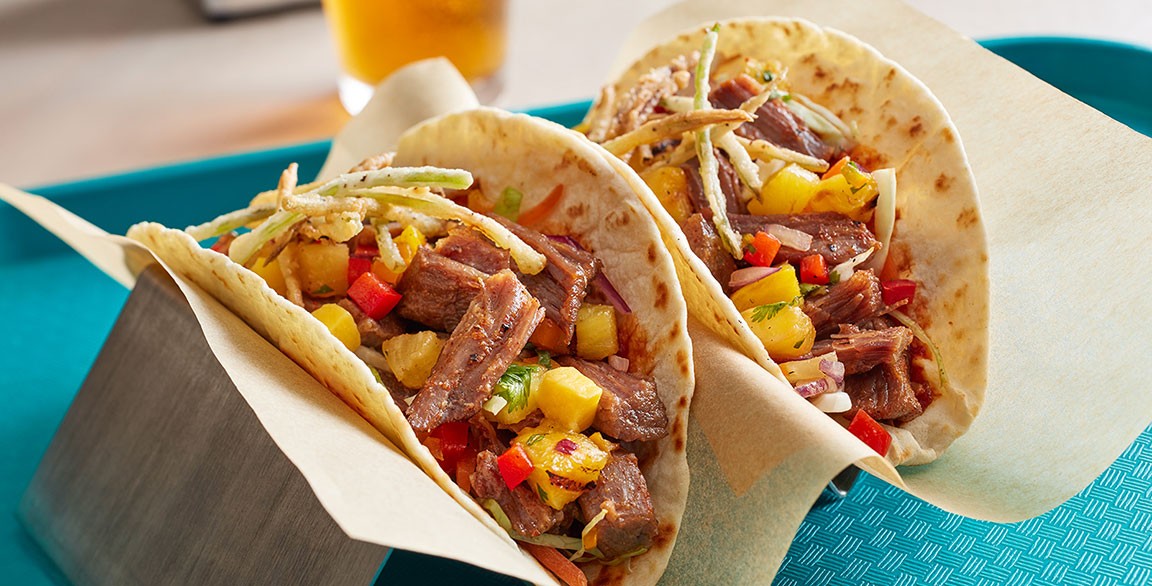 THE G.O.A.T TACO
Recipe courtesy of Chef Grant Morgan, Chef/Founder of Chopped Thyme Culinary Innovation
Sponsor: True Aussie Beef & Lamb
YIELD: ~50 servings
PORTION SIZE: 1 taco
PREP TIME: 5-7 hours
INGREDIENTS
For the braised Aussie goat:
2 each Australian goat legs
Caribbean jerk seasoning, as needed
¼ cup extra virgin olive oil
2 each large carrot, chopped
3 each celery stalks, chopped
1 each medium onion, chopped
2 ½ cups coconut milk
8 cups chicken stock
Green cabbage slaw:
2 cups green cabbage, shredded
¼ cup carrot, grated
¼ cup red onion, julienned
2 Tablespoons red wine vinegar
1 Tablespoon extra-virgin olive oil
Habanero-pineapple relish:
2 each fresh pineapple, ripened
¼ cup Fresno peppers, ¼ inch dice
¼ cup fresh cilantro, chiffonade
¾ cup red onion, ¼ inch dice
2 each Habanero Pepper, Minced
To serve (per taco):
1 each 6" flour tortillas
1 Tablespoon Jamaican jerk sauce
¼ cup green cabbage slaw
2 ounces braised Australian goat
1 Tablespoon pickled mango
1 Tablespoon habanero pineapple relish
10 each fried leek strands
DIRECTIONS
For the braised Aussie goat:
Preheat oven to 275F.
Rub goat legs with Caribbean jerk seasoning to cover completely.
Heat a large roasting pan over MEDIUM HIGH heat, add oil and sear goat until all sides are browned.
Remove legs then add carrots, celery and onions to the pan and cook until onions are soft- about 12 minutes.
Next, add legs back into rondo then add coconut milk and chicken stock to the pan. Tightly cover and place in the oven for 5 to 7 hours or until fork tender.
Once cooked, let rest for 1 hour, then remove meat from the pan and shred into 1-2-inch-long strands. Place shreds back in the strained juices and refrigerate until ready to use.
For the green cabbage slaw:
In a large bowl, mix together all ingredients and reserve under refrigeration until ready to use.
For the habanero-pineapple relish:
Remove the peel and leaves from pineapple and cut into ½" thick slices with the core.
Grill on a clean grill for 2 minutes on each side creating "x" marks on both sides.
Remove pineapple and allow to cool for ten minutes before dicing.
Mix pineapple with remaining ingredients and reserve under refrigeration until ready to use.
To serve:
Place tortilla on a hot flat top for 30 second on each side.
Add one tablespoon of jerk sauce down the middle of the tortilla and top with slaw evenly from side to side.
Top with two ounces of shredded goat meat, then spread mango and relish evenly on top of the meat.
Garnish with fried leeks and serve immediately.
Project Management: Summit F&B
Photography: Carlos Garcia // Food Styling: Peg Blackley & Bree Williams