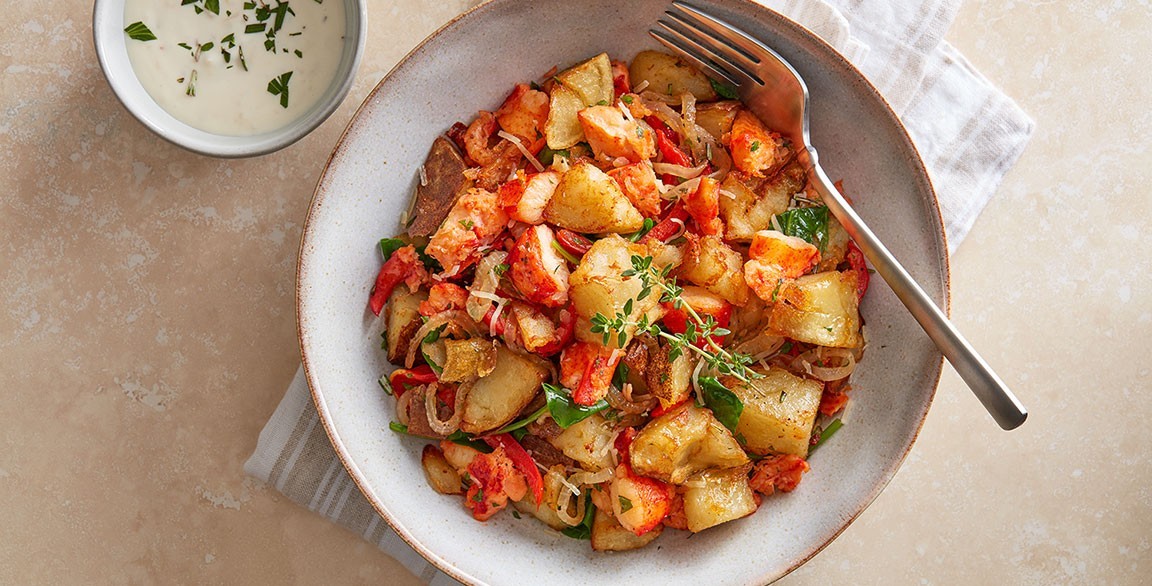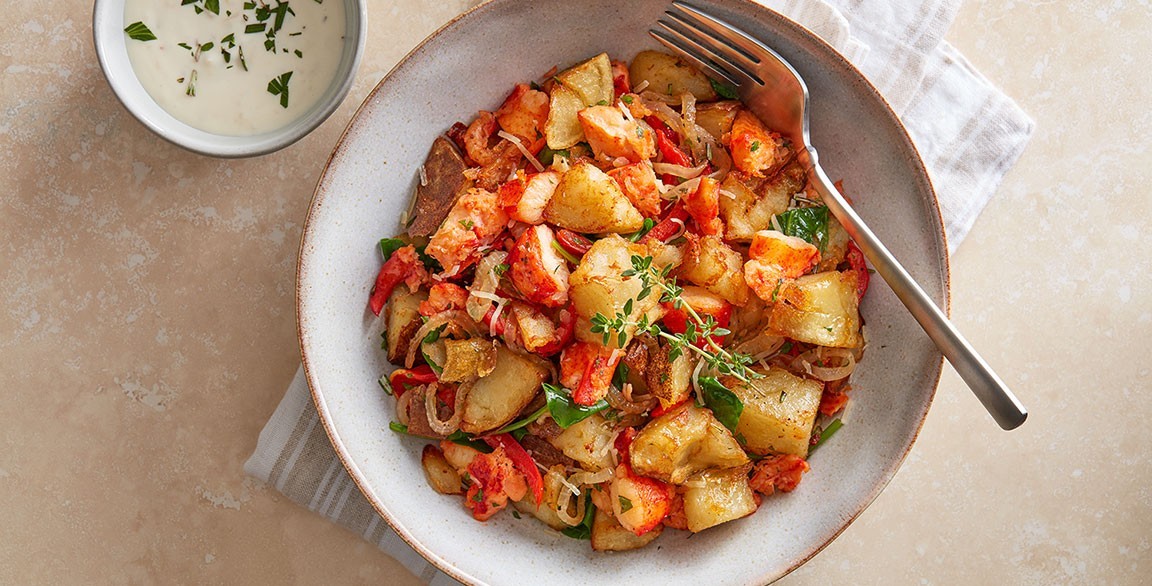 Steakhouse Idaho® Potato and Lobster Hash
Recipe courtesy of Chef Jason Knoll, VP of Culinary, Another Broken Egg Cafe
Sponsor: Idaho® Potato Commission
Servings: 1
This is designed to be a center-of-the-plate potato dish featuring steakhouse items used in creative ways. The potato would be a leftover baker. The lobster claw and knuckle meat and remaining ingredients are typically found in any steakhouse pantry. This dish serves one, although easily scalable. The dish also reheats very well in an oven at 400°F for 8-12 minutes, and makes a great chafing dish presentation.
Ingredients:
1 leftover baked Idaho® russet potato, ripped into roughly 1-inch pieces
As needed frying oil
1 tablespoon garlic-infused oil
4 ounces lobster meat, roughly chopped
2 ounces roasted peppers, julienned
2 ounces caramelized onions
2 cups stemmed spinach
2 ounces grated hard cheese, such as grana Padano
1 teaspoon chopped fresh herbs, such as equal parts parsley thyme, and rosemary
1 ounce garlic aïoli
Directions:
Deep fry the torn Idaho® potato pieces in 350-degree oil until brown and crispy. Drain.
In a pan over high heat, warm the garlic oil and sauté the lobster, peppers, and onions to heat through.
In a mixing bowl, combine the fried potatoes with the lobster, peppers, onions, spinach, cheese, and herbs.
Mound the hash in a serving bowl and drizzle with the aïoli.
Project Management: Summit F&B
Photography: Carlos Garcia // Food Styling: Peg Blackley & Bree Williams