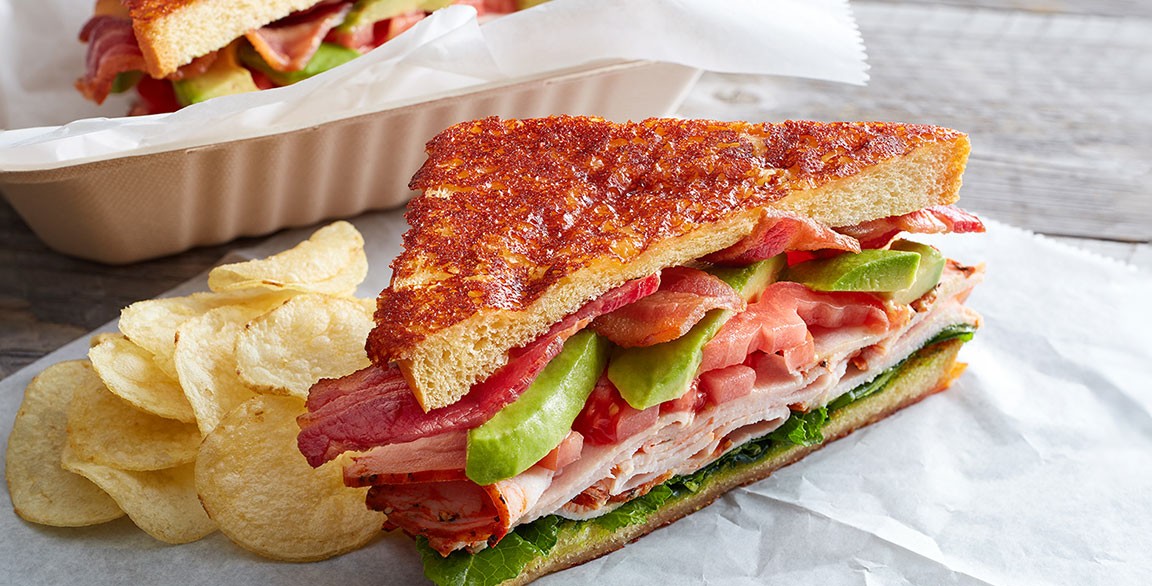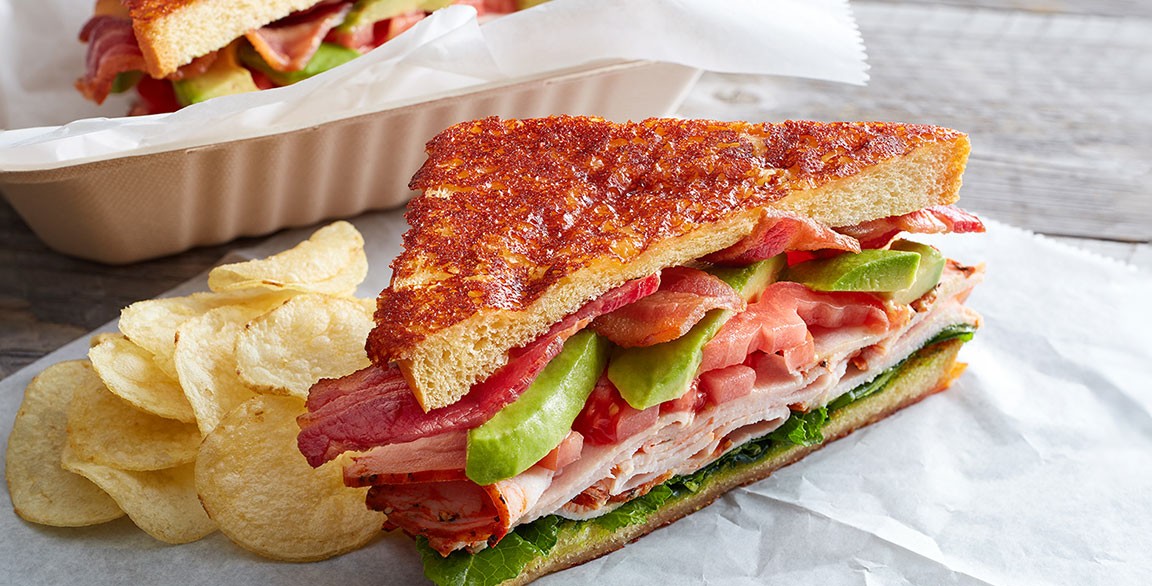 INSIDE OUT GRILLED CHEESE CALIFORNIA CLUB SANDWICH
Recipe courtesy of Recipe courtesy of Grant Morgan, Chef/Founder of Chopped Thyme Culinary Innovation.
Sponsor: California Milk Advisory Board
Servings: 24
INGREDIENTS
Basil Purée:
8 ounces basil leaves, stems removed
6 tablespoons extra virgin olive oil
1 teaspoon kosher salt
Basil Aïoli:
4 cups mayonnaise
½ cup Basil Purée
¼ cup chopped garlic
2 tablespoons lemon juice
1 tablespoon kosher salt
1 tablespoon freshly ground black pepper
Dijon Mustard Vinaigrette:
2 ½ cups olive oil
2 cups red wine vinegar
1/3 cup Dijon mustard
2 tablespoons honey
1 tablespoon kosher salt
Sandwich:
3 pounds Real California Hispanic-style manchego cheese, grated
48 thick cut slices brioche bread
1 ½ pounds Real California unsalted butter
6 cups baby kale leaves
6 pounds thinly sliced roasted turkey
48 thick slices tomato
12 avocados, peeled, seeded and cut in 1/4 inch slices
96 slices thick Applewood smoked bacon, cooked crisp
DIRECTIONS
To prepare the Basil Purée
Bring a large pot of water to a boil and blanch the basil leaves for 20 seconds
Transfer leaves to an ice water bath for a few seconds
Drain and pat dry with towels
Place basil, oil and salt in food processor and blend until completely puréed.
To prepare the Basil Aïoli
Whisk together mayonnaise, ½ cup Basil Purée, garlic, lemon juice, salt and pepper in stainless bowl until thoroughly mixed.
To prepare the Dijon Mustard Vinaigrette
Whisk together olive oil, vinegar, mustard, honey and salt in stainless bowel until thoroughly mixed.
To prepare Sandwich
Evenly spread 1 ounce grated manchego cheese the size of the bread slices on a flat top griddle heated to 350°F
Place the bread slice on top and gently press down. Cook until cheese is light brown and a little crispy. Repeat with second piece of bread and 1 ounce grated cheese.
Place 2 tablespoons butter on griddle and using spatula spread out evenly. Flip both bread slices onto melted butter to brown and crisp the sides without cheese. Remove bread to serving plate.
Evenly spread 2 tablespoons Basil Aïoli on the butter toasted sides of bread.
Toss ¼ cup baby kale leaves with Dijon Mustard Vinaigrette and arrange evenly over 1 side of bread.
Top kale with 4 ounces turkey.
Place 2 slices tomato on top of turkey and lay 4 slices avocado over tomatoes.
Lay 4 slices bacon across avocado then top with second bread slice with cheese toasted side out. Slice at angle before serving.
Project Management: Summit F&B
Photography: Carlos Garcia // Food Styling: Peg Blackley & Bree Williams