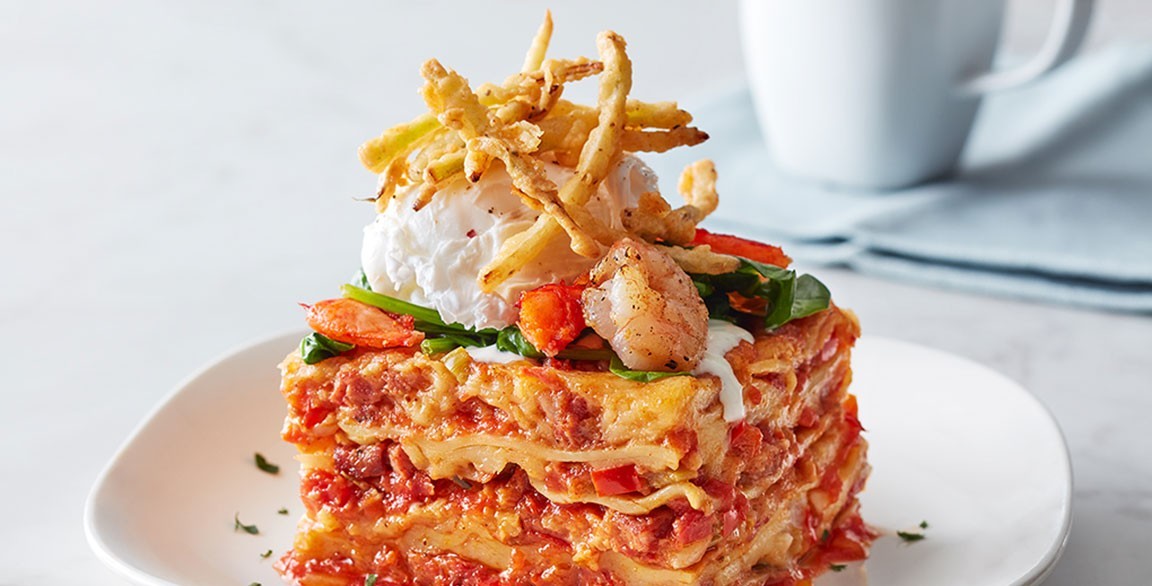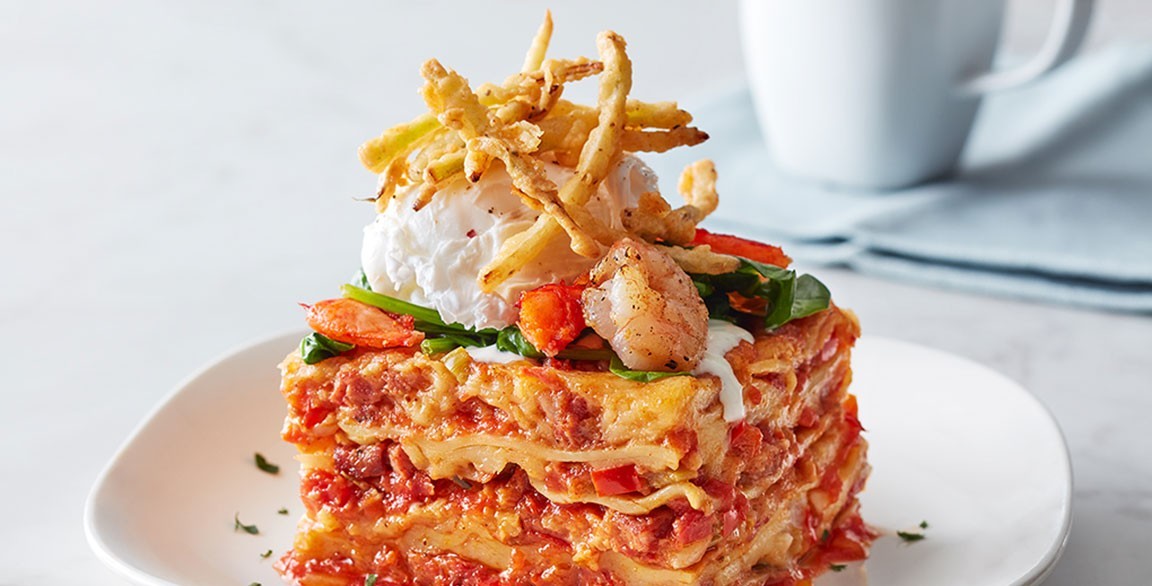 Creole Crawfish Lasagna "Benedict" (GF)
Recipe courtesy of Chef Jason Knoll, VP of Culinary, Another Broken Egg Cafe
Sponsor: Barilla
Servings: 16
Gluten-free Barilla lasagna with Creole tomato, shrimp, andouille sausage and crawfish sauce, mozzarella and Jack cheese, poached eggs and fried leeks.
Ingredients:
36 sheets Barilla gluten-free lasagna sheets
12 cups Creole Crawfish Sauce (recipe follows)
3 pounds P&D 50 count shrimp, uncooked
9 cups shredded mozzarella cheese
6 cups shredded Jack cheese
9 cups fresh stemmed spinach
12 each poached eggs
6 cups fried leeks (gluten-free)
Directions:
In a 2-inch deep full hotel pan, distribute 3 cups Creole sauce.
Evenly distribute 12 sheets of Barilla gluten-free pasta.
Layer 3 additional cups of creole sauce.
Distribute half of the raw shrimp.
Distribute 3 cups of mozzarella cheese.
Distribute 2 cups of jack cheese.
Repeat steps 2 through 6.
Top with remaining sauce and cheese.
Cover with plastic and foil.
Bake in a 425ºF oven for 40 minutes, remove the plastic and foil then continue to bake for an additional 20 minutes.
Remove from oven and let the lasagna rest for 30 minutes before slicing.
Once cool, cut into 16 portions.
Reheat each portion and top with poached egg and fried leeks.
Crawfish Creole Sauce
Ingredients
2 cups diced red peppers
2 cups diced celery
2 cups diced onions
1 ounce chopped garlic
4 ounces butter
3 cups diced andouille sausage
3 ounces gluten-free flour
4 cups diced tomatoes in juice
2 tablespoons paprika
3 ounces Worcestershire sauce
2 ounces white wine
1 tablespoon rosemary
3 tablespoons Cajun seasoning
1 ounce Louisiana hot sauce
2 pounds crawfish tails
Directions
In a large rondo, saute peppers, onions, celery, garlic and sausage in butter, until onions become soft.
Add gluten free flour and stir until incorporated.
Add remaining ingredients starting with wine, Worcestershire sauce and tomatoes.
Bring to a boil then reduce to a simmer and cook for an additional 10 minutes then remove from the heat.
Chef Notes: The sauce is very hearty and although it appears thick, it thins out well with pasta absorption.
Project Management: Summit F&B
Photography: Carlos Garcia // Food Styling: Peg Blackley & Bree Williams