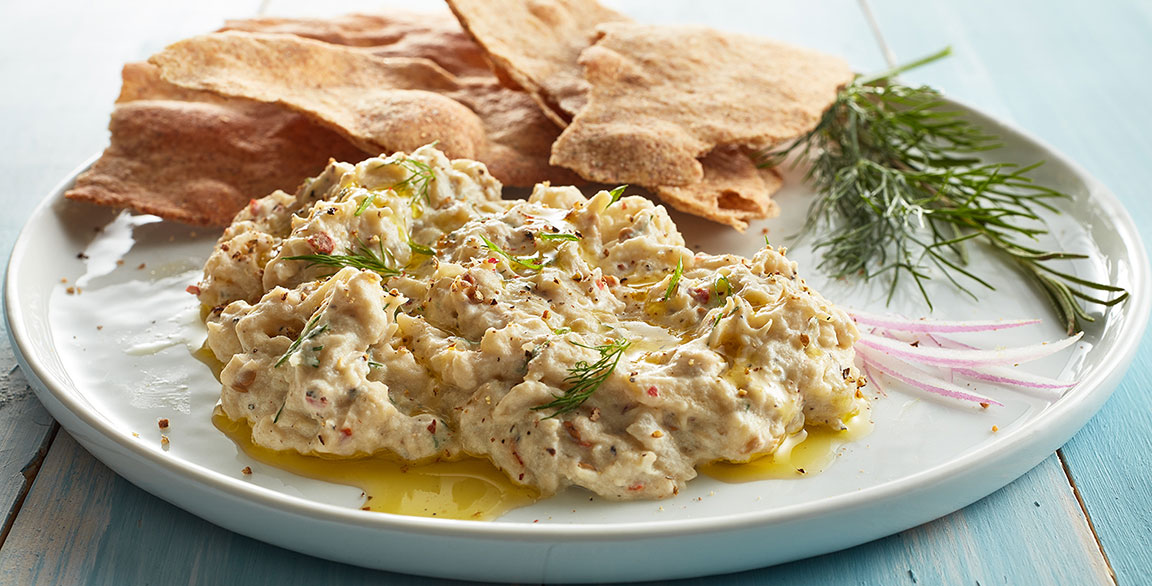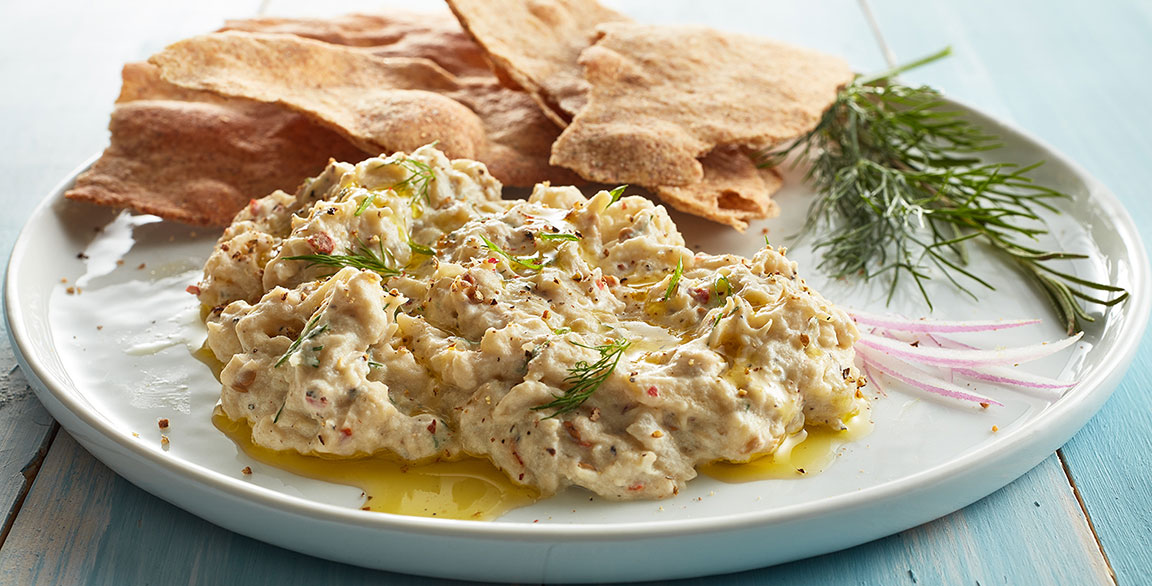 Black Pepper Boursin® & Charred Eggplant Dip with Rye Crackers
Recipe courtesy of Nate Weir, VP of Culinary, Modern Restaurant Concepts
Sponsor: Bel Brands USA
Servings: 6 to 8
Ingredients:
Boursin Dip:
5 large globe eggplants
2 packages Black Pepper Boursin®
1 teaspoon grated garlic
3 tablespoons heavy cream
Pinch chili pepper flakes
1 teaspoon chopped fresh dill
1 teaspoon kosher salt
Rye Crackers:
1 ½ cups all-purpose flour
1 ½ cups rye flour
2 teaspoons kosher salt
2 teaspoons honey
¼ cup extra-virgin olive oil
1 tablespoon minced fresh thyme
½ teaspoon cracked black pepper
1 tablespoon nutritional yeast
1 cup cold water
Directions:
To make the Dip: Pierce the eggplants several times with a fork. Place them directly on a grill over medium heat. Roast 20 to 30 minutes, turning occasionally, until the eggplants are soft and collapsing. Let them cool 20 minutes.
Cut each eggplant in half and scoop the flesh into large bowl. Crumble the Boursin® into the bowl. Mash together with a fork until combined. The texture should be fairly smooth, but not fully pureed. Hand mixing gives a lot better texture than a food processor would.
Add the remaining ingredients, folding into the mix. Taste and adjust seasoning. Refrigerate for up to 3 days.
To make the Crackers: In a food processor, pulse the flours, salt, honey, and oil until the mixture looks sandy.
Add the thyme, pepper, and yeast. Pulse in the water water until a soft, sticky dough forms.
Remove dough and let it rest 15 minutes. It will become less sticky.
Divide the dough in half. Dust it with additional rye flour. Roll out very thin, approximately 1/8 inch thick.
Transfer the dough to parchment-lined half sheet trays. Bake at 425°F for 5 minutes, then flip the cracker over. Bake an additional 5 to 8 minutes, until golden brown and crispy.
Let the cracker cool for at least 20 minutes, then break into large, rustic pieces.
To serve: Arrange the dip in a serving bowl and garnish with some herbs or sliced green onion, if desired. Plate with crackers on the side.
Chef Notes:
Alternately, the cracker dough can be cut with a pizza wheel before baking to make more uniform crackers. Follow the normal baking instructions.
Project Management: Summit F&B
Photography: Carlos Garcia // Food Styling: Peg Blackley & Bree Williams