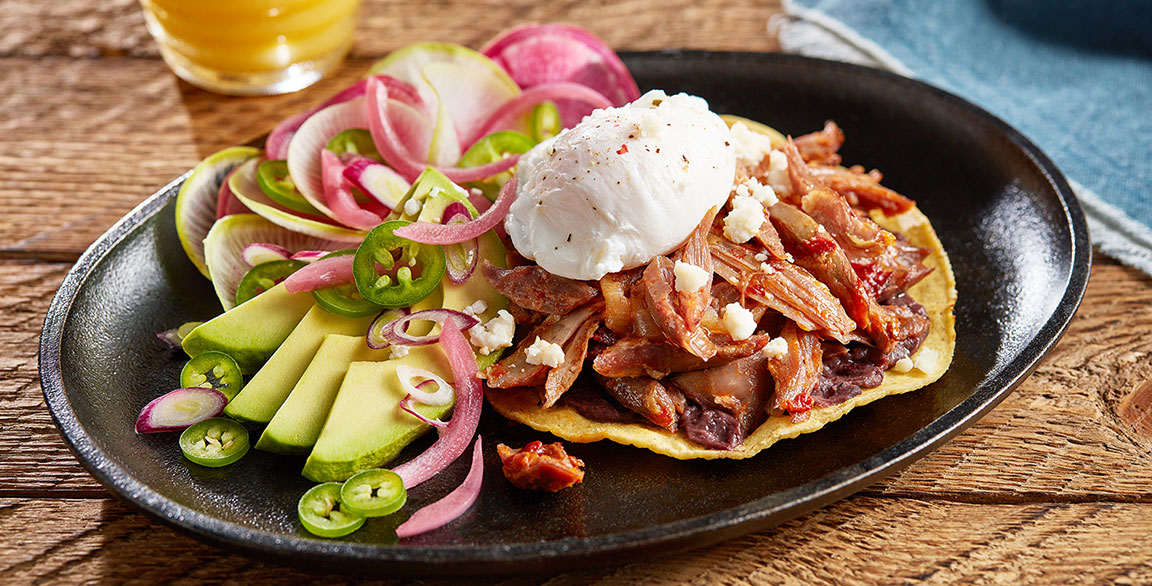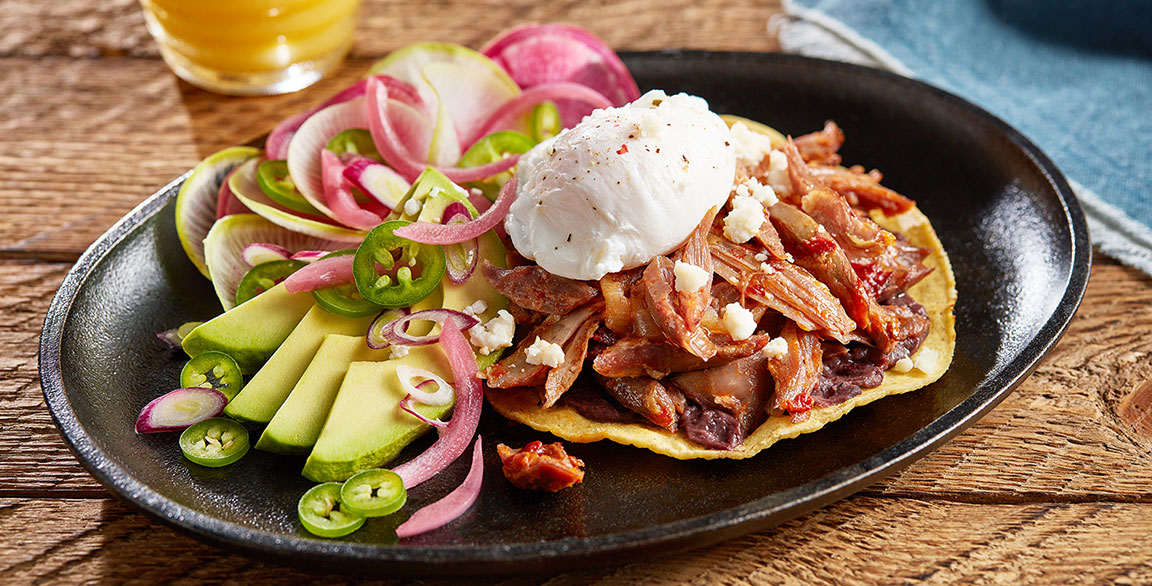 Aussie Lamb Tinga Tostada
Recipe courtesy of Chef Jennifer Etzkin OBrien
Sponsor: True Aussie Beef & Lamb
Servings: 30
Ingredients
Pickled Red Onions:
5 g coriander seeds, toasted
500 g red wine vinegar
100 g water
200 g granulated sugar
10 g kosher salt
150 g red onion, sliced 1/8 in
50 g roasted red beet (for color)
Lamb Tinga:
6 ea Aussie lamb shanks (approximately 6 lb total)
As needed kosher salt
6 Tbsp canola oil
300 g white onion, sliced 1/8 in
30 g garlic, chopped
15 g cumin
120 g chipotle paste
900 g vine-ripened or beefsteak tomato, chopped
950 g chicken stock
Tostada (per serving):
1 ea tostada (6 in)
1/4 cup refried black beans
3 oz Lamb Tinga
1/4 ea avocado, sliced and fanned
1 Tbsp Mexican crema
1 oz queso fresco, crumbled
1 ea egg, poached
4 ea radishes, sliced thin
2 ea cilantro sprigs
4 ea jalapeños, sliced thin
8 ea Pickled Red Onion slices
To taste sea salt
Directions
For the Pickled Red Onions: Wrap the coriander seeds in cheesecloth. Bring the vinegar, water, sugar, salt, and coriander sachet to a boil. Pour over the red onions in a nonreactive bowl. Add the beet and refrigerate for service. Be sure pickling liquid covers onion.
For the Lamb Tinga: Season lamb with salt. Heat the oil in large rondeau until just smoking. Brown the shanks on each side. Remove from pan, reserving to the side.
Reduce heat to medium low and sauté the onions, gently lifting the fond from the bottom of the pan. When onions are just translucent, add the garlic and cumin. Sauté 1 additional minute. Stir in the chipotle paste and cook for 2 minutes. Deglaze with the tomatoes and chicken stock.
Add the shanks back into the rondeau, loosely cover, and cook in the oven at 325 degrees F for approximately 3 1/2 hours, or until tender and falling off the bone. Be sure to flip the shanks halfway through the cooking time.
Once cooked to desired tenderness, remove the shanks, cool slightly, and pull meat from the bone. Remove fat from the cooking liquid and reduce the liquid down to a thick viscosity. Reincorporate the lamb, chill, and hold for service.
For the Tostada, per serving: Gently heat the lamb and beans separately. Spread the refried beans in the center of the tostada. Mound braised lamb over top. Fan out the avocado to the side. Drizzle with crema and sprinkle with queso fresco. Top with a poached egg and garnish with the radish, jalapeño, pickled onion, and cilantro. Finish with sea salt over the avocado.
Chef Notes:
Spread 1 Tbsp refried beans in the center of the plate to stabilize the tostada for service.
Project Management: Summit F&B
Photography: Carlos Garcia // Food Styling: Peg Blackley & Bree Williams