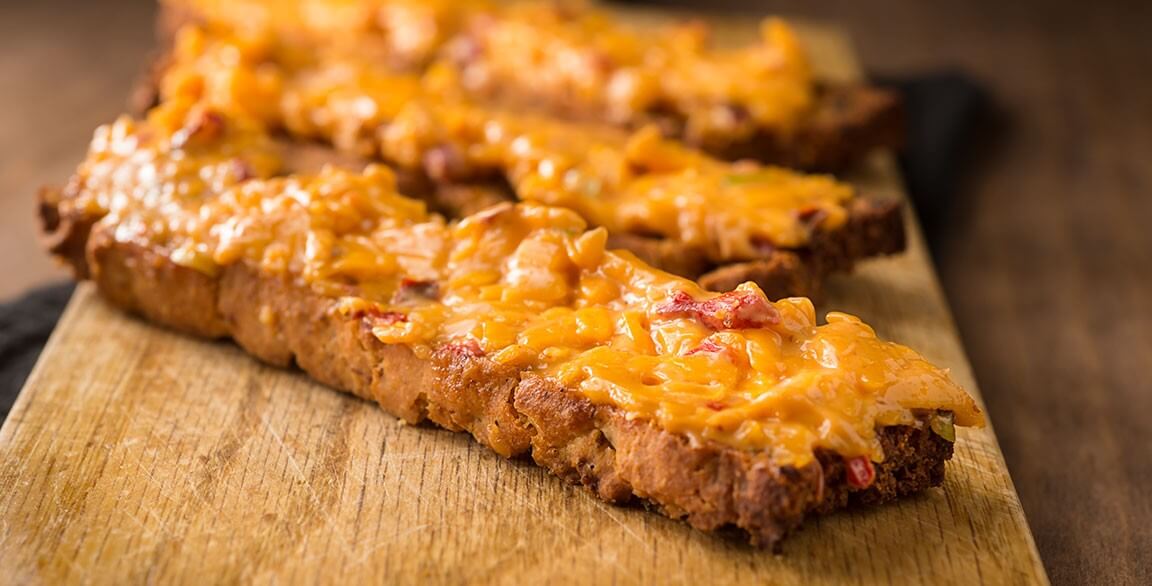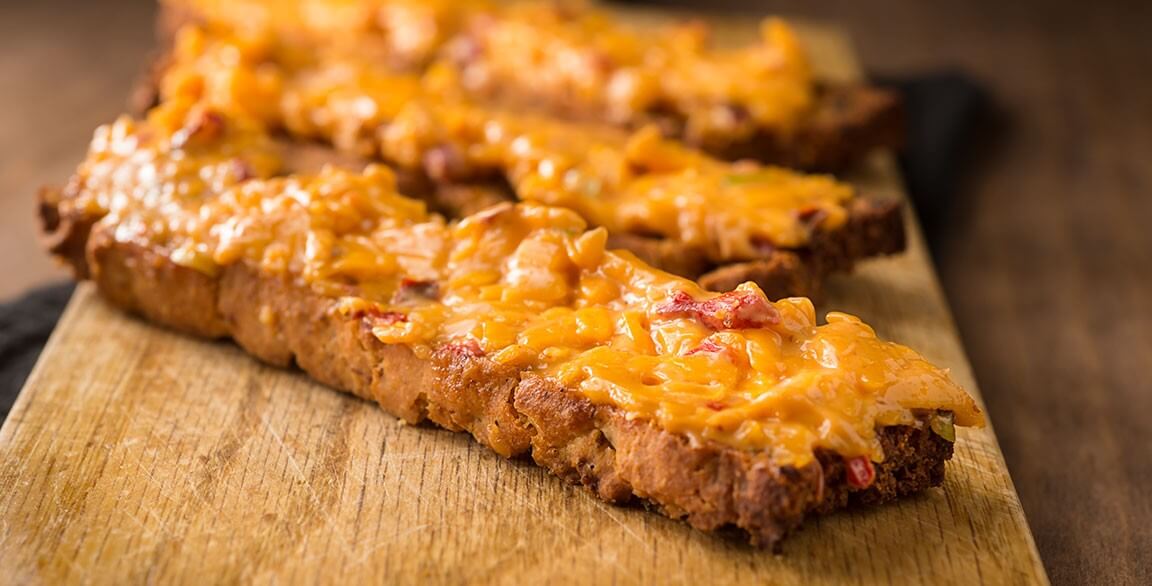 The menu adaptability of pimento cheese is rooted in its malleable texture, flavor and temperature. Texture is executed through a complementary combination of semi-soft cheese shreds and diced pimentos, along with soft and creamy binding agents. Flavor is indulgent, bold yet approachable, with layers of sweet/salty/savory along with pops of subtle heat and spice. Pimento cheese also performs equally well in both cold and hot preparations.
The overall playfulness of pimento cheese is about the sum of its chameleon-like attributes. We break down the components, providing operators with the tools to craft signature pimento cheese versions. We encourage you to pick and choose, swap out or add ingredients per your menu needs and brand personality.
Pimento Possibilities
CLASSIC PIMENTO CHEESE:
Small-chopped pimentos, cream cheese, feather shredded sharp cheddar cheese, large grated Monterey Jack cheese, ground Parmesan cheese, mayonnaise, sour cream, garlic powder, cayenne
PEPPERS:
The core—and signature red color—of this cheese blend comes from peppers.
Pimentos or roasted red bell peppers, small chopped
CHEESE BASE:
A quality cheese selection goes hand in hand with the peppers. Grated cheese (or even shaved or ground) of various sizes produces deeper overall texture. Select a single cheese focus or use a blend of different cheeses to create varying flavors and textures.
Parmesan + pecorino
Colby
Gouda
Monterey Jack
Pepper Jack
Smoked cheese
Variations of cheddar (age and sharpness)
CREAMED BASE (BINDER):
This adds stability to the overall mixture. Vary the type and amount of binder depending on your desired application. Creamier-style spreads work well with dips/sauces/queso, mac and cheese; and tighter-style spreads work well with fillings and handhelds.
Cream cheese, mayonnaise, sour cream, Greek yogurt, goat cheese, salad dressing
HEAT/WARMTH:
Adjust the level of flavorful heat to match what would best resonate with your guests. Introducing and calling out "heat" ingredients and corresponding storytelling, would be great for targeted LTOs or if your operation has global influences (ie. harissa pimento cheese).
International: Sriracha, gochujang, harissa
Hot sauce or powdered hot sauce
Chiles (fresh, dried, powdered): jalapeño, chipotle, habanero, Aleppo, Urfa, cayenne, red pepper flakes
Hot paprika, smoked paprika, sweet paprika, cracked peppercorns
FLAVORINGS:
Some chefs incorporate additional flavoring as a means of differentiation.
Worcestershire sauce or powdered Worcestershire
Onion powder or fresh grated onion
Garlic powder or minced roasted garlic
Natural smoke flavoring
EXTRAS (IF DESIRED):
High-impact ingredients can add distinctive character.
Pecans, small chopped
Dried apricots or peaches, small chopped
Dijon or stone-ground mustard
Dill, fresh