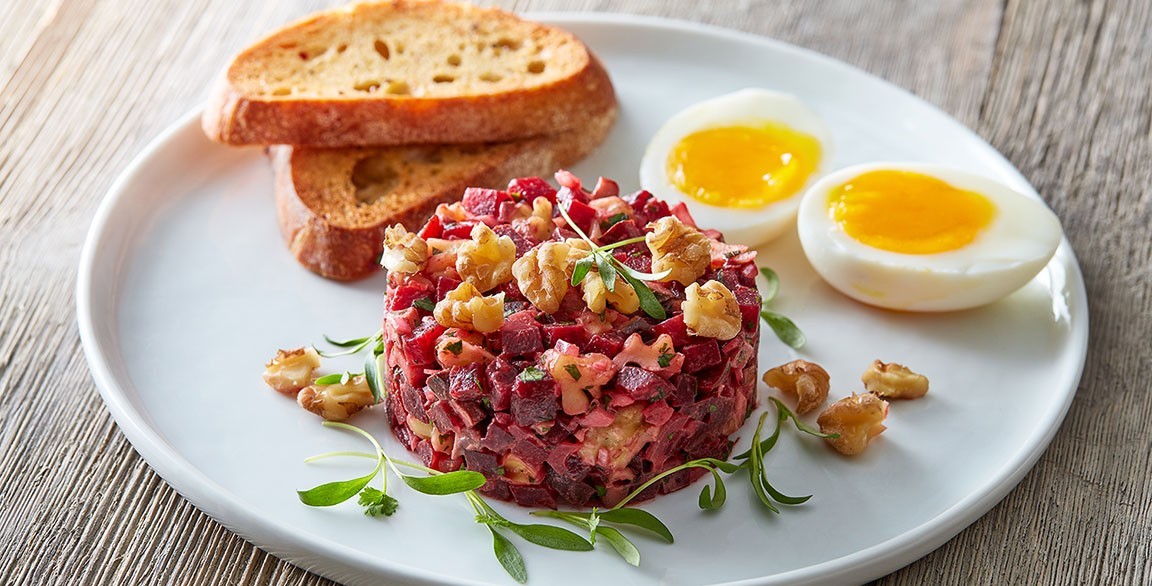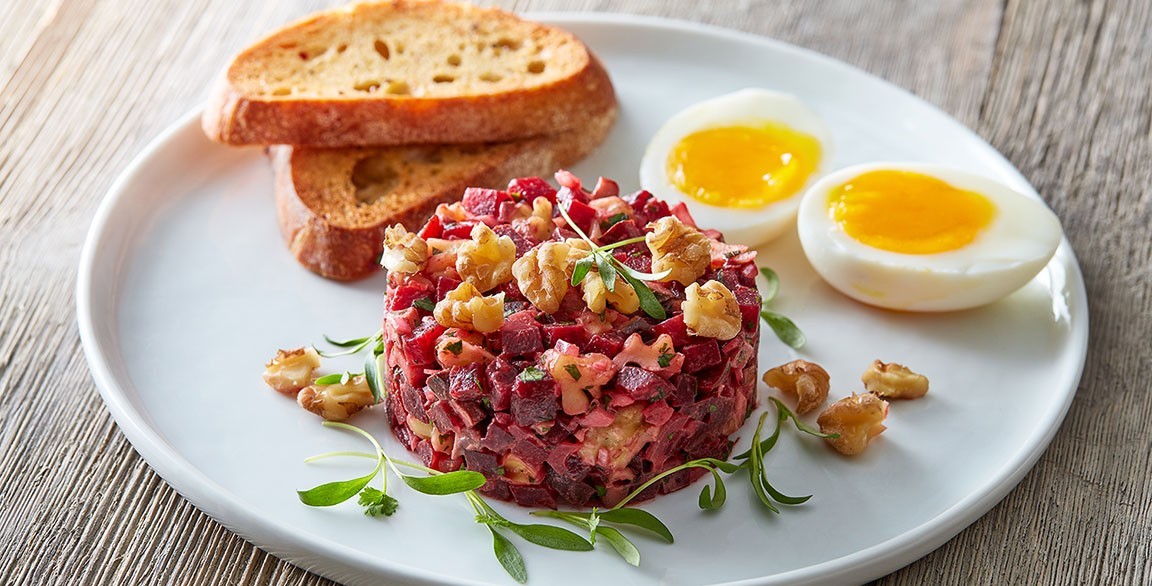 Plant-Forward California Walnuts and Beet Tartare
Recipe courtesy of Chef Stephen Toevs
Sponsor: California Walnuts
Coconut aminos and mushrooms bring out the umami flavor, while walnuts and beets add great nutrition and color, similar to beef tartare.
Prep time: 20 minutes
Total time: 10 hours, 35 minutes
Serves: 8
Serving size: 1/3 cup tartare, 1 egg, 4 baguette slices, 3 gherkins
Course: Appetizer, light main dish
Ingredients:
Garnishes:
2 cups chopped California walnuts
2 tablespoons coconut aminos, divided
1/2 tablespoon olive oil
2 oz. baby bella mushroom, chopped
2 tablespoons minced shallots
12 oz. cooked red beets, chopped
1 tablespoon chopped parsley
1 1/2 teaspoons Dijon mustard
1 1/2 teaspoons ketchup
1 1/2 teaspoons organic mayonnaise
Salt and pepper to taste
Tartare:
5 eggs, in shell
20 baguette slices
1 tablespoon olive oil
15 gherkins
Directions:
Place walnuts in a medium bowl and cover with water. Stir in 1 tablespoon coconut aminos; cover and let stand overnight. Drain well.
Heat olive oil in a small skillet. Add mushrooms and saute for 5 minutes to soften.
Transfer to a food processor with walnuts, beets, parsley, shallots, Dijon, ketchup and mayonnaise. Pulse to finely chop then season to taste with salt and pepper. Transfer to a bowl; cover and refrigerate for at least 1 hour.
Bring a large pot of water to a boil. Carefully drop in eggs and cook for exactly 6 minutes; remove and chill, then carefully peel and cut in half.
Lightly brush baguette slices with oil and season with salt and pepper; broil for 1 to 2 minutes or until golden brown.
Pack about 1/2 cup tartare on each plate with 4 baguette slices, 2 egg halves and 3 gherkins.
Nutrition
Calories: 420
Total Fat: 29g
Saturated Fat: 4g
Monounsaturated Fat: 7.724g
Polyunsaturated Fat: 15.6g
Cholesterol: 185mg
Sodium: 450mg
Carbohydrates: 28g
Dietary Fiber: 4g
Sugars: 11g
Protein: 15g
Vitamin D: 1mcg (4%)
Calcium: 90mg (8%)
Iron: 4mg (20%)
Potassium: 520mg (10%)
Project Management: Summit F&B
Photography: Carlos Garcia // Food Styling: Peg Blackley & Bree Williams