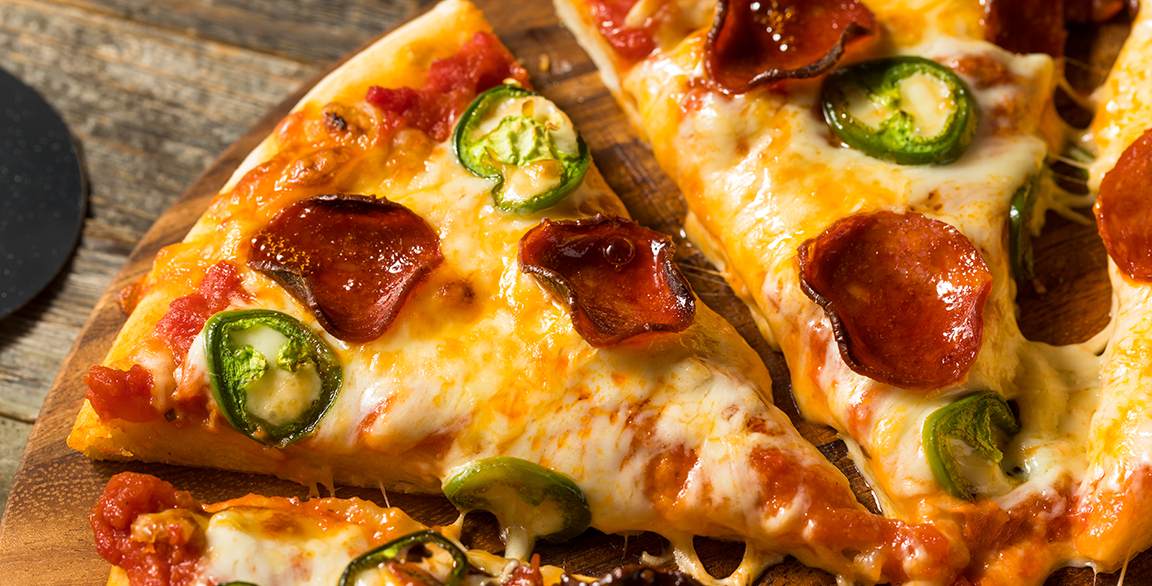 Creative chefs across the country are giving Gen Z one of their go-to favorites—pizza—while ensuring it delivers on the bold flavors they love. Here, we take a look at menus that bring the heat, enticing diners with assertive flavors in interesting combinations. The in-market examples showcase a deft use of heat, from trending flavor play and intriguing combination of ingredients to successful flavor building and balancing of heat with countering elements.
SAUCES WITH OOMPH
Generate immediate interest with a heat-laced sauce. Fruit-based sauces are peaking on pizza menus, while tomato and cream provide a classic pizza sauce base primed for spice.
Summer Heat: Jalapeño-apricot sauce, mozzarella, pulled pork, Canadian bacon, pineapple, jalapeños and Mama Lil's Pickled Peppers
—The Watershed Pub & Kitchen, Seattle
Spicy Milano: Spicy marinara, Serrano peppers, Italian sausage, spicy pepperoni, cremini mushrooms, yellow onions, fresh mozzarella and Romano cheeses and wild Greek oregano
—California Pizza Kitchen, based in Los Angeles
The Italian Stallion: Italian beef, Chicago Italian sausage, horseradish cream sauce, chives, oregano, sweet peppers (spicy)
—Capo's, San Francisco
MULTI-LAYERED HEAT EXPERIENCE
Excite and expand the adventurous taste preferences of younger patrons by infusing the beloved pizza format with pumped-up layers of flavor-packed heat. Incorporate varying heat levels to ensure every bite dances with bold flavor.
Kickin' Chickin': Spicy cream cheese, chicken, mozzarella, provolone, bacon, onions, jalapeños, finished with a drizzle of Sriracha sauce
—La Torcia Brick Oven Pizza, with locations in Texas, Arkansas, Missouri and Mississippi
Hatch Chile & Chorizo Pizza (LTO): Roasted Hatch chiles, chorizo, sweet corn, fire cheese, mozzarella, Hatch chile cream sauce
—Gap Co., Dallas

How Stracciatella Got Her Groove Back: San Marzano tomato sauce, spicy soppressata, chile oil, shaved garlic, jalapeños, Parmesan and stracciatella
—Parlor Pizza Bar, Chicago
SPICED UP CHEESY + FINISHING FLAIR
Make an indelible impression with a heat-spiked cheese or signature finishing touch. A unique cheese blend or finale of drizzles and splashes of lively heat create an instant mood enhancer and heighten the pizza eating experience.
Ghost Wave: Italian sausage, green peppers, creamy mascarpone, mozzarella, ghost pepper cheese, honey
—Extreme Pizza, based in San Francisco
Korean Chicken Pizza: Ledo sauce, smoked provolone cheese, gochujang- marinated chicken, drizzled with gochujang pepper sauce, pickled red onions and pickled carrots garnish
—Ledo Pizza, based in Annapolis, Md.
The Spice Is Right: Pesto, kale + broccoli "power" blend, mozzarella, red Thai curry chicken, pineapple and a "Sri-rancha" finisher
—MOD Pizza, based in Bellevue, Wash.