Thanks to the age of freewheeling flavor innovation, chefs are now looking at pasta as a platform for creative menu development. They're interpreting some of today's biggest flavor trends—all nestled in the comforting, familiar, adored format of pasta. For a long time, the keepers of tradition and authenticity ruled the category, exalting both Italian and Italian-American renditions, but somehow precluding most attempts at other translations. But a number of forces have broken through.
First, the global mash-up has penetrated practically all types of cuisines, including Italian. Second, New American cuisine has staked its claim, encouraging global pilfering with a strong foundation of American regionality. That all spells opportunity in the pasta universe, using a formula that's proven successful today: combining a beloved dish with creative flavor combinations.
"The opportunity today is pretty special," says Kara Nielsen, VP of trends and marketing at CCD Helmsman, a food and beverage consulting agency based in Emeryville, Calif. "It's using the pasta as a canvas that's malleable and variable, inviting bold combinations. The challenge today is around surprising and delighting younger consumers. Modern takes on pasta are a smart path to that goal."
Here are five emerging opportunities that help position pasta as trend-forward, while never losing its inherent charm and likability.
1. Explore regionality
Of course, chefs know there's so much more to Italy than spaghetti Bolognese or Amatriciana. But often when menuing pasta, they go for the tried and true, the fan favorites. With today's diners looking for new experiences, diving deeper into Italy's regional pasta dishes introduces something new—without reinventing the wheel. "Specificity on menus is important today," says Nielsen. "It lends narrative and credibility. Italy has an incredibly defined regionality when it comes to cuisine, and it's very proud of that. There's so much to explore here, from Calabria and Sicily to Tuscany and Genoa."
Jasper J. Mirabile, Jr., chef/owner of Jasper's Restaurant in Kansas City, Mo., ties a lot of the menu to regionality, weaving a compelling story of family and tradition—a natural fit for a family restaurant that's been in business for more than 65 years. One of the most popular items on his winter and spring menus is the Bucatini alla Calabrese, starring sautéed grape tomatoes, garlic, 'nduja, pepperoni, red onion, San Marzano tomatoes and red pepper flakes. "Bucatini is traditional, and the sauce features ingredients that are typical of Calabria," he says. "I add toasted bread crumbs for a great crunch on top, giving it a bit of a Sicilian accent. This is one of our most popular dishes."
At Felix Trattoria in Los Angeles, the pasta menu is divided into North, South, Mezzogiorno and Isole regions of Italy, with offerings like Foglie d'Oliva (pesto di fave and pecorino Pugliese) demonstrating that specificity of place, which resonates with a large number of diners. Leveraging the familiarity of pesto, but finding a different region's take on it, Shane Solomon, executive chef of Pizzeria Stella in Philadelphia, serves a Sicilian pesto called Trapanese, made with roasted tomatoes, almonds, pecorino, basil and California extra-virgin olive oil.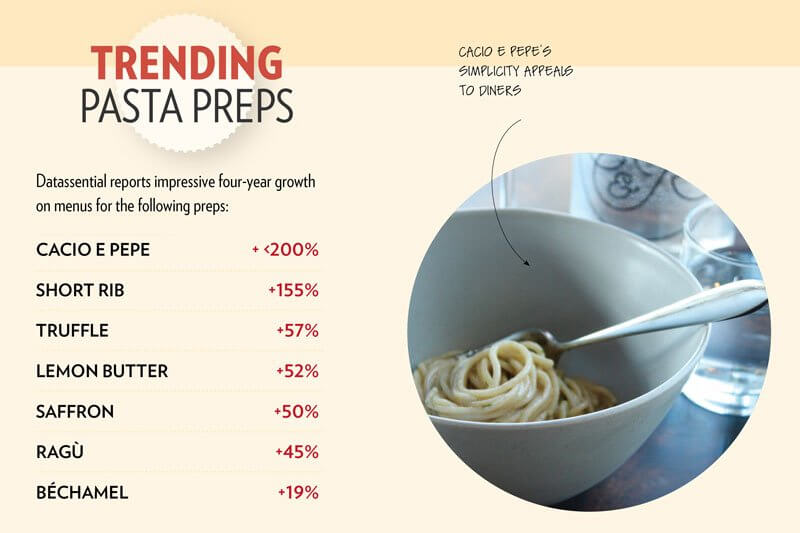 Cacio e pepe, that Roman pasta that features two star ingredients—pepper and cheese—is a great example of tapping into a regional pasta dish that resonates with diners today. Chefs here are adding their own spin: Emmer & Rye, a modern American small-plates concept in Austin, Texas, menus a Blue Beard Durum Spaghetti Cacio e Pepe with Chällerhocker cheese and black pepper. At Monteverde in Chicago, Sarah Grueneberg, chef/partner, serves Cacio Whey Pepe, which replaces pasta water with whey, the protein-rich byproduct of cheesemaking.
Sardella, an Italian restaurant in St. Louis, runs an "In Bocca" dinner series, focusing on a specific region of Italy, serving traditional fare inspired by the "In Bocca" regional Italian cookbooks. "There's a hunger for authenticity and food with a story," says Gerard Craft, executive chef/owner of Niche Food Group, which includes Sardella, Pastaria and Porano Pasta. When Sardella featured Piemonte, the pasta offering was Agnolotti alla Piemontese with veal, spinach, rosemary and Grana Padano. "I think people are interested in the history of food and having a new culinary experience," says Craft. "By putting the two together, you've got something special for them."
2. Bring on the heat
Pasta and chile peppers are certainly not a new pairing, with penne arrabbiata perhaps being the most familiar. But chefs are tapping into diners' insatiable love of heat and their eagerness to explore mash-ups, infusing pasta dishes with unexpected but welcome prickles (or lashings) of heat. Regionality has a place here, where pasta can boast a Calabrian chile oil or perhaps a piquant flourish of pepperoncini. At Niche Food Group, Craft actually dips further south, into Turkey, and uses harissa quite a bit on his menus. "With Southern Italian, it's impossible not to look at the proximity to Africa and recognize the influence." His harissa boasts New Mexican chiles, which he says match the sweetness of Calabrian ones. That exploration, that pushing of boundaries and offering surprising but delicious fare, is a new expectation of many consumers now, especially younger ones. What better way to get creative than with intriguing elements that add the ever-popular heat? At Le Farfalle in Charleston, S.C., the linguine dish includes ramps, provolone mandarone and a habanero vinegar, while a bucatini stars king crab, sherry and guajillo.
Bistro Bella Vita, a farm-to-table Mediterranean concept in Grand Rapids, Mich., demonstrates a more eclectic approach to pasta, but ties it to Italy through its use of Calabrian chiles in its Housemade Campanelle with goat cheese, scallion, Calabrian chiles and charred onion. Locanda Verde, a rustic Italian restaurant in New York, menus a Squid Ink Linguini with frutti di mare, soppressata and shishito peppers, showing that the global mash-up is influencing Italian cuisine, too. Grassa, a fast-casual pasta concept in Portland, Ore., is leveraging the red-hot 'nduja, blending it into its diavola sauce, served with campanelle, scallops, guanciale, oregano and black sesame.
3. Don't forget the texture
Textural contrast has always played an integral role in recipe development, but like most things today, the game seems to have intensified: "I'll see your toasted bread crumbs and raise you a crispy farro garnish." Certainly, the stakes are higher. "I think interesting textural play in pasta is a really big opportunity," says CCD Helmsman's Nielsen. "We live in a Millennial-driven moment where multiple textures are almost a given on everything. Pasta offers such a great canvas for textural contrast, with soft working so well against crispy or crunchy." At Nostrana in Portland, Ore., the cappellini with Oregon pink shrimp gets a hit of high-impact texture with crispy chile bread crumbs and soft lemon cream. At Pizzeria Stella in Philadelphia, the Lamb Bolognese Rigatoni is topped with a pistachio gremolata.
Sardella's 'Nduja Agnolotti is finished with toasted, crushed peanuts. "The ingredients here are typical, but we use them in different ways," says Craft. "The peanuts are unexpected as a finish on pasta, but they add a nice contrast of texture with a roasted, nutty flavor." His Mediterranean Pasta at Porano features roasted red pepper sauce, spicy tofu, green olives, fresh herbs and toasted almonds. A16, an Italian restaurant with locations in San Francisco and Oakland, Calif., features casareccia with wild mushroom, leek, chestnut, cocoa nibs and Parmigiano-Reggiano. The opportunity here borrows from the modern bowls movement, which set the model for interesting textural elements. Pasta offers a similar canvas, inviting signature takes on textural finishes.
4. Veg-centric lives here, too
We're living in the veg-centric era, which has yielded unprecedented flavor play with produce. Chefs are delighting diners with charred, roasted, grilled and braised versions of vegetables, perhaps enhanced by a strategic use of bagna càuda or crispy ham or rich pork stock. Largely showing up in shareables and sides, pasta is prime opportunity for veg-centricity. One example: Bad Hunter, a New American eatery in Chicago that's centered around produce. Its Green Garlic & Nettle Lasagnette with morel mushrooms, English peas and black truffle fonduta is a great example of a modern pasta dish starring vegetables. So is the Stinging Nettle & Ricotto Ravioli, at The Progress in San Francisco, with black trumpets and apple cider saba.
"Tapping into the veg-centric trend with pasta shows your customer that a lot of care went into the dish, using premium ingredients and expert cookery," says Nielsen. "The result is visually stunning dishes that are perfect for this Instagram world we live in."
Legacy Records, a modern Mediterranean restaurant in New York, offers a Caramelle Pasta stuffed with ricotta and topped with sliced beets, poppyseed and sage. Splashes of yellow and red beet juice finish the dish. In San Francisco, the new Che Fico Italian "taverna" menus pasta as a primi, serving a mafaldini pasta dish with hazelnuts, preserved Meyer lemon and fava bean pesto. At Barano, a wood-fired seasonal Italian restaurant in Brooklyn, N.Y., the Arso Cavatelli combines mushrooms, peas and spring onions, with an extra flavor boost from an unexpected roasted maroon carrot-sesame purée. "Veg-centric pasta dishes are seasonal and contemporary, and they just look beautiful," says Nielsen.
5. Put an egg on it
Eggs are definitely having a moment, where chefs are poaching, curing, sous vide-ing, drizzling—all to leverage the dense richness that eggs bring to the table. Of course, carbonara is a natural here, but innovation today sees a whole world of eggy adventure in the realm of pasta. At Pasta Armellino in Saratoga, Calif., the Spinach Bucatini is served with smoked bacon, cured egg yolk and aged Gouda. Osteria Mozza in Los Angeles menus a Ricotta & Egg Raviolo with browned butter. And at Bestia, a modern Italian restaurant in Los Angeles, the Pappardelle di Ortica features stinging nettles, oyster mushrooms and fennel pollen, all crowned with a poached egg.
Gerard Craft relies on the egg to help move pasta seamlessly into the brunch space at Sardella. His Eggs Benedict Raviolo features a circle of pasta topped with mortadella, bread ricotta (sourdough mixed with fresh ricotta) and an egg yolk. It's covered with another circle of pasta, then boiled and topped with a brown butter hollandaise—rounding out the Benedict theme—and served with breakfast potatoes. "It's everything you want in a breakfast dish," he says.
Pasta today is as open to interpretation as a sandwich, pizza or taco. Chefs are leveraging that new flavor frontier—where the possibilities are limited only by their imaginations, and are energized by diners' never-ending love of pasta.