By Katie Ayoub
November 17, 2019
The recent college student demographic transition from Millennials to Gen Z has college and university (C&U) foodservice directors reassessing their menu development approach for these students—all future restaurant consumers. Campus dining programs are not only shifting their menu development, but also the ways in which they provide menu options to their customers. Their discoveries and solutions are providing a primer for restaurant brands to better understand what this segment of Gen Z consumers will expect on their menus.
When these Gen Z students leave the hallowed halls of campus life and become dining consumers, they will likely seek out restaurant experiences that can provide what they have become accustomed to—what they now view as a given. Interestingly, some of the qualities they'll seek out in those experiences are similar to what restaurants have been working toward for years: transparency and wholesomeness.
"But this generation defines them differently," says Lisa Eberhart, RD, director of nutrition and wellness with North Carolina State University (NCSU) in Raleigh, N.C. "Menu transparency is now hyper-focused on allergens and nutritionals. Wholesomeness is less about calorie count. They do care that it's healthier, but their version of 'healthy' is local, sustainable and delicious."
That's an important shift in diner perception that requires a careful look at how a menu item is both developed and marketed in the hopes of fulfilling that definition. Understanding and reacting to that evolution in mindset and expectation is crucial in getting younger diners to choose one restaurant over another.
When it comes to shaping flavor and dining preferences among students, significant influencers include unprecedented access to global flavors and formats, a staggering amount of variety, customization bordering on recipe engineering, convenience and value. Of course, a few of these are baked into the C&U foodservice models of all-you-care-to-eat and grab-and-go. But exposure to international flavors and the ability to often personalize their experiences are informing their palates and giving them a sense of ownership of the eating experience. Those daily dining habits will transform into expectations that they will take with them when they leave school and become full-time restaurant goers.
Food Evolution
Why do colleges and universities continue to enhance their foodservice programs? Everyone loves chicken tenders and pizza—even now—so why innovate? "Chicken tenders is a category unto its own," says Rafi Taherian, associate VP of Yale Hospitality in New Haven, Conn. "It's an outlier, not an indicator." Tenders, like other craveable favorites, are evergreen. They're beloved, sure, but they don't necessarily build differentiation.
Foodservice directors recognize that as much as corporate chefs across foodservice do. With C&U, innovation is also driven by a need to compete in a crowded landscape. Also, nearly half of students today consider themselves foodies, according to Datassential, motivating on-campus dining concepts to respond with on-trend, flavor-forward choices.
For restaurant brands, then, the takeaway isn't about noting particular flavor preferences of this generation over others, like gochujang over Sriracha, for instance. Rather, it's about understanding and prepping for consumers who are getting a collegiate foodie experience that is helping shape their future expectations and preferences.
38% of students are currently following at least one lifestyle diet
Datassential, 2019
Taherian has spent more than 25 years in campus dining, observing significant changes over the years in students' dining habits and flavor preferences. "The pace of change is the underlying differentiating factor today," he says. "We used to talk about a cycle of innovation that was 12 to 18 months. That's no longer the case. We have to constantly update and evolve because our students are looking for us to do so."
NCSU's Eberhart agrees, saying that students today are wanting to experiment. "Of course, all-you-care-to-eat set-ups are good incubators for adventurous eating because they can try a number of different things without the worry of paying more for that experience," she says. "The point is: If the dishes are interesting, they'll try them. And then they'll look for them when they leave school."
The school offers lesser-known flavors and exotic ingredients, like in its Vegan Jackfruit Poke Bowl, designed to replicate the experience of poke, but without the fish. It features ginger and gluten-free soy sauce, as well as wakame seaweed, pineapple, soybeans and avocado. Gochujang dressing adds big flavor. Students can also order familiar formats with modern flavor combinations, like the Chicken and Waffle on one of the school's late-night menus that sees Nashville hot chicken atop a cheddar-chive Belgian waffle.
We used to talk about a cycle of innovation that was 12 to 18 months. That's no longer the case. We have to constantly update and evolve because our students are looking for us to do so.
Rafi Taherian, Yale University
Taherian says specificity of ingredient and origin is important to students, too. "We can't just call out EVOO. We have to call out the varietal: arbequiña or Castelvetrano. They're no longer excited about 'just' shakshuka. They want to know what kind of shakshuka it is," he says. So, with shakshuka, he says that their curiosity and foodie-ness leads to a demand in detail and variation.
Perhaps a callout of za'atar-spiced tomatoes, or a switch-out to tomatillo sauce as the base. Taherian's example cues restaurant operators that younger consumers are already looking for differentiation within relatively new global discoveries. Creative iterations then, need to appear on menus that much sooner. Yale is committed to keeping up with that expected pace of flavor innovation, recently hiring James Benson, who was previously at the Wynn Las Vegas, as director of culinary excellence. "He's going to help us with serving that growing population of culinary-minded students," says Taherian.
Catering to Needs & Wants
In hospitality, the name of the game is pleasing the customer. That customer coming out of college is more likely to have specific demands and preferences, some shaped by modern lifestyle choices and others through dietary needs. Whatever the impetus behind the wants and needs, Eberhart underscores the market opportunity in capturing these groups of diners.
"We have 10,000 people on a meal plan and 1,000 of those have documented allergies," she says. "That's one in 10. That's a sellable group. Add to that the undocumented group that just wants to avoid gluten or dairy, etc., and that's another customer base you can sell to." Datassential confirms that pattern in C&U, reporting that 48 percent of students today are avoiding at least one allergen. The implication here for restaurants is significant—as is the opportunity to develop menu items that answer those needs, and are delicious, build trust and brand loyalty.
49% of students self-identify as "foodies"
Datassential, 2019
Another interesting phenomenon, happening both in the "regular world" and on campuses, is the adoption of specific and restrictive diets, like ketogenic, paleo and Whole30 as lifestyle choices. On campuses nationwide, 38 percent of students are currently following at least one diet. Tailoring menu items that adhere to these diets may help restaurant brands gain traction with these consumers.
Customization is Expectation
Customization is nothing new, but many college students today expect a level of personalization that is unprecedented. Driven in part by dietary restrictions or allergies, there's also an element of the college dining experience that encourages this style of eating. "Personalization is king with this demographic," says Eberhart. "They can make it what they want—that is a given now."
She and her team learned that the hard way recently, launching a bowl concept with seven curated options and limited customization choices. "Customization really slows down the line, so we came up with seven globally focused, delicious bowls," she says. "We got slapped upside the head over it."
As a quick fix, the team kept the five best-selling bowls and offered the ingredients for customized creations. "It's all a balancing act, but restaurants should consider how to let these consumers personalize their meals as much as possible," she says.
Taking notes from college & university dining program successes is a smart strategy for commercial foodservice operators, as campus dining is the training ground shaping the experiences and expectations of future restaurant consumers.
48% of students are avoiding at least one allergen
Datassential, 2019
Anywhere, Anytime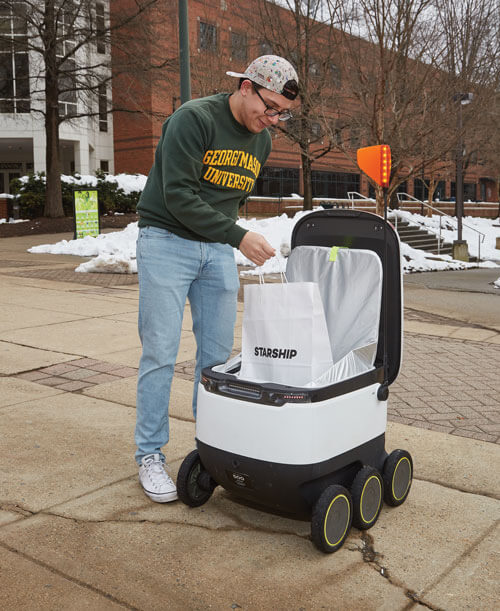 Delivery is a hot topic in foodservice, with consumer demand pushing brands to problem solve and innovate in order to keep up or get ahead of their competitors. A case study at George Mason University in Fairfax, Va., sheds light on what consumer expectation will look like in the future, along with a roadmap to solving a delivery dilemma.
Students and faculty were asking George Mason for the ability to order delivery from the school's 32 restaurants. So the school partnered with Grubhub, then tried an in-house delivery system that followed a similar model. "One of our biggest challenges was that when weather was bad, delivery orders spiked and driver availability went down," says Mark Kraner, executive director of campus retail operations.
"But robots don't care about the weather."
George Mason teamed up with Starship Technologies and earlier this year became the first college campus to use an automated delivery fleet of 43 robot vehicles that can reach about 40,000 students and faculty across its campus. The fleet currently does about 350 deliveries a day, but has recently extended hours of service to late night, so that number will surely rise.
In addition to the robot's ability to traverse bad weather and never miss a shift, this type of delivery is poised to change consumer expectation—with younger consumers in particular. Once an order is placed through the app, it's loaded into a locked section in the robot. The customer is texted upon delivery, and uses a unique code to retrieve the order.
The robot can deliver orders anywhere on campus."It can go to the outside of a residence hall, office or even a picnic bench," says Kraner. That geolocation aspect opens up delivery and alters consumer expectations as to what's doable by foodservice brands. A number of on-campus brands (licensed through Sodexo) are participating in the robot delivery program, including Blaze Pizza, Shake Shack, Starbucks, Dunkin' Donuts and Subway. "You bet that those brands and others are bringing their people to look at this technology and see how they can leverage it outside of our campus," says Kraner.