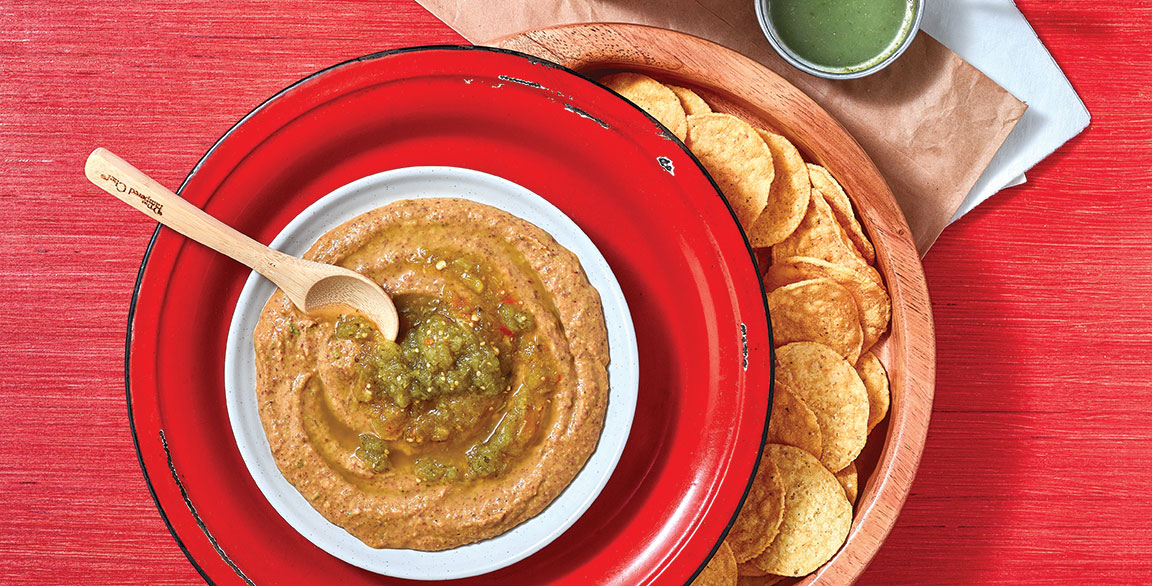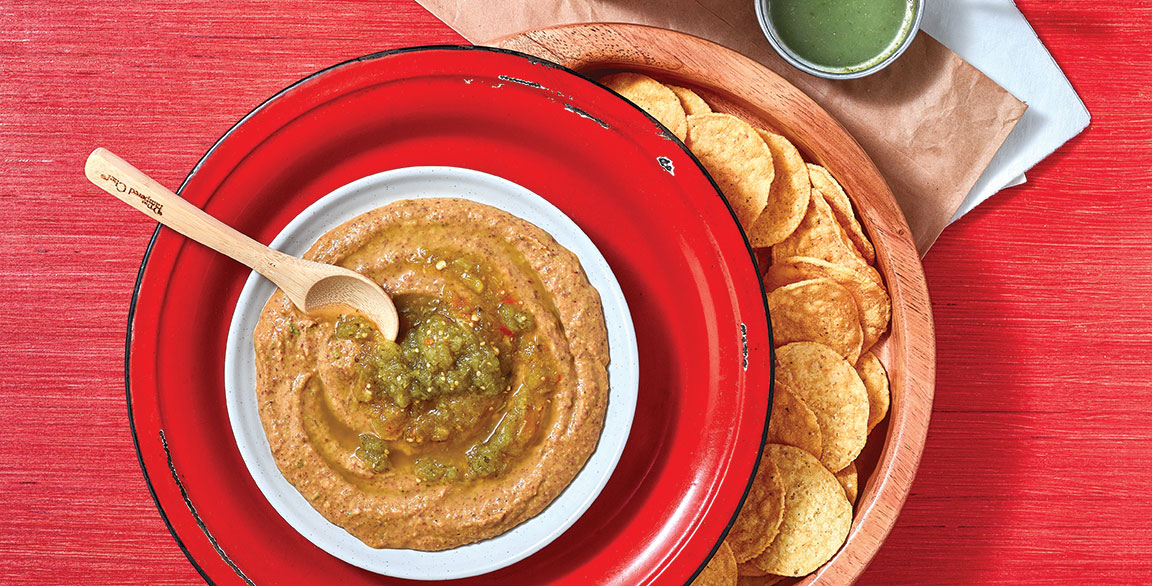 By Mike Kostyo
December 1, 2021
As author and illustrator Susan Branch once quipped, "Before Julia Child there was only onion dip." While most American diners might be just fine with that state of affairs—60 percent say they love or like French onion dip, according to research from Datassential—the truth is that the ever-expanding array of flavorful dips and spreads holds such sway with customers that these accompaniments can be a powerful menu draw.
The close cousins (the line between where a dip ends and a spread begins is blurry at best) are not only consumer favorites, but versatile workhorses. Foundational elements can be tweaked endlessly, spinning unexpected and exciting flavor experiences that are applied with virtual abandon across recipes, cuisines and dayparts. The mere addition of a trending spice or other ingredient can produce a brand-new shareable, a craveworthy dipping sauce to serve with fries or tots, or a unique spread that redefines a burger or sandwich.
Trend-worthy dips and spreads are also poised for serious menu growth as customers return to in-person dining seeking taste experiences that they may have been denied earlier in the pandemic. Whether you are tweaking a classic mayo, aïoli, salsa or dip to pump up menu favorites or incorporating trending dips and spreads like baba ghanouj or cucumber raita as a means to set your menu apart, a high-impact dip or spread is a useful key to unlock success.
MEDITERRANEAN MOXIE
"If we were allowed just one dip or spread on the menu, it would be a classic garbanzo bean hummus," says Austin Vaziri, senior research & development chef at Chicago-based CSSI Marketing + Culinary. "It can be used in a variety of applications, like a base for a pizza, a side for dipping or even a spread for a sandwich; and it can also be the foundation for a globally inspired hummus." The low food cost is a strong selling point here. "The versatility in premium applications combined with the low food cost makes it a viable option that can inspire several dishes on a given menu," he adds.
Hummus continues to fortify its menu dominance, with Datassential predicting it will likely grow another 29 percent on menus in the next four years and hit a target of one out of every five menus soon after. Hummus variations including Brussels sprouts, roasted corn, chimichurri, miso, saffron, sweet potato and sumac have all grown by triple digits.
"Beans are essentially a blank canvas for hummus, as they easily pick up the flavors of the ingredients paired with them," says Vaziri. "Looping in globally inspired spices and ingredients gives it that uniqueness consumers want, from both a visual and a taste perspective."
For his signature hummus, Brian Reimer, culinary director of Farmshop in Santa Monica, Calif., starts with a traditional chickpea, tahini and lemon juice base, then adds ripe California avocados for a rich, buttery flavor. A pistachio salsa verde is drizzled over the top, followed by a sprinkling of Nigella seeds for their slight onion-flavored crunch and deep black color. It's served with fresh vegetables and za'atar-seasoned lavosh.
THE HEAT IS ON
As diners embrace spicy flavors with more ardor than ever, it's no surprise to learn that the fastest-growing dip on menus today is spicy mayo, increasing its menu penetration by a staggering 359 percent in the past four years, according to Datassential, while mango-habanero, Sriracha and Buffalo sauce continue to grow as well.
Menu developers can take inspiration from plenty of heat-spiked spread and dip builds, ranging from the spicy black bean spread that brings a punch of heat to the pulled pork Cubano (with smoked Gouda, sliced pickles and grain mustard) offered at Barley Mac in Arlington, Va., to the sweet-heat Whipped Ricotta, served with strawberries, beets and a spicy harissa vinaigrette at JCT Kitchen & Bar in Atlanta.
SKINNY DIPS
While consumers continue to seek out plant-based menu options, they certainly won't settle for any sacrifice in flavor. That's why rich, flavor-forward dips and spreads, served with crunchy chips or spread onto a plant-based burger, provide a natural area for upping the ante with fruits and vegetables.
At The Brookdale, a lively concept of upscale pub fare that opened late last year in Bloomfield, N.J., Jonathan Kavourakis, chef/owner, starts with a go-to duo that can be found in many dips and spreads: rich, tangy feta and earthy, intensely hued beets. But he pushes his Beet + Feta Dip to the next level by featuring fennel in three ways: crispy fennel, pickled fennel stalk and the anise-flavored fennel fronds.
"I'm committed to having lots of vegetarian and vegan options on our menu," says Sheryl Johnston chef/kitchen manager of Pittsburgh's East End Chewing, the new in-house kitchen for East End Brewing Company. Seeking to add a shareable small plate to the menu, she put a case of broccoli and some leftover ingredients from their "pizza of the week" special to good use, creating the spicy, plant-based Buffalo Broccoli Dip. Johnston subs in broccoli for the traditional chicken and, in keeping with her "waste-not" mentality, serves it with the toasted trimmings from misshapen pizza crusts.
The dish was so popular that Johnston now introduces a new dip option every month, offering up versions like savory vegan Pumpkin Hummus or her take on ajvar, the Serbian roasted red pepper spread.
A SWEET SPREAD
Flavor and application innovation in dips and spreads isn't limited to the savory side of the menu, as chefs explore boundary-pushing dessert options. "One trend-forward dip that really resonates with modern consumers is dessert hummus," says Vaziri, noting that it's a perfect example of the "permissible indulgence" being marketed to diners today. With pumpkin pie-spiced, sugar cookie and sea salt caramel varieties showing up on retail shelves, the time is right for hummus to make sweet menu moves.
In Troy, N.Y., the new Hummucidal food stall in River Street Market offers a rotating dessert hummus option it calls "dessert in disguise." Its Go Bananas hummus is made with a vanilla bean and banana base, topped with banana chips, walnuts and a caramel drizzle. "Dessert hummus can be a premium menu offering at a low food cost that provides consumers with a dessert they can feel good about," says Vaziri.
"The options for flavor combinations are endless," he adds, pointing to the overall opportunity presented by dips and spreads. "The way to keep these interesting revolves around thinking outside the box when it comes to flavor."