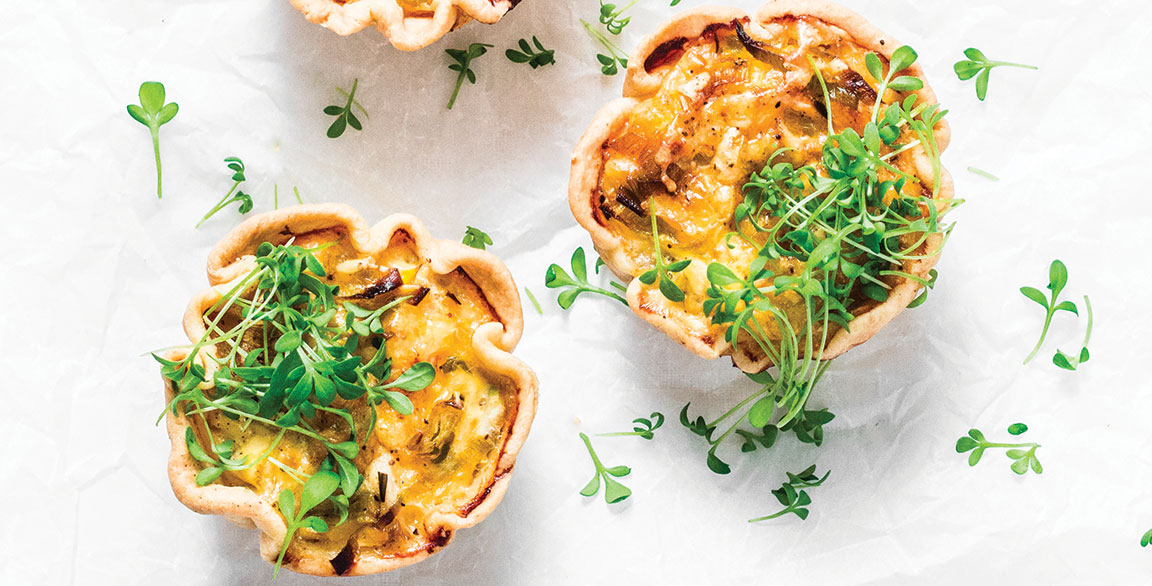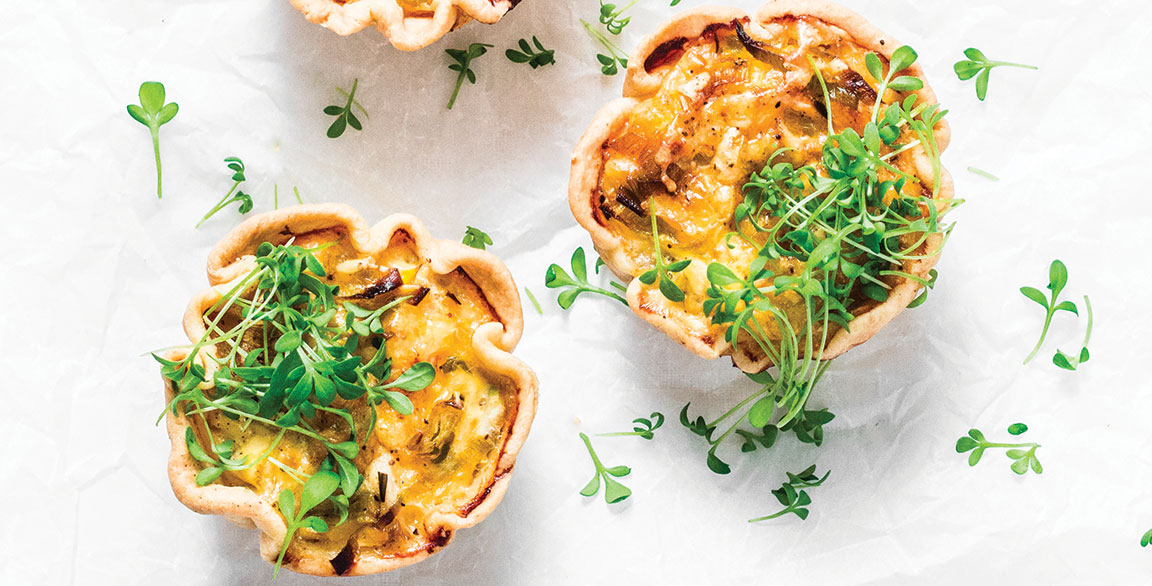 Menu developers have spent the better part of the last two years redefining comfort food, applying regional and global influences, creating healthier alternatives and finding contemporary interpretations of time-honored classics. As restaurant menus shift toward cold-weather offerings, savory bakes are well-positioned to hit this stylized comfort-food mark.
From casseroles to savory pies, bakes provide a canvas for culinary creativity, encouraging chefs to leverage the enduring popularity of these comfort classics while exploring opportunities for inventive flavor play. This can be as simple as changing out a single ingredient, adding premium touches or moving a dish into a new format altogether.
With so much energy around savory bakes, this is a prime time to serve up signature offerings. Here, we start with a loose interpretation of bakes to reveal 10 modern takes.
1

Southern Soul

Tried-and-true Southern classics regularly hit the menu sweet spot with customers far outside regional borders. Lean into the timeless, soulful appeal of fundamentals like fried chicken, baked mac and cheese, and creamy grits for a bake base, and then apply savory-sweet flavor profiles to stimulate the palate.
Try This >
Honey-Chicken-Grits Casserole: Chopped, spicy, crispy chicken breast + aged cheddar sauce + grits/milk/eggs + crumbled buttermilk biscuit topping + wildflower honey drizzle
Baked Winter Mac and Cheese: Grooved, large elbow macaroni + sharp cheddar-butternut béchamel + braised pork belly chunks + herbed breadcrumb topping
2

Mexican Comfort

The warmth of Mexican cuisine is ideally suited for cozy cold-weather menus. Pair mainstream south-of-the-border favorites with trending flavors and transform them into hearty bakes.
Try This >
Street Corn-Tamale Pie: Golden corn kernels + crispy chorizo crumbles + fire-roasted green chile gravy + Mexican cheese blend + masa crust
Beefy Burrito Bake: Carne guisada + bell pepper trio + refried black beans + jalapeño-cream cheese-filled folded flour tortillas + roasted tomato salsa
3

Stratas

Let these rustic breakfast bakes take center stage any time of day. Position stratas as a lunch or dinner entrée by spotlighting classic sandwich flavors. Double the comfort quotient by combining a craveable sandwich with a sumptuous bake.
Try This >
Deli Brisket Strata: Chopped smoked brisket + crispy shredded hash browns + mustard-charred onions + challah bread + eggs/milk/cream + Gruyère cheese
Monte Cristo Strata: Seared ground turkey + diced Black Forest ham + French bread + eggs/milk/cream + Havarti cheese + bourbon-raspberry sauce drizzle + powdered sugar dusting
4

New England Seafood

Pull out elements of this quintessential social bake to create modern twists, with more operationally-friendly executions. Clams, lobster, potatoes, corn, sausage, lemon and onions can all be used in exciting ways that speak to New England traditions and hospitality.
Try This >
Clam & Scalloped Potato Bake: Chopped clams + chopped smoked sausage + sour cream-sauced russet potato slices + fresh thyme
Lobster & Cod Pie: Chopped lobster + flaked cod + creamy smoked corn-sweet onion sauce + crumbled Ritz crackers/melted butter/grated Parmesan topping
5

Moroccan Charm

North African flavors have proven tantalizing trend-forward menu introductions. Incorporating these into a Moroccan-inspired bake creates intriguing savory-sweet-spicy deliciousness. Introducing a touch of the exotic into a comfort classic elevates the dining experience.
Try This >
Bisteeya: Pulled roasted chicken (flavored with turmeric/cinnamon/ginger) simmered in light chicken gravy + golden raisins + toasted almond slices + couscous + phyllo crust
Moroccan Meatball Tagine: Merguez-style mini-turkey meatballs + puréed tomatoes/roasted red peppers/onion/olives + dried apricots + sesame seeds + flatbread
6

British Tradition

Has anyone mastered classic cold-weather comfort food quite like the Brits? Take the simplicity of their pub fare and add unexpected premium touches, replicating expected hearty, rich flavor profiles in a refreshed way. Introduce ingredient combinations that will resonate with adventure-seeking guests.
Try This >
Curried Short Rib-Cottage Pie: Shredded braised beef short rib + curried mango chutney + mashed sweet potatoes
Lamb & Hash Brown Shepherd's Pie: Pulled braised lamb shoulder + caramelized root vegetables + sour cream-shredded Yukon gold hash browns + grated white cheddar cheese
7

Italian Inspiration

Italian cuisine is a testament to quality-minded comfort. Follow this ethos in creating straightforward, no-fuss bakes. Carb-loaded, cheese-focused and elegant are the key attributes to highlight here. Find inspiration in regional Italian classics or dip into the plant-forward trend.
Try This >
Veggie Lasagna Roll-Up Bake: Rolled lasagna noodles, salted eggplant strips with ricotta/mozzarella/Parmesan blend + kale pesto sauce
Torta Pasqualina: Ricotta + Parmesan + chopped spinach/Swiss chard/artichoke + lemon zest mix + whole eggs (cooked inside) + puff pastry crust
8

Aussie Meat Pies

These savory pies from Down Under can provide portable comfort or seated satisfaction, depending on size and style. Leverage the primal appeal of meat-filled pastry and meat-broth blends, or apply a lighter touch with plant-based options. Add vegetable purées for a punch of wholesomeness.
Try This >
50/50 Hand Pie: Ground beef + portobello mushrooms + diced potatoes + gravy + baked herbed pastry crust
Autumn Dinner Pie: Braised chicken thigh + sautéed leek slices + pumpkin purée-chicken broth gravy + baked cornmeal pastry crust
9

Modern Chinese

Riffing on trending flavors expands menu reach and has the potential to create brand-new stars. Bring the influence of popular Chinese-American menu favorites into bake-style formats. Maintain the flavor profile that consumers anticipate, but incorporate a distinctive twist.
Try This >
Kung Pao Chicken-Meatball Skillet Bake: Chicken meatballs (flavored with garlic/ginger/Sriracha) + kung pao sauce + chicken broth + red bell peppers/scallions + peanut-chile pepper garnish + steamed buns
Baked Orange Chicken Shells: Chopped, crispy-battered fried chicken breast + celery/cabbage/onions + spicy orange sauce + jumbo pasta shells + shaved ricotta salata
10

Modern Coulibiac

The Russian coulibiac is a savory pirog or pie traditionally filled with layers of salmon, hard-boiled eggs, mushrooms and rice. This seafood-rice bake provides a lighter alternative to hefty, meat-centric options. Old-school salmon coulibiac is ripe for a contemporary touch, especially when offered as a single serving.
Try This >
Seafood Imperial Bake: Old Bay-seasoned shrimp/crab + lemon-caper rice + caramelized onions + Parmesan-puff pastry crust + chopped egg-rémoulade sauce
Fried Cajun Catfish-Rice Bake: Seared flaked catfish + fried red rice + hard-scrambled eggs + andouille + bell peppers/onions/celery + puff pastry crust + comeback sauce