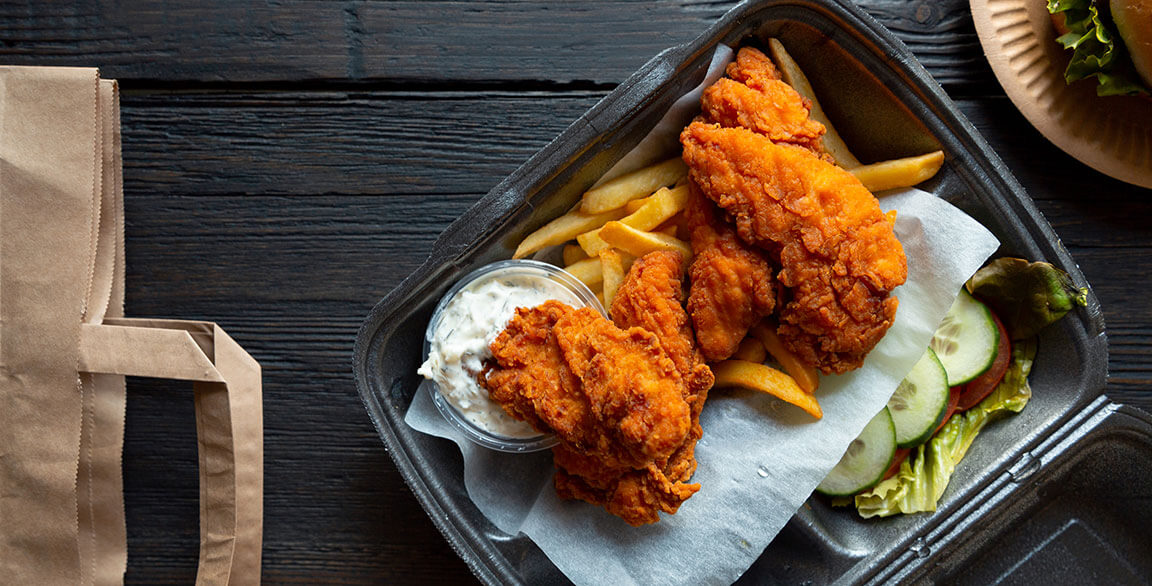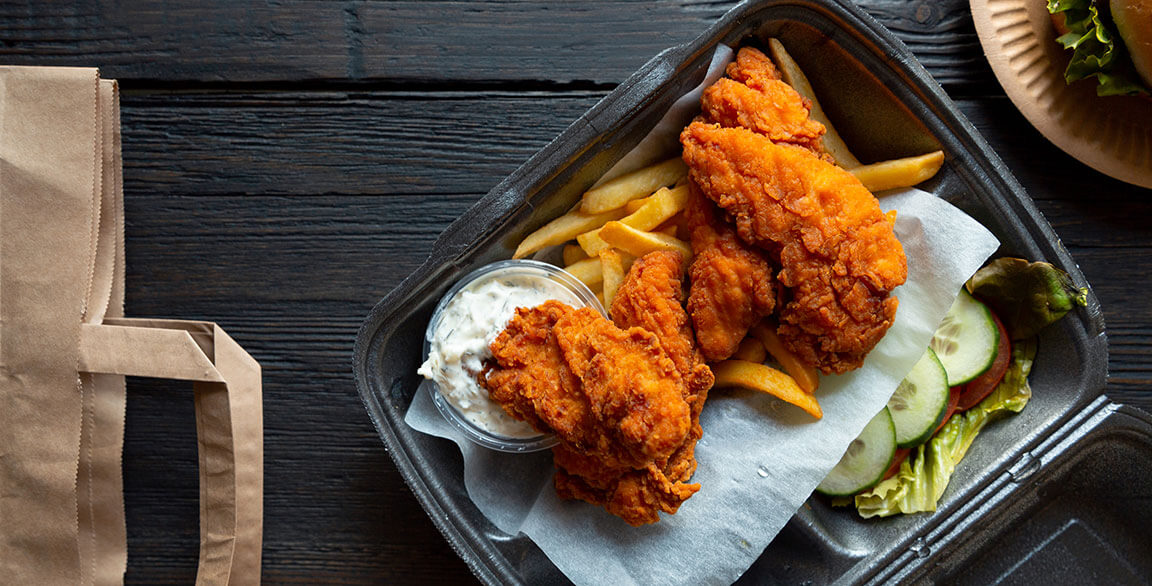 This jacked up breakfast burrito lifts a takeout staple to another level, filled with soft-scrambled egg, slices of honey-glazed sausage and laced with hot sauce.
By Rob Corliss
September 16, 2021
Flavors on the Road
Going the distance with takeout and delivery
Foodservice meal kits are flourishing, as operations have been adapting their menu strategies and people are appreciating the value of packaged restaurant meals. Menu developers are innovating within the unique context of their signature styles to appeal to a variety of consumer tastes and lifestyle needs.
Here, we break out four types of consumers today, with a pathway to delivering meal kit experiences that answer their specific cravings.
1

CRAVERS OF FLAVORFUL HEAT

Look to flavorful, nuanced heat for the growing number of consumers who not just seek out heat, but look for complexity of flavor through counterbalances of sweet, savory, aromatic, funky or bitter. Heat lovers will get excited by the opportunity to enjoy their favorite spice or be tempted to try something familiar yet new. Operators can further benefit by conveying the specific brand of hot sauce, regional/global cuisine or ingredients used in the meal.
Menu Example
Underbelly by Chris Shepherd, Unconventional Texas BBQ Sampler – Beer can chicken with spicy comeback sauce, a rack of Sriracha-honey glazed ham ribs, pecan-smoked bacon sausage
2

CRAVERS OF COOK-FREE MEALS

These kits offer the immediate convenience of "open the container and eat." When executed well, these fully prepared meals not only offer turnkey restaurant meals, they can extend a brand's personality and serve up goodwill by "saving dinner." Operators are discovering clever ways to bundle and present menu offerings.
Menu Example
Pei Wei, Family Bundle – Guests choose a shareable, two entrées, side, and dessert (optional), from menu hits like Signature Chicken Lettuce Wraps or Crab Wontons, Fried Rice or Lo Mein, and Thai Doughnuts
3

CRAVERS OF DIY

For consumers who love chef-driven meals and learning new skills, or just the fun of assembly, these meal and snack kits provide an easier hands-on way to prep food during the week. They also create a comforting interactive connection by combining the restaurant's kitchen (and culinary team) with the loving touch of the customer's home kitchen.
Menu Example
Auntie Anne's, Pretzel Kit (10-pack) – This DIY kit includes the mix for 10 original or cinnamon sugar pretzels. Customers twist, bake, add butter and "try to resist the urge to eat more than one in one sitting."
4

CRAVERS OF EXPERIENCE

Consumers who love dining experiences that transport them to an indelible moment in time, a food memory or an iconic meal will love themed meal kits. Operations can service their surrounding area or venture into cross-country delivery of these authentic meal cravings.
Menu Example
Katz's Delicatessen, Taste of New York – Billed as: "Wish you could share a true New York deli experience with your family and friends?" It includes: 1 lb pastrami, 1 lb corned beef, 1 small salami, ½ loaf seedless rye bread, 1 qt sour pickles, 6 classic Katz's frankfurters, 12 frankfurter buns, 1 lb mustard, 1 lb sauerkraut, 6 classic New York bagels (pick flavor).