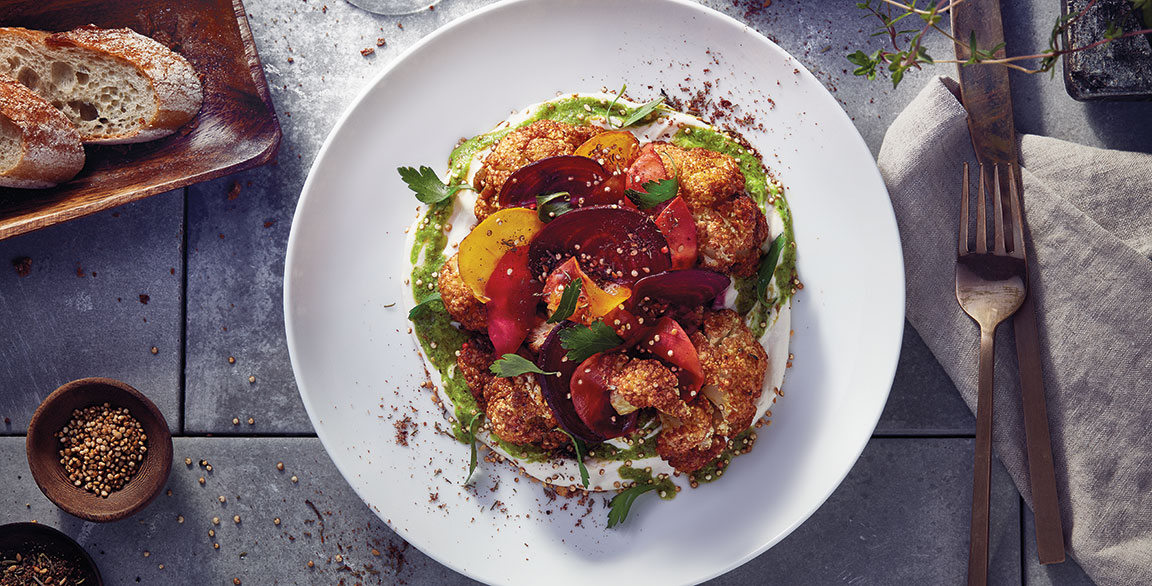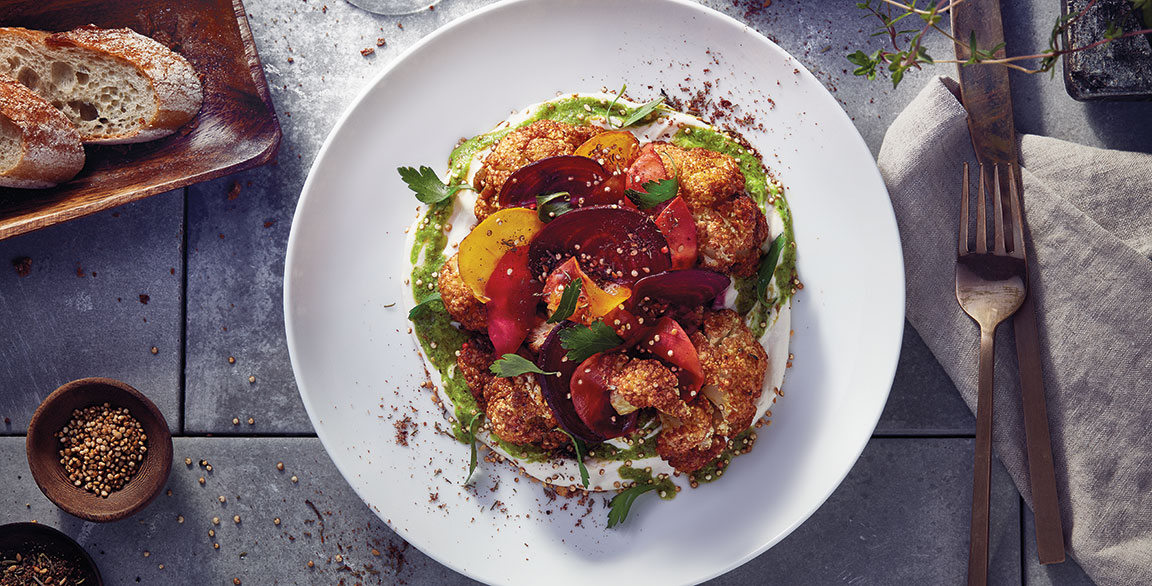 By Flavor & The Menu
June 3, 2020
For cauliflower to become a menu champion, flavor must move sharply into focus. Chef Leyla Wheelhouse showcases the power of that strategy in her Za'atar Roasted Cauliflower with s'chug, garlic labneh and quick-pickled beets, which took first place in Minor's® Flavor Expedition Recipe Contest.
Presented annually, the contest celebrates the craftsmanship of professional chefs, recognizing their commitment to distinctive, memorable flavor experiences. Wheelhouse, Culinary Director of Direct Food Service, an airline food supplier based in Wood Dale, Ill., was awarded $10,000 and a food tour of Los Angeles.
Her cauliflower dish was inspired by the flavors she discovered in her youth, living abroad thanks to her father's job as a foreign correspondent. "I lived in countries like Morocco, Senegal and Israel and fell in love with the foods there," says Wheelhouse, whose previous culinary experience includes stints at Whole Foods and the Salt Lake City Winter Olympic Games.
The food stalls at bus stations in Jerusalem carved the deepest flavor memories for Wheelhouse. "They pack all of the flavors of the Middle East, Europe and beyond into their offerings. It's those bold flavors that excite your mouth and build craveability," she says.
Wheelhouse's winning dish, a plant-based shareable that sings with Eastern Med and Latin flavors, demonstrates that approach. "When developing veg-centric dishes, it is so important to create an intense, layered flavor experience." She marinates cauliflower florets in toasted curry powder, rice wine vinegar, Minor's® Fire Roasted Jalapeño Flavor Concentrate, sugar and salt, then deep fries them.
Her roasted garlic labneh and s'chug are both spread on the plate then topped with the cauliflower. Each are simply embellished, achieving pops of flavor with what Wheelhouse calls "smart shortcuts." She adds Minor's® Roasted Garlic Flavor Concentrate to the labneh and builds her own s'chug by simply combining Minor's® Gluten Free Greenleaf™ Cilantro Pesto with cumin, sambal and freshly squeezed lime juice.
"How do we create intensity of experience in a smart, effective fashion? For me, it's about using Minor's® products like this one. In this case, it's the pesto, but redirecting it into a spicy Israeli relish," she says. Wheelhouse introduces another bold flavor through her finish of pickled beets, marinated in Minor's® Red Adobo Flavor Concentrate, red wine vinegar, sugar, mustard seeds, water and salt.
"Depth of flavor and unexpected flavor is what we want to achieve as chefs," says Wheelhouse. "Using Minor's® products helped me get there—without adding that hit of sodium that some products deliver. With plant-forward innovation top of mind, it's exciting to see all the ways we can showcase flavor."