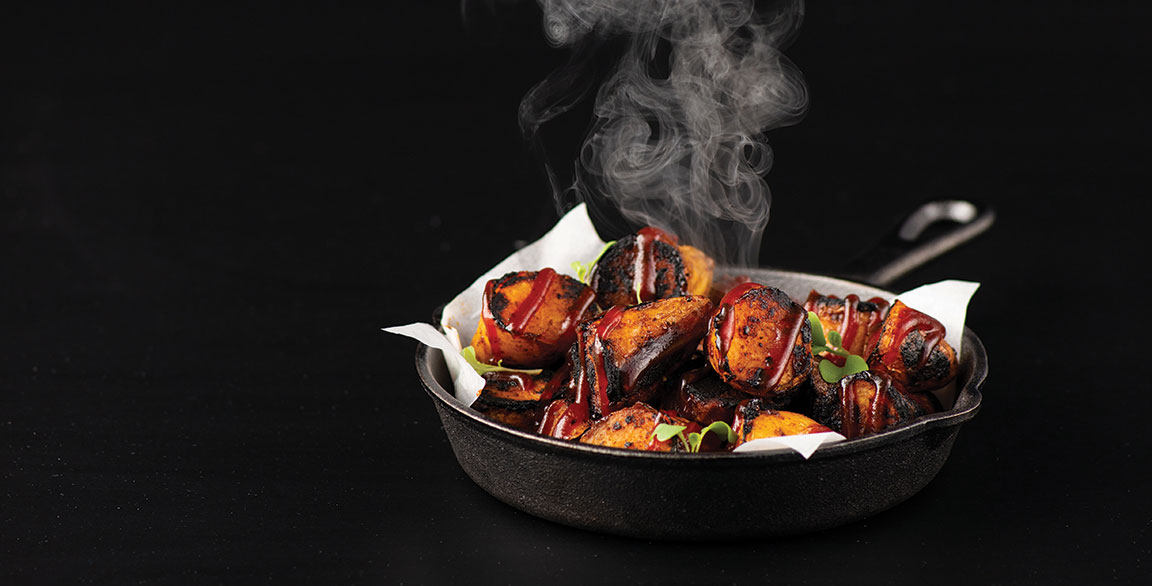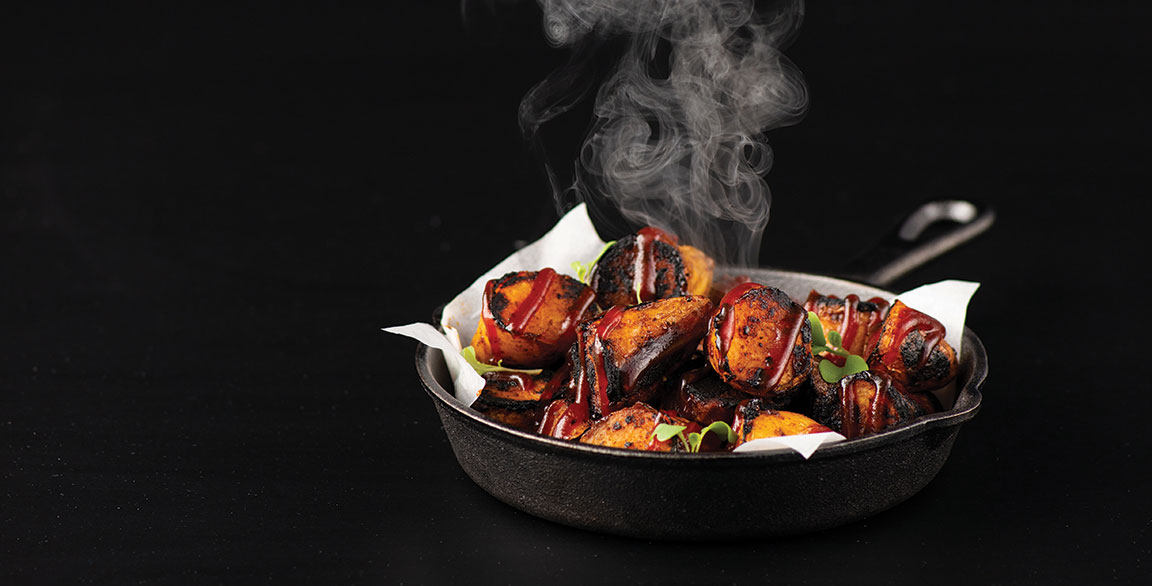 By Flavor & The Menu
May 12, 2020
Comfort and value are in sharp focus these days. As menu developers look to deliver satisfying dishes that soothe the soul, potatoes crop up as a smart source of inspiration. "Potatoes are America's favorite vegetable. They are the No. 1 dish at foodservice—people crave them in any form on menus," says RJ Harvey, RDN, Culinary Director with Potatoes USA. "When chefs menu an ingredient people love, it gives them a valuable connection point." That emotional connection between restaurant brand and dining consumer is more important today than ever.
While comfort food is taking center stage, flavor remains the star. Look to this entrée of Smoky Potato Burnt Ends for inspiration, which cleverly moves a familiar, craveable profile into a plant-based and cost-effective dish.
Fingerling potatoes, that have been boiled in water flavored with a touch of liquid smoke, lemon, garlic, salt and thyme, are tossed in oil and seasoned with dry rub. They're roasted until charred and caramelized, drizzled with barbecue sauce and finished with green onion and soft herbs.
"Potatoes take on aggressive flavors like smoke really well," says Harvey. "We're giving diners a reference point. Without even tasting it, they can imagine what this dish would be like. I think that is an essential part of telling a story through food. Being creative is one thing, but making a dish relatable is another. This dish does that. Potatoes are a relatable ingredient that offer chefs the opportunity to tell their stories through their food."
Potatoes are…
Cost effective
Easy to prepare
Require minimal labor
Carry an extended shelf life compared to most produce (even longer in their dehydrated and frozen forms)
Summer days
When building modern bowls, look to potatoes to help deliver messaging around wholesomeness and functionality. Data points to growing consumer demand: According to Technomic's 2018 Healthy Eating Consumer Trend Report, an impressive 64% are eating more foods because of specific nutritional benefits than two years ago.
Ethiopian Potato Salad
Bright and vibrant ingredients make this a stand out: diced potatoes tossed with olive oil, lemon juice, jalapeño and parsley. "The simplicity of this dish makes it comforting and delicious," says Harvey.
Smoked Potato Salad
Fully-cooked, diced frozen potatoes are tossed in Japanese mayo, liquid smoke, rice-wine vinegar, Dijon, dill pickle relish, fresh chives and dill, then topped with a pickled purple potato. Underneath, a toasted rye "soil" featuring rye bread and almonds lends crisp texture.
Visit potatogoodness.com/foodservice for more culinary inspiration.