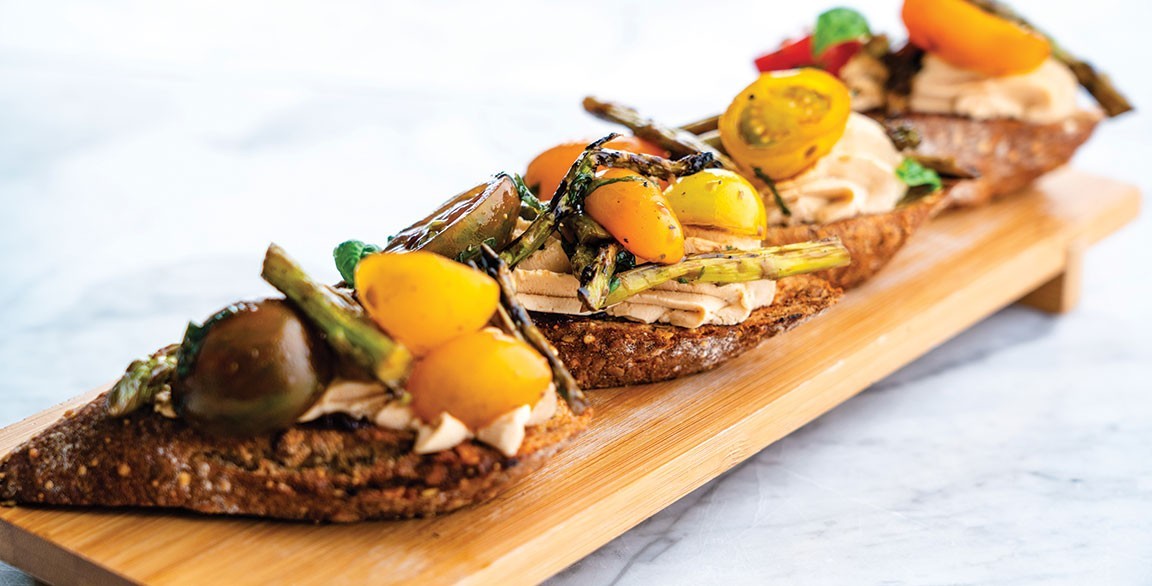 By Flavor & The Menu
June 3, 2020
Creating flavor memories is what sets a restaurant brand apart, and making those emotional connections with diners is what motivates chefs to cook great food. Of course, a number of pathways drive toward that goal, but perhaps the most direct one leads to innovation that turns today's flavor trends into menu opportunities. Tethering the exciting to the familiar is the challenge, finding the balance in dishes that inspire and entice without moving too far outside of comfort zones.
Partnering with foodservice manufacturers that have a strong culinary backbone is a winning strategy. Minor's® understands that flavor means business and backs up its consistent, high quality products with a culinary team dedicated to turning today's trends into stellar menu opportunities.
What follows is a chart of 10 dynamic menu-ready builds, sauces and flavors, along with ideas on how to leverage them effectively. We asked Orlando Apodaca, Nestlé Corporate Executive Chef, to demonstrate smart ways in, using high quality products in trending applications. The 10 categories—from Indian bar bites to hot honey sauces—lay out recipe ideas that carry broad appeal, but bring today's assertive flavors to the table. They each lean on the extensive portfolio of Minor's® products, from bases to sauces, starring top-quality ingredients that are selected, sourced and handled with extreme care to the highest standards in quality and food safety.
"At Minor's®, we're constantly pushing the envelope to stay on trend. Underpinning that innovation is our commitment to providing key solutions for the points of contention that each operator is facing each day," says Apodaca. "Quality, consistency and labor are part of our mission. We're also chefs, dedicated to helping you add bold flavors needed to create memorable dishes." Read on for 10 best flavor builds designed to give you a sharp competitive edge.
Orlando Apodaca, Nestlé Corporate Executive Chef, shares creative, easy ideas on how to key into them. Utilizing Minor's® Flavor Concentrates allows you to customize your build with unlimited sauces, spreads and aïolis.
For these recipes and more, visit flavormeansbusiness.com.
1

Signature Burgers

Bold flavor touches move the all-American burger to signature status. As we track umami making a deeper play on menus, chefs seek out quick, but meaningful, ways to bring it into focus. This burger goes all in on beefy flavor, dialing up umami with easy add-ins. "For a simple aïoli that sets your burger apart, mix Minor's® Beef Base with mayonnaise, and to introduce more umami, dip the cooked burger into a broth made with our beef base before assembling the burger."
2

Plant-based Bar Bites

The strategic use of flavor has made the plant-based revolution possible, and we now live in a world where many of the most talked about menu items star ingredients like cauliflower, Brussels sprouts and asparagus. Creative textural play coupled with developed flavors move these plant-based dishes into the craveable bar bites space.
This bruschetta builds complexity by combining grilled and fresh vegetables with the rounded mouthfeel of whipped goat cheese. Deep flavor elevates the profile, thanks to an infusion of Minor's®classical Reductions™ Reduced Vegetable Stock in the cheese. "It helps you add flavor while promoting more plant-based options on your menu."
3

Global Hash

Today, diners embrace familiar breakfast/brunch dishes made lively by global flavor infusions. Comfort-centric and satisfying, hashes continue to offer a great platform for flavor innovation. With bright, fresh, intense Mediterranean profiles inflecting modern American menus, looking to this part of the world for inspiration provides an easy pathway to all-day-menu success. "A blend of roasted sun-drenched vegetables makes this twist on ratatouille a flavorful base for your eggs. The highlight of the dish is the addition of Minor's® Greenleaf™ Basil Pesto, liberally drizzled over top."
4

Indian Bar Bites

The heady, potent flavors found in Indian cookery have been making their way onto American menus in creative mash-ups that diners are embracing wholeheartedly. Bar bites and appetizers are a fantastic place for creative play, combining American favorites, like wings, with craveable Indian flavors. "Energize familiar appetizers with the big, exciting flavors from India. Here, the wing sauce gets an infusion of the rich, bold Minor's® Masala Curry Flavor Concentrate. Execution is easy, with crispy chicken wings getting tossed in the sauce, with more served on the side as a dip."
5

Eastern Med Mash-ups

The flavors and formats of countries such as Turkey, Israel and Lebanon have found a huge fan base here, thanks to their deep pantry of bold flavors and ingredients. As Eastern Med items like harissa and falafel become more familiar, more doors are opening up for mash-up innovation. Today, chefs are combining Eastern Med with Mexican, French, Japanese and more. "This bowl, with its falafel, hummus, couscous, Peppadew and Greek tomato-cucumber-feta salad, features ingredients from the Eastern Med, Africa and France. Shiitake mushrooms are braised in our French-inspired Minor's®classical ReductionsTM Reduced Vegetable Stock, which helps boost the bowl's flavor."
6

Hot Honey Sauces

Heat and sweet have long made a great flavor pairing. The hot honey trend has kicked that up to another level, with chefs looking to honey's rounded, rich flavor to balance prickling, searing or savory heat. Further flavor dimension is welcome here, as demonstrated in this dish, which relies on Minor's® Honey Citrus Pepper Ready-To-Use Sauce for its deft combination of sweet, heat and acid. "Sauces like this one, which features honey, black pepper, red chile flakes, citrus juice and soy, intrigue restaurant patrons and entice them back for more. Simply toss cooked wings in the Honey Citrus Pepper Sauce for craveable Hot Honey Wings."
7

Modern Pan Sauces

Classic pan sauces have stood the test of time, thanks to their developed, complex flavors. With modern inflections, they can elevate entrées and introduce signature touches. "Minor's® has made these time-honored sauces more accessible to restaurant operators by reducing the labor, but maintaining the deep, rich flavors they're known for. To move these sauces into on-trend profiles, add subtle twists." Here, the peppercorn sauce is brought up to date by replacing vinegar and sugar. We infuse Minor's®classical Reductions™ Reduced Brown Stock with blackberry vinegar and agave syrup."
8

Functional Bowls

Modern bowl development has homed in on wellness, along with careful attention to flavor complexity and visual impact. Today's functional bowls balance craveability, wholesomeness and heartiness, delivering a rewarding experience while giving consumers the nutrient-dense options they look for. "This Harissa Bowl is a great example of how to provide ingredients, like sweet potato, lentils and yogurt, that answer the call for personalized nutrition, while ensuring a great flavor experience. The fresh, bright flavor from Minor's® Greenleaf™ Cilantro Pesto adds a great counterpoint to this dish."
9

The Rise of Bitter Flavors

As diners continue to show an appreciation for more aggressive flavor profiles, like fermented and umami-rich ones, dishes that highlight bitter in a pleasing way are making moves onto menus. "The trend in using bitter/sour flavors works well with African cuisine. Here, the bold flavors of a Moroccan curry sauce are accented by charred lemon slices and juice. Finding balance and consistency when highlighting bitter flavors can be challenging." Minor's® Masala Curry Flavor Concentrate works well in harmonizing bitter with savory, warm flavors.
10

Modern Steakhouse Sandwiches

Theclassic steakhouse sandwich houses tremendous opportunity today. Building from a craveable, recognizable, beloved format gives operators a head start. Differentiation, of course, comes down to flavor. Layering, boosting and surprising are key here, as demonstrated in this build. "We glaze a New York strip with Minor's® Bourbon Ready-To-Use Sauce while grilling it, then slice it thin. We also add that sweet-tangy bourbon sauce to mayonnaise to create a unique aïoli, then add arugula, caramelized onions and Monterey Jack, all built on a toasted demi baguette."