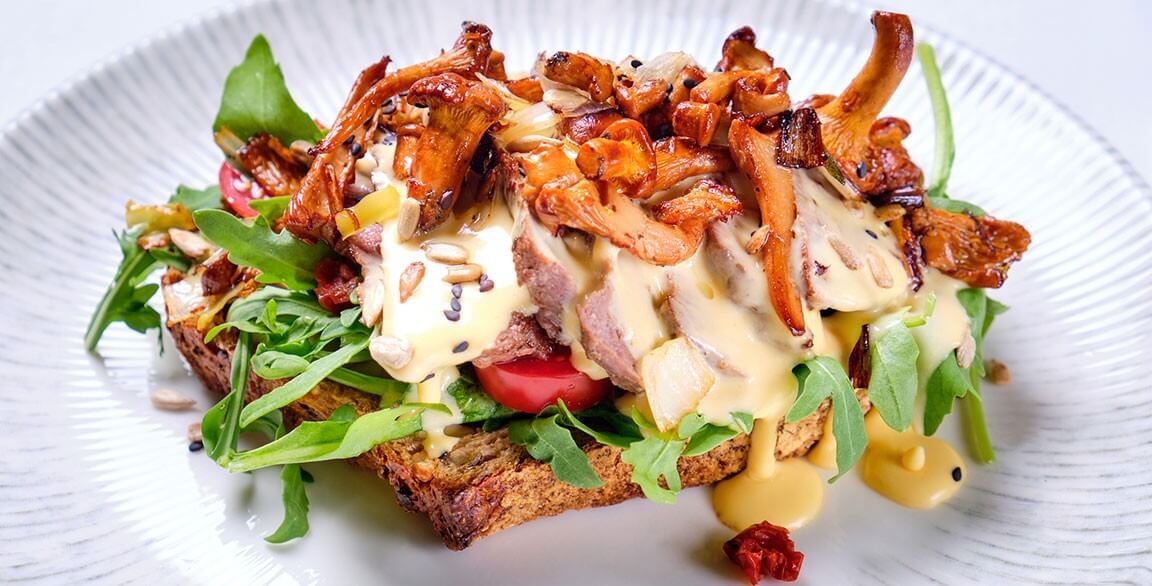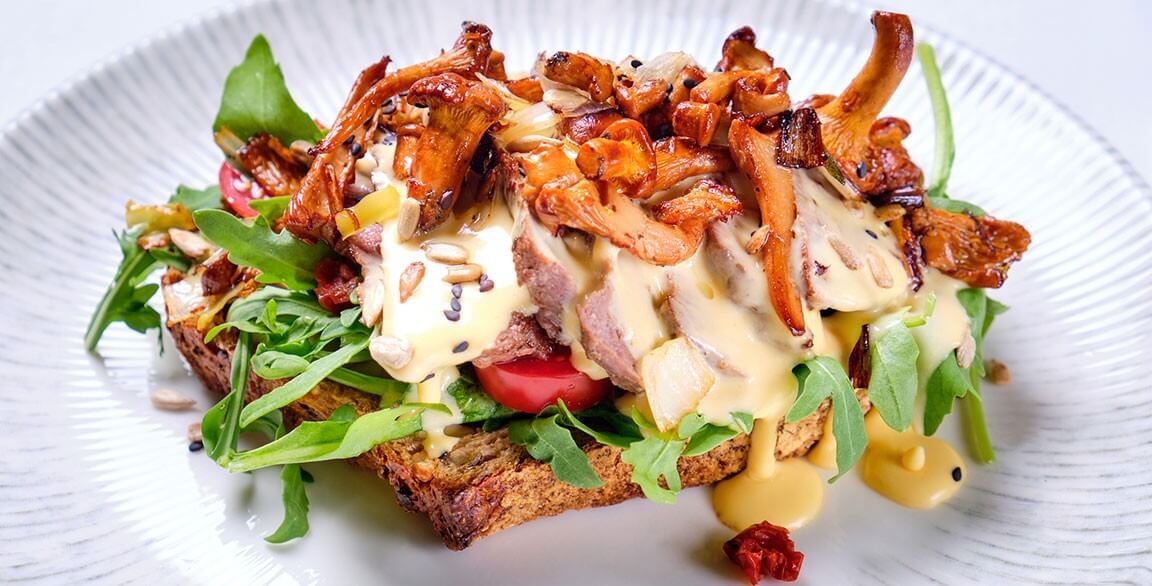 By Rob Corliss
April 20, 2021
Mushrooms have been finding their way into more menu applications for a while now. As evidence, simply look to the proliferation of the blended burger on menus nationwide. But with today's spotlight on immunity, mushrooms' nutritive properties have come into deeper focus, and both retail and foodservice are leveraging their proven benefits in wildly creative ways.
Retail operations are delivering fun indulgence with mushrooms. Sacred Serve, a plant-based "gelato" shop in Chicago offers a chaga-chocolate gelato and Addictive Wellness, a health food company that sells elixirs in Los Angeles, offers a caramel hot chocolate with lion's mane, tremella and cordyceps—three varieties of mushrooms. Consumers appreciate the medicinal and nutritive benefits while chefs fully understand how to leverage mushrooms' deep versatility. This convergence increases the overall popularity and aligns with new culinary exploration.
Mushrooms fit the obvious plant-based plays, but can really shine when chefs double down on satiating meaty-like textures and umami flavors, pairing mushrooms with pork, beef and chicken.
Here, we delve into multiple points of inspiration for innovative menu development consideration, placing mushrooms in a starring role.
Mushrooms of Note:
Reishi—prized for medicinal powers, it lends well to beverages (tea, coffee, juice, nut milk) and soft components (nut butters, soft cheeses, sauces); look to powdered form
Lion's Mane—an adaptogen with impressively distinctive shape; look to fresh form or powdered
Oyster—the mild flavor, chew and eye-catching appeal offer portobello devotees an easy transition into trying a more adventurous variety; look to fresh form
"Try This"
Reishi Ham Steak: Pan-seared country ham steak with reishi red eye gravy (reishi mushroom powder/coffee/ham pan drippings/butter) and buttermilk biscuits
Lioness Pizza: Fresh lion's mane mushrooms, shredded chicken, mozzarella, white sauce, artisan pizza dough
Porto Mac and Cheese: Roasted and sliced portobello mushrooms, peppered bacon, Gruyère mac and cheese
Forager Scramble: Soft-scrambled eggs, sautéed oyster mushrooms, ground and seared turkey, a topper of fresh spinach chiffonade
MENU SIGHTINGS
Jagerschnitzel: Panko-crusted wild boar, braised red cabbage, spaetzle, mushroom gravy
Billy Can Can, Dallas
Oh Maitake Beyond Burger: Gluten-free, crispy maitake mushrooms, lettuce, pickled onions, sprouts, creamy herb spread and smoked Gouda cheese
HipCityVeg, Philadelphia and Washington, D.C.
Wild Mushroom Bisque: Delicate oyster and exotic shiitake mushrooms simmered in a garlic-scented broth with onions, sherry, light cream and domestic mushrooms
Au Bon Pain, based in Boston
Crispy Fried Mushrooms: Crispy fried mushrooms in spiced chickpea batter with garlic-herb dipping sauce
Redbird, Atlanta
Winter Immunity Bowl: Lion's mane mushroom, farro, quinoa, carrot, broccolini, garbanzo beans, edamame, organic kale, garlic broth
True Food Kitchen, based in Phoenix
Oyster Mushroom Kebab: Buckwheat stuffed pepper, eggplant, tahini
Sachet, Dallas
Portobello "Croque Madame" with sage béchamel, Dijon mustard, arugula on house pain de mie, topped with a fried egg
Greens Restaurant, San Francisco