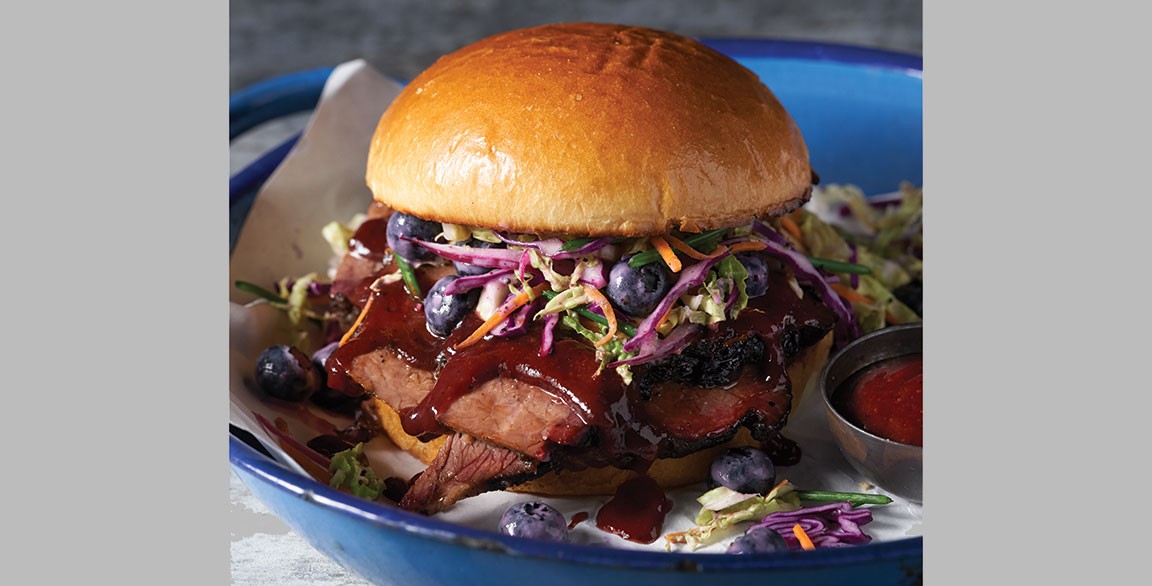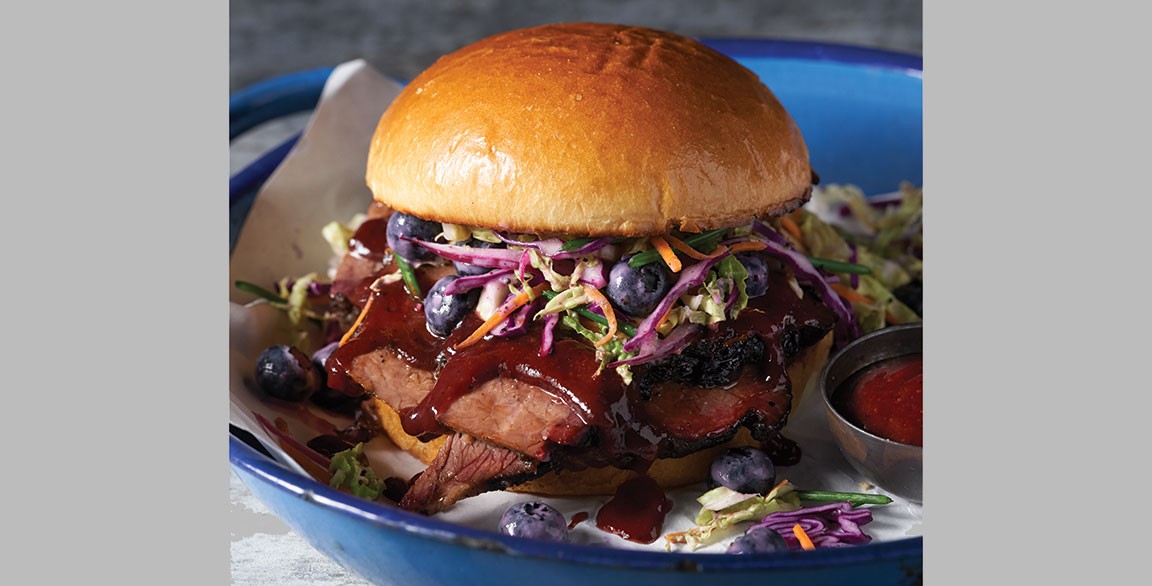 By Flavor & The Menu
March 3, 2021
Today, ingredients with broad versatility that also deliver high impact are the order of the day. Complexity of flavor and uniqueness of experience need to remain in the crosshairs. When building out savory menu items, like entrées, handhelds, bowls and salads, look to the blueberry for that unexpected flavor nuance. "While blueberries do have a naturally sweet flavor profile, it's the light tanginess and balance that makes them so versatile and the perfect addition to savory dishes," says Rosalyn Darling, Associate Culinary Director at Sterling-Rice Group, on behalf of the U.S. Highbush Blueberry Council.
"The intense sweetness in blueberries matches well with acidic and umami-rich notes."
Steve Sturm, Firebirds Wood Fired Grill
CHEFS' INSPIRATION
We tapped a few creative chefs to ponder the flavor possibilities of incorporating highbush blueberries in savory applications. They were given free rein on forms—from puréed and frozen to fresh and dried. Each came back with unique ideas that leverage the natural sweet-tartness of blueberries to balance the plate on the savory side of the menu.
Sauces, Glazes and Savory Jams
Blueberry Barbecue Wood-Grilled Australian Rack of Lamb (or Pork Tenderloin), served with poblano cream corn tamale
Blueberry-Bacon Jam Lamb Burger, wood-grilled and topped with arugula, lemon-whipped feta and pickled Fresno chiles
Smoked Turkey Breast with orange-ginger-blueberry sauce, served with spiced pecan green beans and green onion-Parmesan mashed potato spring roll
"Frozen blueberries give you an intense flavor, and can be pickled, turned into sauces, added to baked items, blistered and used in many other applications. Frozen blueberries are great with contrasting flavors in savory dishes."
Steve Sturm, Senior VP of Food & Beverage, Firebirds Wood Fired Grill
"I use both fresh and dried blueberries in a new blueberry mole. They lend a perfect balance of sweetness and a subtle fruit note, along with their signature tartness. The sauce is ideal to use for any kind of braise—chicken, pork, lamb, etc."
Hosea Rosenberg, Chef/Owner of Santo and Blackbelly in Boulder, Colo.
Finishing a chicken liver pâté with blueberry purée is delicious or layer in a little jelly in the bottom of the containers first, then pour in the pâté and let it set.
"I absolutely love working with blueberry purée. I fortify brown stocks, especially in the demi stage to enhance color and add a kiss of sweetness. Aside from seafood, a blueberry demi-glace will go with nearly any protein."
Dave Woolley, Director of Deliciousness, Buffalo Wild Wings
Salads, Sautés and Stuffings
Build a salad with fresh blueberries, smoked chicken, pistachios, cucumber, carrots, mixed baby greens and Peppadew vinaigrette
"Fresh blueberries were truly the 'Wow!' factor of a dish I made in the summer of scallops over sautéed corn and blueberries. It came out perfectly."
Hosea Rosenberg
Replace raisins with dried blueberries in a rice pilaf with almonds and herbs
Stuff pork belly with dried blueberries before roasting it, giving it a cool flavor and color combo
"Dried blueberries are my favorite form because I can maximize their flavor penetration in savory applications better."
Dave Woolley
"We dry, ferment and pickle summer fruits to make them last. Blueberries are one of our favorites to use at the restaurant for our charcuterie plates. We get really great reactions from people when they try the pickled blueberries because at first glance they look like fresh berries, but then have a burst of that tart pickled flavor."
Hosea Rosenberg
Hit the Sauce
For more savory-sweet inspiration, visit www.blueberrycouncil.org/foodservice.