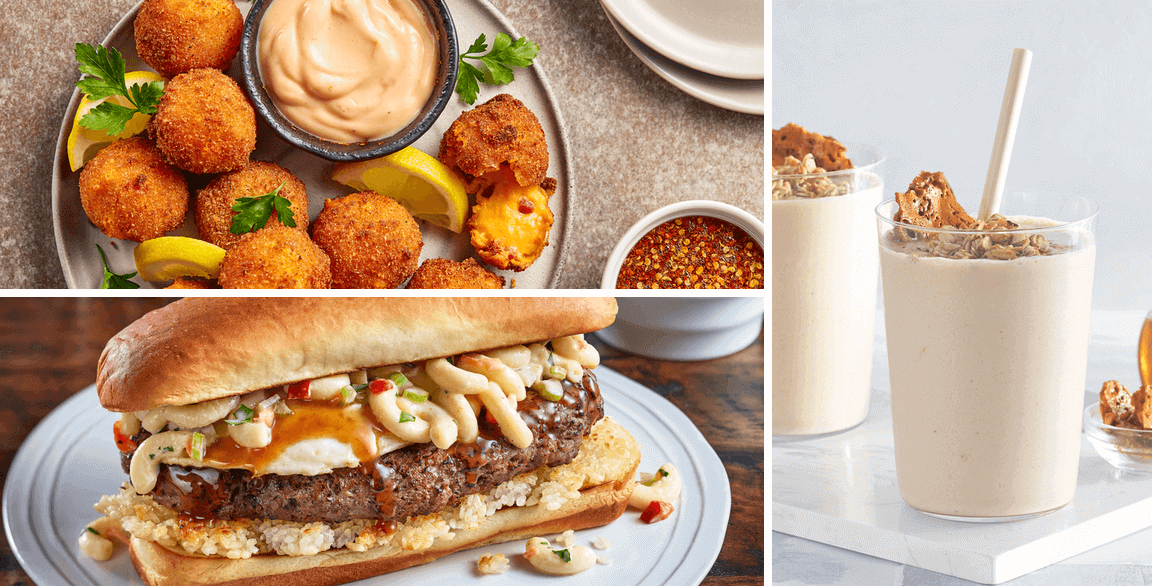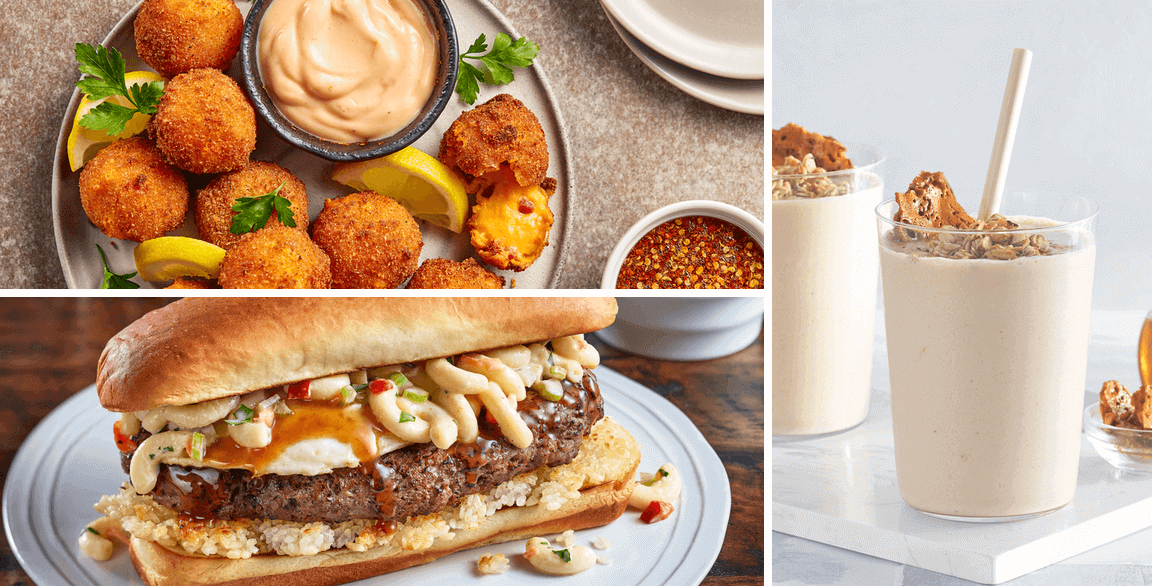 By Flavor & The Menu
January 21, 2022
Kitchen Collaborative is a recipe-development initiative formed by Summit F&B and Flavor & The Menu. To fuel flavor innovation, a group of talented chefs partnered with sponsor brands and commodity boards to create recipes that showcase the passion and potential of our industry.
CHEF SPOTLIGHT: Will Eudy & Ben Whittington
Successful recipe development requires a careful balance between confounding expectations with inventive culinary creations and maintaining certain parameters of coveted familiarity. Will Eudy, Corporate Executive Chef, and Ben Whittington, Culinary R&D Manager, both for FOCUS Brands International, demonstrate how they walk this tightrope with three very different recipes that have little in common beyond this shared sensibility. Pimento Beer Cheese Fritters, a Spam Loco Moco Hoagie and a Honey Peanut Butter Smoothie are the perfect trio to kick off a brand-new year of Kitchen Collaborative ingenuity in action.
Pimento Beer Cheese Fritters
With Merkts® Craft Beer Cheese as a spotlight ingredient, Eudy and Whittington chose to zig where others might zag. "Using beer cheese for fritters keeps it in the expected arena of an appetizer or a shareable side, while broadening perspectives by using it as a filling, rather than as a dip or a sauce," explains Whittington.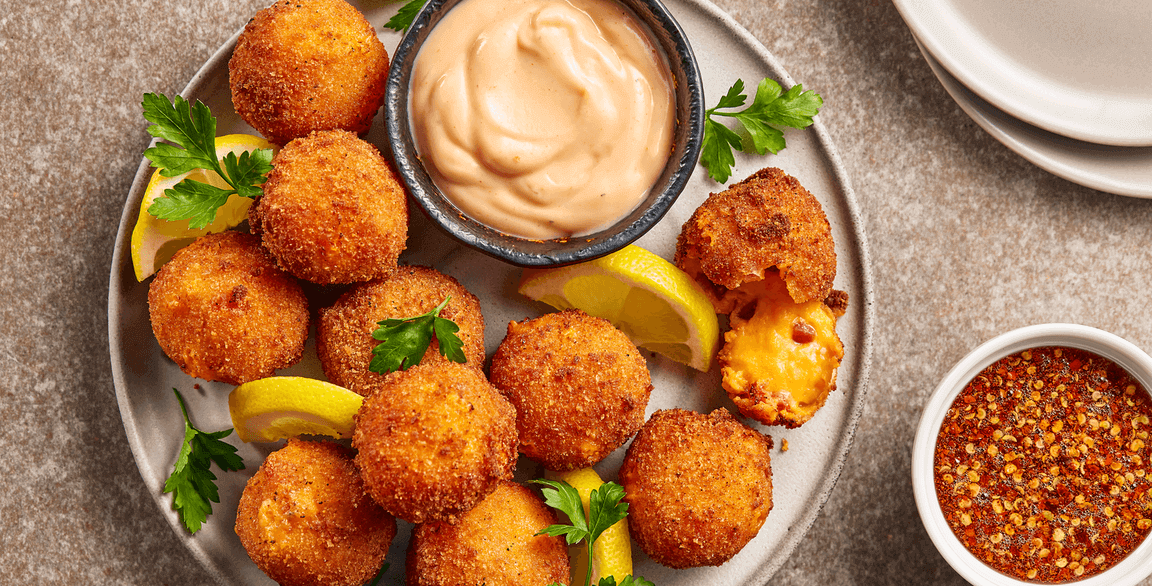 Photography: Carlos Garcia and National Honey Board // Food Styling: Peg Blackley & Bree Williams
The beer cheese is combined with shredded cheddar, crumbled bacon and pimentos for the fritter filling. The chefs note that the cheddar is an important element in developing the requisite pimento cheese texture they sought. "We wanted to add just enough cheddar to get that texture without muting the flavor of the beer cheese, which we wanted to remain dominant," says Whittington. The cheesy combination delivers a satisfying and complementary taste sensation, as each bite of the fritter is enhanced by the melty beer cheese along with the stretchy pull of the cheddar.
Eudy and Whittington opted to feature two dips—each with a bit of a kick—to accompany their fritters: Spicy Mayo (made with Tabasco) and Hot Honey (combining honey, smoked paprika, cayenne and chile flake). "We wouldn't say the dip is a necessary component, although we do think the spice and heat help to cut the richness of the fried fitter and add more flavor dimension to the dish," says Whittington.
Spam Loco Moco Hoagie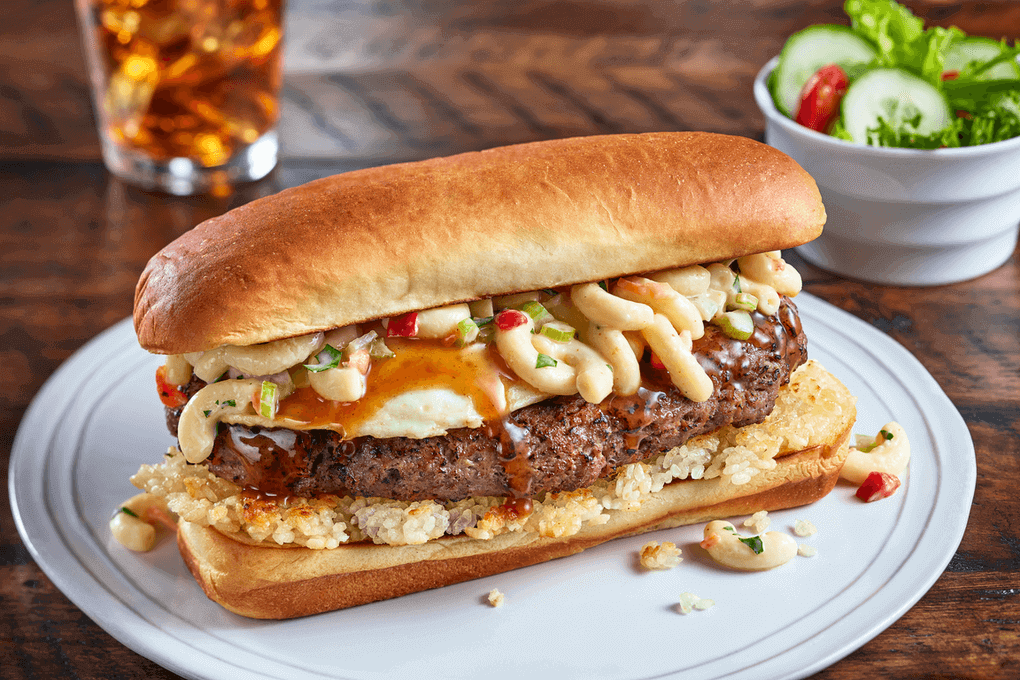 Photography: Carlos Garcia and National Honey Board // Food Styling: Peg Blackley & Bree Williams
A casual expectation of classic Hawaiian fare would lean toward pineapple, roasted pork and poi. Dig a little deeper into its culinary authenticity, and you'll find poke, chicken long rice and haupia. But it's the lesser-known loco moco that inspired Eudy and Whittington in their quest to spotlight King's Hawaiian rolls. Although this classic comfort dish is found on menus across the Islands, "It's not the first thing you think of when you think of Hawaiian cuisine," admits Whittington. A typical loco moco is a bed of white rice topped with hamburger patties, smothered with a rich, brown gravy and crowned with a fried egg. A generous helping of macaroni salad on the side is pro forma. Eudy and Whittington opted to reinvent the dish as a sandwich assembled within a hoagie roll.
"Building it all into a sandwich is definitely unusual," says Whittington. "There are a lot of different things going on here." The chef duo maintained key flavor elements from the traditional dish: savory from the burger patty, richness from the gravy and the fried egg and starch from the rice. Differentiation comes not only from the sandwich presentation, but from some intriguing ingredient choices. For example, the pair adds Spam to the burger to provide a unique-yet-familiar sweetness, salt and tang. Topping the sandwich build with the macaroni salad delivers a creamy brightness, along with a temperature contrast. Plus they crisp the rice and toast the roll to introduce a little crunch.
Spam is a Hawaiian mainstay, with residents enjoying the highest per capita consumption across the United States. Its novelty status on the mainland, however, could mean Eudy and Whittington's Loco Moco Hoagie might require some marketing finesse. Whittington stays focused on the opportunity here: "It's an interpretation of Hawaiian comfort food, more rooted in Hawaii than pineapple and ham on pizza or teriyaki on a burger. It could be a great way to open guests up to a unique regional cuisine with familiar ingredients. For me, understanding how foods move and evolve between locations and cultures helps to open up new ways of thinking about foods and how they can be adapted to become something new and innovative."
Honey, Peanut Butter & Banana Smoothie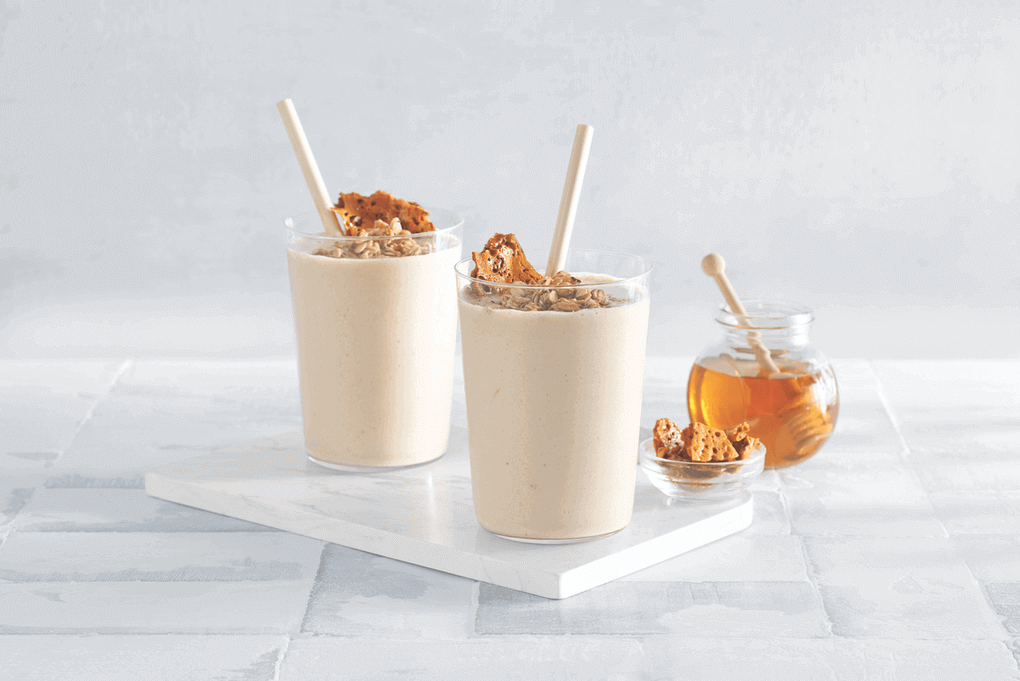 Photo credit: Carlos Garci and National Honey Board
Eudy and Whittington go all in on the flavor and performance attributes of honey in their Honey, Peanut Butter & Banana Smoothie, which stars a Clover Blossom varietal they describe as sweet and smooth, with some floral notes. It's featured in the smoothie blend, which is topped by a honey-glazed granola, shards of candied honeycomb and a honey drizzle. Honey is often relegated for use as a sweetener or flavoring, note the duo, explaining why they opted to go further in showcasing its versatility. "The honeycomb and granola help to reinforce the honey as the main flavor in the smoothie, ensuring it didn't get lost in competition with other ingredients, including Greek yogurt, peanut butter and banana," says Whittington.
The smoothie itself offers menu versatility. "The great thing about this concept is that it could be on a breakfast menu or a dessert menu, or both," says Whittington, adding that it could also serve as a midday pick-me-up. With just a few tweaks to the recipe, it can fit virtually anywhere it's needed: Remove the honeycomb to reduce the sweetness at breakfast, or amp up the indulgence factor by replacing the Greek yogurt with ice cream or dipping the honeycomb in chocolate, the chefs suggest.
Project Management: Summit F&B
Photography: Carlos Garcia // Food Styling: Peg Blackley & Bree Williams