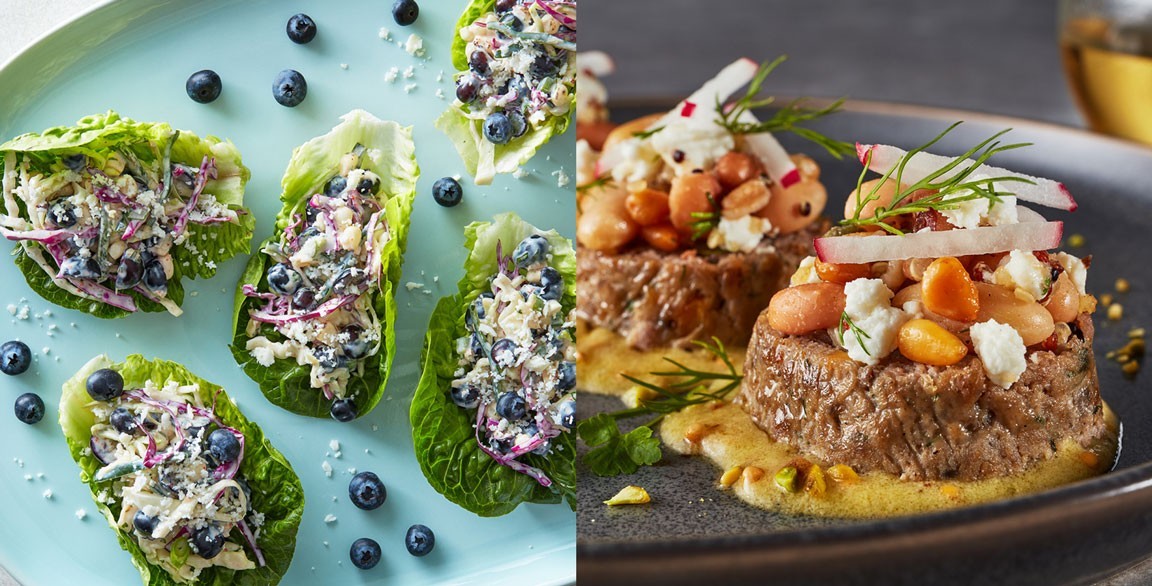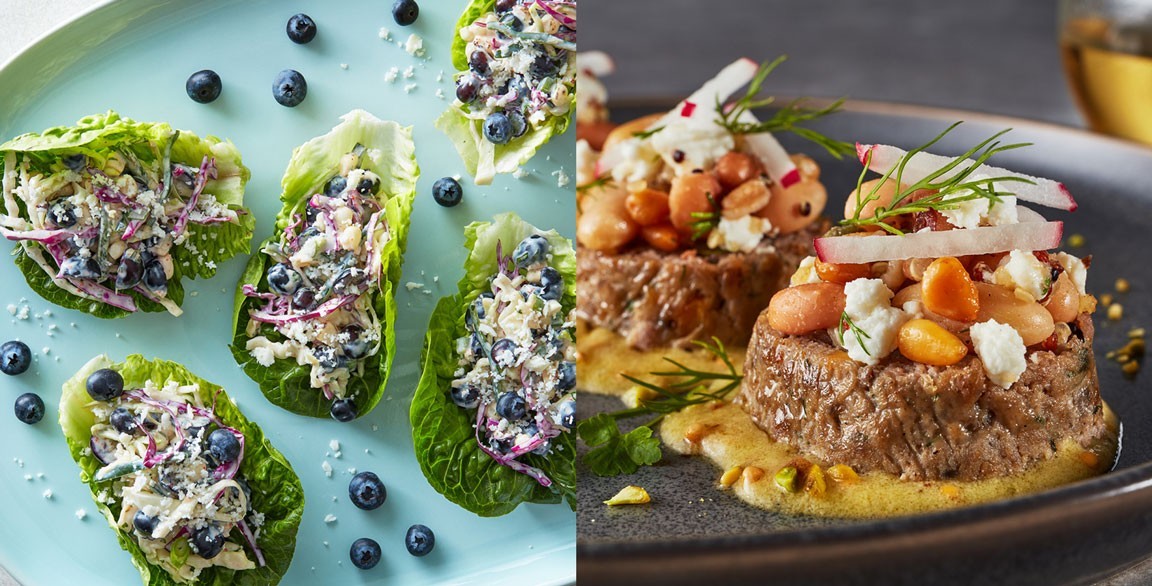 By Flavor & The Menu
May 21, 2020
Kitchen Collaborative is a recipe-development initiative formed by Summit F&B and Flavor & The Menu with support from sponsor brands and commodity boards looking to help chefs create, inspire and collaborate during these difficult times. To fuel flavor innovation, a group of talented chefs partnered with sponsors to create recipes that showcase the passion and potential of our industry.
CHEF SPOTLIGHT: IAN RAMIREZ
Ian Ramirez, Director of Culinary Innovation and Operations of Creative Dining Services in Zeeland, Mich., looked to the plant world for inspiration when developing his two recipes, approaching them with the idea of creating refined, elevated experiences. He also thought about versatility, and how these recipes might bend into the different concepts served by a hospitality and dining services provider like his. Ramirez' Blueberry Elotes Esquites Salad takes the classic Mexican street corn and reimagines it as a summery New American dish. And his Blended Burger Torchon with Black-Eyed Pea & Cannellini Bean Salad demonstrates how a popular plant-forward format can transform into an elegant center-of-the-plate presentation.
Blueberry Elotes Esquites Salad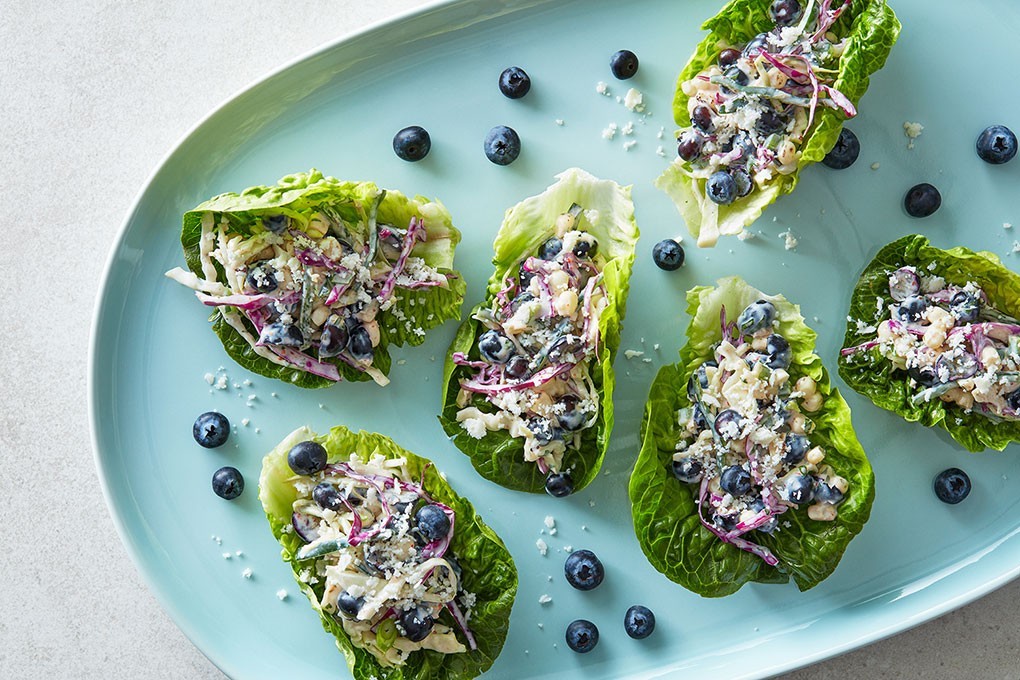 Photo: Carlos Garcia // Food Styling: Peg Blackley & Bree Williams
Ramirez takes the classic Mexican street corn dish that's found favor on American menus over the last few years and turned it into a bright, refreshing salad, served in crisp lettuce cups. He combines fresh blueberries with grilled corn kernels, green and red cabbage, poblano and jalapeño pepper, and green onion. He mixes those ingredients with sour cream, mayonnaise, lime juice, Tajín, cumin and Cotija cheese. "The blueberries added to this in such an amazing way with sweet and sour flavors, as well as a textural component," says Ramirez. "They're also a great counter to spicy flavors." Aside from featuring this blueberry elote in a salad application, he sees it working well as a component in a grain bowl or taco, or as a topping for grilled fish.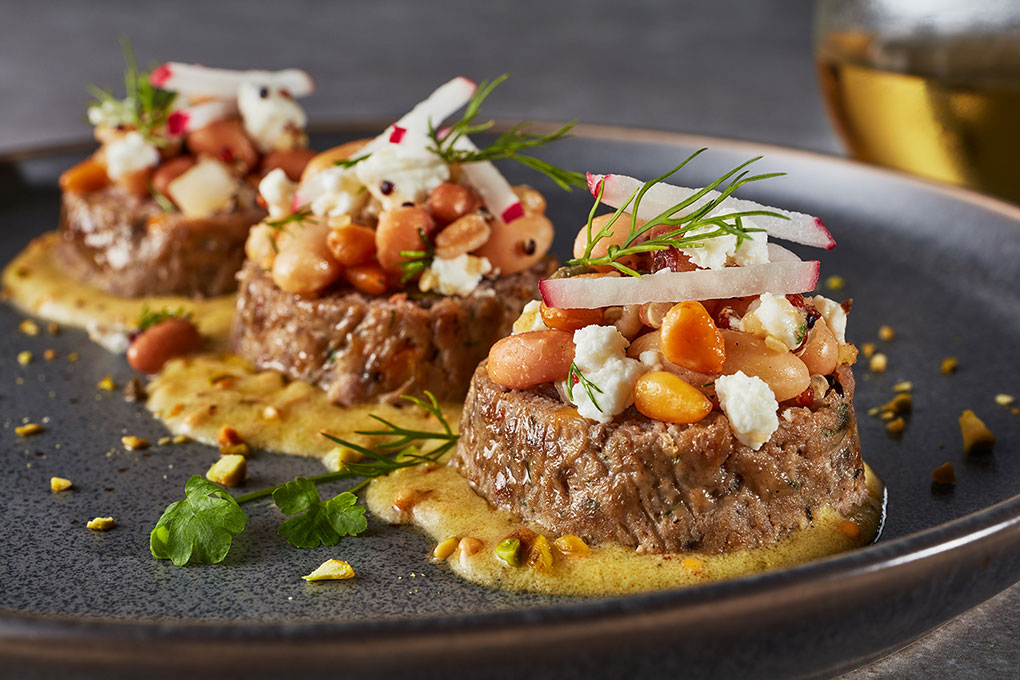 Photo: Carlos Garcia // Food Styling: Peg Blackley & Bree Williams
For the torchon, Ramirez pulled inspiration from his recipe for rabbit pâté with pistachios. He liked the idea of utilizing Bush's Best Blended Burger in a center-of-the-plate version. He combined the burger (a combination of beef, Northern beans and mushrooms) with pistachios, pine nuts, garlic and fresh dill, rolled the mixture into torchons, boiled them and seared them on a flat top. For service, Ramirez sliced the torchons and topped them a Black-Eyed Pea & Cannellini Bean Salad studded with farro, capers and goat cheese and dressed with a red wine vinaigrette. "The bean salad can be considered elevated picnic food," he says. "It's vibrant and versatile, working with almost any dish." That versatility applies to the torchon, too. Ramirez sees it as a meatloaf wrapped in pastry or bacon and baked in a terrine, or formed into meatballs and served over pasta.
Project Management: Summit F&B
Photography: Carlos Garcia // Food Styling: Peg Blackley & Bree Williams