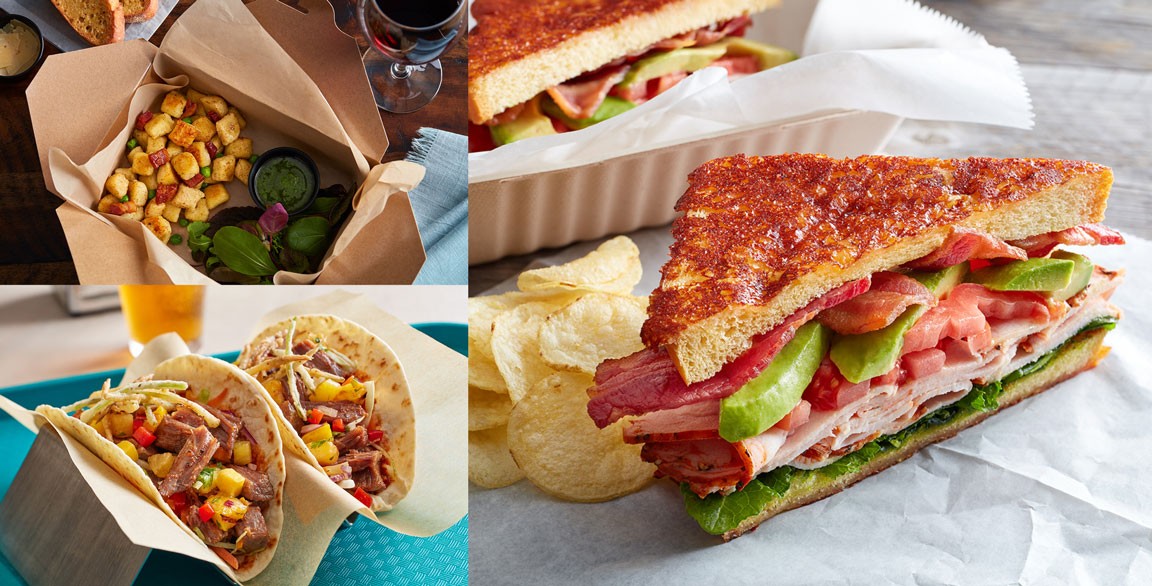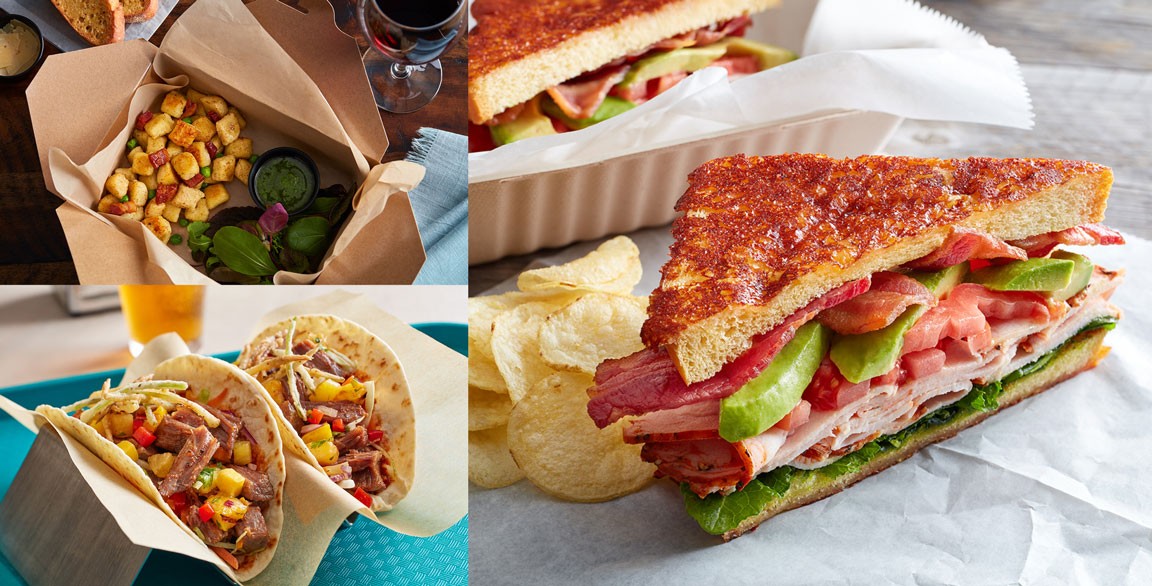 By Flavor & The Menu
June 2, 2020
Kitchen Collaborative is a recipe-development initiative formed by Summit F&B and Flavor & The Menu with support from sponsor brands and commodity boards looking to help chefs create, inspire and collaborate during these difficult times. To fuel flavor innovation, a group of talented chefs partnered with sponsors to create recipes that showcase the passion and potential of our industry.
CHEF SPOTLIGHT: GRANT MORGAN
Flavor punches can make a menu item a knockout, but the flavor moves that build up to that clutch moment are equally important. Landing on that combination can of course lead to a winning recipe. Grant Morgan, Chef/founder of Chopped Thyme Culinary Innovation, based in Dallas, comes out swinging with his three recipes. The G.O.A.T. Taco features a relish that delivers a blast of fiery habanero chilled by sweet pineapple. His Inside Out Grilled Cheese California Club Sandwich amps up the bread component with both a basil aïoli spread and a crispy manchego cheese crust. And his Brown Butter Potato Gnocchi relies on an intensely flavored basil purée for a lasting impression.
The G.O.A.T. Taco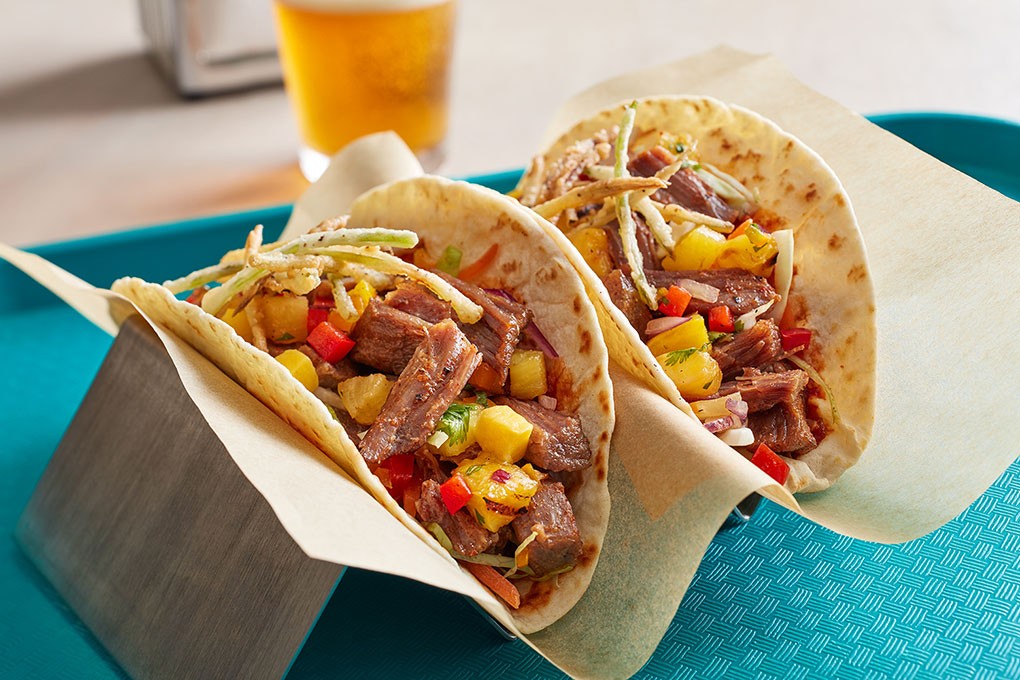 Carlos Garcia
Morgan sources Australian goat leg for this recipe, braising it in coconut milk, chicken stock and jerk seasoning. To build the taco, he spoons jerk sauce onto a grilled flour tortilla, then adds acidic green cabbage slaw, braised goat meat, pickled mango, and habanero-pineapple relish. He garnishes the taco with fried leeks. "It's all about the layering of flavors and textures when building a taco: the spice in both the jerk sauce and habanero, and the rich flavor from the braised goat that's built up by the sweetness and acid from the pickled mango," he says. "The crispy crunch you get from the leek gives every bite a punch of flavor." Goat is the surprise here, a protein not often seen on American menus. "It has a great, mild flavor and is a unique protein that can help diversify your menu," says Morgan.
Inside Out Grilled Cheese California Club Sandwich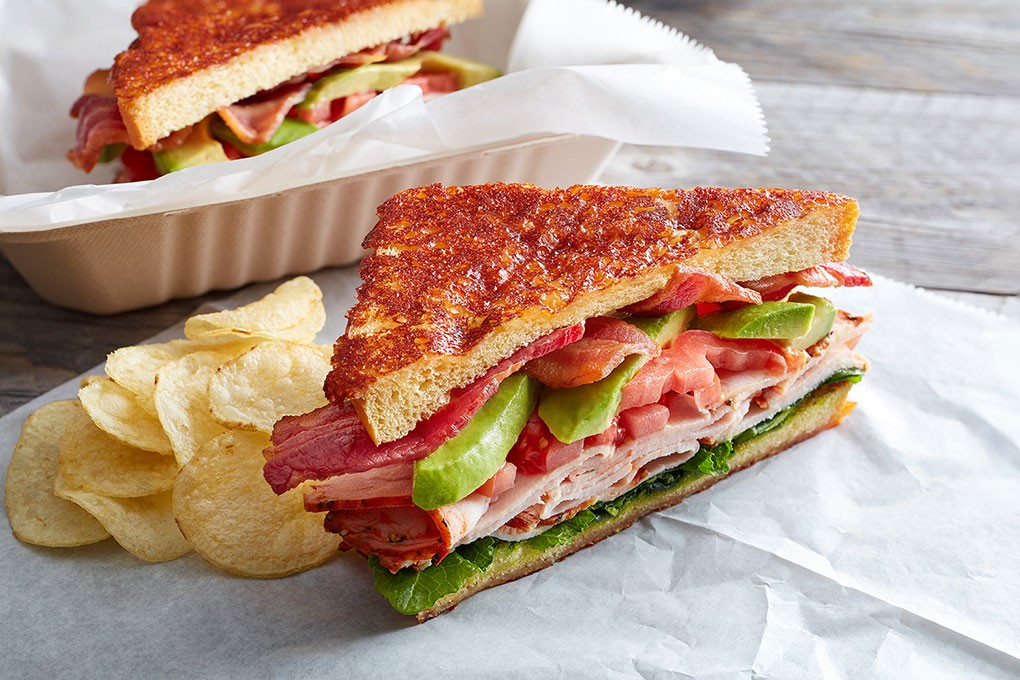 Carlos Garcia
Grilled cheese sandwiches are comfort classics that offer chefs a fantastic format for innovation. Morgan looks at it from all angles, tucking in deeper flavor and building crispier texture. He starts with the cheese, spreading grated Real California Hispanic-style manchego cheese onto a hot flattop, then pressing each brioche slice into it, forming a savory, cheesy crust. Morgan was careful in the type of cheese used here. "Manchego has a smooth flavor, and being a harder cheese means that it melts, get crispy and sticks to the outside of the bread," he says. The other sides of the brioche get a slather of butter and a quick griddle. To build the sandwich, Morgan spreads a rich basil aïoli on the buttered sides then adds baby kale tossed in a Dijon mustard vinaigrette, roasted turkey, tomato, applewood smoked bacon and avocado. "This was about making a truly delicious, craveable turkey sandwich," he says.
Brown Butter Potato Gnocchi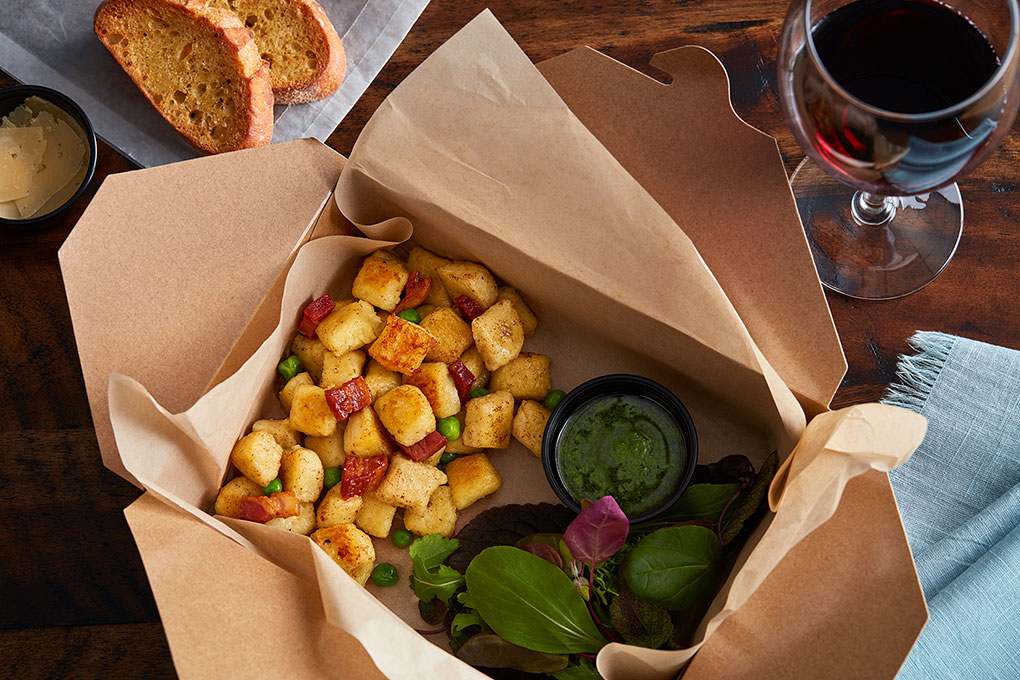 Carlos Garcia
With this dish, Morgan wanted to showcase the potato's keen ability to move from side item to center of the plate. He chooses russets for his gnocchi recipe. "They're less starchy, lighter and fluffier, and they hold their shape when being boiled," he says. He starts by roasting the russets on a bed of salt, then ricing them. He adds eggs, flour, butter, salt and pepper, and proceeds with making the dough into gnocchi. After boiling them to order, Morgan sautés them in brown butter, tossing the gnocchi with crispy pancetta, spring peas and lemon juice. He serves them with a fresh basil purée. "You get a nice nutty flavor from the brown butter that is complemented by the earthiness of the basil, the saltiness of the pancetta and the sweetness of the spring peas, and then there's the texture of the crispy exterior of the gnocchi with the pillowy interior," he says. "The great thing about this recipe is that it holds up very well as a to-go dish. There is no special handling needed—if the customer wants to eat it the next day, it's easy to heat up in a sauté pan."
Project Management: Summit F&B
Photography: Carlos Garcia // Food Styling: Peg Blackley & Bree Williams