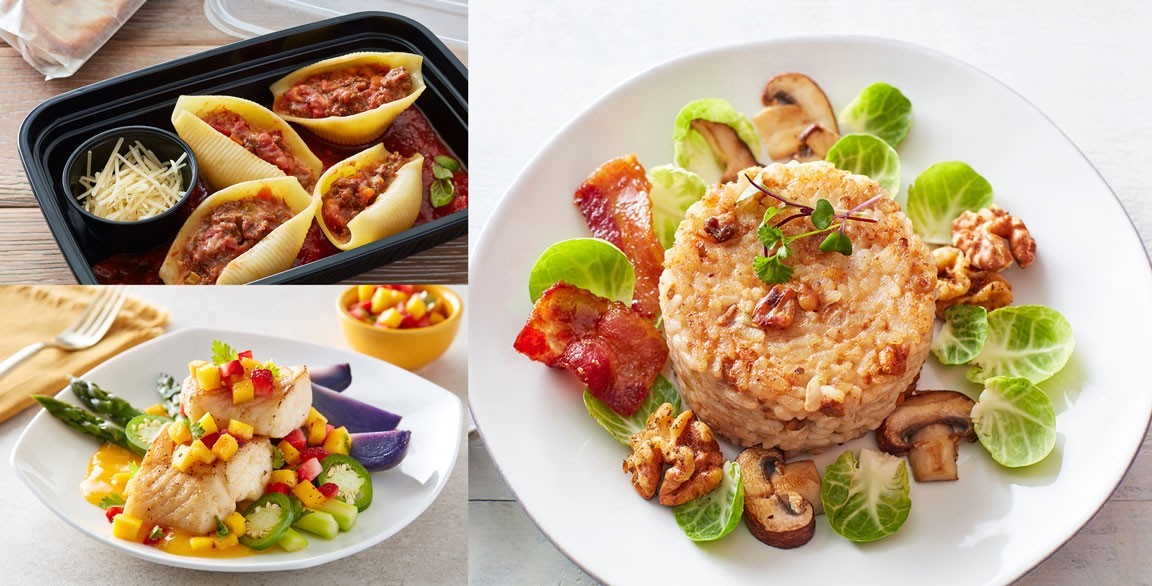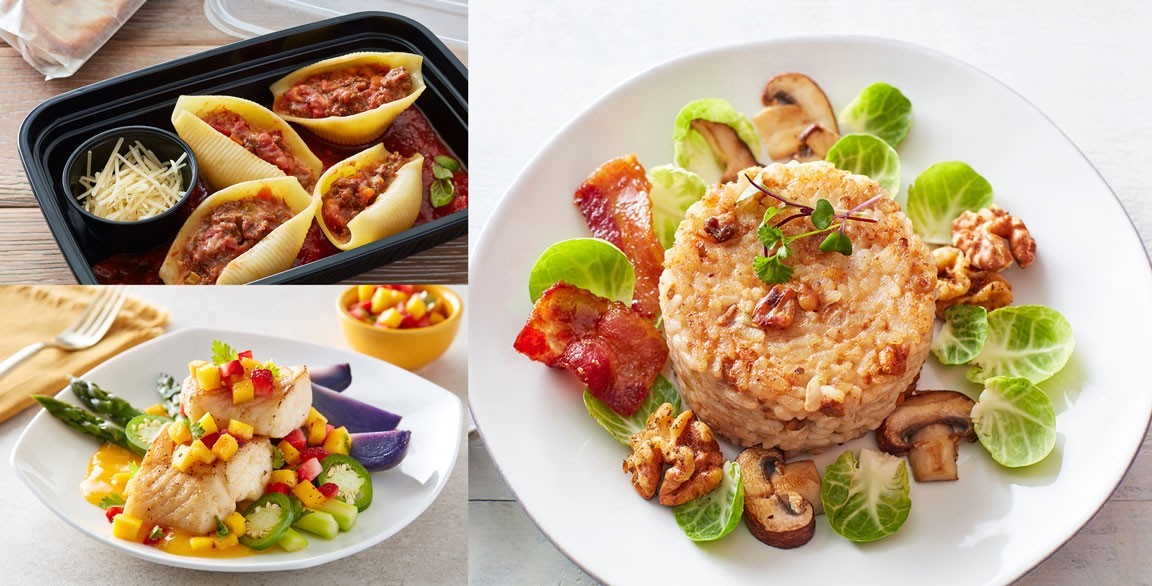 By Flavor & The Menu
May 26, 2020

Kitchen Collaborative is a recipe-development initiative formed by Summit F&B and Flavor & The Menu with support from sponsor brands and commodity boards looking to help chefs create, inspire and collaborate during these difficult times. To fuel flavor innovation, a group of talented chefs partnered with sponsors to create recipes that showcase the passion and potential of our industry.

CHEF SPOTLIGHT: DAVID STADTMILLER
These three recipes cover a good swath of diner demand, answering the call for comfort and healthfulness, as well as that sweet spot of somewhere in between. One of the through-lines that David Stadtmiller, Senior Director Global F&B Development at Dallas-based TGI Fridays, weaves throughout each dish is the promise of a craveable flavor experience. His Pan-Seared Cod with Mango Strawberry Pico de Gallo and Cumin Mango Gastrique demonstrates a beautiful balance of bright, sweet, acidic, floral and heady flavors. For the unique Pan-Seared California Walnut Cajun Risotto Cakes and the takeout-friendly Barilla Classic Shells Bolognese, he focuses on personal favorites while ensuring a memorable experience.
Pan-Seared California Walnut Cajun Risotto Cakes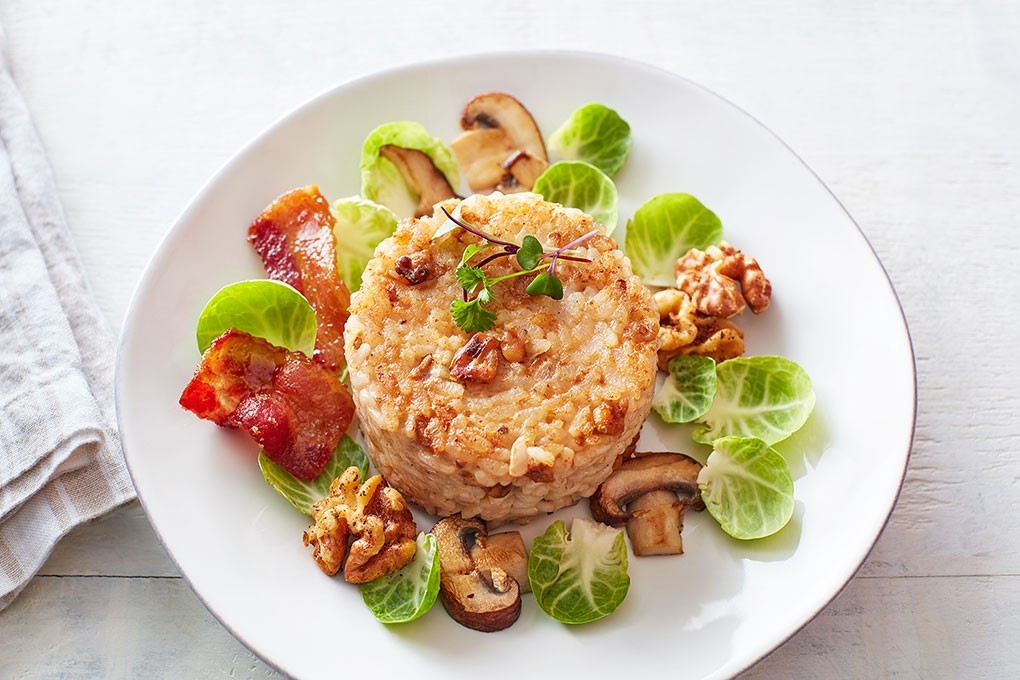 Carlos Garcia
Stadtmiller's recipe showcases a clever play between crispy and soft, crunchy and creamy. It also stars, nuts, his go-to midday healthy snack. "My inspiration behind creating this dish was to utilize one of my favorite snacks and to integrate it with the flavors of spring and a fusion of global cuisines," he says. Cajun-seasoned and roasted California walnuts are the star here. He folds them into risotto, along with Parmesan, cools the mixture, forms them into cakes with a ring mold and sautés them until crispy and golden brown. Over top, he adds sautéed portobello and Brussels sprouts, candied bacon and a few more Cajun walnuts. "The crisp pan-seared edges of the risotto cake and incorporated nuts give a nice bite and texture," says Stadtmiller. "Walnuts are versatile when being combined with flavors as they are mild and earthy with a rich buttery mouthfeel."
Barilla Classic Shells Bolognese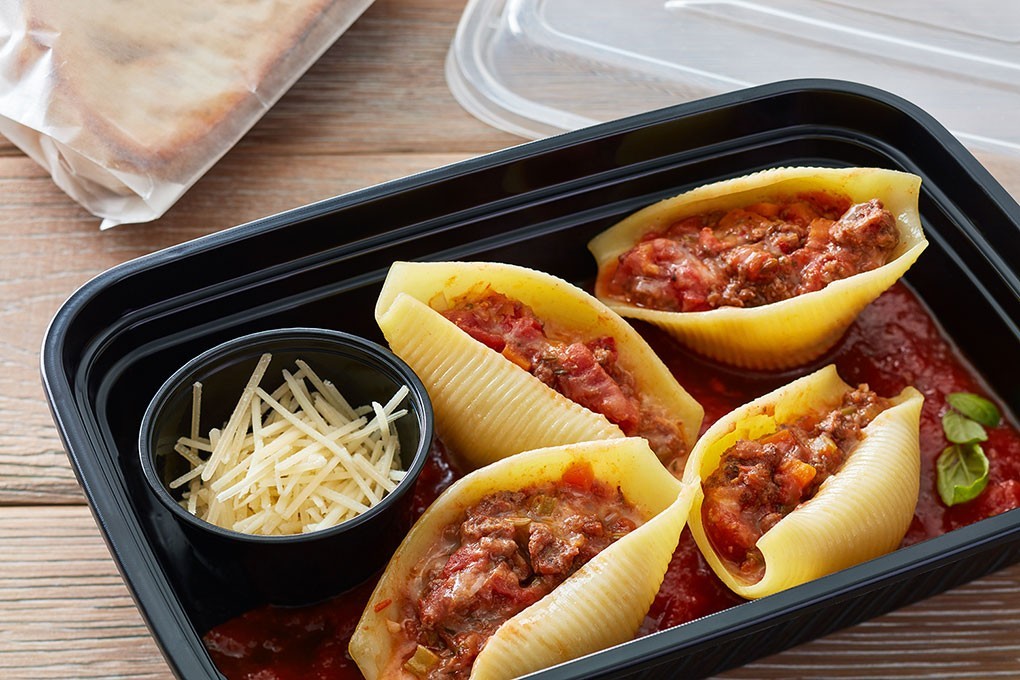 Carlos Garcia
Comfort-centric and family friendly, baked pasta dishes offer a world of versatility—and work really well in to-go and meal kit formats, says Stadtmiller. "Stuffed shells are one of my favorite dishes to share with my family for Sunday dinner regardless of the time of year," he says. Here, he makes the classic: filling pasta jumbo shells with a richly flavored Bolognese combined with mozzarella, laying them over marinara, topping the shells with more mozzarella and baking. For service, the baked shells are served with marinara, Parmesan and fresh parsley and basil. He highlights the dish's versatility through a simple change-out of ingredients. "They could even target a higher dollar check average by simply modifying some of them," he says. "Some of these changes could include modifications to a ground veal or ground short rib. There could also be a fun twist with flavors such as a hint of smoke by utilizing smoked mozzarella or kicking the heat levels up with Calabrian chiles."
Pan-Seared Cod with Mango Strawberry Pico de Gallo and Cumin Mango Gastrique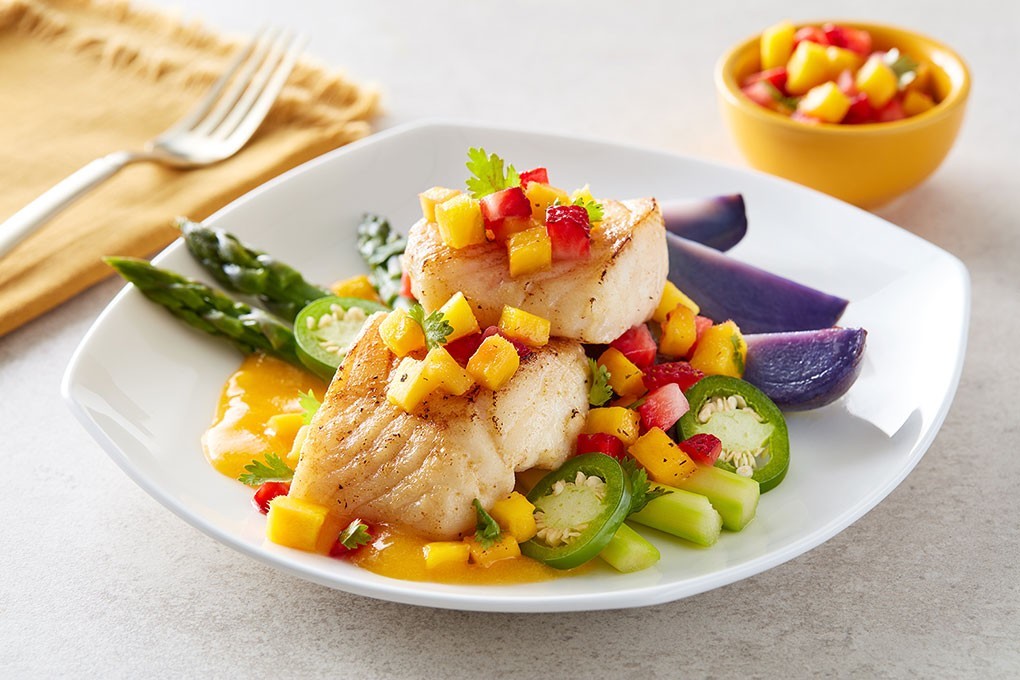 Carlos Garcia
Light, bright and summery, the flavor combinations here really pop. "Mango is such a great ingredient and plays really well into this dish," says Stadtmiller. "Pico de gallo is fresh with flavors of acid and heat derived from the tomatoes, lime juice and jalapeños. The mangos add a little touch of sweet and tangy that tie the entire dish together." He tops the pan-seared cumin-scented cod with the pico de gallo, then adds a Cumin Mango Gastrique for another punch of flavor. "A classic gastrique is sweet and acidic from the honey and vinegar," he says. "Adding mango to a gastrique gives additional tang, complementing the earthy and floral flavors of the cumin while creating a versatile sauce that's great for use with seafood, poultry or pork."
Project Management: Summit F&B
Photography: Carlos Garcia // Food Styling: Peg Blackley & Bree Williams