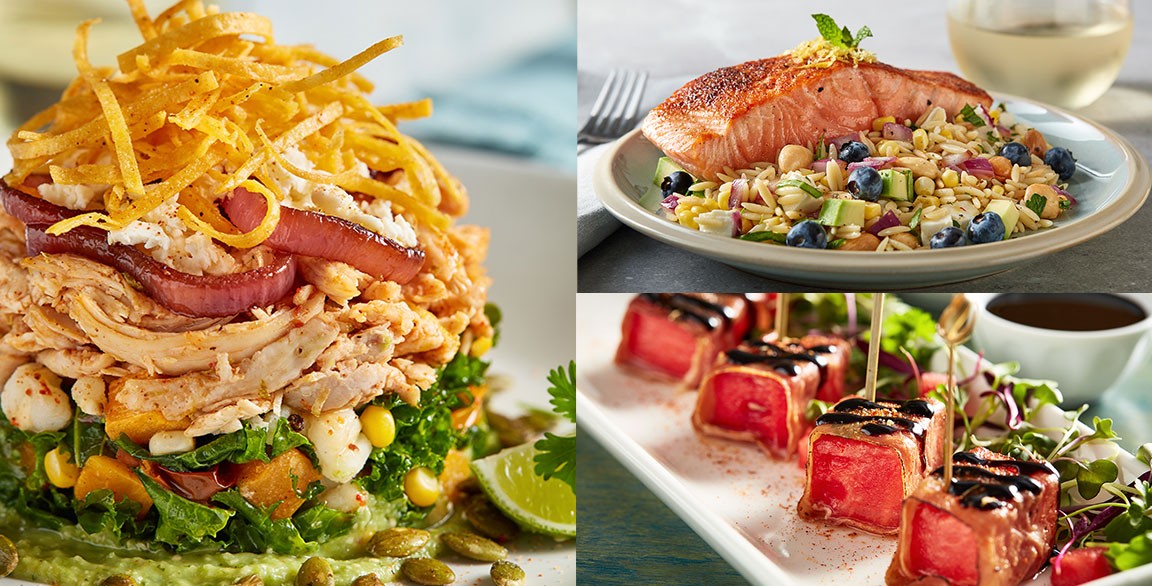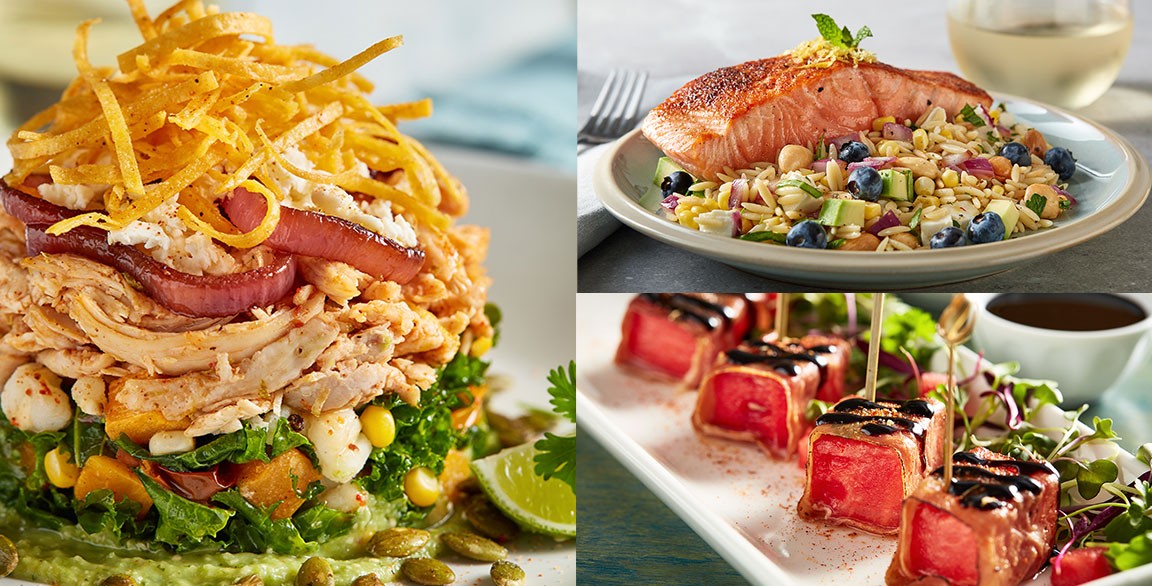 By Flavor & The Menu
February 23, 2021
Kitchen Collaborative is a recipe-development initiative formed by Summit F&B and Flavor & The Menu. To fuel flavor innovation, a group of talented chefs partnered with sponsor brands and commodity boards to create recipes that showcase the passion and potential of our industry.

CHEF SPOTLIGHT: PAM SMITH
No matter the theme of the dish, Pam Smith, RDN, employs a culinary approach that is distinctive, thanks to careful attention when building assertive flavors, contrasting textures and pleasing colors. As a culinary nutritionist and menu/concept/flavor consultant based in Orlando, Fla., Smith, founder of Shaping America's Plate, is often tasked with targeting wellness while keeping the crave factor dialed up. Her Toasted Orzo, Baby Spinach, Sweet Corn and Best Berries Salad with Citrus-Seared Salmon delivers flavor and promises immunity-boosting goodness. She offers a play on the classic prosciutto and melon with the Crispy Prosciutto Watermelon Poppers, and her Spiced Pulled Chicken on a Southwest Stacked Salad with Tomatillo Salsa Verde is a visual stunner.
Tyson Foodservice: Pulled Chicken On Southwest Stacked Salad
Smith describes the Spiced Pulled Chicken on a Southwest Stacked Salad with Tomatillo Salsa Verde as offering architectural dimension. "Drama resides all around—in the presentation and in every bite," she says. A creative salsa verde, featuring both tomatillo and avocado, goes down on the plate first. Next, the Southwest salad gets built in a ring mold: massaged and dressed curly kale, Creole-spiced roasted squash and grape tomatoes, corn and hominy, all dressed in a chile-lime vinaigrette. Warm and spiced Tyson Roasted Pulled Chicken, balsamic-roasted onion rings and feta sit atop the salad. Smith garnishes the tower with cilantro and tortilla crisps, and gently removes the ring mold. She offers other ideas for the pulled chicken. "It's perfect tossed into any salad, or served chilled in a chicken salad, maybe with Honeycrisp apple, celery, pecans and Dijonnaise," she says. "It's fabulous as a toss into pasta—chicken, asparagus, sweet peppers, goat cheese and penne, or any global bowl or soup."
Toasted Orzo Salad with Citrus-Seared Salmon
With many consumers zeroing in on foods that offer immunity boosting benefits, the Toasted Orzo, Baby Spinach, Sweet Corn and Best Berries Salad with Citrus-Seared Salmon rings all the bells. "The dish is designed to be a superfood salad bowl, bringing out the very nutrients known to support a healthy immune system and provide anti-inflammatory power," says Smith. She runs through the ingredients' benefits: salmon brings vitamin D, B12 and omega-3 fatty acids; the citrus, spinach and berries introduce vitamins C, K, A and folate; almonds are rich in vitamin E; the toasted orzo is loaded with B vitamins; and the avocado is power-packed with vitamins, minerals and phytonutrients. "The dish is curated to be the perfect balance for the best of flavor," says Smith. To build the salad, she first toasts Barilla Orzo, seasons it with Creole seasoning and cooks it in chicken stock with onion and garlic. "Toasting the orzo brings out golden deliciousness, bronzed appearance and an unexpected texture," she says. "It provides a toasty, flavorful creaminess to the dish, but also a satisfying body to the salad. I love that it works so well in heated, room-temperature and chilled applications." She combines the orzo with shucked corn, baby spinach, grilled red onion, fresh herbs, feta, Marcona almonds and a citrus vinaigrette. She garnishes the salad with avocado, blueberries, cilantro, and a bit more feta and cilantro, and then tops it with seared citrus-spiced salmon.
Crispy Prosciutto Watermelon Poppers
The Crispy Prosciutto Watermelon Poppers are a fun update to the classic prosciutto and melon. "Watermelon is loaded with refreshing deliciousness—and is a beautiful and flavorful counterplay to the crispy prosciutto," says Smith. For this recipe, she carves out bite-sized cubes, then scoops out pea-sized holes and pipes in a softened spiced goat cheese. Basil leaves cover the openings and the watermelon cubes are refrigerated for 15 minutes. They're then wrapped in prosciutto and chilled. For service, the "poppers" are seared until crisp in olive oil, finished with lemon zest and a drizzle of balsamic syrup. "It's quite classic to salt watermelon in the South. It brings out the natural sweetness," says Smith. "The prosciutto gives that salty expression, and the acidity and creaminess from the goat cheese balances it. The color is so vibrant, and the lemon zest, basil leaf and balsamic bring the vibrancy to a new level, and because ripe and delicious watermelon is available 365 days a year, one can carry this right through the year, season to season."
Project Management: Summit F&B
Photography: Carlos Garcia // Food Styling: Peg Blackley & Bree Williams