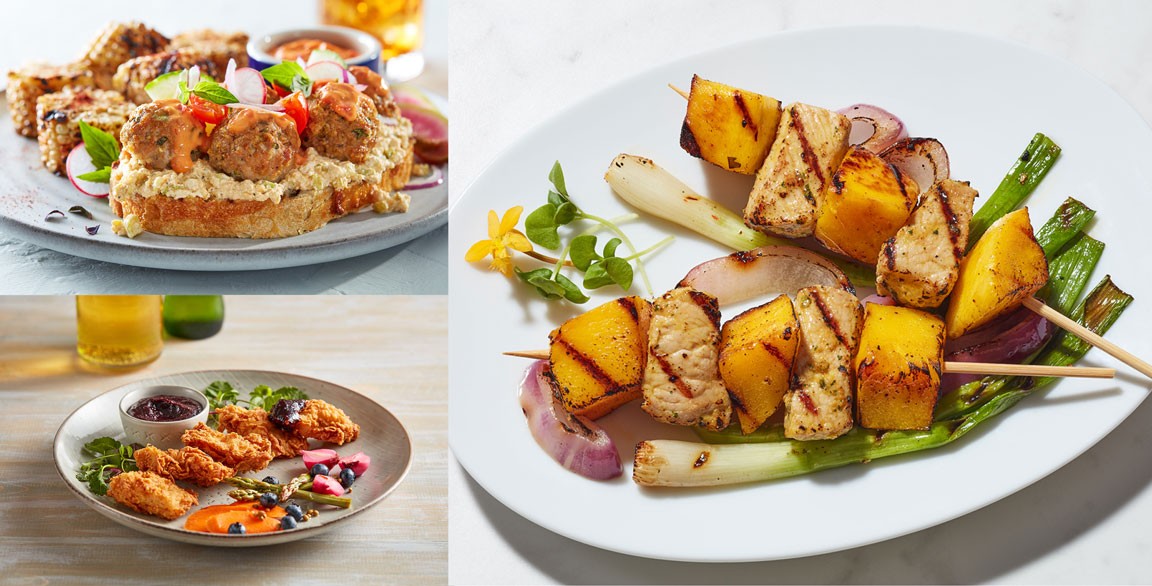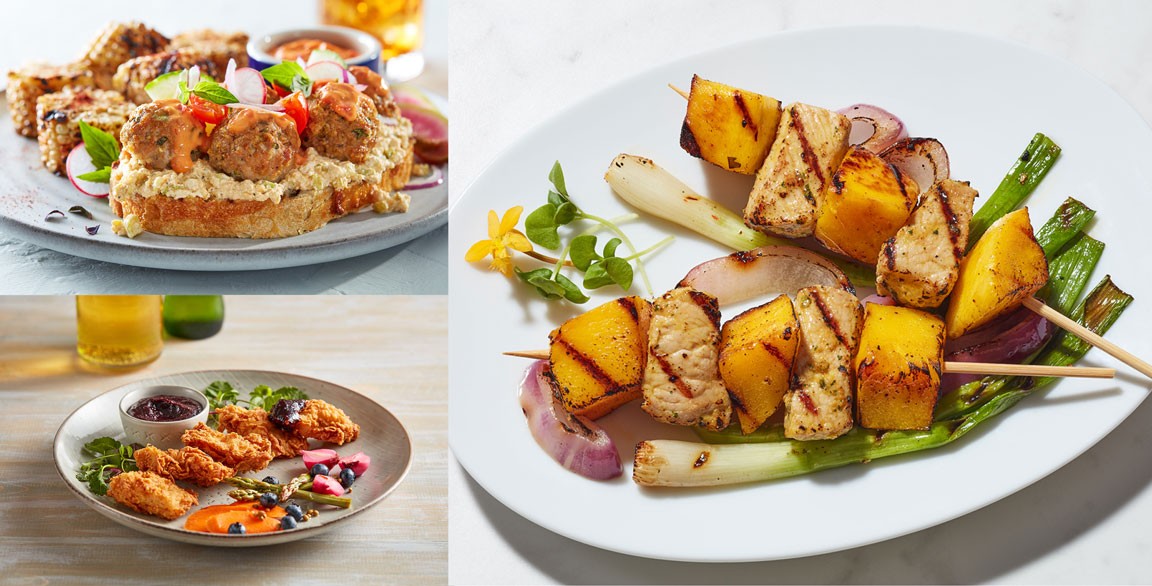 Chef Olivier Gaupin demonstrates winning flavor in the balance of simple with complex.
By Flavor & The Menu
June 12, 2020
Kitchen Collaborative is a recipe-development initiative formed by Summit F&B and Flavor & The Menu. To fuel flavor innovation, a group of talented chefs partnered with sponsor brands and commodity boards to create recipes that showcase the passion and potential of our industry.

CHEF SPOTLIGHT: OLIVIER GAUPIN
In each of Olivier Gaupin's three recipe builds, he executes the push/pull of flavor contrast, dipping into global pantries for each of them. In the Open-faced Roasted Turkey Meatball Sandwich, Gaupin, who serves as Director of Culinary Operations for Benchmark, a global hospitality company based in The Woodlands, Texas, takes flavor from the Eastern Med and Southeast Asia, softening them with a mild, fresh farmer's cheese. In his Buttermilk Fried Chicken Nuggets with Blueberry Barbecue Sauce, Pickled Onions and Cucumber Salad, he talks about tamping down the smoke with the rounded sweetness of the blueberry. And in his Open Fire Grilled Pork & Mango Churrasco Style, Gaupin looks to the tropical sweetness of the mango as counter to the sharp acidity in the marinade.
Open-faced Roasted Turkey Meatball Sandwich on Grilled Sourdough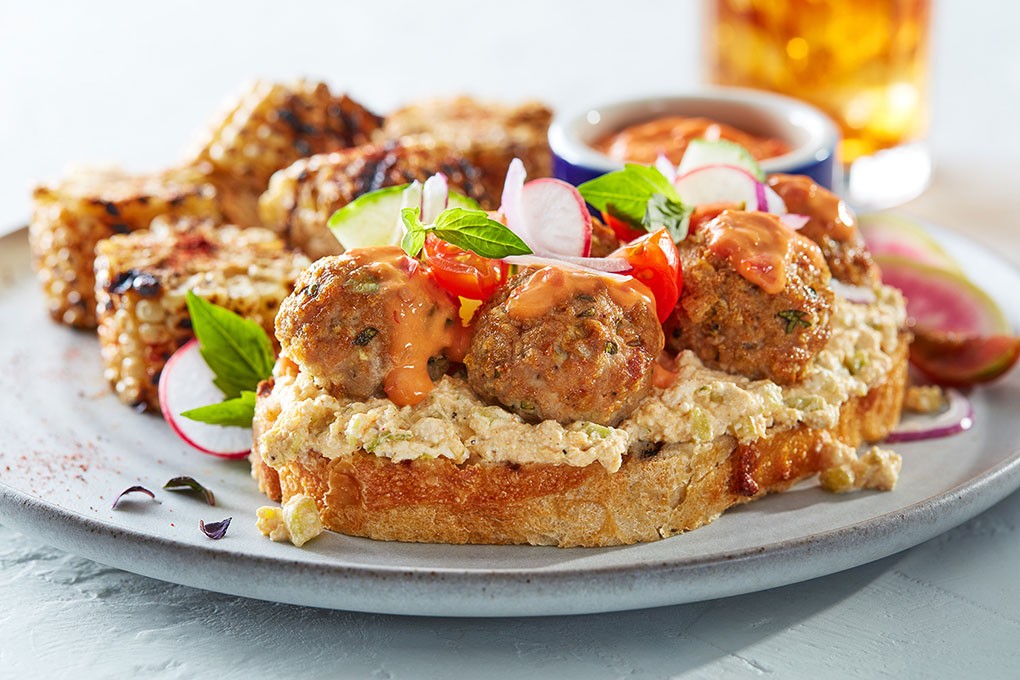 Carlos Garcia
This sandwich leads with bold flavors. The meatballs are seasoned with cumin and Madras curry powder, and flavored with lime zest, garlic, cilantro and shallot. They're brushed in California butter and pan-roasted. The flavorful spread on the sandwich, built on grilled sourdough, is unique, offering the diner something unexpected: the Curry Cucumber Farmer's Cheese Spread stars California farmer's cheese, Madras curry powder, red Thai curry paste, Thai basil leaves, cucumber and shallot. Once the meatballs get placed on the bread, Gaupin introduces a high-impact component with harissa aïoli, then finishes the look with a bright, crunchy vegetable garnish of pink radish, celery, grilled corn, English cucumber, red onion and heirloom tomato. "My inspiration was from my travels across the Middle East, along with influences from Thailand—the spices, the ideology of simple food but complex flavors," he says. "The farmer's cheese has a texture and a creaminess that is pleasant to the palate and can really be flavored in so many ways."
Buttermilk Fried Chicken Nuggets, Blueberry BBQ Sauce, Pickled Onions and Cucumber Salad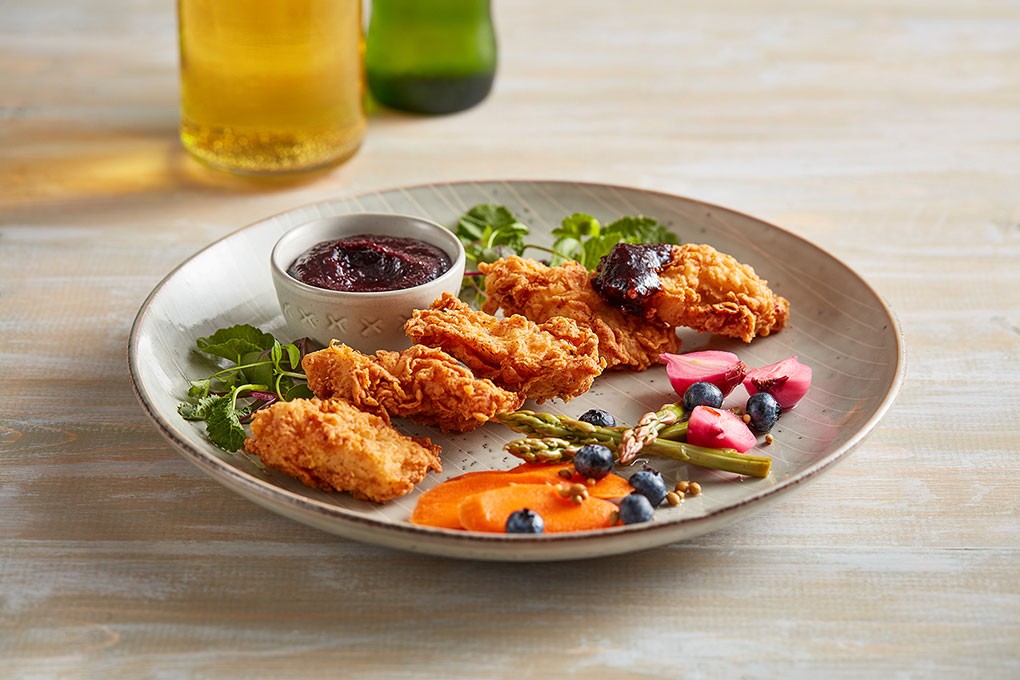 Carlos Garcia
Gaupin updates this beloved classic, keeping craveablity intact while adding surprising flavor touches that move it into a memorable experience. He coats cubes of deboned chicken thighs in AP flour, garlic and onion powders, cayenne, smoked paprika, herbs de Provence and salt and pepper, then dredges them in buttermilk and coats them again in the flour mixture. His accompanying sauce is the showstopper, boasting rich, complex flavors with a balancing, fruity sweetness. The Blueberry Barbecue Sauce stars canned blueberries, light brown sugar, balsamic and red wine vinegars, yellow onion, habanero, dark beer, coriander seed, cumin, ground coffee and chipotle pepper. Gaupin chooses the blueberry for its balancing effect on those assertive flavors. "They bring a recognizable flavor that settles the smokiness of the sauce, and they're a nice touch that lends a unique flavor profile to the entire dish," he says.
Open Fire Grilled Pork & Mango Churrasco Style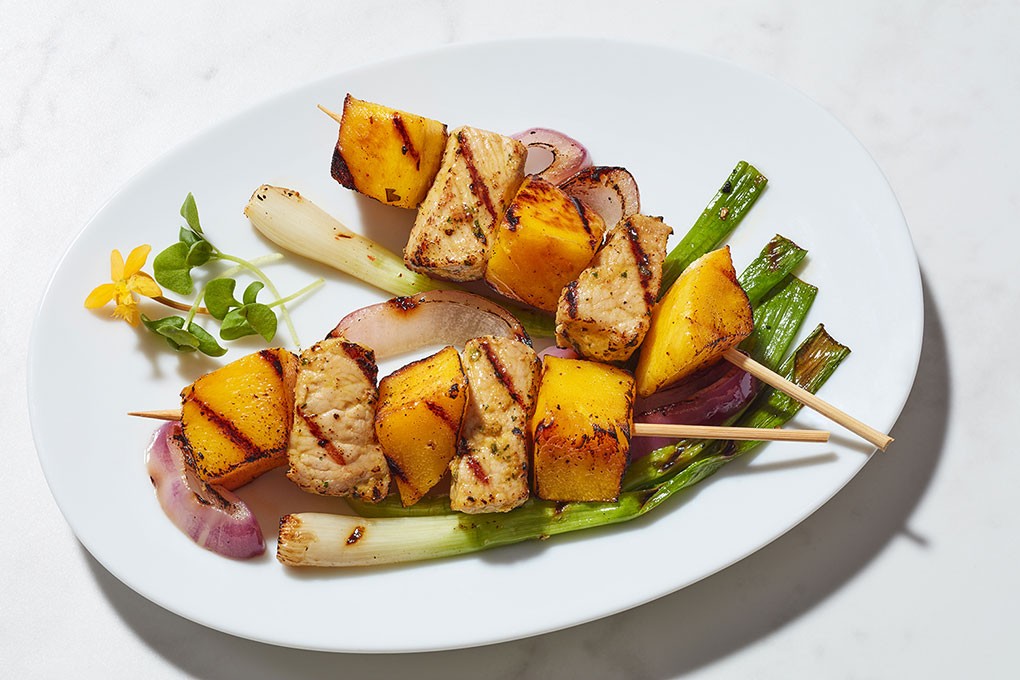 Carlos Garcia
This Open Fire Grilled Pork & Mango Churrasco Style highlights the fantastic flavor play between tropical fruit and bright acidity. It also showcases how well the flavor of fire comes out in fruit when grilled. Gaupin marinades country-style deboned pork ribs in a bright, sweet, aromatic mixture of garlic, mango purée, cilantro, apple cider vinegar, ground cumin and olive oil. He skewers the pork, along with ripe mango pieces, and grills them, then serves the skewers over grilled red onions and scallions. "The mango brings a sweet flavor to the pork and some nice caramelization while grilling," says Gaupin. "There's a great combination of flavors here that showcases a simple dish with so much character."
Project Management: Summit F&B
Photography: Carlos Garcia // Food Styling: Peg Blackley & Bree Williams