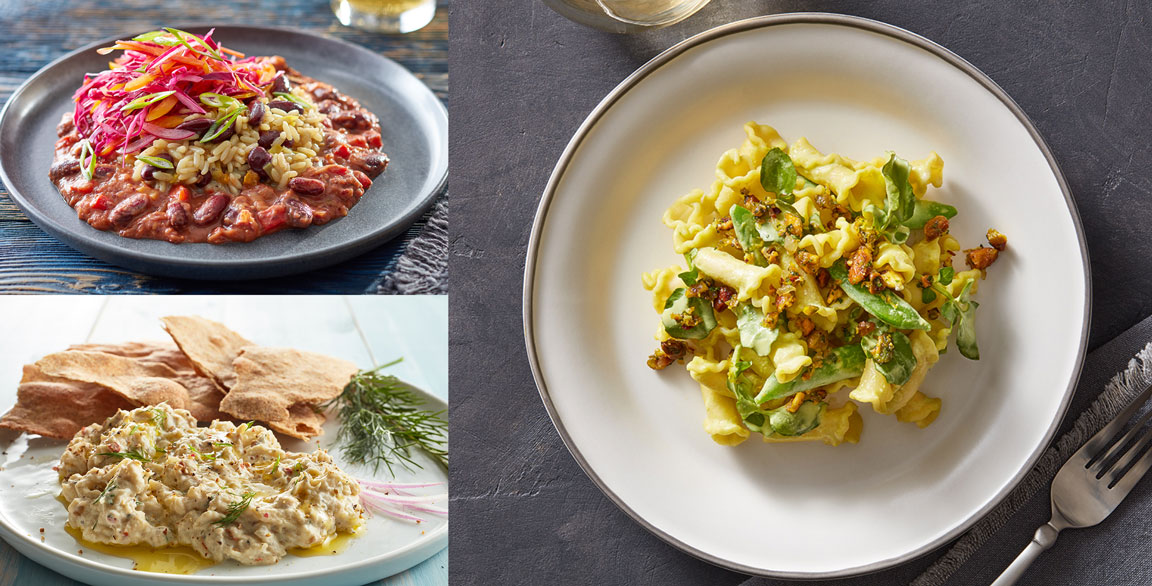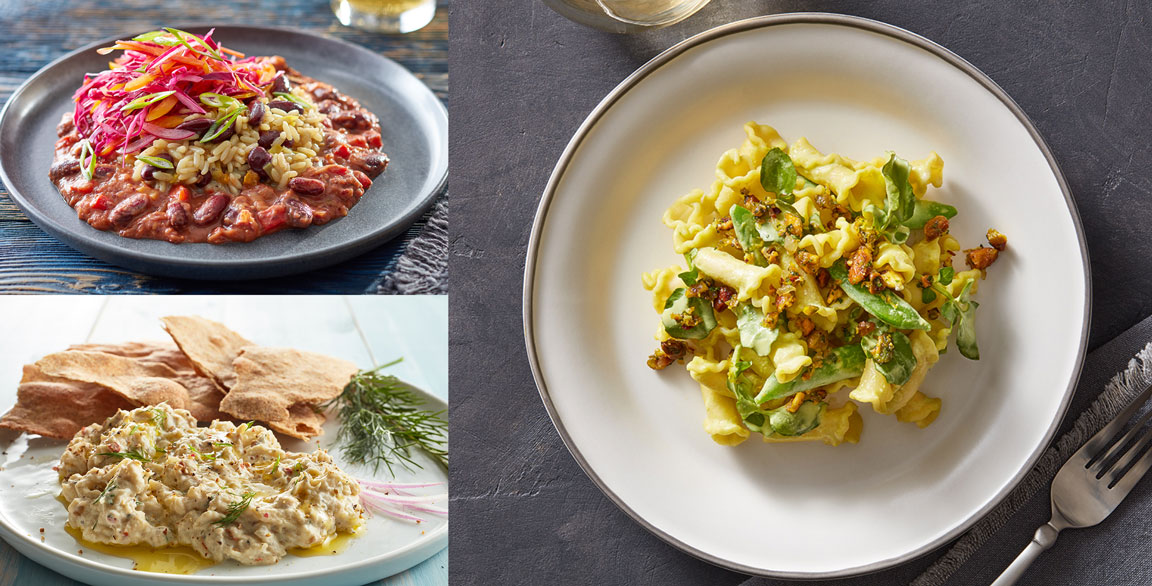 By Flavor & The Menu
June 9, 2020
Kitchen Collaborative is a recipe-development initiative formed by Summit F&B and Flavor & The Menu. To fuel flavor innovation, a group of talented chefs partnered with sponsor brands and commodity boards to create recipes that showcase the passion and potential of our industry.

CHEF SPOTLIGHT: NATE WEIR
As VP of Culinary for Colorado-based Modern Restaurant Concepts, which includes Modern Market and Lemonade brands, Nate Weir has to be nimble in his culinary approach, with both brands offering trend-forward fast-casual menus. Versatility is a key attribute in menu development today, presenting culinary teams with adaptable options and cross-utilization solutions, and offering consumers customizable opportunities. For this project, Weir developed three vegetarian recipes that showcase that versatility, starting with one inspired by his earliest culinary memories in Haiti, where he spent his childhood.
Authentic Haitian Rice & Beans with Red Bean Sauce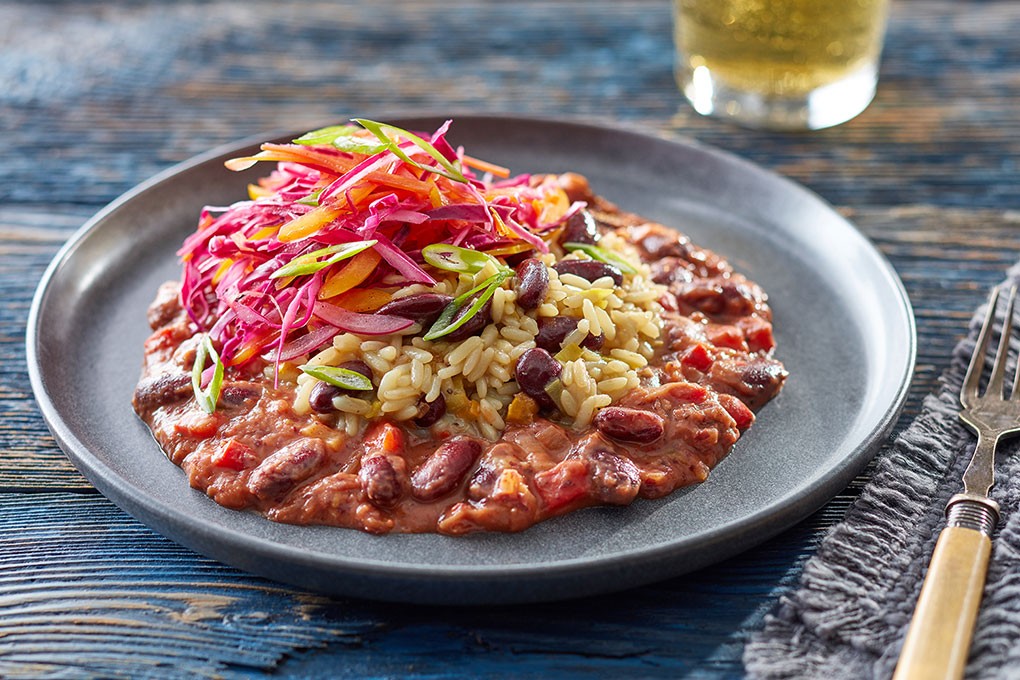 Photography: Carlos Garcia // Food Styling: Peg Blackley & Bree Williams
"I lived in Haiti until I was 12 and this is a dish I distinctly remember eating regularly," Weir says of Haiti's iconic comfort dish, which inspired this recipe. "The bones of this recipe are from our Haitian nanny, Gerda. One of my earliest 'cooking' memories is helping to sort through dried beans in a woven basket to pick out rocks." Weir's take on this traditional recipe spins it into a vegetarian offering and further extends the bright and bold flavors of the Caribbean. His dish is built in three components: the rice and beans, the red bean sauce and a fresh slaw.
For the rice and beans hero, a simple stew is made from sautéed leeks and garlic, rice, beans, and bouillon cubes, plus pierced habanero for seasoning. As modifications, Weir uses canned beans rather than dried to cut down on cooking time, and also uses coconut aminos, which keeps the dish soy- and gluten-free. "I quite like the slightly sweet umami of the aminos for this recipe," he says. "This dish is aromatic and very flavorful, and is easily made vegan with plenty of protein from the beans. The abundant leek and garlic coupled with the sweetness of the kidney beans makes the rice savory and aromatic."
A sauce of beans, peppers, habanero, leeks, garlic, shallot and tomato paste creates a rich base for the entrée. "The red bean sauce is boldly seasoned and distinctly Caribbean with leeks, shallot, thyme and chile," he says, noting the sauce's menu versatility. "It's excellent with braised beef, goat or lamb and polenta. It also makes an amazing sandwich component, with roasted pork, grated and fried plantains, and cabbage slaw."
The dish is crowned with a pickled cabbage slaw spiked with habanero and allspice, providing a vibrant textural and flavor contrast. "The pickled cabbage component is a riff on 'pikliz,' a quintessential Haitian condiment found in every home, which is more traditionally made by submerging veggies in distilled vinegar," says Weir. He uses rice wine vinegar in his recipe. "The slaw brightens up the dish with lively acidity, a punch of spice and welcome crunch."
Barilla Spring Campanelle with Greens & Pistachio Gremolata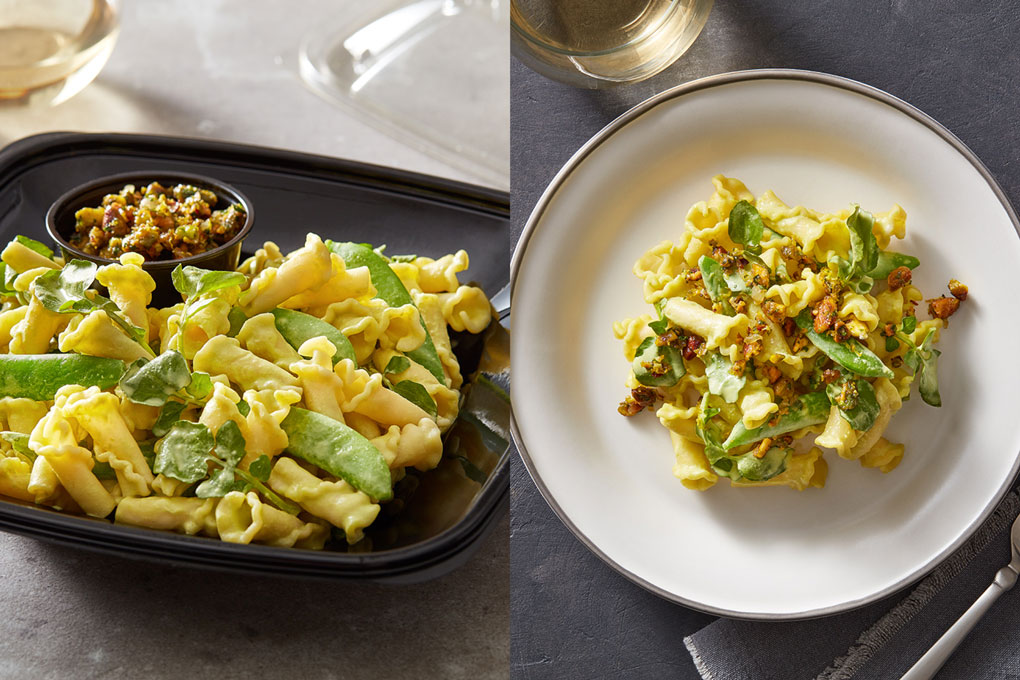 Photography: Carlos Garcia // Food Styling: Peg Blackley & Bree Williams
For a brightly flavored seasonal pasta dish, Weir chose Barilla Campanelle as the shape to carry a delicate spring composition of peas and watercress. "I love how campanelle pairs with a creamy sauce—it's sturdy enough to hold up and it does a wonderful job of picking up sauce, plus it looks elegant," he says. The cream sauce is enlivened by lemon and green peas. "It's decadent in the way only a true heavy cream sauce can be, but the fresh lemon and spring peas help to brighten it and make it seem light and fresh. The fresh peas add a mild sweetness and beautiful green blush to the finished sauce."
Lemon plays double duty here, also boosting flavor to the pistachio gremolata that finishes the dish, which introduces a nutty profile and crisp textural contrast. "If I am using fresh squeezed lemon in a dish, I will always look for a place to use the zest as well, capturing both facets of the lemon," he says. "The first thing that came to mind here was a gremolata, adding a punch of more intense, raw flavor to an otherwise fairly mild profile." As a takeout offering, the gremolata can be served on the side.
Signaling springtime, Weir folds sugar snap peas and watercress into the pasta right before plating. This recipe can easily be modified for the seasons. Weir suggests garlic scapes or roasted fennel in early summer; tomatoes or fresh sweet corn in late summer; kale or pumpkin in late fall. "All will produce a lovely colored cream sauce perfect for pairing with other seasonal vegetables," he says.
Black Pepper Boursin® & Charred Eggplant Dip with Rye Crackers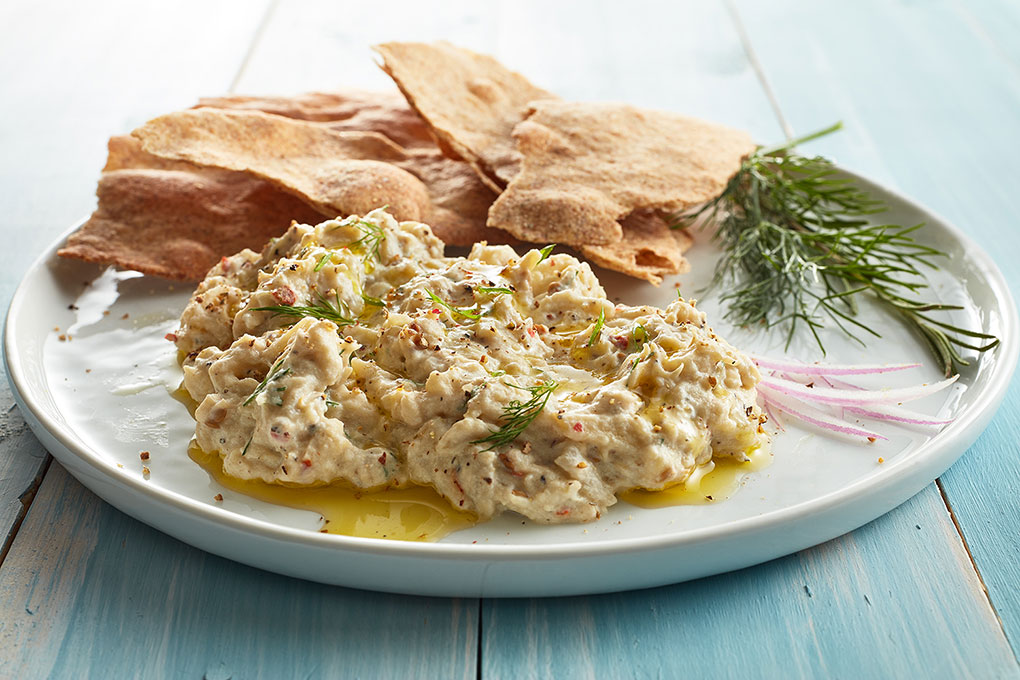 Photography: Carlos Garcia // Food Styling: Peg Blackley & Bree Williams
The inspiration for Weir's modernized eggplant dip comes from a unique tradition in his weekend grilling. "You can find me outside over my charcoal grill most weekends, and one of my favorite things to do through the summer is to shove a whole eggplant into the dying embers after dinner," he says. "About 45 minutes later, the skin is burnt but the flesh is sweet and wonderfully smoky." That smoky-sweet eggplant flavor was the spark for a beautiful pairing with the creamy richness of Boursin® cheese.
For the dip, eggplants are roasted until soft and collapsing, then cooled. The flesh is scooped out and gently blended with the crumbled Black Pepper Boursin®. Weir prefers hand-blending over puréeing in a blender to achieve the optimal texture here. Garlic, cream, chile pepper flakes, dill and salt are folded in. He finds the eggplant and cheese to be perfect partners. "There's a smokiness and sweetness from the eggplant that balances and complements the wonderful pepperiness of the Gournay. The piquant black pepper punch of the cheese adds spiciness and wakes the dip up; it marries together the cheese and eggplant flavors perfectly," he says, noting that the heavy cream keeps the texture fluffy rather than overly thick. He prepared lightly spiced rye crackers to complement the dip. The eggplant dip can be served cold, or warmed under a broiler, melting the cheese slightly and transforming it into a more decadent savory and cheesy option.
Weir notes that menu applications for this recipe go beyond just the dip. "This recipe is surprisingly versatile," he says, describing additional ideas. "It can be used as an egg-free stand-in for an aïoli, and would be amazing on burgers, a shaved steak sandwich, or with roasted mushrooms and a crispy roll for a hearty vegetarian sandwich. Or, combine it with roasted mushrooms for a wonderful ravioli filling, or as a phyllo/strudel filling. It could also be added to a vegetarian lasagna in place of ricotta."
Project Management: Summit F&B
Photography: Carlos Garcia // Food Styling: Peg Blackley & Bree Williams