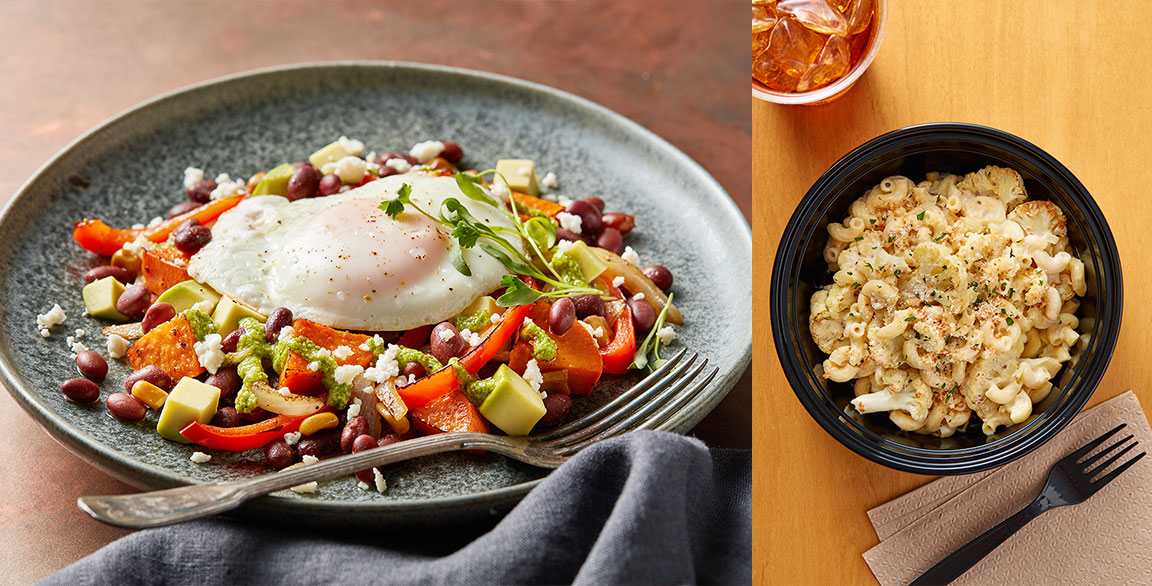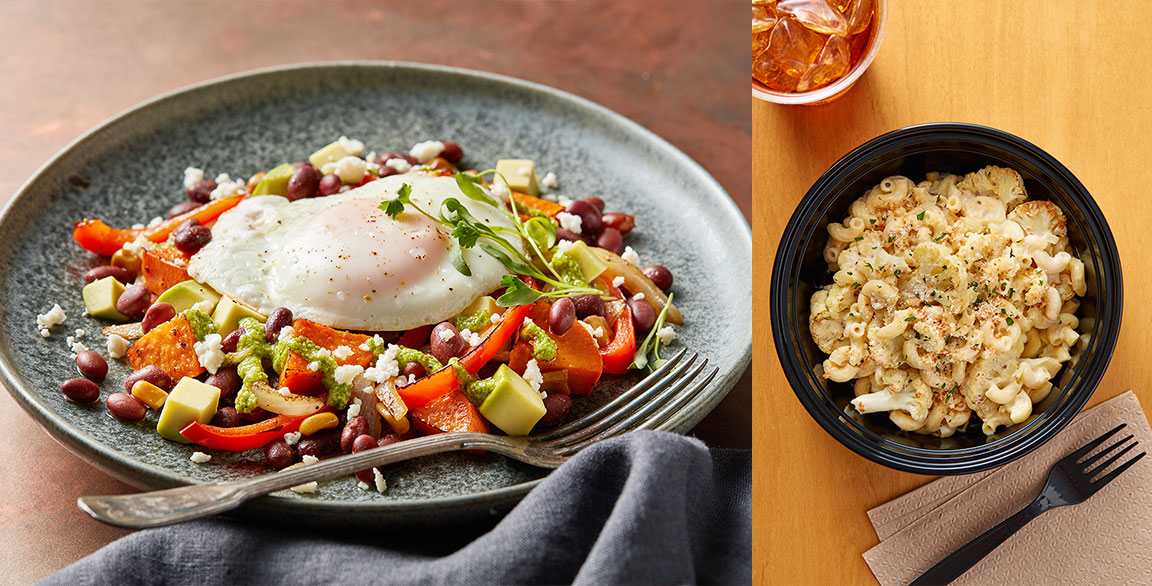 By Flavor & The Menu
November 17, 2021
Kitchen Collaborative is a recipe-development initiative formed by Summit F&B and Flavor & The Menu. To fuel flavor innovation, a group of talented chefs partnered with sponsor brands and commodity boards to create recipes that showcase the passion and potential of our industry.
CHEF SPOTLIGHT: CHANDON CLENARD
At California's Stanford University, Senior General Manager Chandon Clenard faces a diner demographic that holds high, and often contrasting, expectations: classic comfort at one meal, gourmet sophistication at another. Flavor, of course, is the tie that binds. For Kitchen Collaborative, Clenard demonstrates how thoughtful modifications can elevate both a humble breakfast potato hash and amp up the iconic mac and cheese. His recipes for the Taco Fiesta Black Bean Breakfast Bowl and Mac and Cheese with Turmeric and Roasted Cauliflower keep flavor—and nutrition—front and center.
TACO FIESTA BLACK BEAN BREAKFAST BOWL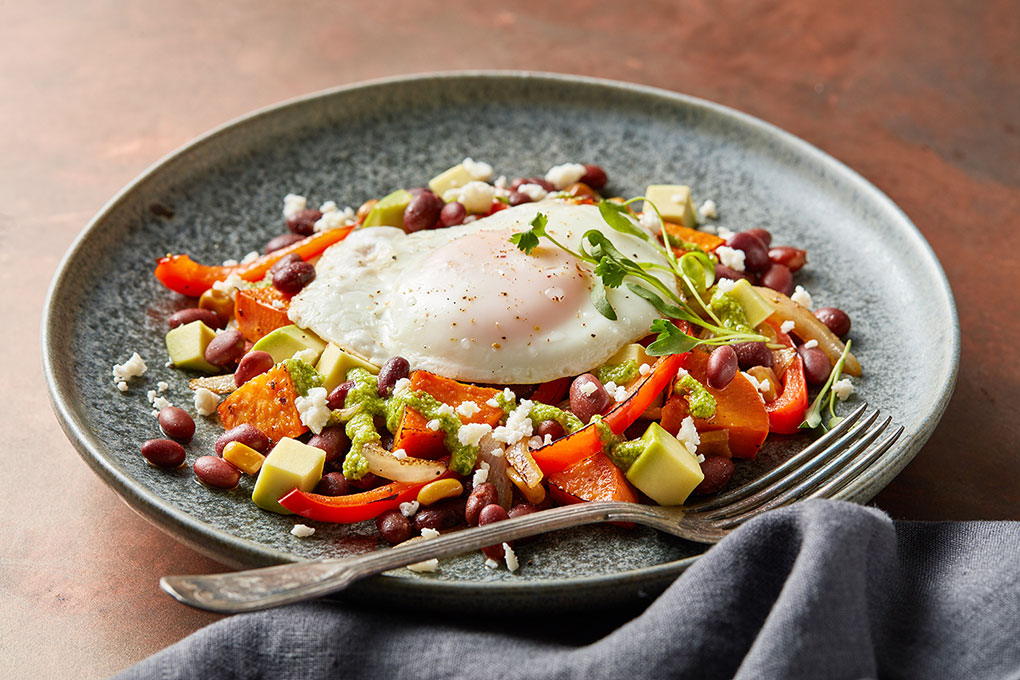 Photo: Carlos Garcia // Food Styling: Peg Blackley & Bree Williams
There's no dimming of diner enthusiasm for bowl dishes, and chefs continue to respond with inventive builds across all dayparts. Clenard's Taco Fiesta Black Bean Breakfast Bowl is a great example of taking the popular concept to next-level flavor heights. He starts with a potato base, but breaks with convention by using roasted sweet potatoes in place of russet or red potatoes. "Sweet potatoes have a wonderful flavor, especially when roasted, and they go beautifully with the black beans," says Clenard. "Plus they are lower on the glycemic index than a regular potato, so this is a better alternative for those who are carbohydrate-sensitive."
Strips of white onions and red bell peppers are also roasted until caramelized and tender, before being added to the sweet potatoes. In Clenard's original concept, these are placed on the plate along with separate portions of Bush's Taco Fiesta Beans and large diced cubes of avocado, but they can be combined together as demonstrated in the photo. The crowning touch is an egg—chef's choice for style—garnished with Cotija or feta cheese and another unique choice: a pesto made with roasted pumpkin seeds and cilantro.
Like the sweet potato, Clenard's pesto offers a double punch of nutrition and flavor, with some fiscal pragmatism to boot. "I wanted to show that you could use an alternative to pine nuts, which are quite expensive these days," he explains. "Also, pumpkin seeds are lower in fat, provide protein and even some fiber. Plus the flavor of roasted pepitas is so good. It's a win!"
MAC AND CHEESE WITH TURMERIC AND ROASTED CAULIFLOWER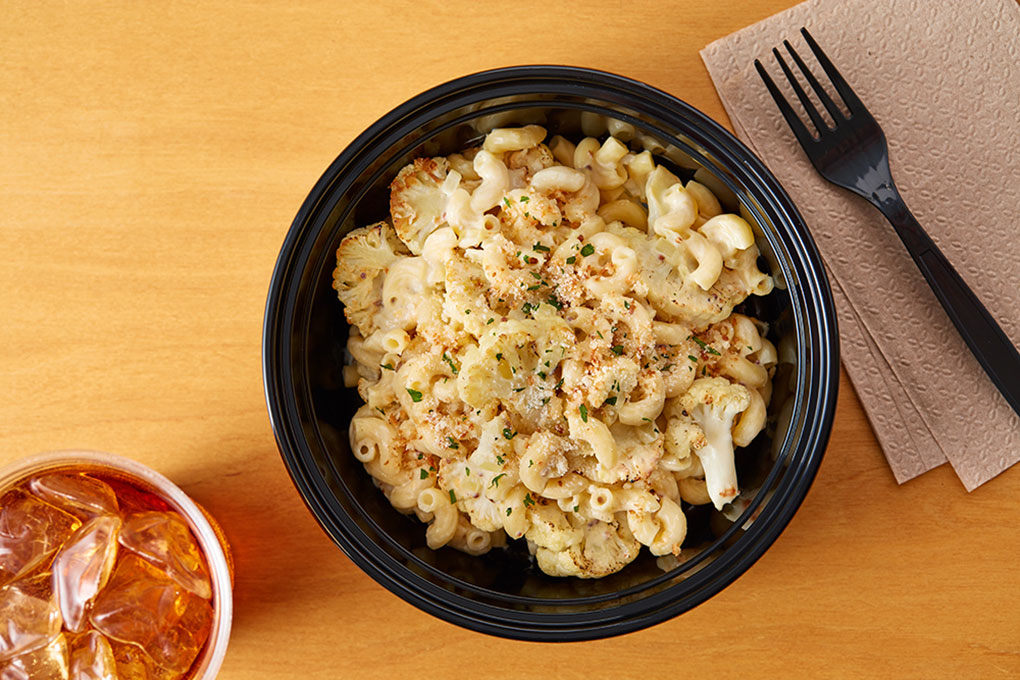 Photo: Carlos Garcia // Food Styling: Peg Blackley & Bree Williams
It's been years since mac and cheese elbowed its way off the kids' menu with elevated spins featuring a mind-boggling assortment of cheeses and inclusions curated to pursue the perfect melding of comfort with robust flavor experiences. Clenard contributes the Mac and Cheese with Turmeric and Roasted Cauliflower to this growing canon. Featuring Barilla Pasta, his version is amped up with the highlighted turmeric and cauliflower, as well as cumin seeds, curry powder, onions, extra-sharp cheddar, Parmesan and grain mustard. With turmeric added to the pasta water, the resulting bright yellow pasta is visually stunning.
"I wanted to bring a lot of flavor to a classic dish that can sometimes be two-dimensional. By adding the mustard, you bring in a pop of flavor along with the acid, which helps to balance the dish," says Clenard, adding, "The cumin seeds marry so well with the roasted cauliflower. Adding the curry powder gives more complexity. And then it's all mixed with extra-sharp cheddar."
Clenard sees the dish as a good starter or shared plate. "It would be a great option on a bar menu, especially late at night," he says. While it delivers a rich, silky indulgence, the decadence factor is leavened by the roasted cauliflower. "You could feel good about eating this dish," says Clenard. "You could add a simple protein—grilled chicken or even some ancient grains."
There are many ways to target a market with this dish. "There's strong demand for global flavors and consumers are becoming much more adventurous, especially millennials," he notes. While it can be positioned as plant forward, for Clenard, the most important factor is that "it is flavor forward!"
Project Management: Summit F&B
Photography: Carlos Garcia // Food Styling: Peg Blackley & Bree Williams