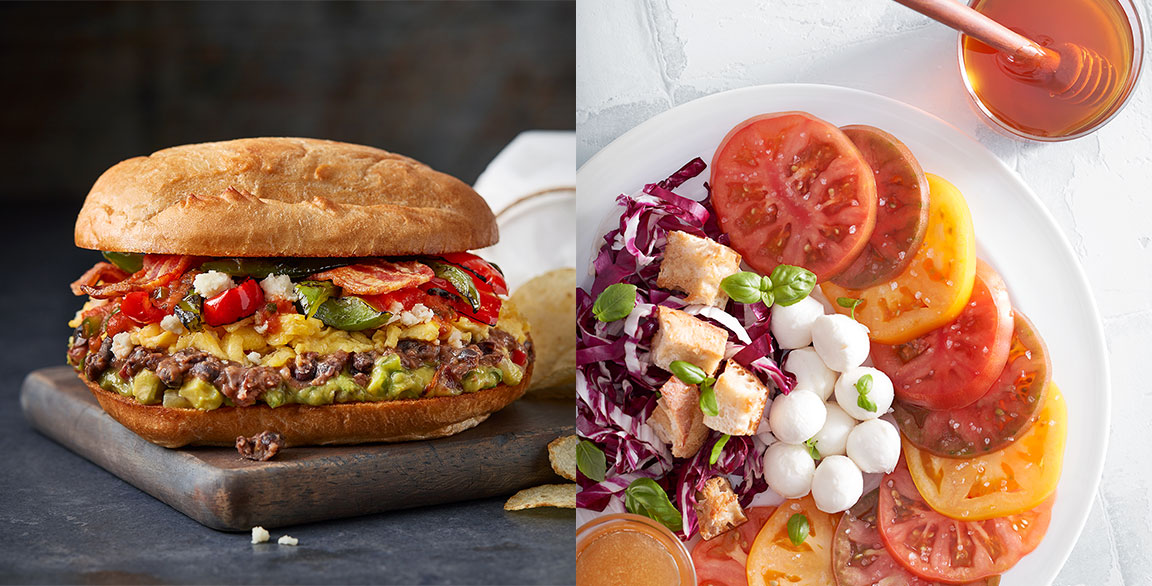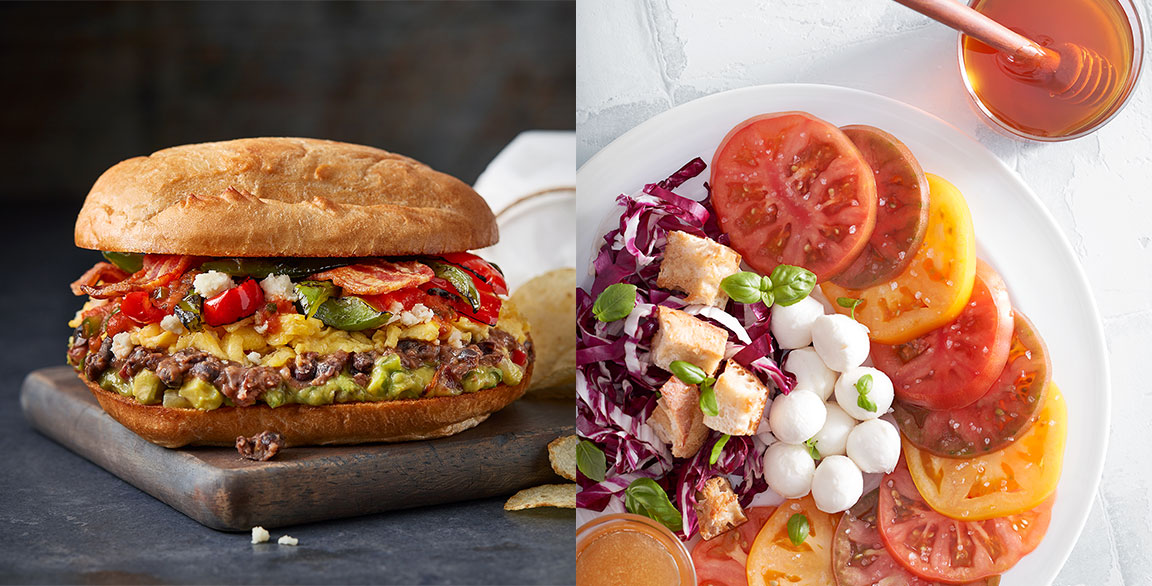 By Flavor & The Menu
September 1, 2021
Kitchen Collaborative is a recipe-development initiative formed by Summit F&B and Flavor & The Menu. To fuel flavor innovation, a group of talented chefs partnered with sponsor brands and commodity boards to create recipes that showcase the passion and potential of our industry.
CHEF SPOTLIGHT: BARB COLUCCI
Barb Colucci doesn't need a contractor's license to erect complex recipe builds that soar to dizzying flavor heights. Whether she's tapping her Italian roots or applying her expertise as Executive Chef and Director of Culinary for Del Taco, LLC, the California-based quick-serve concept specializing in "American-style" Mexican cuisine, Colucci is clearly comfortable in the culinary construction zone.
Her recipes for Honey-Lemon Heirloom Tomato & Mozzarella Panzanella-Style Salad and Taco Fiesta Black Bean Breakfast Torta, featuring Bush's Fiesta Black Beans, are a testament to her skills in layering flavors and textures as the brick and mortar required of any memorable menu standout.
Honey-Lemon Heirloom Tomato & Mozzarella Panzanella-Style Salad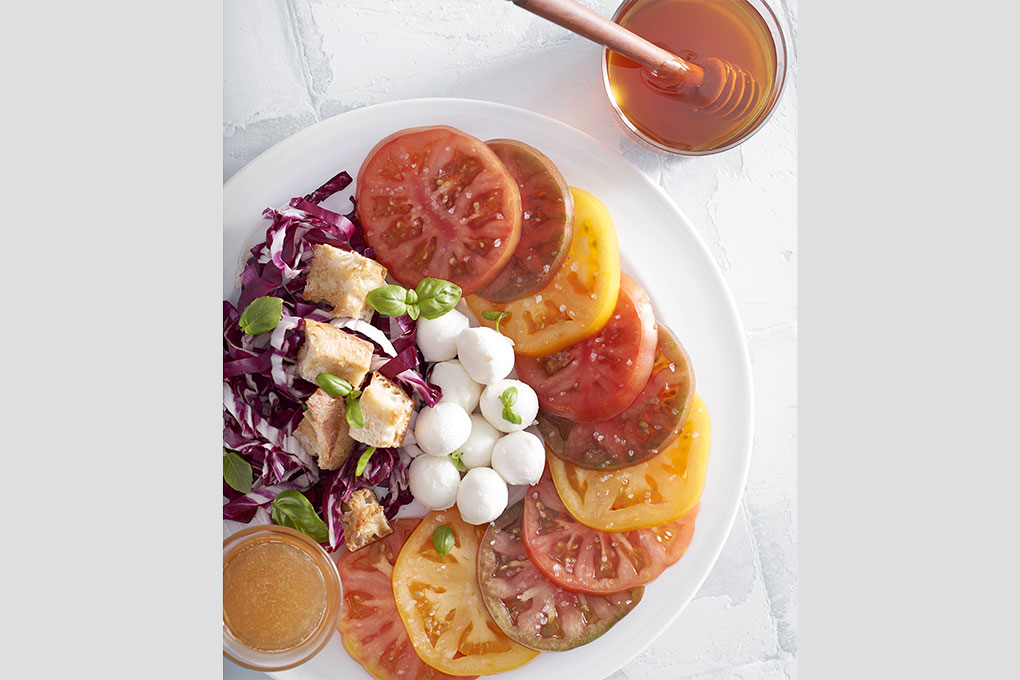 Photo Credit: National Honey Board
The Honey-Lemon Heirloom Tomato & Mozzarella Panzanella-Style Salad is a dish that's a mouthful to articulate—but also a delectable one to enjoy. Colucci's twist on a classic caprese is elevated by featuring honey in two ways.
The first is a dressing that combines the natural sweetener with Meyer lemon juice. "I use this dressing often on my salads, cooked fish, on oatmeal, as a drizzle over fruits and veggies—just about anything!" says Colucci, noting that it delivers a similarly sweet-acidic touch as balsamic dressing, but one that is "softer."
To build the salad, she places 8 to 10 slices of tomatoes, slightly overlapping, in a semi-circle. Two leaves of radicchio and four leaves of basil fill the top middle of the plate as a garnish, with four bocconcini mozzarella balls rounding out the bottom middle portion.
Honey-coated croutons, placed atop the greens, lend further intrigue. Ciabatta rolls or baguettes are cut into cubes, drizzled with honey and sprinkled with sea salt before toasting in the oven. "These bring a nice sweetness and surprise in their complementary crunch," says Colucci. "They can also be a snack like popcorn—you can't have just one!"
A liberal drizzle of the honey-lemon dressing across the entire salad, along with a sprinkle of sea salt, completes the dish. That dressing is a perfect match with both the basil and the radicchio, she asserts. For the former, it mellows basil's peppery notes, while adding to the herb's anise characteristics with the boldness of the lemon. It also balances the bitterness of the radicchio. "It keeps the flavors playing well together," says Colucci. "Frankly, it's one of my favorite flavor combinations!"
Taco Fiesta Black Bean Breakfast Torta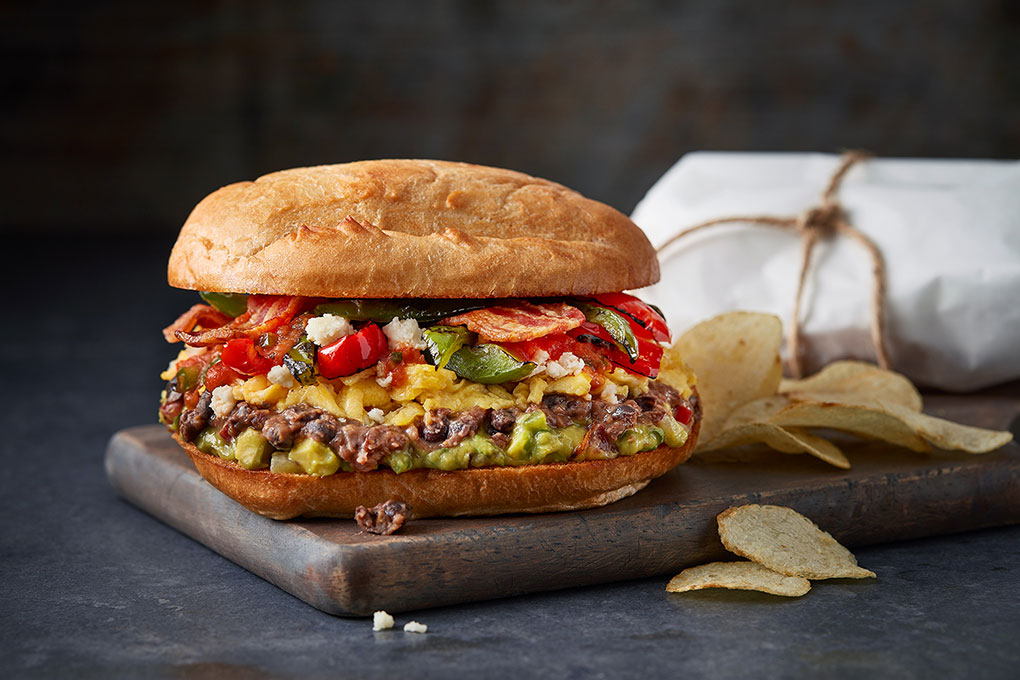 Photo: Carlos Garcia // Food Styling: Peg Blackley & Bree Williams
Take a moment to admire the impressive architecture of Colucci's Taco Fiesta Black Bean Breakfast Torta. Assembly starts with a toasted telera roll that is covered with 3 tablespoons of guacamole, followed by 3 tablespoons of warm Bush's Fiesta Black Beans. Two scrambled eggs are layered on top of the beans. One ounce of salsa roja is drizzled over the eggs and then topped with 2 ounces of roasted red pepper strips. Next comes 1 ounce of cotija cheese, followed by 2 small bacon strips and, finally, the top half of the roll. "It's a monster," admits Colucci.
The layering is very specific. "I was thinking about it being a handheld, about the strategy of keeping it together and about the bite integrity," explains Colucci. "About how to enjoy all the flavors together and build on craveability!"
Colucci details how the different flavors and textures come together to deliver a memorable taste experience: "The fresh guacamole has a hint of lime for a slight acid balance. The seasoned beans have a distinct smokiness and Mexican flavors. They also add texture and stability. The soft, fluffy scrambled eggs, crisp bacon and roasted peppers, with a hint of char, round out the savory elements of this sandwich. Finishing with the cotija provides a salty creaminess that brings all the bold, hearty flavors into play." It is, she concludes, "truly a fiesta, with all the colors of the Mexican flag!"
Project Management: Summit F&B
Photography: Carlos Garcia // Food Styling: Peg Blackley & Bree Williams