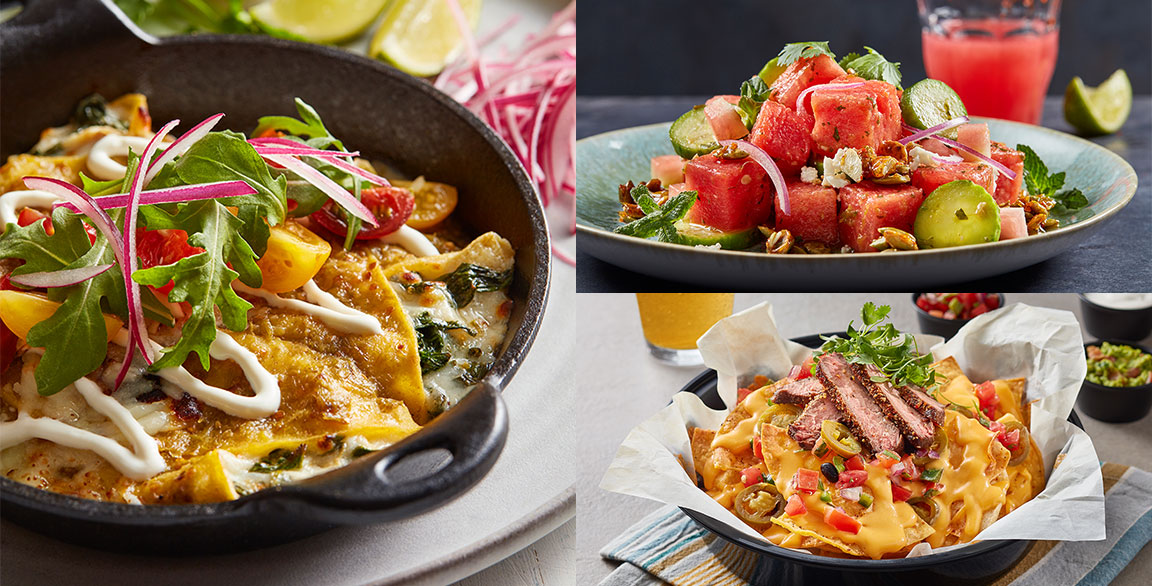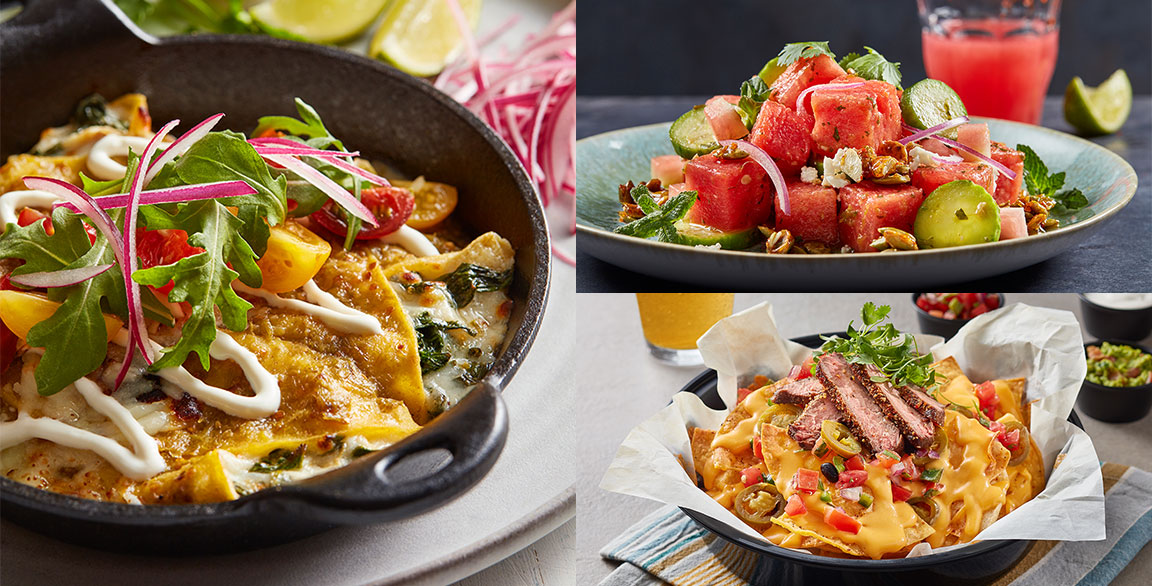 By Flavor & The Menu
September 13, 2021
Kitchen Collaborative is a recipe-development initiative formed by Summit F&B and Flavor & The Menu. To fuel flavor innovation, a group of talented chefs partnered with sponsor brands and commodity boards to create recipes that showcase the passion and potential of our industry.
CHEF SPOTLIGHT: ALEX SADOWSKY
You can count on Alex Sadowsky to bring fresh takes and flavor-forward touches to the party. A new direction for spinach dip? Check. Smoky barbecue? Check. Beer and nachos? Check and double-check. Sadowsky is Concept Chef for Twin Peaks Restaurants, the multi-unit sports bar that delivers a "Lodge Mantality" experience, particularly through its touted scratch kitchen menu of craveable favorites.
When it comes to new recipe development, he understands the challenge of using flavor to elevate and enhance familiar dishes, without transforming them beyond all recognition. The Cheesy Cal-Mex Spinach and Artichoke Enchiladas, Merkts Beer Cheese Nachos and Smoked Watermelon Salad featured here serve as great examples of Sadowsky's approach to innovation.
Cheesy Cal-Mex Spinach and Artichoke Enchiladas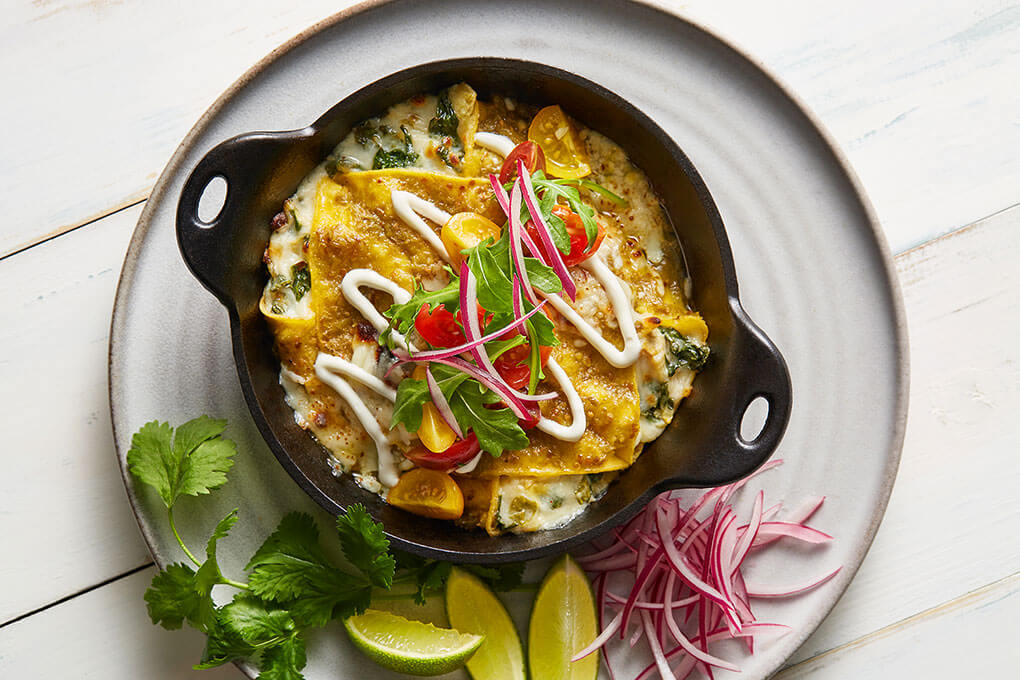 Photo: Carlos Garcia // Food Styling: Peg Blackley & Bree Williams
Spinach and Artichoke Dip is a time-honored shareable, whether at a casual restaurant or your neighbor's backyard gathering among friends. Sadowsky wanted to capture its rich, creamy indulgence as a filling for enchiladas, but that wasn't his only goal. "I also wanted to boost the overall health halo of enchiladas by using higher-quality dairy products, probiotic yogurt and spinach. Enchiladas can look and taste great and still be better for you than what you're expecting," says Sadowsky.
For his Cheesy Cal-Mex Spinach and Artichoke Enchiladas, Sadowsky's take leans heavily on those high-quality dairy products. The filling alone features Real California butter, whole milk yogurt, whole milk, shredded Oaxaca cheese and shredded Parmesan (or dry Jack) cheese. "I always try to layer cheeses and dairy when cooking," says Sadowsky. "Everything has a part to play in the overall dish, and it really helps hit different notes in flavor and function for the mouthfeel of the filling, aka dip." He also adds chicken base, chopped green onions, chopped garlic, ground black pepper, cayenne pepper, frozen spinach (chopped, thawed and drained) and artichoke hearts (also drained).
The enchiladas feature cherry tomato halves (marinated in olive oil, with chopped garlic and kosher salt) plus a salsa verde made with tomatoes, tomatillos, jalapeños, garlic, onions and Serranos. To build the dish, Sadowsky uses corn tortillas, adding the spinach-and-artichoke mixture on each, along with more Oaxaca (or a Mexican-style mozzarella) and then rolling them up and placing them in an ovenproof baking dish. The salsa verde and still more Oaxaca is layered on top of the tortillas before baking. After it comes out of the oven, Sadowsky drizzles yogurt in a zig-zag pattern from corner to corner. "Yogurt is very close to a Mexican-style crema in both texture and acidity," he explains. "It helps cut through the richness of the cheeses." The dish is finished with arugula, the marinated tomatoes, red onions and cilantro.
Merkts Beer Cheese Nachos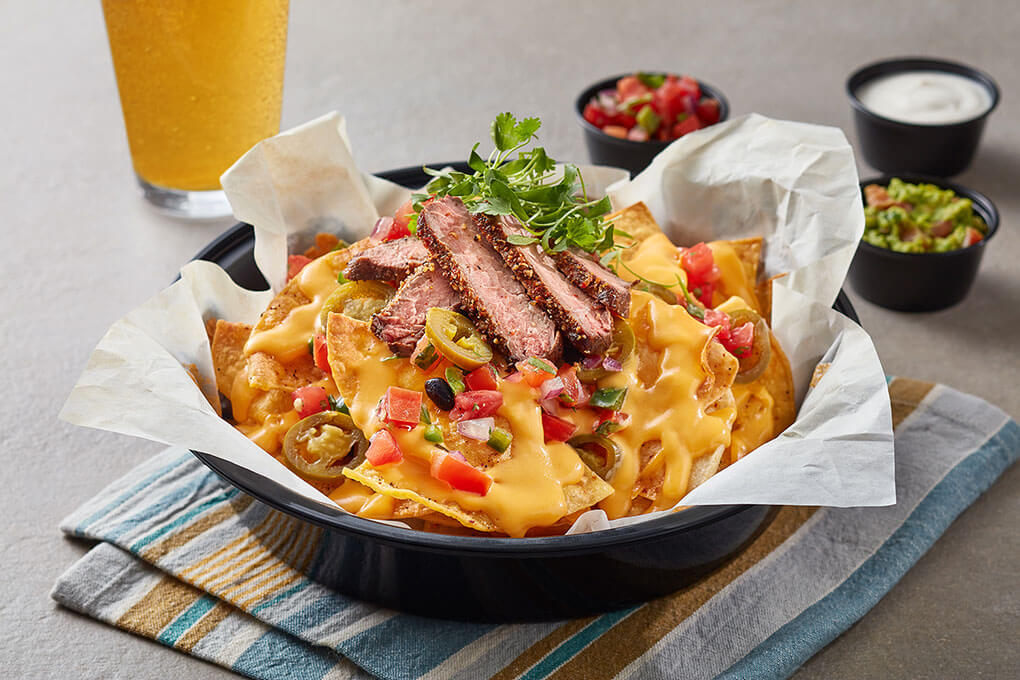 Photo: Carlos Garcia // Food Styling: Peg Blackley & Bree Williams
Many diners find nachos with cheese sauce such a fundamental taste craving that they will accept the most lackluster version at a c-store or movie theater concession. What better canvas for creating new taste experiences that far exceed customer expectations? Sadowsky rises to this challenge by committing to layers of flavor.
He starts with by adding whole milk to Merkts Beer Cheese Spread to create the sauce. "The beer cheese performed at a very high level," says Sadowsky. "I deal with different cheeses and cheese sauces every single day across the country. This had a really great texture melted and pulled a lot of beer flavor without being watered down or breaking, which can be common among beer cheese sauces."
The beer cheese also "absolutely" inspired a beer crema finishing element, made with sour cream, ranch seasoning, Dos Equis beer and ground black pepper. "I have used the crema before in combination with beer cheese for different beer dinners. It's really great to see the slight differences in cooking with different beers," says Sadowsky.
He takes his goal to create layers of flavor quite literally. The dish features double tiers of tortilla chips topped with black beans, cheddar cheese (which "gives the classic cheese pull and increases the overall cheesiness of the dish") and the beer cheese sauce. Each layer is heated (and reheated) in a salamander until brown and melty. The final touches are hot slices of grilled steak, pickled jalapeños, pico de gallo, the beer crema and a sprinkle of cilantro. The dish is served with a warm salsa verde and avocado smash. "I am very particular with my nachos and love to layer the different flavors and textures of cheese together," says Sadowsky, noting that the beer cheese makes the dish "one of the ultimate brew house appetizers. Wash it down with your favorite beer!"
Smoked Watermelon Salad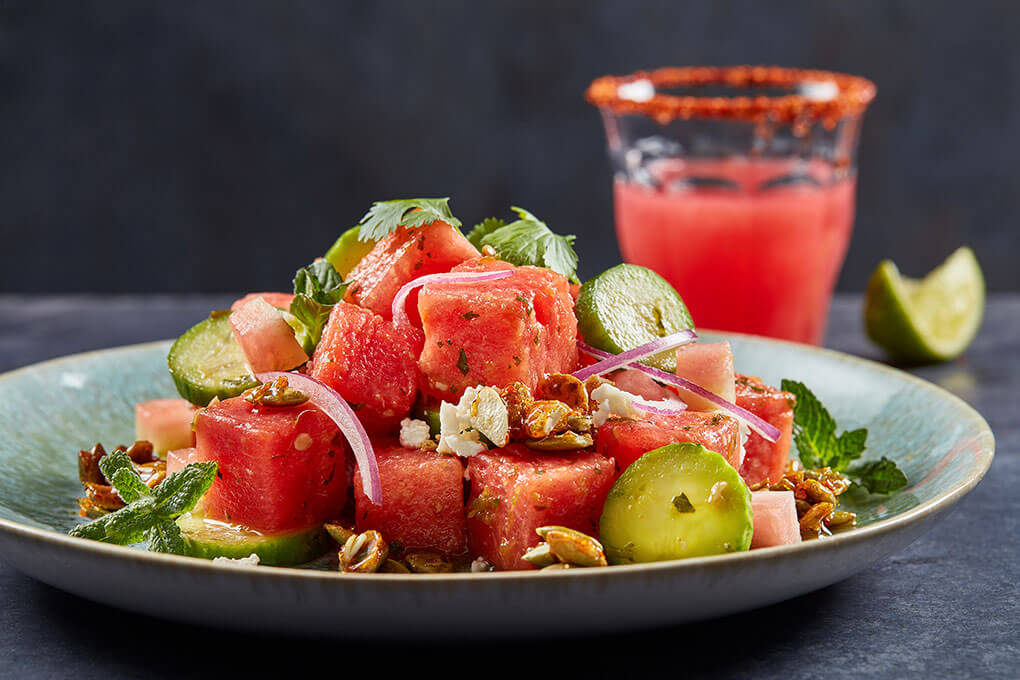 Photo: Carlos Garcia // Food Styling: Peg Blackley & Bree Williams
Furthering the evidence that any ingredient can be transformed with barbecue seasoning and a little smoke, Sadowsky applies both in his wildly creative Smoked Watermelon Salad. "I have a lot of experience doing grilled watermelon in high-volume kitchens, as well as fine dining, and I wanted to try emulating the look and feel of a pit-smoked ham," explains Sadowsky.
To create his "ham," Sadowsky completely peels the watermelon, reserving the rind for pickling. Using a paring knife, he scores the fruit with ½-in.-deep cuts in a crisscross pattern, then applies a barbecue rub and allows it to marinate for one hour before moving it to a preheated smoker with applewood chips for 30 minutes. "I had only ever added single spices or salt to watermelon before," he says. "For this dish, I wanted to develop more of the smoke flavor, as well as a crust on the outside, and it worked really well!"
The Salad also features several other strong flavors that play surprisingly well together. For example, the watermelon rind is pickled in a brine of sugar, vinegar, cinnamon sticks, cloves and black peppercorns. "Pickled watermelon rind is a staple of southern grandmas," says Sadowsky. Plus, there's a jalapeño vinaigrette made with peppers, red wine vinegar, honey, lime juice, roasted garlic, cayenne and cilantro. Sadowsky also candies raw pumpkin seeds with sugar and Tajin seasoning. "Originally, I was trying to use Tajin candied watermelon seeds, but they had an unappetizing color and texture," he notes. The build also includes cucumber slices, queso fresco crumbles, mint and cilantro leaves and shavings of red onion.
"My vision was to have a fresh Tex-Mex salad that would accentuate the smoked watermelon," Sadowsky explains. "I really love the different textures and spices that play off each other. Although I didn't start out with the idea of making this a vegan dish, it works. Plus, the addition of any fresh cheese is an excellent way to make it a better-for-you vegetarian option. Either way, it was craveable enough to feed to the biggest carnivores!"
Project Management: Summit F&B
Photography: Carlos Garcia // Food Styling: Peg Blackley & Bree Williams