By Flavor & The Menu
July 9, 2019
Behind every highbush blueberry is a farmer with a great story to tell. Many of these growers have lived and worked on their farms for generations, making sustainability and environmental stewardship a way of life. Their passion for blueberries runs deep. They grow highbush plants, which are tall and yield natural, big, plump, juicy fruit—thanks to both the variety and the height of the bush.
Blueberries: Farm to Fork
Menuing highbush blueberries, which are grown and harvested in more than 38 states, Canada and South America, translates to support of multi-generational farm families. It also translates on menus, relaying that connection between farmer and chef that is meaningful to diners today. Knowing the care blueberry growers put into each piece of fruit builds loyalty among diners demanding more transparency.
"Nature gives us the healthiest, juiciest, plumpest blueberries—it's our job to sustain and nurture that perfect product."
Shelly Hartmann, True Blue Farms, Grand Junction, Mich.
Bob Carini, a third-generation blueberry farmer, says, "I speak for all blueberry growers when I say we care about what we do. Sustainability is a buzzword today, but for us, it's a way of life." Chris Barnhill, a fourth-generation blueberry farmer, takes pride in growing a wholesome, natural product: "We're doing people good by what we're doing. As farmers, we take extra pride in that."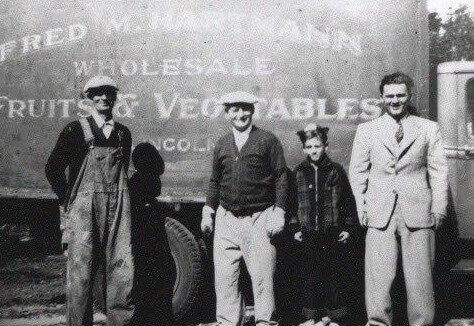 Shelly Hartmann, who married into the blueberry business by partnering with a fourth-generation farmer, says, "We began to farm the land together and I fell in love with every part of it." She continues, "It's nature's perfect fruit—100 percent consumable, sweet, plump, juicy and delicious."
We farm blueberries the same way my granddaddy did only more efficiently.
Chris Barnhill, Sugar Shack Farms, Wilmington, N.C.
Blueberry Fast Facts
Highbush blueberries were first grown in New Jersey more than 100 years ago when farmers began seeking superior indigenous plants for breeding.
All highbush blueberries are GMO-free.
Blueberries, in a wide variety of forms, are available year-round in safe, stable supply.
Individually quick frozen (IQF) blueberries, picked at the peak of freshness, allow chefs to use what is needed and help reduce waste.
100% yield—zero peels, cores, hulls or skins.
Minimal labor and efficiency—no stemming, seeding or chopping.
Blueberry growers participate in a full range of GAP safety practices in farming, packing and distribution.
Last, but certainly not least, blueberries are consumers' top preferred berry.**
Growing highbush blueberries feels like you're doing something worthwhile.
Bob Carini, Carini Farms, West Olive, Mich.
For menu solutions that maximize blueberries, visit BlueberryCouncil.org/Foodservice.

*Label Insight Transparency ROI Study, 2016
**2017 USHBC Consumer U&A Study by SMS Research.