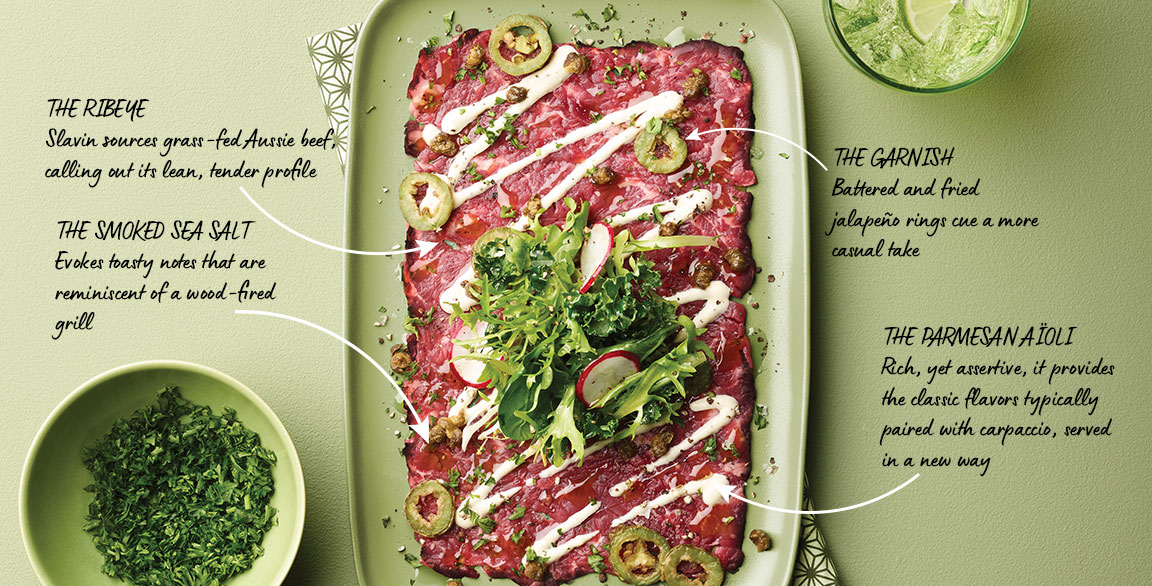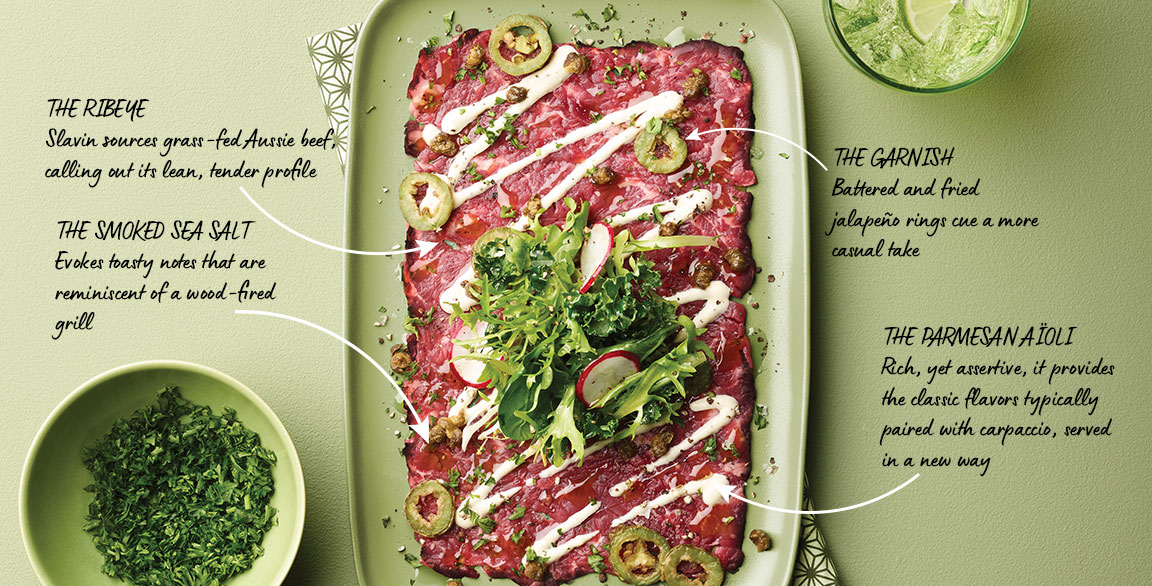 By Katie Ayoub
June 28, 2021
Carpaccio is an elegant dish that doesn't typically get a lot of play on mainstream menus. But with a few inspired moves, this classic can transform into a modern and memorable shareable. Michael Slavin, VP of Culinary & Menu Innovation of Houlihan's, Inc., based in Leawood, Kan., offers up a prime example.
On the menu at the restaurant group's steakhouse, J. Gilbert's, the Australian Grass-Fed Beef Carpaccio features char-crusted ribeye drizzled with white truffle oil, then sprinkled with smoked sea salt followed by a zigzag of garlic-Parmesan aïoli. Slavin scatters fried capers and fried jalapeño rings over the plate and mounds a mixed greens-and-radish salad on top.
"The Aussie beef has lean qualities only found in grass-fed cattle, which create a nice contrast when paired with the richness of the white truffle oil, the creamy egg yolks and the olive oil emulsion in the aïoli," he says.
To help modernize the carpaccio, broadening its appeal by giving the beef a different dimension, Slavin turns to the subtlety of smoke. "It has unexpected, yet desirable, natural smoky elements that you don't typically see with traditional carpaccio," he says. "I used a dark char crust seasoning on just the outside of the ribeye, imparting oak smoke and creating an interesting smoke ring. The additional clean smoke flavor comes from the super flaky Maldon smoked sea salt. I'm hoping that for our guests, the salt evokes warm and toasty wood-fired grill notes from simpler times."
Get the recipe for Australian Grass-fed Beef Carpaccio Recipe here