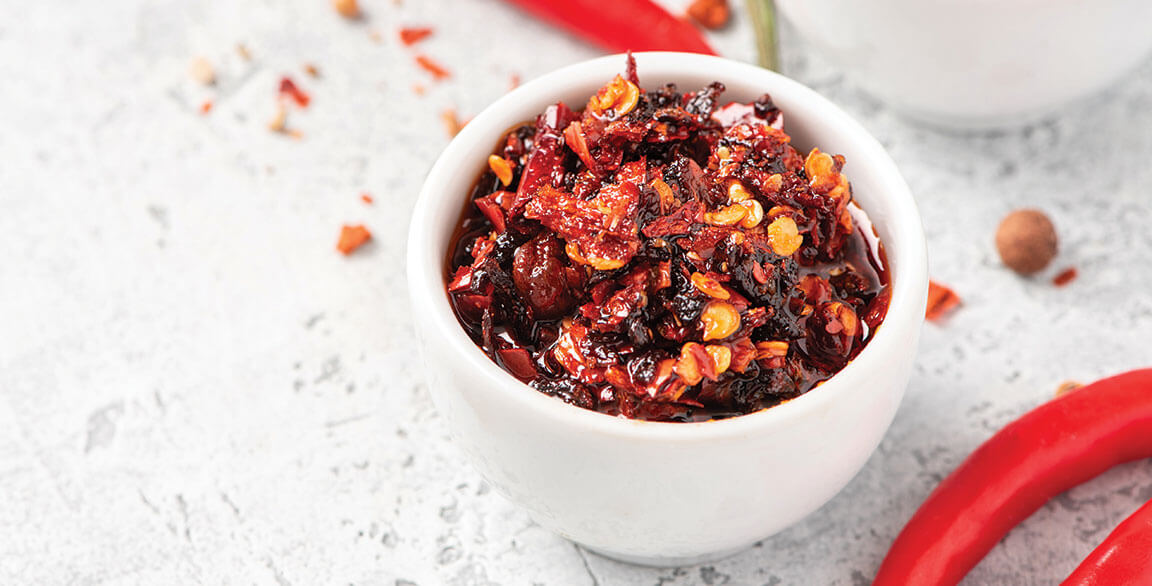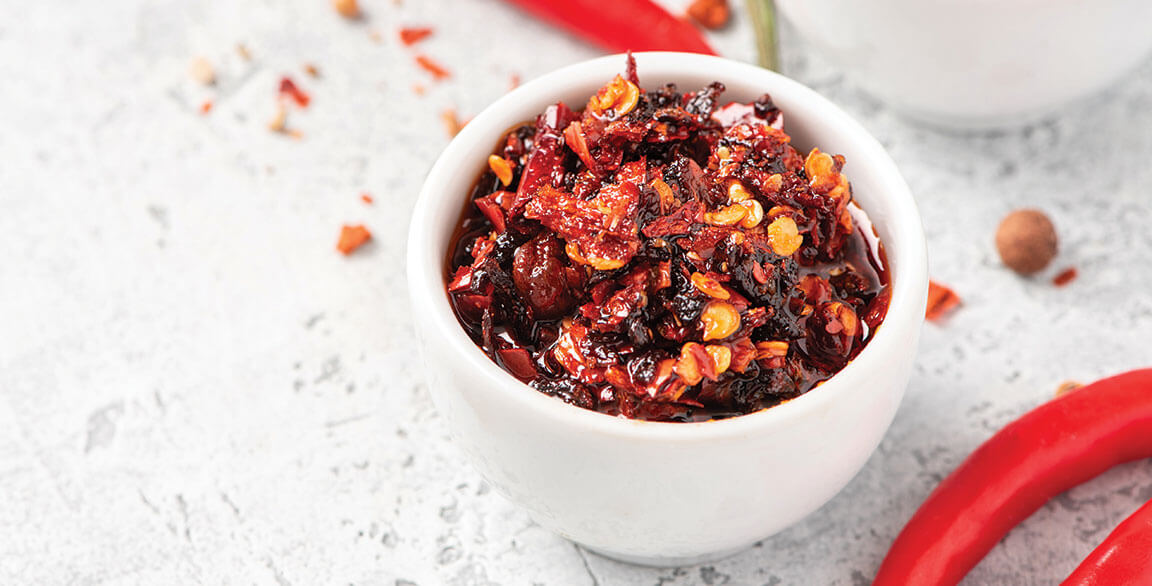 By Maeve Webster
August 21, 2021
The sweet, spicy, tangy, salty, umami flavor spectrum of the condiments found in the diverse and dynamic pantries across Asia has been influencing menu development and commanding consumer attention for decades now. That's not changing anytime soon because those characteristics drive craveability and build backbone in a myriad of menu builds.
It's exciting to look beyond the wealth of now-familiar Asian ingredients, sauces, spreads and dips, including: Korean gochujang, Thai Sriracha, Japanese mirin, miso and Kewpie mayo, Chinese hoisin and ponzu, and, of course, soy sauce. Coming in hot: chile crisp—the Chinese condiment we didn't know we needed, but increasingly are finding it hard to live without.
READY FOR ACTION
Chile crisp is fundamentally—and deceptively—simple. The most traditional and basic version is nothing more than fried chile peppers or chile pepper flakes plus garlic, preserved in a neutral oil. But as every chef knows, simple bases virtually beg for experimentation and iterations, which is why chile crisp recipes have branched out to include shallots, ginger, spices, soy sauce, beans, nuts and seeds. Still, that's only a start, as its straightforward canvas lends itself to more complex transformations.
With the right additions, this condiment can be quickly and easily customized to suit Mexican, Mediterranean, Indian and African cuisines. The intensity of the heat from the pepper, the complexity added by one or more spices, and the impact of the selected oil are all at the discretion of the chef.
Chile crisp is, therefore, an infinitely variable, yet easily assembled condiment with big impact and immense potential.
HOT OPPORTUNITY
Given the growing availability of unique ingredients at both well-known retailers and online specialty purveyors, adventurous consumers can explore these flavors before trying them at restaurants. This is certainly true of chile crisp, which is primarily associated with the brand Lao Gan Ma, established 30 years ago by a noodle shop owner in China's Guizhou Province.
According to Datassential, approximately one-quarter of U.S. consumers have heard of chile crisp, and 20 percent of those have tried it. Yet chile crisp is featured on less than 1 percent of menus in this country. These findings indicate that consumers are engaging with this intriguing ingredient outside of restaurants, pointing to an exciting prospect for chefs and menu developers.
The lack of competition for its use, coupled with its incredible versatility, means chile crisp provides a unique opportunity to stand apart from competitors at a critical time, with diners eager to put pandemic limitations behind them.
Branching out
While some authentic Chinese restaurants likely feature chile crisp on their menus, we typically don't see a mass-market impact until ingredients like this one expand beyond their cultural origins. In this case, the chile crisp "craze," early though it may be, started in 2020 during pandemic lockdowns when home cooks used their time to explore new recipes and seek new ingredients available through online purchase and delivery. Restaurants, accustomed to driving new flavor trends, are playing a little catch-up instead.
As a result, we're seeing the initial influence and drive behind chile crisp focused primarily on Asian cuisines. But innovators are expected to expand its application, using the Chinese profile to work for them by providing differentiation to classics and trending dishes alike.
For example, New York's Milu is an up-and-coming fast-casual restaurant focused on Chinese cuisine that spins fried chicken into the Chile Crisp Chicken, coating the battered and fried chicken with housemade chile crisp (which it also sells as a retail product).
State of Grace, a modern American concept in Houston, similarly taps the classic fried chicken sandwich, making it decidedly modern by applying a chile crisp glaze and adding kimchi slaw.
Chile crisp is an ingredient with the potential to work with virtually any item on a menu. At its core, it is a deeply flavorful oil. Thus, it can fit in any application in which an oil is used to lend flavor complexity or a luxurious, velvety texture with the added bump of crispy crunch.
Consider chile crisp as a drizzle over pizza or seafood, or try it in a sauce for noodles of any kind. Chile crisp can also work as a dip for appetizers, as well as a dressing for salads. Even ice cream can be elevated to something more adventurous with a flourish of chile crisp as an unexpected topping.
MENU SIGHTINGS
Despite how new this ingredient is to the U.S. foodservice market, there's an exciting array of menu examples to draw from for inspiration, from the authentic to the inventive.
Wonton Soup: Pork wontons with shrimp, scallions and water chestnut dressed in dark, sweet soy and chile crisp
—MANJU Dumpling Pop-up Shop, Nashville
Chile Crisp Broccoli with fried onion, citrus, Korean mayo
—Junior's on Harrison, New Orleans
General Tso's Pie: General Tso pulled pork, garlic, housemade kimchi, egg, sesame seeds, scallions and chile crisp
—Krust Pizza Bar, Middletown, Conn.
Tuna Ceviche with cilantro, red onion, soy sauce, lime, ginger, garlic, chile crisp, sesame, wonton chips
—The Royal Tern, Johns Island, S.C.
Xocolatl de David's Salsa Macha Ice Cream made with a Mexican version of chile crisp, with red pasilla, chipotle peppers and dark chocolate
—Salt & Straw, based in Portland, Ore.

---
Sparking Innovation
Chefs share how they might approach recipe development starring chile crisp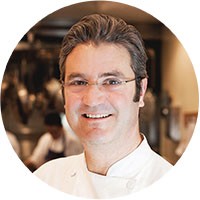 Appeal
"Chile crisp adds a savory backbone of umami, spice, fat and texture, which all support its craveable attributes. It is complex with middle-of-the-road flavors. It is not too hot, spicy or salty, and it brings great texture and color to a dish."
Application
"Chile crisp is great with plant-based or meat products as a finishing ingredient. It can be added to mayo or aïoli for a boost of flavor and personality. This is a great condiment to dip fried chicken in or add to a fried chicken sandwich with micro greens and a pickled vegetable."
CHARLIE BAGGS, Chef/Founder, Charlie Baggs Culinary Innovations

---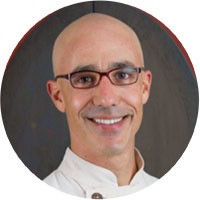 Appeal
"It offers a familiar flavor profile with a twist. And it gives you both a visual and textural experience when you bite down on the small bits of flavorful fried chiles, garlic and shallots. It's getting attention since it's dead simple to understand—the name says it all.
Application
"Folding the chile crisp into a chocolate ganache for explosive and slightly crunchy dark chocolate truffles could be fun. Or combine it with one part olive oil and pour as deep swirls on top of a bowl of hummus. Add it to scrambled or deviled eggs—or nearly any egg dish—to deliver bite. I like chile crisp added into cheese, such as mac and cheese, queso dip or drizzled in a quesadilla."
ROBERT DANHI, Chef/Founder, Chef Danhi & Co.

---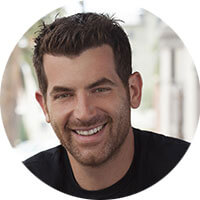 Appeal
"I, like many people, have recently discovered the joys of Sichuan-inspired chile crisp. It's a condiment for all things because it's savory, spicy and texturally appealing. It doesn't last long because it's so good on everything."
Application
"Now we're seeing Italian versions served as a dip for the crust-end of pizza, and of course, salsa macha is the Mexican version. I haven't seen a condiment become so popular since the Sriracha boom."
ADAM GERTLER, Culinary Director, Dog Haus; Franchise Operator, Dog Haus Innovation Kitchen