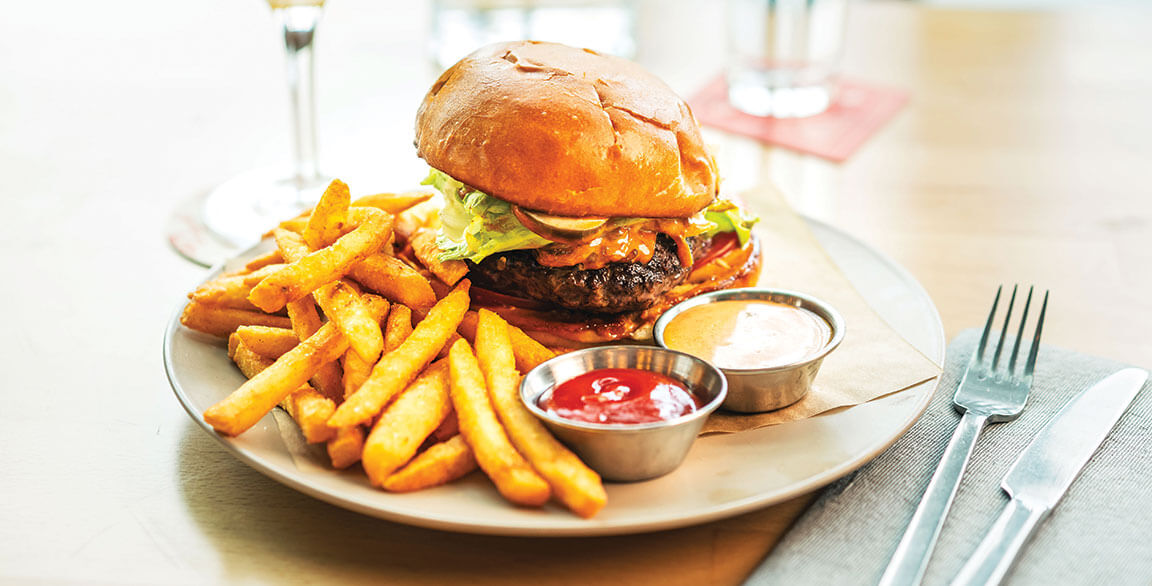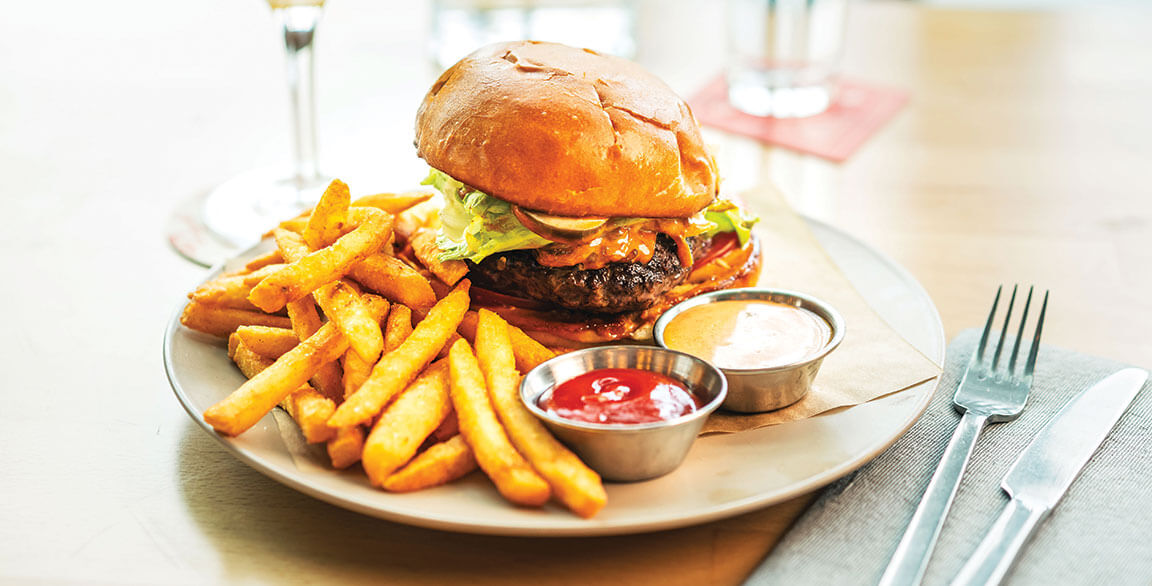 By Mike Kostyo
August 2, 2021
Though it was inspired by Germany's "Hamburg-style" chopped beef steak, the hamburger we know and love today is a thoroughly American creation. There are few dishes that are equally at home on both a fast-food and a fine-dining menu, and for decades, chefs have spun countless variations on this classic, showcasing an enviable number of ways to turn a meat patty and two buns into something spectacular.
At the newly-opened New Belgium Brewing's Taproom & Restaurant in San Francisco, Laura Ozyilmaz, chef-consultant and culinary advisor, created the Mothership, a cheddar cheese-stuffed burger inspired by the Juicy Lucy. "By stuffing Wagyu meat with cheese, all the juices stay inside," she says. Execution is another key to its success.
The burger is always cooked medium to medium-well, eliminating guest temperature preferences that slow down ordering and execution. "The final product is more consistent, with faster pick-ups. It's more delicious, and it's easier for the kitchen staff," says Ozyilmaz. The burger build also features a buttered and toasted American bun, umami mayo, tomato seasoned with salt, pickles, iceberg lettuce and caramelized onions cooked down with beer.
Stuffed burgers like the Mothership are definitely having a moment and are among the trending styles of burgers we're tracking here. Chefs today are differentiating their burgers in three other notable categories: smashed burgers, sliders and plant-based options.
---
STUFF IT
"The next big move should not be topping burgers, but stuffing burgers," says Maira Morales, VP of research and development for Wild Wing Café and Back Yard Burgers, both based in Charlotte, N.C. Chefs can introduce even more flavor by stuffing a burger, she contends. It's a lesson that plenty of pizza chains have already learned when it comes to their crusts. Plus, stuffed options are tailor-made for TikTok and Instagram, where a video of a rich filling oozing out of the center of a burger can garner those all-important "likes."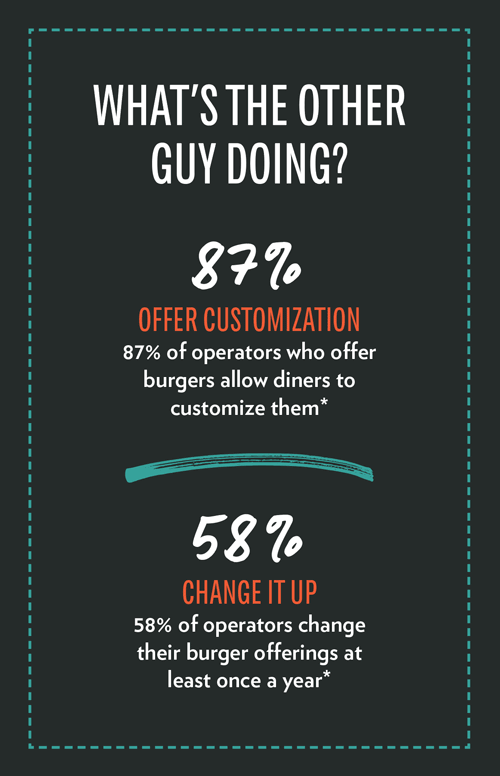 For Morales' take on a traditional Cuban frita burger (seasoned ground beef and pork/chorizo patty on Cuban bread topped with shoestring potatoes), she stuffs two patties, made with a blend of ground beef and chorizo, with Boursin cheese. Toppings include pimento peppers, tomatoes and butter lettuce. It's all packed in between brioche buns or sweet pan dulce Cubano.
Morales is quick to point out that her version is a twist on the original. "I don't want to see her ghost," she jokes, thinking of her grandmother, who made authentic fritas and may have bristled at this modern variation. But Morales stands by her frita recipe, noting that it's jam-packed with flavor, with the sweet bread playing off the saltiness of the chorizo, all combined with the richness of the creamy cheese in the center.
While cheese may be the most common filling in a stuffed burger, Scholars & Scoundrels, a bar and grill in Katy, Texas, takes inspiration from breakfast and brunch handhelds for its Hangover burger.
The patty is "stuffed" with an egg—prepared toad-in-the-hole style with the egg cooked into the patty itself, then topped with housemade Sriracha-beer cheese and jalapeño bacon.
According to Datassential, both breakfast and brunch burgers are up 94 percent on menus, which opens up plenty of potential for other stuffed burger combos: think eggs, bacon, hash browns and even gravy.
---
SMASH IT
Smashed burgers have progressed from a niche offering to arguably the most in-demand burger option on menus today. That demand is driven by the smashed burger's simplicity, which sets it apart from the extra-thick, maximalist versions found on so many menus. There's also the crave-worthy texture of the smashed patty itself: those salty, crispy edges that give way to a rich, juicy center. But how did a burger that flouts one of the cardinal rules of classic prep—"Don't smash that patty!"—become so popular?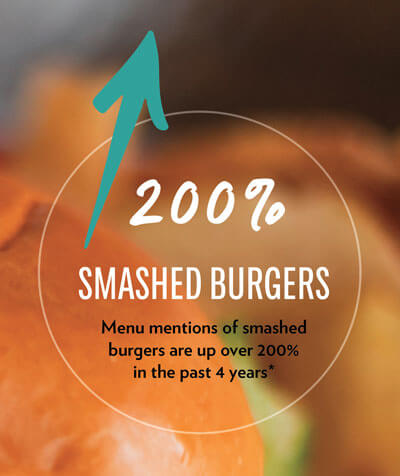 Owner Curtis Rund of Chicago's The Region burger shop commends the flattop grill. On a home grill, when you smash the patty, all of the grease drips down into the fire. "When it's cooked on a flattop," he says, "you're not losing any of that juiciness."
Rund's ultra-thin, ultra-crispy-edged burgers are inspired by the types he grew up eating in Northwest Indiana, just over the border from Chicago and affectionately dubbed "The Region" by locals. Instead of calling them smashed burgers, he prefers the more descriptive "lacy-edge burgers," a moniker he credits to George Motz, author of "Hamburger America," widely considered to be the bible of the American burger industry.
When he opened his shop four years ago, Rund says some customers would "react in horror" at the sight of the crispy, just-at-the-threshold-of-burnt burger patty edges overflowing the bun. But the growing popularity of smashed burgers has opened a new customer base, and they keep coming back for more.
When it comes to toppings, Rund prefers to keep it straightforward, believing that "simplicity done right is a good thing." That means a 7-oz. patty served with his signature mayo-based Region Sauce, relish and onions—and no lettuce. "The point of lettuce is the crunch, and you're already getting that with the crispy edges of the burger," says Rund.
As smashed burgers continue to reach a wider audience, chefs will need to step up their differentiation game. At Nashville-based Party Fowl, Bart Pickens, executive chef, rounds out the hot chicken-focused menu with a Southern-inspired pimento cheese smashed burger. He uses a half pound of ground chuck for the patty, which is smashed and then topped with pimento cheese, lettuce (don't tell Rund), tomato, dill pickles and onions. "Piggy chips" are a side option—housemade potato chips fried in decadent bacon fat and served with Alabama-style white barbecue sauce.
Other proteins are getting in on the smashed burger trend, too: At Village Whiskey, based in Philadelphia, the Turkey Smash Burger brings the flavor, topped with sharp cheddar, harissa aïoli, garlic mushrooms and sunflower sprouts.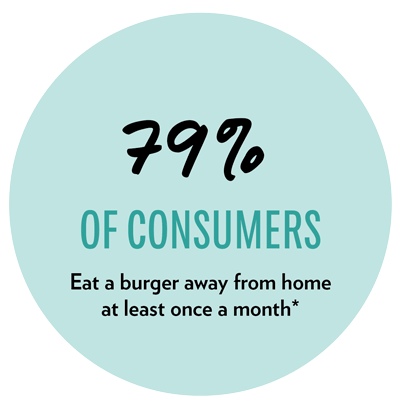 ---
SHRINK IT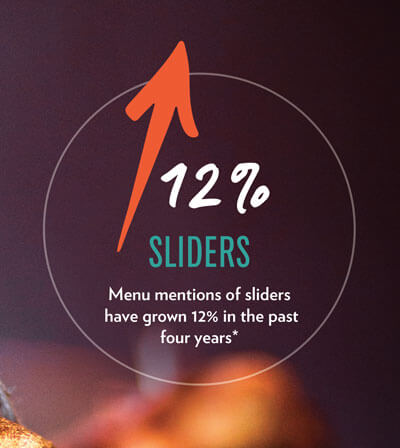 Sidecar Slider Bar, based in Birmingham, Mich., decided to specialize in sliders instead of full-sized burgers. The goal, says Stephen Simon, one of the owners of parent brand S-Three Restaurants, is to give customers the opportunity to mix and match different flavors and proteins to create their own perfect meal.
Options range from classic burgers to more adventurous options like the PB Jammin burger with peanut butter, jelly, bacon and American cheese or a chili slider special served on a cornbread bun. So far, the concept has been a hit, Simon says, with three locations open for business and two more on the way.
Datassential's research points to an increase in slider concepts popping up on delivery service menus, answering consumer demand for variety in a clever way: Why choose one burger option when you can have three?
And sliders can showcase just about any trend imaginable, including stuffed and smashed burgers. Sidecar also lets customers swap in a plant-based Beyond patty for any of its slider options.
At San Diego Sliders Company, customers can personalize breakfast slider flights from an array of selections like a Hawaiian-inspired Loco Moco (made with a beef patty and gravy served on a rice patty with an over-easy egg) or a Filipino Breakfast slider (featuring corned beef, onions, tomatoes, mayo and scrambled eggs on a Hawaiian bun).
---
PLANT IT
The rise of plant-based meats has injected new life into the burger category, giving fresh options to consumers seeking more "virtuous" indulgence. Increasingly, chefs across the country are using plant-based burgers as a jumping-off point for innovation.
At sandwich shop Turkey and the Wolf in New Orleans, chef/owner Mason Hereford tops a plant-based burger—starring a soy-based "Incogmeato" burger patty—with amped up flavors and ingredients like crispy fried onions, coleslaw and housemade guajillo barbecue sauce.
Trend-forward plant-based burgers on menus today:
The Gulf: Fish-free patty, organic green leaf, organic cucumber, organic red onions, organic tomatoes, mayo, green goddess, sprout bun
—Bareburger, based in New York
Bleu Bubb Burger: Housemade beet patty, with cashew bleu "cheese," caramelized onions, crisp leafy lettuce, tomatoes and pickled mustard seed sauce on a soft roll
—Bubbie's Plant Burgers, Washington, D.C.
Tex-Mex Burger: Grilled Impossible patty with spicy queso sauce, lettuce, guacamole, tomatoes and ketchup on a brioche bun
—Stand-Up Burgers, with locations in Berkeley, Calif., and Chicago