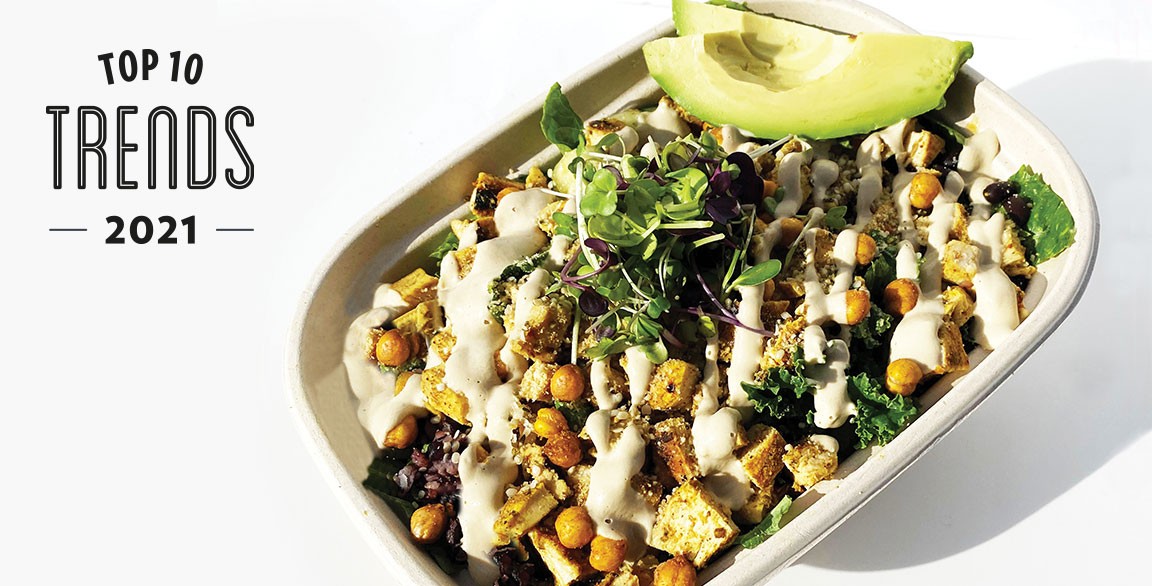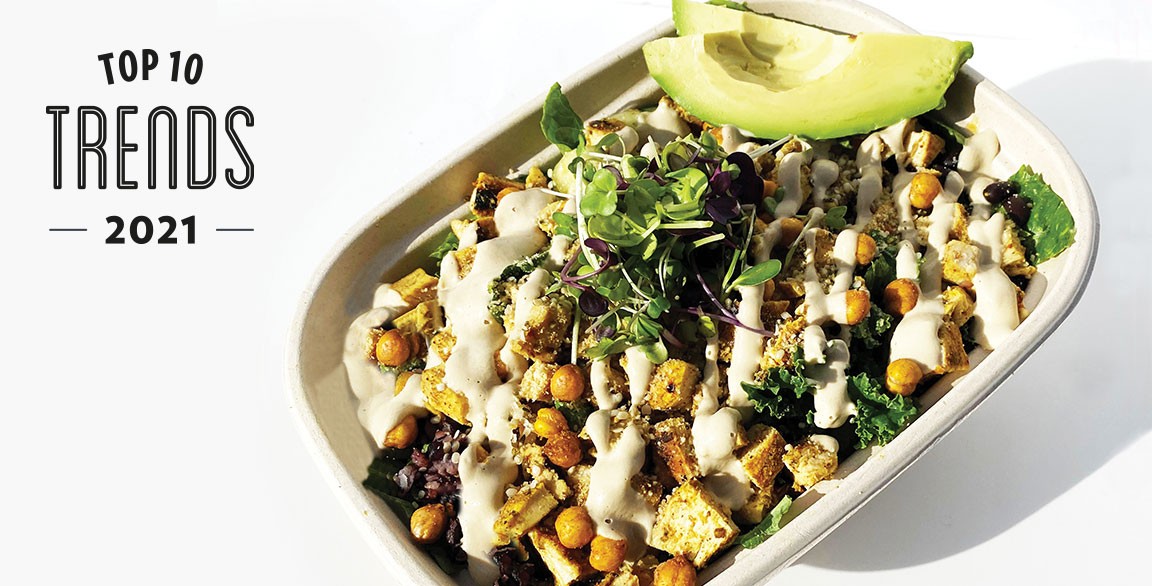 By Katie Ayoub
February 11, 2021
If there's any doubt that plant "milks" have developed an edge, take a teenager to a Starbucks and watch them order. An Oat Milk Honey Latte might be new to them, but it's not foreign. As a demographic, they won't shy away from beverages featuring plant milk.
In fact, they'll enthusiastically order them, motivated by any number of factors, including flavor, lifestyle diet, allergen avoidance, eco-friendliness and/or curiosity.
Coffee shops and grocery stores were the entry points for plant-based milks, and consumer awareness of these drinks is pretty high, especially among Gen Z and Millennials. That awareness and enthusiasm have translated into big business in the retail world. These products are now purchased by 41 percent of American households, according to The Good Food Institute.
Although alternative dairy products aren't new in foodservice, this consumer adoption into everyday use, coupled with their slick positioning at the cool kids' table, have helped clear the way for deeper exploration across all types of menus—vegan and non-vegan alike.
"The plant-based movement is definitely fueling interest in plant milks," says Mike Kostyo, trendologist with Datassential. "It's absolutely not just about vegans and vegetarians. Consumers want to be more flexitarian, and they continue to want flavor first. We're finally catching up to chefs' need states. Plant-based milks have come a long way and can be used in a variety of applications, so operators now have a range of options available to meet their customers' needs and wants."
One of the richest opportunities for culinary innovation flows from the inherent versatility of plant-based dairy products.
There's the vegan play, whether that leans toward wholesomeness or indulgence. Incredible progress in the variety of styles and performance capabilities in the plant-milk category has built up the pantheon of indulgent vegan menu items, highlighting the rich, satisfying mouthfeel that they can deliver in sauces, soups, dressings, creams and thickeners.
High Low Beverage Company, a bar and restaurant in Brooklyn, N.Y., features cashew cream in its Veg Banh Mi. Composed of smoked mushroom pâté, ginger-braised beets, pickled papaya slaw, cucumber, jalapeño, cilantro and fried shallots, the handheld relies on the creamy profile of a smoked pepper-cashew cream aïoli to deliver the indulgence that helps this dish and other plant-based offerings hit craveability.
Although many diners certainly appreciate the feel-good messaging associated with plant-based ingredients, menu items like this one also call to a broad swath of diners who simply respond to the promise of delicious food.
It also resonates beyond those diners actively seeking dairy-free options. "Younger consumers, in particular, mostly consider plant-based milks just another ingredient, not a replacement for dairy," says Kostyo.
"Instead of only using plant milks in strictly vegan applications, chefs should now be choosing them for their flavors and unique attributes. For example, pistachio milk will not only have a unique flavor, but also an attractive color that can be great for social media photos."
That kind of thought process is guiding chefs through a brave new world of menu innovation using exciting plant-milk options available on the market today.
The Players
The three fastest-growing milks on menus today are all plant-based. Oat, almond and coconut hold that top billing, with cashew, pea and soy milks growing by double digits, according to Datassential. Oat milk in particular saw a big surge in 2020, with retail sales up 350 percent, per SPINS research.
Menu developers in both food and beverage are demonstrating their versatility in trend-forward applications.
American bistro Jackie in Washington, D.C., pairs its Miso Fried Chicken with vegan ranch, choosing cashew cream for its intrigue factor and illustrating the happy marriage between a plant-based sauce and a non-vegan entrée.
Milky Way Shakes in Austin, Texas, showcases dairy alternatives' earned status in playful, youthful builds. The ice cream is made in-house from a blend of almond and coconut milks, and the mix-ins are made with a variety of plant milks and aquafaba in place of egg whites. Its caramels are made with coconut milk.
The Star-Berry Lemon Cloud features strawberry, lemon curd, meringue and glitter strawberry (fresh strawberries dusted with edible glitter and dried in a food dehydrator).
Patricia Kaytia is the chef and founder of Las Vegas-based Fruits & Roots, a quick-serve that menus organic juices, smoothies and wellness bowls. She touts the benefits of using oat milk in a vegan ranch, which was recently paired with oat-crusted chicken tenders for an off-menu kids' party.
"People have a specific idea about what ranch tastes like, so you need to neutralize the plant-milk flavors," she says. "We use whole cashews to replace the richness of buttermilk, then add oat milk to balance out the nuttiness. You want to bring in the traditional ranch seasonings—we opt for fresh dill, dried parsley, garlic, lemon juice and pink Himalayan salt."
In today's environment, where menu optimization is top of mind, flexibility is gold. "Some items like cream sauces can be made entirely of plant-based products, which cuts down on the need for multiple SKUs of dairy or 'plant dairy' in inventory," says Liz Moskow, a brand strategy and business development consultant.
Kaytia's cashew Caesar dressing, drizzled over the Plant-Powered Caesar with Chicken, gets similarly meticulous attention to flavor detail as her vegan ranch. "It has both savory and acidic notes with a good, creamy texture," she says. The recipe features a blend of cashews, capers, Dijon, nutritional yeast, seaweed flakes and proprietary ingredients.
"When I want to build an Alfredo sauce, I add oat milk and white pepper to that Caesar dressing, and go from there," she says, citing another example.
"I see oat milk as one of the plant milks that is changing the game in culinary innovation today," says Kara Nielsen, director of food & drink for WGSN, a global trend forecasting company.
"It has a lot of positives for chefs—it's great as an interesting ingredient and one that has a good sustainability story. Oat milk in a lasagna could be a very appealing dish to a lot of diners, for example."
Trade Up
Inspired by her own struggles with various autoimmune and digestive diseases, chef/owner and founder Mee McCormick developed Pinewood Kitchen & Mercantile in Nunnelly, Tenn., with the goal of creating an all-inclusive table. Living up to that intention, the use of plant-based dairy options on the down-home-inspired menu is extensive.
Her Southern Fried Chicken was inspired by her desire to meet a personal craving for the dish without compromise in a dairy-free experience. She replaced the traditional buttermilk with oat milk, combining it with cornstarch, gluten-free baking powder, apple cider vinegar, local cornmeal, garlic powder, cayenne and paprika. "The oat milk has a good fat content and is neutral," she says.
She also uses oat milk and olive oil to enrich mashed potatoes, adding rosemary, garlic and sea salt to the mix. "Rosemary and garlic mask any departures from an expected dairy flavor," says McCormick.
She employs coconut milk for caramel sauce, choosing it for the richness in texture, but then mellowing it with sea salt and a touch of oat milk.
"When picking which plant milk to go with, figure out what kind of fat the recipe requires," she suggests. "If you use coconut milk, you're getting its flavor, too, so you either have to balance it or embrace it. If you want a lot of protein, that's when you might use pea milk. It might add sweetness, which would work well in a stroganoff or a mushroom soup."
Pea-based milk is one of the newer players on the scene, derived from yellow peas that are processed into a pea isolate or powder. It offers a neutral flavor and low-fat content.
"Using these plant milks in multiple menu preparations—as long as taste and texture remain at the forefront—can be appealing to both vegan and omnivorous consumers," says Moskow.
With the growing embrace by consumers of plant-based products and the relative ease with which menu developers seem to use them as switch hitters for dairy-based ingredients, innovation in this category isn't just about killing the veto vote anymore. It's about thrilling diners and expanding culinary horizons.