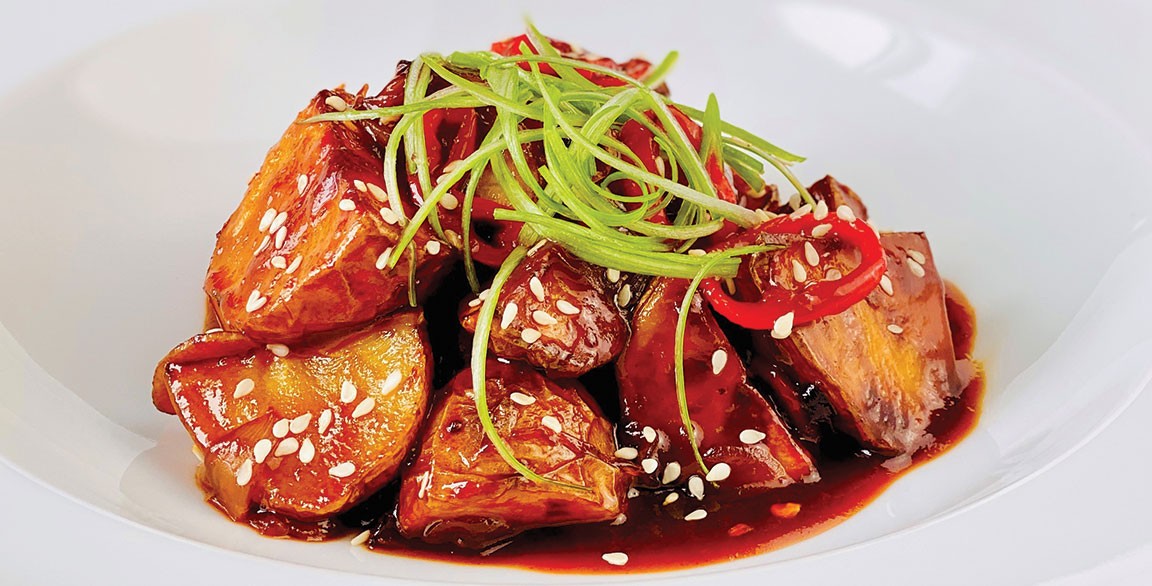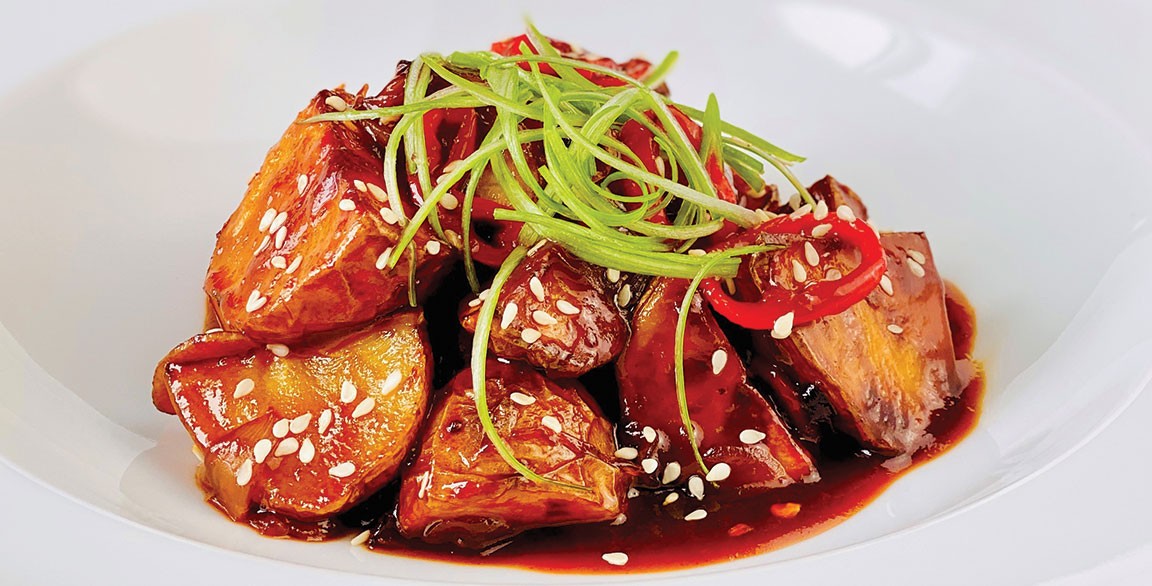 By Flavor & The Menu
January 23, 2021
Chinese-American food is tightly woven into this country's food culture. It is a go-to comfort food and a favorite takeout option for many consumers. Both of these attributes make it a particularly appealing platform for culinary innovation today. Of course, the craveable flavors and familiar profiles of this cuisine's most iconic dishes—like kung pao, orange chicken and General Tso's—are also driving creative menu play, with chefs taking them outside the bounds of classic Chinese-American dishes.
We tapped RJ Harvey, RDN, CEC, culinary director with Potatoes USA, for trend-forward ways into this modern menu opportunity. He took on two classic Chinese-American profiles—General Tso's and beef and broccoli, showcasing how well potatoes serve as a platform for innovation here, while lending support with a beloved ingredient and a pantry staple.
"Sweet and spicy with lots of umami, it's no secret that General Tso's is a top-favorite flavor profile when it comes to Chinese-American menu offerings," says Harvey. "The sticky and flavorful glaze is a wonderful pairing for America's favorite vegetable: potatoes. Potatoes are neutral in flavor, which lets them take on aggressive global flavors very well."
Combining the savory flavors of beef and broccoli with the comfort classic of loaded fries is a win-win. "The texture of Beef & Broccoli Loaded Fries is remarkable—crispy fries as a base with tender beef glazed in a fragrant sauce. It's steak and potatoes on steroids with a Chinese-American twist," he says. "This dish works amazingly well for on-the-go service models."
Give Them a Boost
Datassential reports that more than half of consumers want all restaurants to offer immunity-boosting foods and ingredients. That's an astounding statistic, but not a surprising one, given the times we're living in. Instead of going to the trouble of adding juice shots and power smoothies to the lineup, menu developers can look to the ingredients already in their arsenals and call out the nutrients that help support immunity. Making this connection can help consumers better understand the role that vitamins and minerals play in building a strong immune system.
Skin-on potatoes are an excellent source of vitamin C, which is more than the vitamin C content of one medium tomato or sweet potato. In fact, potatoes contribute significantly to Americans' daily vitamin C requirements. Vitamin C acts as an antioxidant stabilizing free radicals, thus helping to prevent cellular damage. And vitamin C may help support the body's immune system.
Visit potatogoodness.com/foodservice for more culinary inspiration.