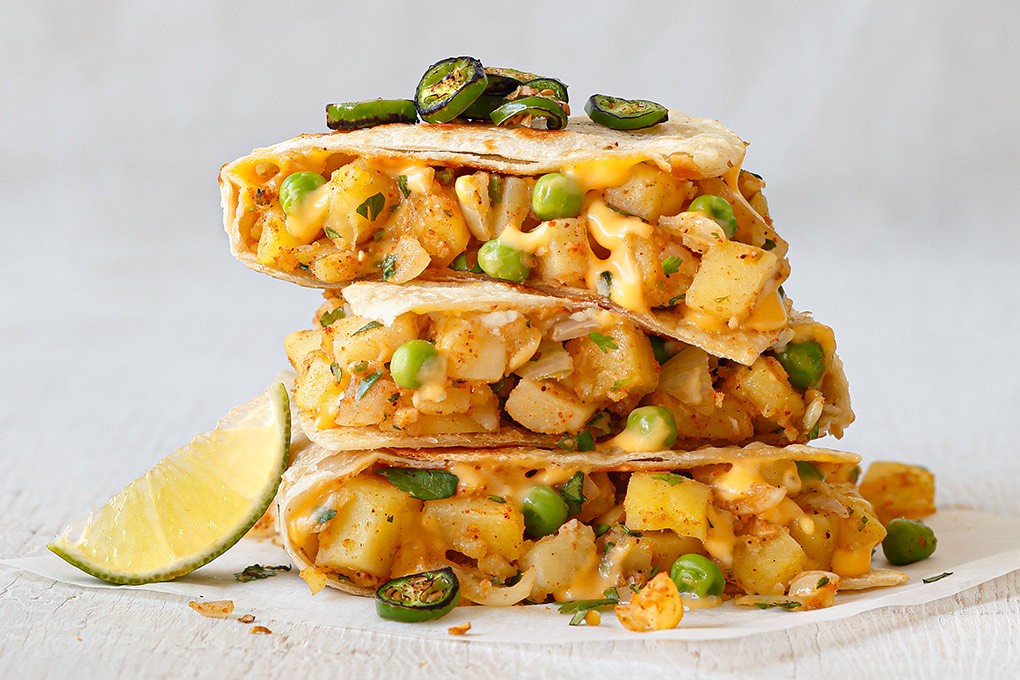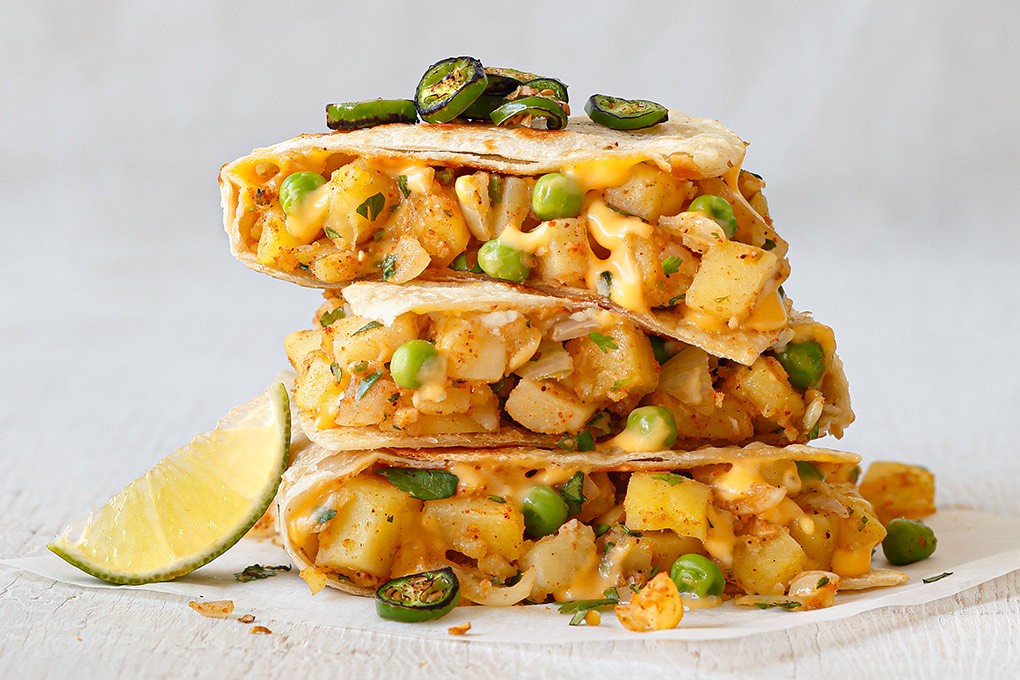 Recipe courtesy of Chef Matt Swank, Aramark at Ford Motor Company, U.S. and Canada.
Ingredients
Samosadilla
3 lb Idaho® Yukon Gold Potatoes, peeled
3 T kosher salt
6 T Oil, separated
6 T unsalted butter
3 Medium yellow onion, diced
1 T kosher salt
2 T Garam masala
2 oz Serrano chili, seeded, minced
6 garlic cloves, minced
3 Tsp Ginger, peeled and minced
3 C Green peas
6 T Cilantro, chopped
3 T lemon juice
12 10'' Flour tortillas
1 Cilantro bunch, left on stem for garnish
3 Red bell pepper, seeded and julienned
12 Serrano chilies, whole for garnish
12 Mint sprigs
4 1/2 lb Cheese of choice (optional)
Cilantro Lime Chutney
1 1/2 C fresh cilantro
1/2 C fresh lime juice
2 C Fresh mint leaves
1 T kosher salt
3/4 C Serrano chili, seeded and minced
1 1/2 C Green onions, sliced
3 C Greek nonfat plain yogurt
Instructions
Samosadilla
Cut potatoes into 1/4-inch cubes. Transfer into a pot with enough cold water to completely cover the potatoes. Stir in 1 tablespoon of salt and bring to a boil over high heat. Simmer over medium heat until cubes are tender but still hold their shape, about 15 minutes. Drain potatoes in a colander and set aside.
Heat 1 tablespoon of avocado oil and butter in a skillet over medium heat. Add onion. Cook and stir until softened and translucent, about 5 minutes.
Meanwhile, combine the one teaspoon of kosher salt and garam masala in a small bowl and set aside.
Add serrano pepper, garlic, ginger, spice mix, and the remaining kosher salt to the onions. Cook and stir until mixture is well combined, about 2 minutes. Add peas; cook until heated through and slightly tender, about 3 minutes.
Transfer mixture into a bowl with the potatoes. Add cilantro and lemon juice. Mix with a spatula until filling is well combined, with some potatoes partially mashed.
Spread 6 ounces of the filling in the center of one flour tortilla. Flatten the filling out to about a 3" diameter. Add cheese if desired at a 1 to 1 ratio with the amount of potato mixture (about 6 ounces). Fold the tortilla up and crease over the filling and continue to repeat around the entire tortilla. Repeat with the remaining filling and tortillas.
Heat the remaining avocado oil in a skillet over medium heat. Cook each quesadilla until browned and crispy, 2 to 3 minutes per side. Transfer quesadilla onto your work surface and cut into half.
Serve with cilantro lime chutney, fresh cilantro, spring onion, sliced serrano peppers, julienned red bell pepper, and fresh mint.
Cilantro Lime Chutney
In blender or food processor, combine all ingredients; puree until smooth.
Cover and keep chilled for use.