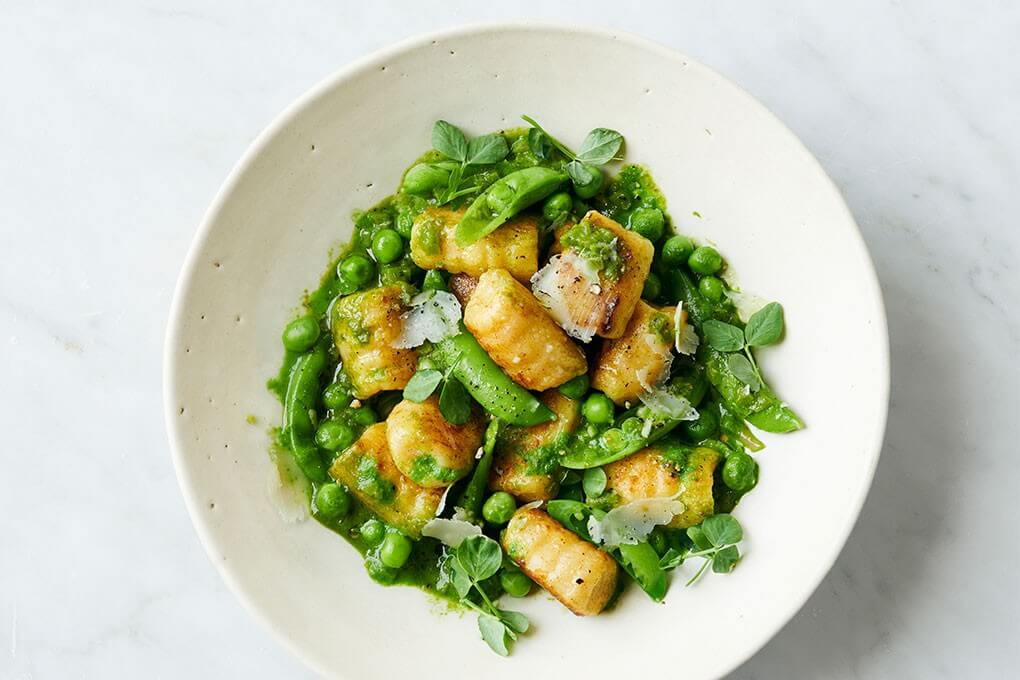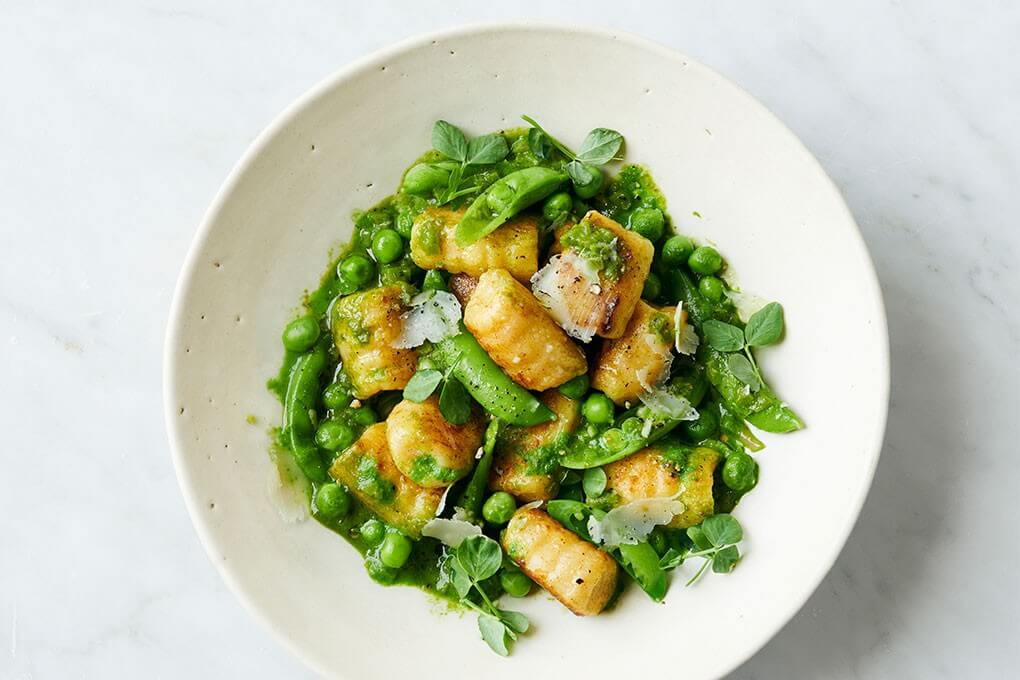 Billowy Idaho® Potato dumplings, boiled to al dente texture and topped with a tender green pea tendril purée for a delicious change of pace from pasta
Ingredients
Gnocchi
4 lb Idaho® Russet Potatoes, scrubbed, unpeeled
2 cups all purpose flour
2 Whole Eggs
2 egg yolks
2 tbsp olive oil
2 tsp kosher salt
Semolina Flour
Pea Tendril and Spinach Puree
12 oz Fresh Pea Tendrils
6 oz Fresh Spinach
1/4 cup canola oil
2 tsp kosher salt
Sauce per serving
2 tbsp butter
1 tsp garlic, minced
1 tsp Shallot, minced
1/4 cup white wine
1/4 cup Pea Tendril and Spinach Puree
1 cup Snap Peas, trimmed
1/2 cup Fresh Green Peas, shelled
Garnish
Shaved Parmesan Cheese
extra-virgin olive oil
Instructions
Gnocchi
Prick each potato and bake on oven rack at 400°F until soft, 45-60 minutes. Remove skins while warm.
Push warm potatoes through a ricer into a large bowl.
Whisk together eggs, yolks and oil. Pour over potatoes and mix in while gradually adding 2 cups flour, forming a soft dough. Do not over-work.
Test-cook a few gnocchi in boiling salted water. Cook until they rise to the surface (3-4 minutes).
Divide dough into 12 equal pieces. Keep covered while rolling gnocchi.
Working on a flour-dusted surface, roll one piece of dough into a 1/2-inch diameter rope. Using a floured bench scraper, cut into 1-inch pieces.
Place rolled gnocchi on semolina flour dusted sheet pan while preparing remaining gnocchi.
Bring a large pot of salted water to boil. Drop gnocchi in by batch and cook as directed above. Remove from water with a slotted spoon. Serve immediately.
Pea Tendril Puree
Blanch pea tendrils and spinach in boiling salted water for 3 minutes. Drain and transfer to ice water bath. Drain well when cool.
Blend with oil and salt until smooth.
Per serving, à la minute
Melt butter in skillet, sauté garlic and shallot.
Add wine and simmer until reduced by half.
Stir in 1/4 cup Pea Tendril Puree, peas and snap peas. Cook until peas are tender crisp.
Spoon sauce over gnocchi. Garnish with parmesan, fresh black pepper and olive oil.
Recipe Notes
For more Idaho Potato recipe inspirations: idahopotato.com/fspro