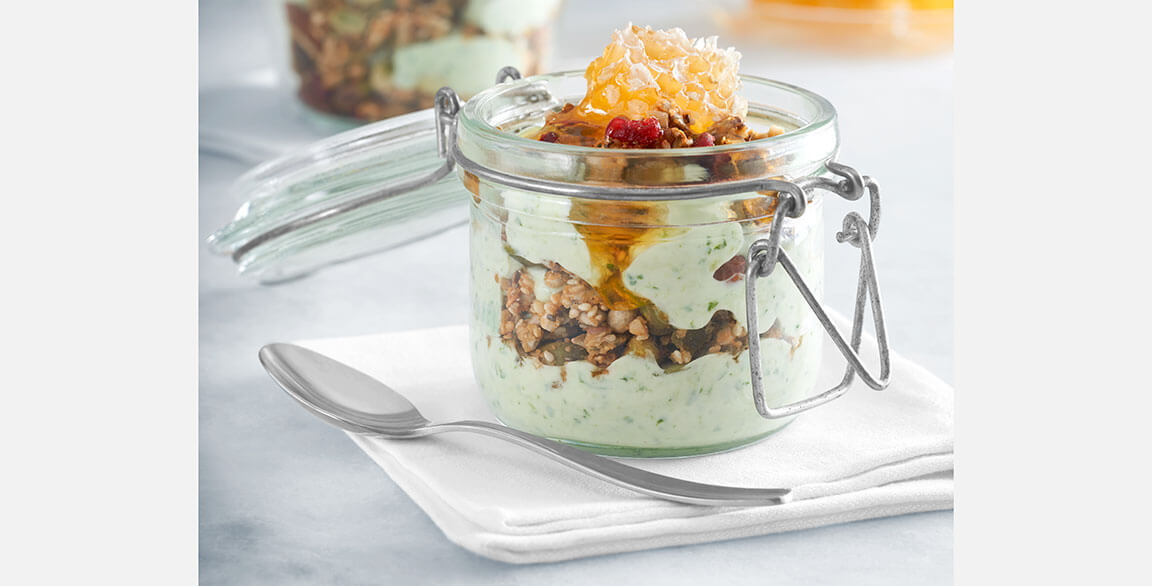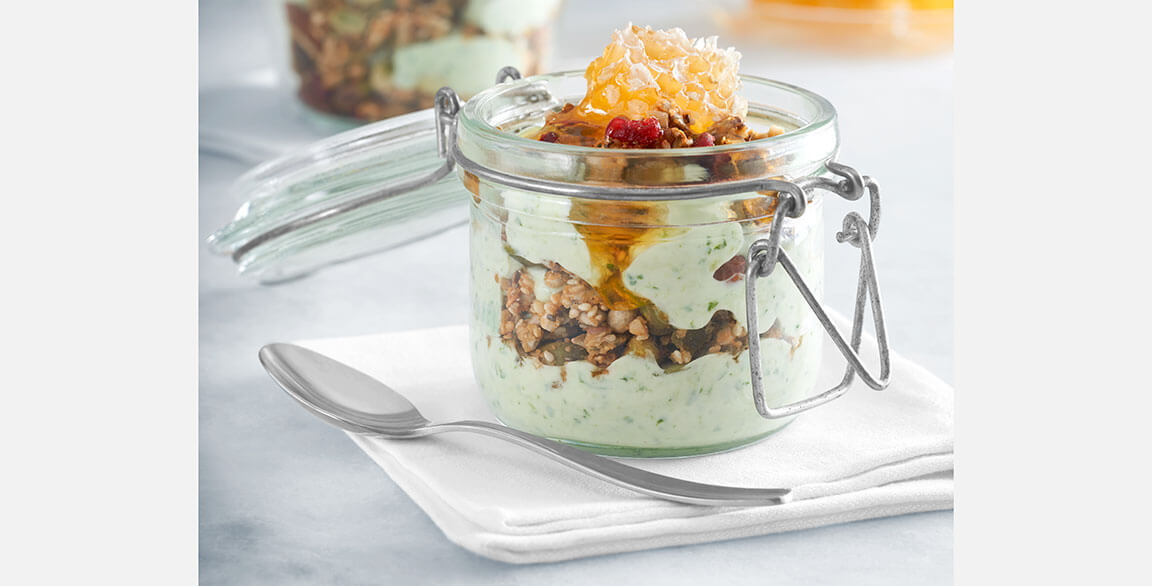 Honey-infused "Super Muesli"
Recipe courtesy of Chef Chef Quinn Adkins
Sponsor: National Honey Board
Serves: 12
Ingredients
40 ounces (v) double-strained Greek yogurt
8 ounces (v) Supergreens Infusion (see below for recipe)
16 ounces (w) hemp blend granola
16 ounces (w) omega-3 trail mix
8 ounces (v) honey
5 ounces (w) honeycomb, cut into 1.5" diameter (using hexagon stainless steel cutter)
For Supergreens Infusion
4 ounces (v) applesauce
4 ounces (w) baby kale
2 ounces (v) crystallized ginger, small dice
1 tablespoon MCT oil
Apple juice, as needed
Dishes: 12 10-oz. Mason-style jars with clamp lids
Directions
Wash and sanitize Mason jars. Ensure they are fully dry and room temp before using.
Using chef knife, chop the trail mix into similar size pieces as the hemp granola.
Combine granola and trail mix in stainless steel bowl and mix well.
In a second bowl, gently fold yogurt, honey and Supergreens Infusion with rubber spatula until uniform – keep refrigerated until ready to assemble.
Place 2 ounces (v) of granola mix in bottom of each Mason jar.
Top granola layer with 2 ounces (v) of yogurt mix.
Repeat steps 5 and 6 for each jar.
Top last layer of yogurt with 1 ounce (v) of granola mix.
Garnish with honeycomb piece just prior to service.
For Supergreens Infusion
Add applesauce, kale, ginger, and MCT oil to blender.
Turn blender on and gradually add just enough apple juice to facilitate blending.
Blend all ingredients until smooth.
Note: Mixture should not be excessively "loose."
Chef's Note
Jars can be assembled and held refrigerated prior to service. If pre-assembling, do not add honeycomb until ready to serve. For best quality, do not hold longer than 24 hours.
Project Management: Summit F&B