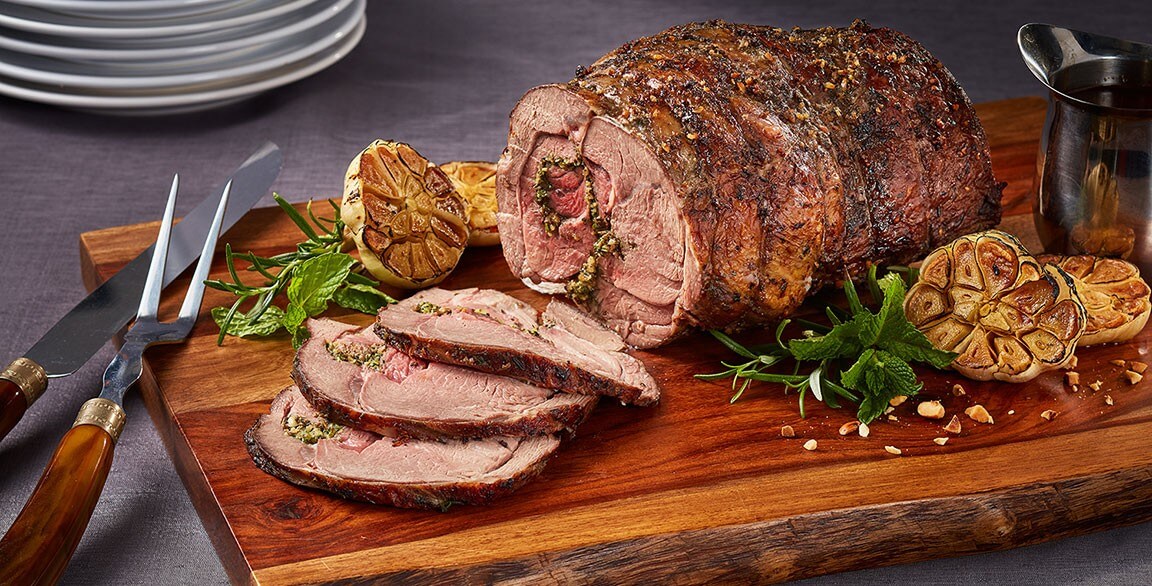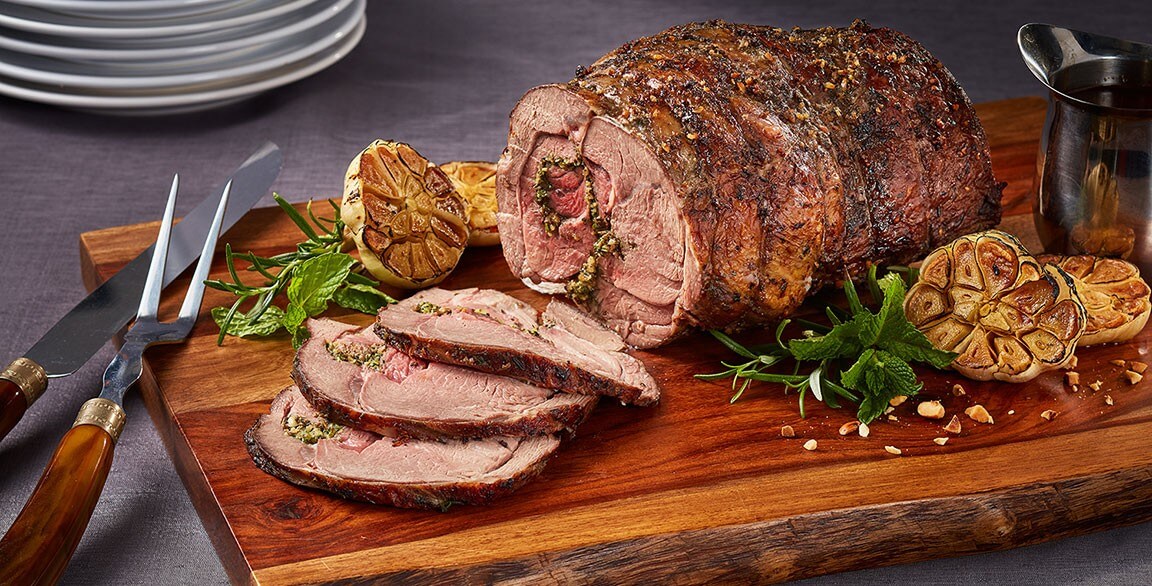 Herb-roasted Aussie Leg of Lamb with Hazelnut Demi-glace
Recipe courtesy of Chef Quinn Adkins
Sponsor: True Aussie Beef & Lamb
Serves: 8 to 10
Ingredients
Herb-Roasted Leg of Lamb:
1 whole Australian leg of lamb
2 oz Mint leaves, fresh
2 oz Rosemary leaves, fresh
2 oz Thyme leaves, fresh
1 oz Rough chop shallots
1 oz Garlic cloves, minced
5 fl oz Olive oil
2 Tbsp Red wine vinegar
As needed Kosher salt and fresh ground black pepper
As needed Hazelnuts, toasted and chopped
Hazelnut Demi-Glace: (Yield 24 oz)
½ cup Rough chop shallots
½ cup Granulated sugar
4 fl oz Red wine vinegar
6 fl oz Frangelico
20 fl oz Demi-glace (see Chef Notes)
Directions
Debone, trim, and butterfly leg of lamb, taking care to remove excess fat. Score both sides of the butterflied leg.
Blend the herbs, aromatics, 4 oz oil, and the vinegar in food processor until smooth.
Season both sides of lamb with salt and pepper. Evenly coat both sides of lamb with herb mixture. Tightly roll and tie leg with butcher twine, ensuring an even thickness from end to end.
Vacuum seal (or place in a gallon-size zipper-lock bag, utilizing water displacement method) and place in a prepared sous vide water bath set to 129 degrees F. Cook the leg for approximately 3 hours.
Meanwhile, for the Hazelnut Demi-Glace: Mix together the sugar and vinegar until dissolved. Add mixture and shallots to a saucier and heat on medium-high until reduced 75%. Add the Frangelico and flame to burn off the alcohol. Simmer until reduced 50%. Add prepared demi-glace and bring to a simmer.
Strain to remove shallots. Serve hot.
Remove bag from bath and remove lamb, reserving residual liquid.
Heat a 12-in cast-iron skillet to medium-high and add the remaining 1 oz olive oil.
Evenly sear all sides of the lamb. Remove lamb and allow it to rest 5 to 7 minutes. Remove butcher twine and slice on the bias.
Serve with Hazelnut Demi-Glace and chopped toasted hazelnuts.
Chef's Notes
Minor's Brown Stock Reduction from their "Classical Reduction" line is an outstanding product if you don't have the capability of preparing demi-glace from scratch.
Project Management: Summit F&B
Photography: Carlos Garcia // Food Styling: Peg Blackley & Bree Williams