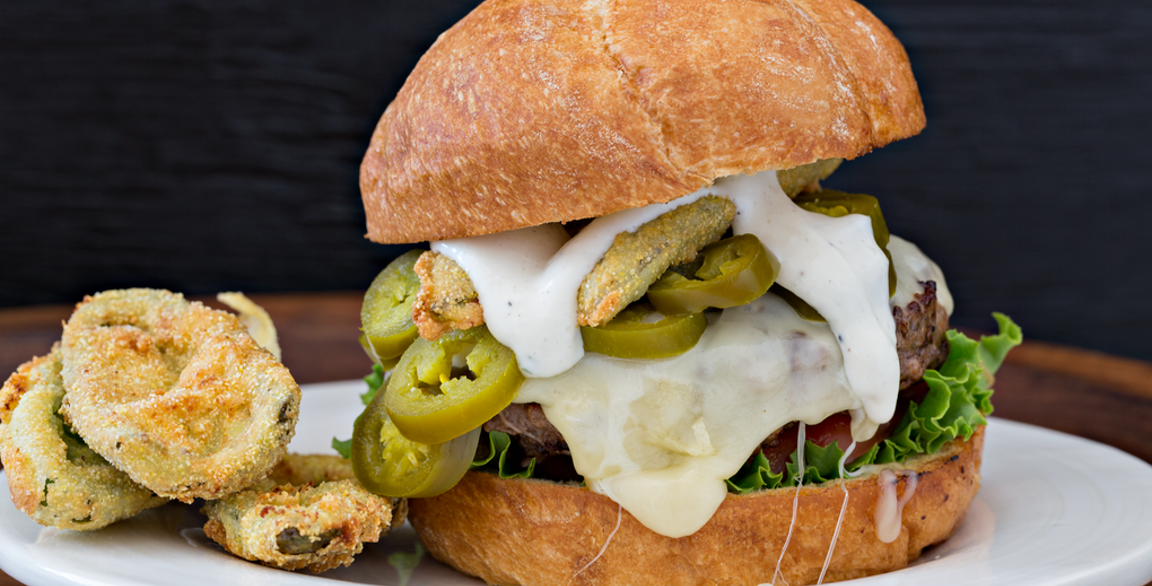 By Rob Corliss
May 10, 2022
Jalapeño's moderate heat level, bright, fresh, grassy flavor and consumer familiarity make it ideal for modern burger development. Its versatility is its culinary superpower. The jalapeño imparts big flavor while not dominating and can center stage or work harmoniously in the background.
Here are six burger applications paired with "hot" menu sightings from across the country, demonstrating how chefs can go all-in on flavor-packed jalapeño burger goodness.
1

INFUSIONS
Meats and vegetables infused with fresh or powdered jalapeño injects a brightness that easily takes burgers over the top.
Jalapeño Sausage & Cheddar Burger: Burger topped with jalapeño sausage, fried jalapeños, cheddar, lettuce, tomato and ranch dressing
—JC's Burger Bar, Mesquite, Texas
2

PICKLED OR CANDIED
The acidic heat of pickled jalapeño or sweet heat of candied jalapeño sparks a mouthwatering flavor expectation and brings an immediate pop of complementary contrast to savory burgers.
Cobra Kai: American Wagyu beef burger, topped with cream cheese, pickled jalapeños and jalapeño jelly
—Jack Brown's, based in Harrisonburg, Va.
3

FRIED
Adding crispy jalapeño to burgers adds recognizable craveable comfort and a textural layer to soak up other flavors while imparting its own beloved heat.
Scorpion Gourmet Burger: Fire-grilled beef burger topped with scorpion pepper sauce, pepper Jack, fried jalapeño coins, lettuce, tomatoes, pickles, red onions and jalapeños roasted in scorpion sauce and roasted garlic aïoli on a sesame seed bun
—Red Robin, based in Greenwood Village, Colo.
4

ROASTER OR CHARRED
Roasting and charring deepens a fresh jalapeño's earthiness, bringing a sophisticated heat and premium element to burgers.
AZ Trail: Grass-raised beef burger, bacon, pepper Jack, roasted jalapeños, sweet 'n spicy sauce, Noble Bakery bun
—Arizona Wilderness, Phoenix
5

CREAMY
A finishing layer of creamy jalapeño aïoli, guacamole or whipped cheese ties a burger build together with warming richness and indulgent mouthfeel.
Kimchi Krusher: Two patties, bulgogi beef, pepper Jack cheese, caramelized kimchi, scallion, cilantro, Korean barbecue, roasted jalapeño and garlic aïoli
—Wauwatosa, Milwaukee
6

BLENDS
Blending mainstream jalapeño peppers with trending chiles or spice blends grounds the palate, interplaying distinctive tastes to create nuanced flavor depth in burgers.
Nashville Hot Burger: Our signature spice rub with homemade pickles, pico de gallo, pepper Jack cheese, and a fried jalapeño on top
—Germantown Pub, Nashville, Tenn.