The most important markers in foodservice today are culinary craftsmanship and developed flavor. Power terms like "hand-crafted" and "house-pickled" convey that craftsmanship, touting authenticity and technique.
Two techniques that have been around forever naturally deliver that message: brining and braising. Both require skill. Both require time and attention. And both carry with them evocative messages of deliciousness. Equally significant, brining and braising also develop flavor, coaxing out nuance and complexity.
Modern fast casuals have certainly tapped into this, showcasing big flavor in dishes like braised chicken thighs or pork butt, perhaps featured in tacos or salads or over flatbreads.
What's interesting now is the innovation around these classic techniques, where chefs are applying brining and braising in unexpected places. Or they're featuring creative flavor combinations when using the technique, building a compelling story around menu items to make them both signature and craveable.

Modern Brining
Jason K. Morse, executive chef/owner of the culinary consultancy 5280 Culinary/BBQ Provisions in Littleton, Colo., creates brines that show off modern American flavors. For example, he makes a Blueberry & Hard Root Beer Brine with tomato, emulsified blueberries, hard root beer and cinnamon.
"I use the brining process quite a bit. I like a deep brine for beef. This blueberry brine really helps keep that ruby-red color of beef and adds a nice flavor for the grill or smoker."
He also makes an eclectic ginger-ale brine that he uses with boneless country-style pork ribs. It stars hard ginger ale, brown sugar, salt, spices, bay leaves, herbs and juniper berry.
"I smoke the ribs for four hours and then take them to 203 degrees and make a pulled pork. It's an excellent way to get a lot of smoke into the pork, and the brine has a cool ginger flavor profile with sweet and salt."
He uses this brined pork in a pulled pork taco with slaw and micro cilantro.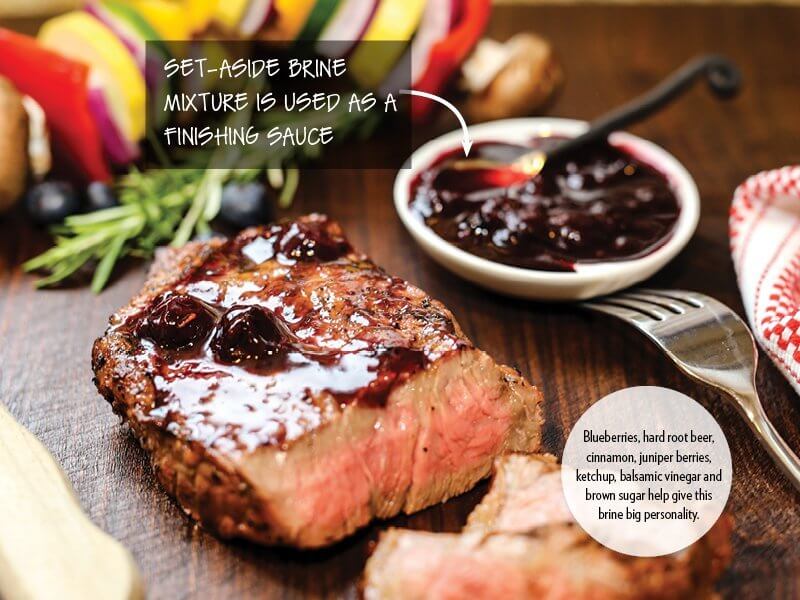 Regional Influence
When we created the Mustard Braised Cabbage, we had in mind the region of Alsace with that combination of French and German influence. We wanted a dish that would go well with Riesling or beer. The braising process condenses the flavors and pulls out the natural sweetness of the cabbage, and the result is a comforting dish that is not too sweet.
John Gorham, Executive Chef, Tasty n Alder, Portland, Ore.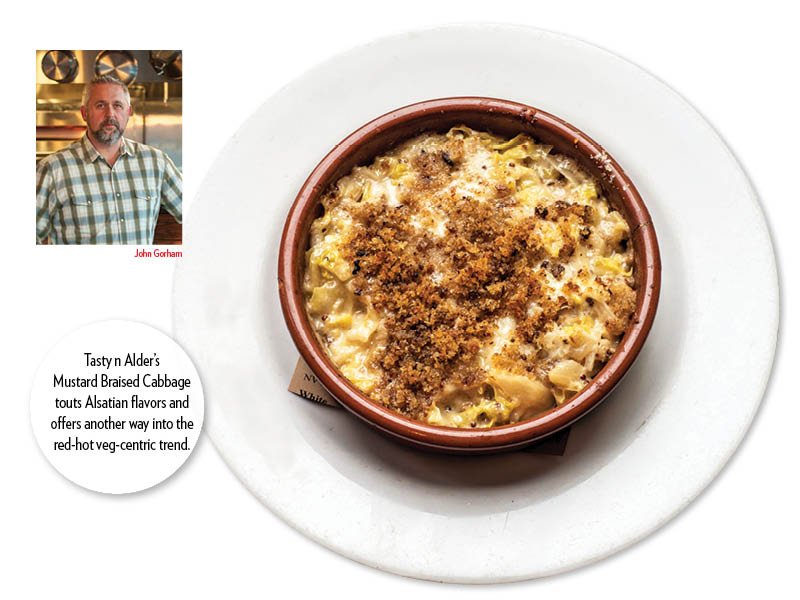 Korean Tacos
For City Tap House's Korean Tacos, we chose to use a stout beer for the braise. Its roasted, caramelized, malty and coffee-like flavors enhance those flavors already present in the seared beef and add to the depth and complexity of the flavor. The low, slow braising breaks down the collagen in the short ribs, and the meat develops a soft, silky texture. The additional benefit of braising is the delicious, flavor-packed braising liquid. It retains all of the flavors developed during the cooking process. After cooking, we keep the liquid and combine it with the pulled short rib meat at service to further enhance and deepen flavors.
John Koch, VP of Culinary,  Table 95 Hospitality, Conshohocken, PA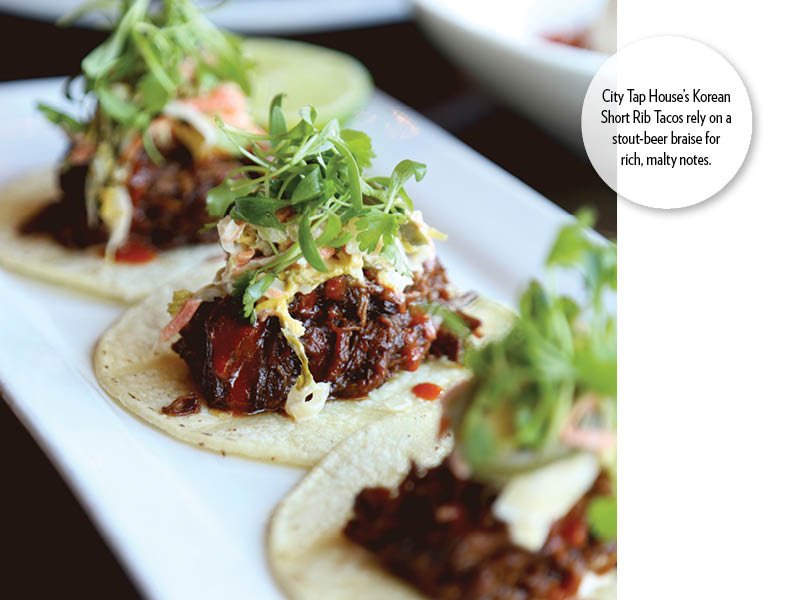 Mediterranean Braise
The new menu at ROOF on the Wit in Chicago pulls from Moorish Spain and the surrounding spice-enriched regions. Nathan Sears, executive chef, created a menu that matches a late-night vibe—social, shareable plates.
Dishes include a Pork Shoulder Coca (Catalan flatbread) with tomato sauce, zucchini and lemon yogurt. He also serves Braised Paneer, with spiced tomato sauce, caper leaves, herb salad, chermoula and flatbread.
"For the paneer, we start with a curd that we make in-house and press to extract all the liquids to make a tight cheese that won't melt in the tomato sauce. For the braise, we use a cinnamon and spiced tomato sauce that we cook slowly with the cheese so it will absorb all of the delicious flavors that carry through with every bite."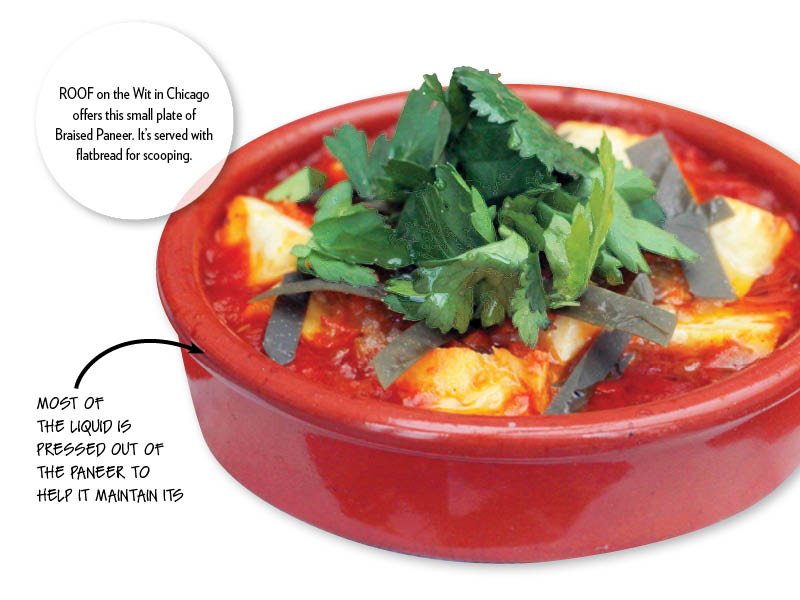 Fries with Flavor
Al's Place in San Francisco shines a light on the beauty of brined french fries. This eclectic American restaurant with a veg-centric focus currently serves its signature brined fries with smoked apple barbecue sauce. Brining here gives the fries a unique narrative—as well as developed flavor.
At Three Sheets in New Haven, Conn., the Pickled Fries star hand-cut, deep-fried Idaho potatoes brined in pickling liquid and fried until golden brown.
At Boulevard Burger & Brew, an EAT Restaurant Partners concept in Richmond, Va., the menu stands out with apple-brined fries. Says Chris Staples, director of hospitality with EAT:
"We tried lots of different brines and starch-spray methods, but we found that apple brining left a delicate and subtle hint of sweetness to the fry. Also, it fries much better in the fryer, and the viable prime shelf life of the fry is extended."
The overnight brine combines apple cider vinegar, sugar, salt and apple juice.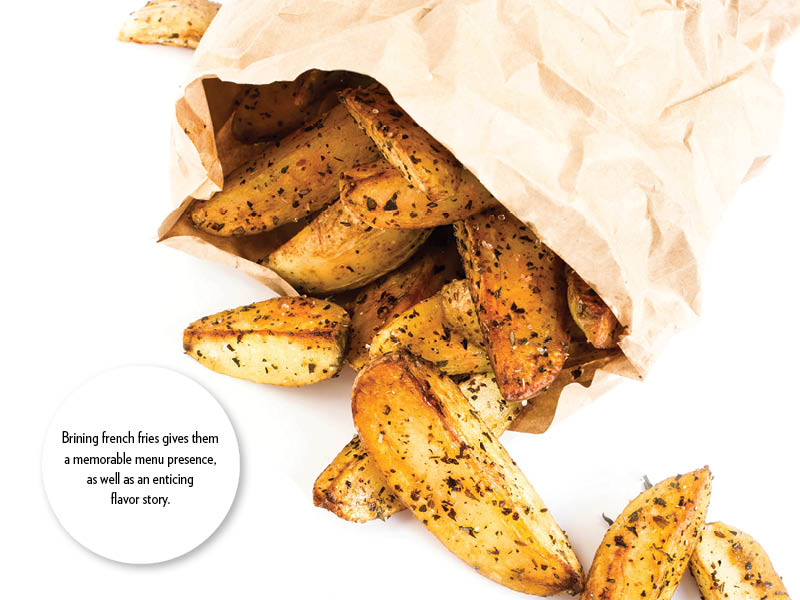 You be Dilling
Innovation around fried chicken continues at lightning speed, with many chefs relying on the brine to give theirs a competitive edge.
The Dill Brined Fried Chicken at Moshulu Restaurant in Philadelphia stars a brine made with brown sugar, salt and dill seed. "The flavors are salty with a fragrance of pickles and dill," says Anthony M. Bonett, executive chef of this New American restaurant, housed on a tall ship.
"The flavor of the brine introduces salt and sugar to the chicken and ties together other key elements in the dish. The pickle flavor also helps to cut down the fattiness of the fried chicken."
He serves it with smoked cheddar grits, coleslaw and habanero barbecue sauce.
On the Menu