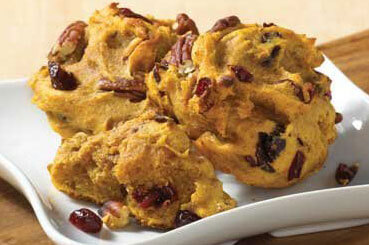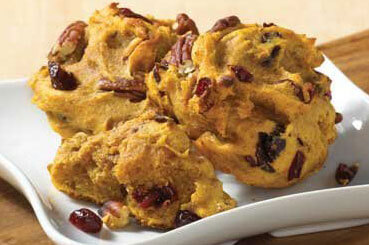 Honey helps mask the sometimes apparent bitterness that accompanies gluten-free goods. Pumpkin Honey Spice Cookies are a delicious alternative to regular flour treats.
INGREDIENTS
2 cups gluten-free flour blend* see note below
1 tablespoon pumpkin pie spice
1 teaspoon baking powder
1 teaspoon baking soda
1/2 teaspoon guar gum powder
1/2 teaspoon salt
3/4 cup honey
1/2 cup butter softened
1 cup pumpkin puree
1 large egg
1 cup chopped pecans
2/3 cup dried cranberries
INSTRUCTIONS
Heat oven to 350°F. Grease or line with parchment paper 3 cookie sheets.
In a bowl, whisk together dry ingredients. On a stand mixer fitted with the paddle attachment, or with a hand mixer, cream together honey and butter. Beat in pumpkin and egg (mixture will look curdled, but will smooth out when dry ingredients are added.)
On low speed, mix in dry ingredients until blended; mix in pecans and cranberries. Drop tablespoons of dough onto prepared cookie sheets, leaving 1 inch between them. Bake 15 minutes or until firm to the touch. Cool on pan 5 minutes; with spatula, transfer to wire rack and cool completely.
RECIPE NOTES
*Use a store-bought gluten-free flour blend or make your own blend by combining equal parts white rice flour, tapioca starch, and potato starch or cornstarch.