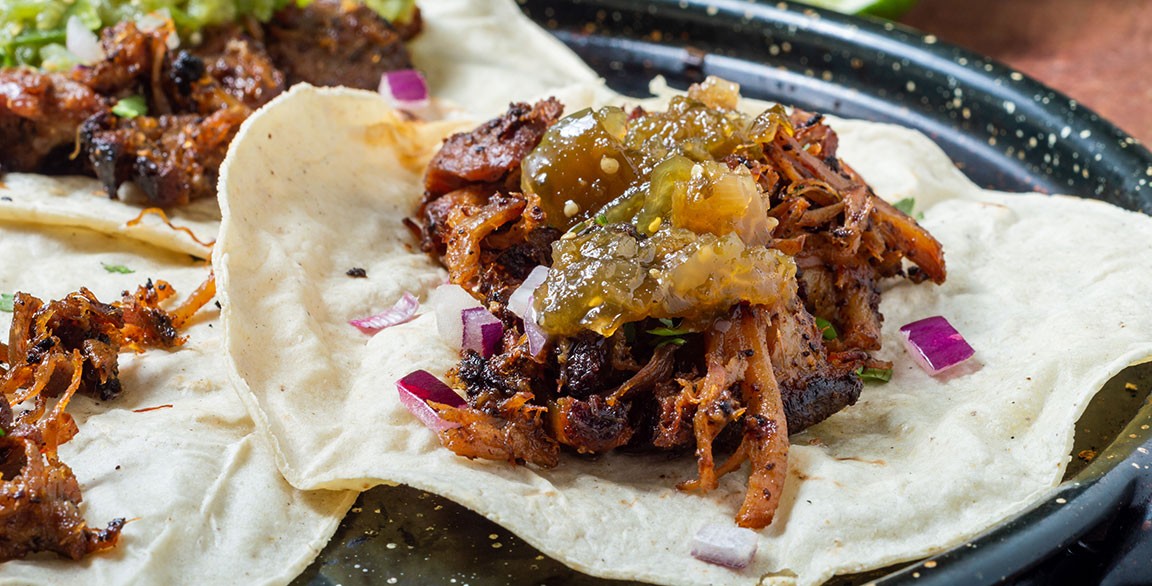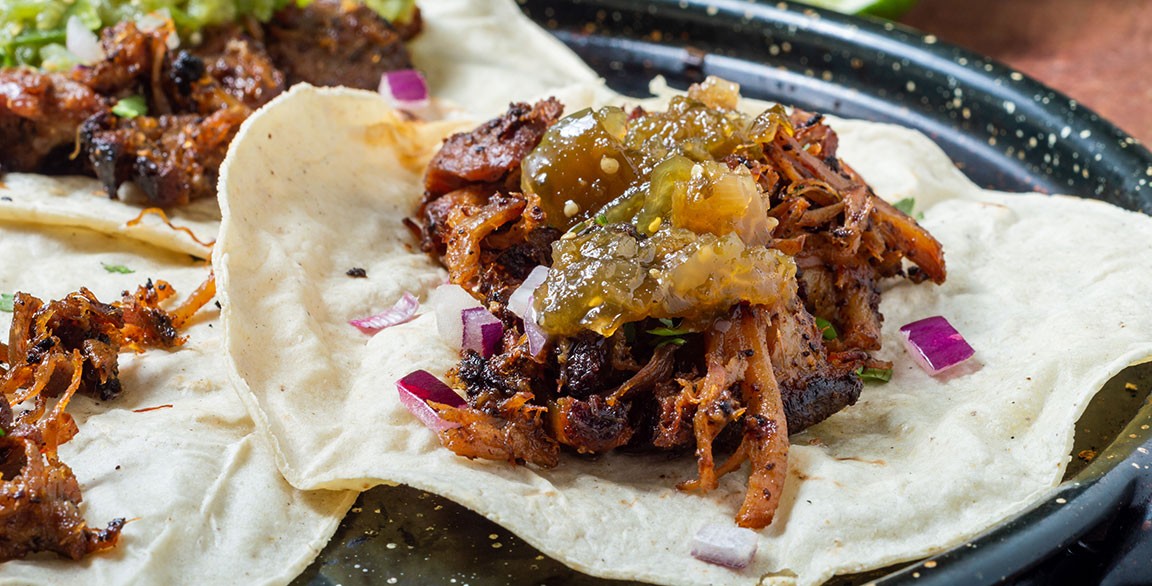 Global sauces not only capture the attention of trend watchers year after year, they are at the heart of flavor exploration. Using fruit in interesting ways to accentuate these sauces is a smart choice for operators looking to add intrigue to their menus. Fruit, a leading clean-label ingredient, adds a balanced complexity to sauces. Chefs can utilize fruit to merge the familiar and unexpected with deliciousness. By building housemade or speed-scratch sauce blends, there's an opportunity to amplify craveability and pique consumer interest.
We looked at seven leading sauce categories, then developed culinary thought starters that demonstrate how to implement targeted fruit introductions within current trend influences. Whether prominent or subtle—the effects of fruit in these applications are impactful.
Try This:
SWEET/STICKY SAUCES
Both tropical fruits and fruit flavors deepened by assertive flavor techniques play well in adding intrigue to these dark, rich sauces.
Bing Smoke Sauce: Smoked Bing cherries + KC style barbecue sauce + caramelized onion purée
Guava Stir Fry Sauce: Guava jelly + molasses + Chinese black soy sauce + ginger purée + cracked Sichuan peppercorns
FERMENTED SAUCES
Incorporating memorable textures and the mild sweetness of fruit can cut through the assertive tones of fermented foods, rounding them out with softer edges and refreshing, recognizable ingredients.
Miso Pear Sauce: Minced fresh Asian pear + white miso + mirin + mayonnaise
Spiced Papaya Sauce: Minced fresh papaya + fish sauce + gochujang + sliced scallions
HOT/SAVORY SAUCES
Floral fruit and berry additions ensure that flavor complexity stays in play, deepening and lengthening the overall experience rather than blistering the tongue with scorching heat or incredibly savory notes.
Passionate Honey Sauce: Passionfruit purée + wildflower honey + roasted garlic paste
Strawberry-Harissa Cream: Smashed fresh strawberries + harissa + kefir + heavy cream
HERBACEOUS SAUCES
Look to fruit as a surprising counter to herbaceous sauces. Rely on fruit's bright, fresh, sweetness to play against earthy, herbaceous flavors.
Peach Chimichurri: Minced fresh peaches + spinach + cilantro/oregano + garlic + Serrano chile + apple cider vinegar + avocado oil
Sunshine Pesto: Mangosteen powder + sun-dried tomatoes + shredded carrots and juice + sunflower seeds + hot sauce + extra-virgin olive oil
HOT/SOUR SAUCES
Lively, acidic fruit adds a distinctive counterpoint for the dynamic trilogy of hot-sour-acid.
Hot Pomelo Wing Sauce: Pomelo pepper jelly (with candied peel) + Urfa chile flakes + sea salt flakes
Tamarind Shakshuka Sauce: Tamarind purée + traditional smoky/spicy shakshuka tomato sauce
CHEESY SAUCES
The natural sweetness and acidity of fruit complements the rich roundness of cheese.
Applelicious Queso: Caramelized diced Fuji apples + white cheddar and poblano chile queso + chorizo crumbles
Blushing Fruit Fondue: Chopped dried apricots + apricot preserves + bourbon + queso blanco
RUSTIC SAUCES
Pair the elegance of fruit with rustic flavors for a progressive feel, playing into both the modern American and global mash-up trends.
Golden Romesco: Golden raisin paste + roasted yellow bell peppers/yellow tomatoes + toasted almonds + olive oil + sherry vinegar
Curried Mango Mole: Mango purée + mole negro + Indian curry
FEATURED RECIPE
GET THE RECIPE FOR BLACKBERRY-JALAPEÑO RIBS