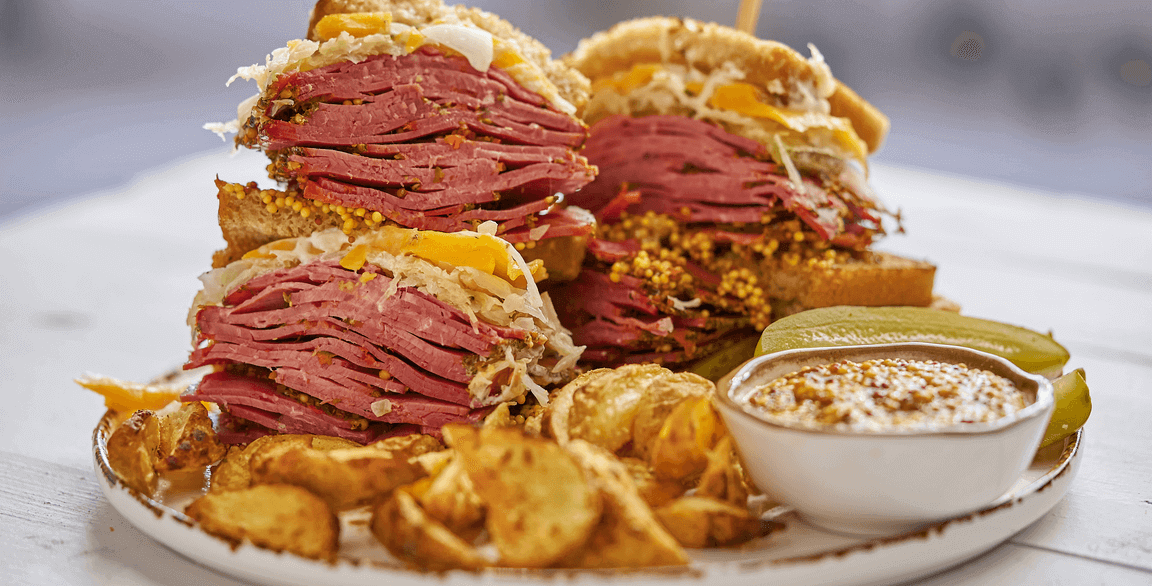 By Rob Corliss
March 31, 2022
Traditional and Italian deli sandwiches hit all the marks of craveability, comfort and familiarity. Move these elements into a charcuterie-style presentation and they create a wholly new star on your shareables menu.
The ingredients in these original builds, like corned beef and pastrami sandwiches, provide a ton of flexibility on how they can be cross-utilized and re-purposed. Menu developers can start by understanding how the original flavors and textures work together and then transform them into engaging elements on a charcuterie platter.
Delve into the following four ideas, developed to spark menu inspiration. We take classic deli sandwiches and reimagine them as charcuterie offerings, keeping the theme of the sandwich intact while staying in line with modern renditions of charcuterie boards that are so popular today.
SANDWICH:
Corned Beef & Pastrami Sandwich
BOARD:
New Yorker 50/50 Fondue Board: Folded slices of corned beef and pastrami, batter-fried cornichons and large rustic marbled rye croutons are paired with a Swiss Emmentaler cheese fondue and Dijon aïoli. Dip, dunk and enjoy!
---
SANDWICH:
Brisket & Fried Egg Bagel
BOARD:
Brisket Brunch Board: Chopped smoked beef brisket, egg salad, crispy onion petals, fried capers, scallion cream cheese spread and pressed bagel chips. Diners top the bagel chips with a schmear and whatever toppings they crave for bite-sized indulgence.
---
SANDWICH:
Italian Sub Sandwich
BOARD:
Mini Italian Groaning Board: A "meat rose" centerpiece of salami and black forest ham drizzled with red wine vinaigrette is surrounded by fresh arugula, rolled provolone, house-roasted and pickled peppers, thin red onion rings, kalamata olives and brown mustard-schmeared crostini. Mix, match and share.
---
SANDWICH:
Italian Calzone
BOARD:
Chilled Calzone Board: Artfully displayed rows of thinly sliced, rolled Genoa and cotto salami, thick pepperoni coins, creamy buffalo mozzarella slices, shaved Parmesan, hand-torn toasted garlic bread wedges and marinara dipping sauce assemble for a chilled calzone-style board for mess-free noshing.
---
FEATURED RECIPE
GET THE RECIPE FOR Brisket Sandwich on Sourdough Baguette with Pepperoncini Aioli