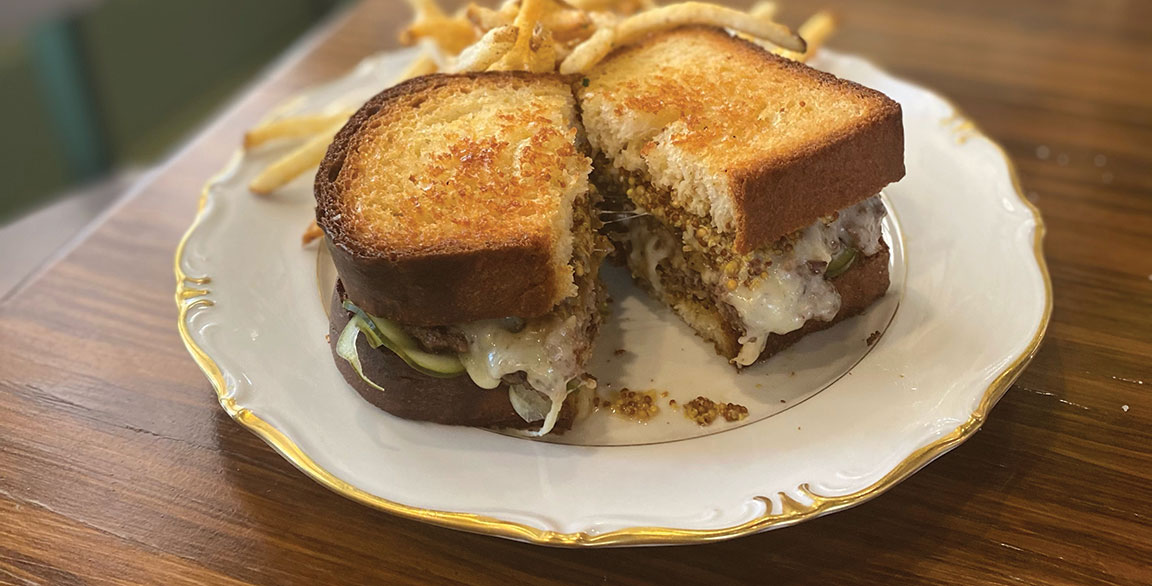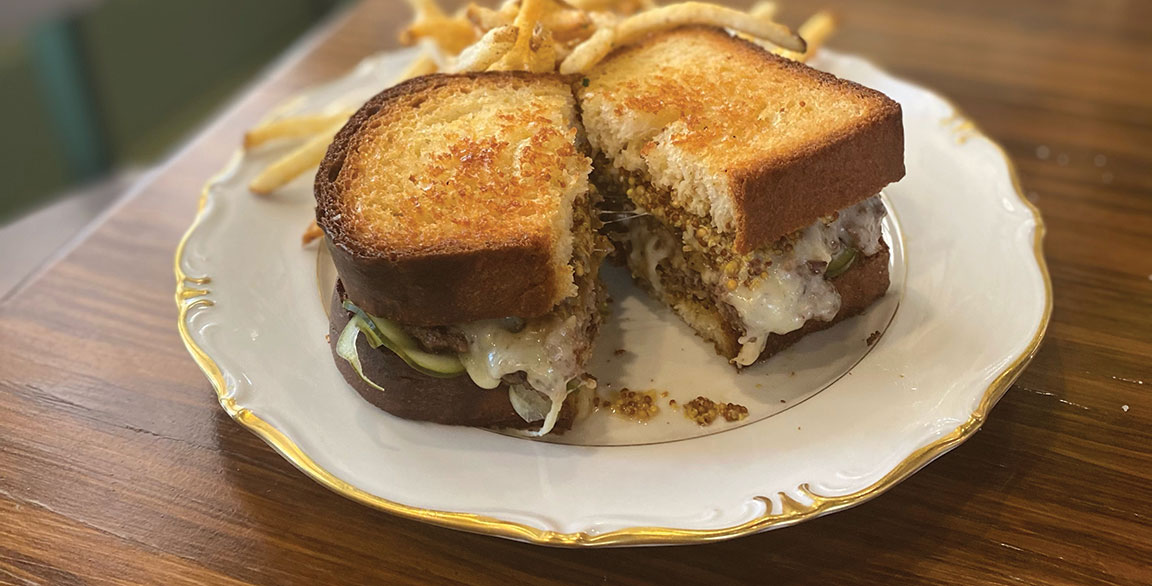 By Maeve Webster
November 16, 2020
Marrying the classic and the new to give birth to a distinctive, craveworthy progeny has been a longstanding matchmaking tradition for chefs. This spirit of culinary ingenuity was at work when someone introduced the hamburger to the grilled cheese and created the patty melt. A fixture on American diner menus, the patty melt is now itself delivering offshoots that keep the classic foundation, but with modern flavor updates.
Multiple sources credit Los Angeles restaurateur Tiny Naylor, owner of Biff's and Tiny Naylor's, with first menuing the patty melt in the 1950s. Distinct from the cheeseburger, a patty melt features a burger patty, caramelized onions and either American or Swiss cheese sandwiched between two slices of hearty, toasted bread.
It is gloriously simple. With singular unpretentiousness, the patty melt puts the quality of the ingredients front and center, and its essence is now at the heart of many modern interpretations. That's right: The patty melt's time has come, and none too soon.
WELCOME TO THE NEW PATTY MELT
At its core, a patty melt is essentially a robust meat-centric sandwich with a savory, umami-centered topping, melted cheese and bread. The sliced bread, somewhat ironically, is arguably the most recognizable element that sets the patty melt apart from the burger, although some would point to other unique patty melt traits, such as griddling the full build. In seeking to reinvent the sandwich, focus on the key elements. Once broken down, it can be built back up into something extraordinary while staying true to its diner roots.
Start with the bread and consider leveraging the sourdough boom inspired by the recent lockdown. Culver's, based in Prairie du Sac, Wis., offers the Sourdough Melt, with melted Wisconsin cheddar and grilled onions.
And the recently opened Rise + Thyme, a breakfast/lunch concept in Dallas, offers a vegetarian version with the Impossibly Perfect Patty Melt: sourdough bread, an Impossible patty, "secret" sauce and Muenster cheese.
Lulu's Restaurant in Van Nuys, Calif., regionalizes its sourdough-based patty melt with its Louisiana Melt, which sandwiches a Cajun-spiced burger patty, bacon and cheese between sourdough slices.
The meat in the patty melt is the star ingredient. And while options abound, from pork and lamb to seafood, using the classic format of ground meat (or flaked fish/shellfish) rather than whole muscle will keep the reinvention rooted in the familiar. To apply a plant-forward theme, chefs can use "meaty" options like mushrooms, beets or vegetable-based proteins in the patty.
New York's Daily Provisions menus a Broccoli Melt, with manchego, chile and garlic. Further flavor differentiation here can come from seasoning the meat with dry rubs, spice blends and marinades, deftly moving the melt into any number of trending global profiles.
Antone's Famous Po' Boys featured the Indian Masala Patty Melt, starring a ground beef patty seasoned with garam masala and accompanied by the traditional sautéed onions and Swiss cheese.
Opportunities for signaturization broaden through the choice of cheeses, vegetable toppings and condiments. O.H.S.O. Brewery + Distillery, with multiple locations in Arizona, marries two classics with its French Onion Patty Melt, featuring a beef patty, savory/sweet French onion jelly, provolone and rosemary aïoli on Texas toast.
Fall and winter regularly drive patrons toward comfort foods, and this year is no exception. But pandemic-weary diners are showing some fatigue with standard comfort options. Patty melts offer familiarity with boundless innovation opportunities, ticking off all the boxes that will be important in the months to come.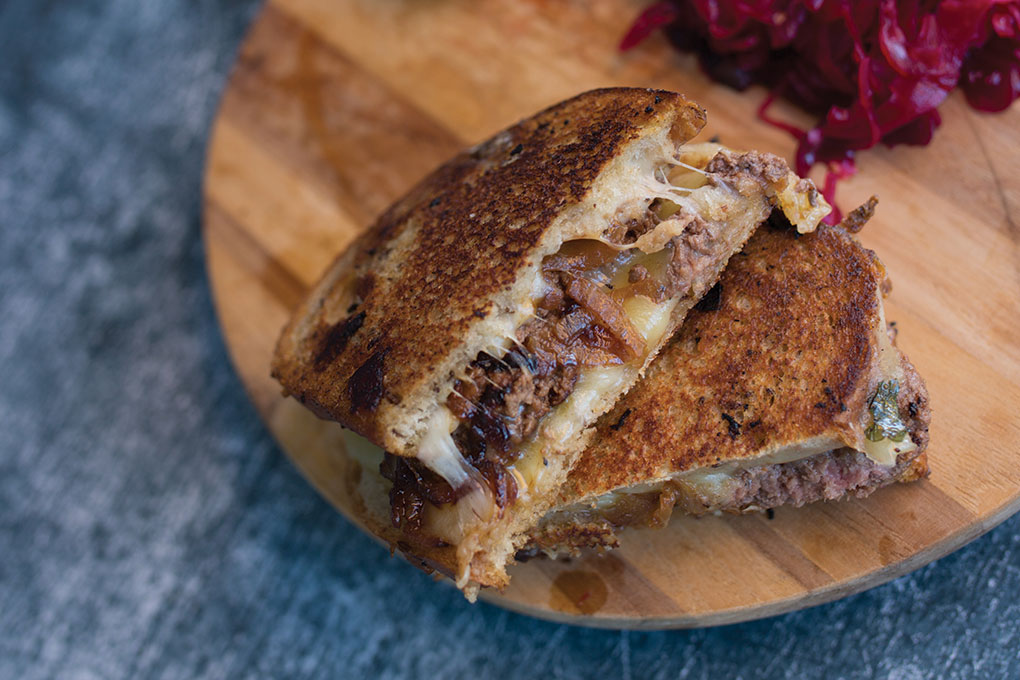 Amanda Soule
PATTY MELT METAMORPHOSIS
The same approach that has offered consumers years of wildly creative burger builds can yield new signature patty melts. As with most classic reinventions, the sweet spot will be in maintaining a link to its origins.
Mediterranean
Ground lamb patty seasoned with mint, pickled red onion, tzatziki, feta-mozzarella blend, brioche
Hot Brown
Ground turkey patty 
seasoned with pimento, bacon jam, tomato, Mornay sauce, Parmigiano-Reggiano cheese, rye bread
Farmers'
Market
Ground beef patty
 seasoned with fresh herbs, caramelized onions, fresh tomatoes, fresh pickles, goat cheese, herbed aïoli, brioche
Pizza
Ground sausage patty, pepperoni slices, mushrooms, tomato sauce, Parmesan and mozzarella, focaccia
Breakfast
Ground beef patty, fried egg, bacon, red onion marmalade, cheddar cheese, Texas toast