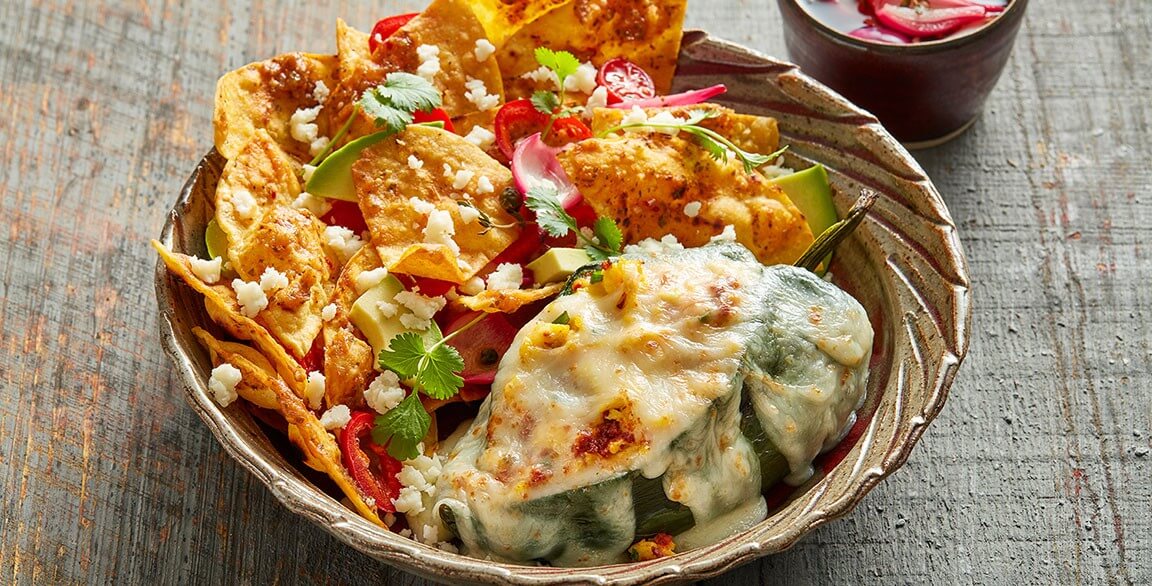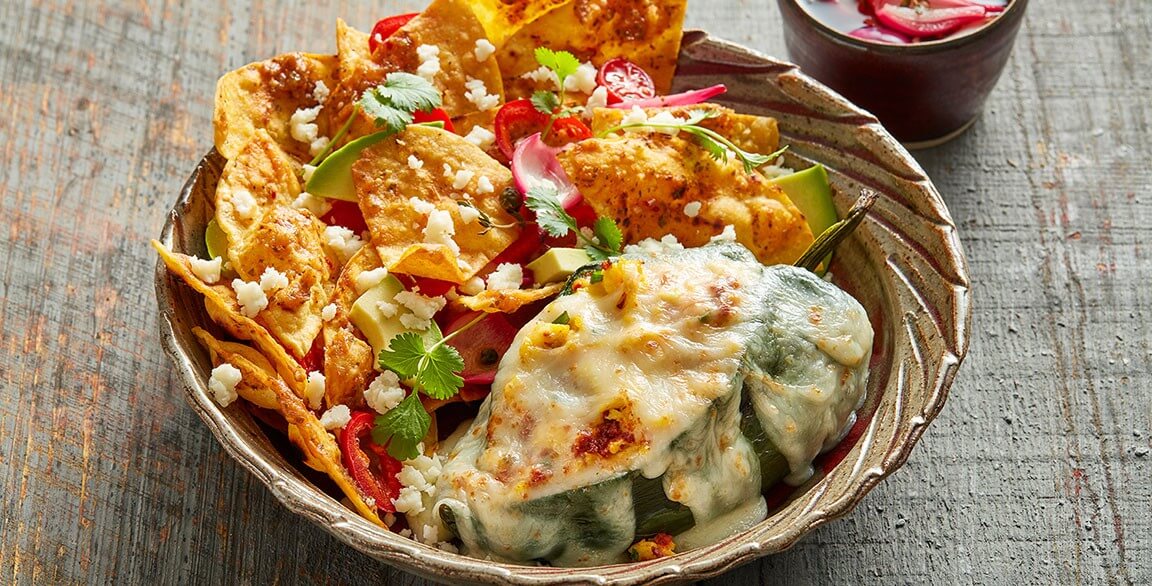 Chile Rellenos Stuffed with California Queso Fresco and Elote
Recipe courtesy of Chef Justin Fields
Sponsor: California Milk Advisory Board
Servings: 4
Ingredients
Blistered Peppers:
4 ea. Poblano peppers
As needed Flour
Queso Fresco Elote:
1 (10-oz) Real California Queso Fresco cheese, crumbled
4 ea. Ears of corn, husked and cut from the cob
3 Tbsp Tajín spice (Mexican chile-lime salt)
¼ cup Mayonnaise
¼ cup Real California sour cream
1 Tbsp Chopped cilantro
Batter:
6 Eggs, whites and yolks separated
2 Tbsp Flour
1 tsp Kosher salt
Salsa Roja:
1 lb Tomatoes, chopped
½ ea. Small white onion, rough chopped
1 ea. Jalapeño pepper, rough chopped
1 clove Garlic, rough chopped
1 Tbsp Chopped cilantro
½ Lime, juiced
1 Tbsp Olive oil
¼ tsp Ground cumin
To taste Salt
Crema:
7 ½ oz Real California Mexican crema (half a 15-oz bottle)
½ cup Rough chopped cilantro
½ Lime, juiced
½ tsp Kosher salt
For Service:
Directions
For the Blistered Peppers: Turn a broiler on low. Place the poblano peppers on a sheet pan. Set the pan 2 in away from the broiler and blister the pepper skins until they begin to darken, 3 to 4 minutes per side. Do not allow peppers to get black. Immediately place peppers into a zippered plastic bag and allow to steam at room temperature for 10 minutes.
Remove peppers from bag and remove and discard skins. Cut a slit in each pepper from stem end ¾ of the way down peppers. Remove seeds from peppers and discard. Put peppers to the side for stuffing.
For the Queso Fresco Elote: In a stainless-steel bowl, combine all the ingredients. Mix with a rubber spatula until combined. Cover and refrigerate if making ahead.
For the Batter: Using a mixer with the whip attachment, whip the egg whites to stiff peaks. Beat the egg yolks in a bowl with the flour and salt. Slowly fold egg yolks into stiff whites. Hold chilled.
For the Salsa Roja: Place the first 6 ingredients in a food processor and puree until smooth. Heat the oil in a sauce pot over medium heat. Place the tomato puree in the pot and bring to a boil while stirring. Add the cumin and salt to taste. Simmer the salsa for 8 to 10 minutes. Transfer to a container and cool over an ice bath.
For the Crema: Place all the ingredients into a blender. Blend until smooth and all ingredients are incorporated, approximately 1 minute. Transfer to squeeze bottle(s) and hold refrigerated.
To stuff peppers: Carefully stuff each pepper with ¼ of the elote mixture. Dust the outside of the stuffed peppers with flour, ensuring the seam is overlapped and pressed together. Place peppers on a paper-lined tray with the seams down and refrigerate for 15 minutes to 24 hours.
To fry peppers: Heat 1 in of oil in a large saute pan over medium heat. Carefully coat the floured stuffed peppers with the batter on all sides. Place the battered peppers in the oil, seam-side down. Fry for 2 to 3 minutes, then flip and fry another 2 to 3 minutes. The peppers should be golden brown once done. Place peppers on a paper-lined plate to drain.
For each serving: Place 1/3 cup of salsa in the center of a plate. Lay a chile relleno in the center of the sauce. Drizzle Crema over the chile in a zig zag pattern. Serve immediately.
Chef Notes
An open flame may be used to blister peppers in place of a broiler; do not burn the peppers.
Use a delicate hand when cleaning roasted peppers. Do not poke holes through the soft flesh.
Project Management: Summit F&B
Photography: Carlos Garcia // Food Styling: Peg Blackley & Bree Williams