By Flavor & The Menu
October 16, 2019
In the hands of Alon Shaya, chef/owner of modern Israeli restaurants Safta in Denver and Saba in New Orleans, Riverence steelhead trout is simply roasted in a wood-burning oven and seasoned with kosher salt and extra-virgin olive oil. "We wanted to get the full flavor of the fish without masking its natural taste," he says. "It was delicious and well-balanced with good fat content. The belly meat was especially delicious. It would also be great brushed with saffron and ginger butter, served with tzatziki, fennel pollen and roasted beets."
Chef Danielle Leoni of the Breadfruit and Rum Bar in Phoenix, Arizona sources her steelhead trout from Riverence, a family of land-based farms located along the Snake River in Idaho's Magic Valley. "Riverence trout delivers both the high-quality experience I need for my plate and the reassurance that I'm fulfilling my customers' expectations of sourcing responsibly," she says.
Situated atop an abundant supply of pure Rocky Mountain spring water, Riverence sees that natural resource as its most important ingredient, bubbling up through volcanic rock at a perfect temperature for raising world-class trout.
Justin Hall, executive chef at Main St. Provisions in Las Vegas, also sources his steelhead trout from Riverence. Chefs such as Leoni and Hall are looking to producers like Riverence to provide responsibly raised, environmentally sound, sustainable fish options. "We need to make sure that how that creature is raised, the effect on its environment and how it gets to our restaurants is all taken into account—that we are accountable for the future," he says. "Riverence fish encompasses all of that for us," says Hall.
Responsible Farming
A commitment to sustainability and quality is the hallmark of modern American aquaculture. In fact, David E. Kelley, founder of Riverence, founded the company in the hopes of protecting wild salmon and trout through responsible aquaculture. He set out to decrease pressure on wild fish populations, with the belief that better business can promote real change.
Kelley began by purchasing an egg farm to help stock supplies in the wild. To test performance of the eggs, he started growing out fish, and Riverence has now been raising trout with no preventative antibiotics or growth hormones for six years, ensuring traceability and quality from egg to plate.
Underpinning Kelley's commitment to sustainability is a passionate fly fisherman's love of steelhead trout. Historically, steelhead trout has been an abundant species in the Pacific Northwest. Kelley and Riverence are committed to maintaining this heritage fish through mindful stewardship. It's efforts like these that make American aquaculture so important in today's conversation around sustainability.
"American aquaculture today is exceptional," says Gabe Watkins, Director of Communications for Riverence. He underscores their mission in bringing awareness to the initiatives in domestic aquaculture around sustainability and quality. "Chefs can get beautiful fish raised locally in the U.S. from pristine, clean waters. By producing eggs and fish on land in pure spring water, we are able to deliver the highest quality, sustainable products with minimal environmental impact."
Land-based operations assert unique levels of control— no escapes, no microplastics, no PCBs, year-round consistency, and the capability to monitor aquatic environments. Seafood suppliers committed to high-quality American aquaculture, like Riverence, tell an important story of intention and provenance. That story is one that resonates with today's consumers, who care about the sourcing, safety, quality and flavor of their seafood.
Steelhead Trout's Flavor Story
Steelhead trout has a fascinating story that is unknown to most consumers. They're actually the same species as rainbow trout (Oncorhynchus mykiss), but have migrated away from the rivers in search of food, winding their way to the ocean. Their ocean diet is heavy in micronutrients that makes them larger and turns their flesh red, and they transform into incredible steelhead trout. They then migrate back to fresh water to spawn.
At their land-based farms, Riverence feeds their trout a nutrient-rich diet that mimics the diet of a wild steelhead, yielding a deep red flesh. They are harvested at trout sizes for minimal environmental impact.
Steelhead trout from Riverence offer great plate coverage for whole-fish presentations, including tableside finishes or baked whole fish.
Milder in flavor than salmon, this red-meat trout is rich in nutrients, boasts a medium texture and flakes easily. Dan Casey, executive chef at Mistwood Golf Club in Romeoville, Ill., calls out its versatility. "Riverence trout is such a versatile product that has met every creative aspect we've thrown its way," he says.
"Lightly cured and served raw; grilled; seared; and even 'chicken fried,' it's always a delicious outcome. It's a firm, flaky flesh that stays moist but doesn't eat too fatty or greasy. The skin is thin and crisps perfectly. Riverence trout has such a clean flavor and adapts to so many different cuisines, cooking styles, and flavor pairings."
Red-Meat Trout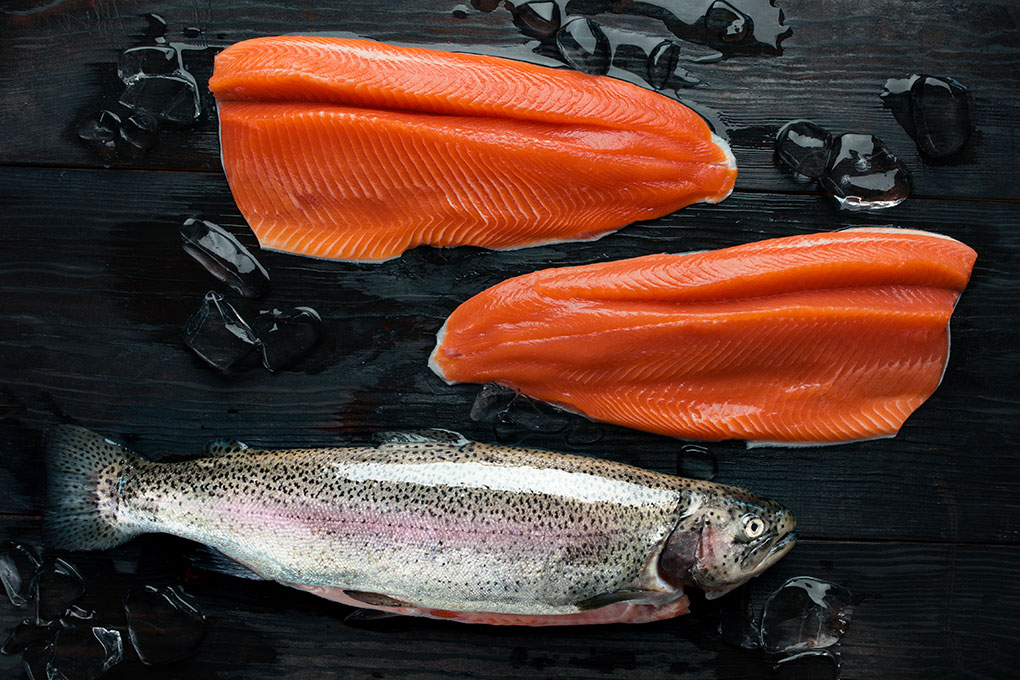 Riverence's steelhead trout are fed a premium diet that's rich in Astaxanthin, a natural micronutrient that gives ocean-run steelhead their rich red flesh color, without requiring the ocean. In humans, Astaxanthin supports mental function, improves eyesight, skin health and heart health, and is believed to increase lifespan.
Other Riverence Products
In addition to steelhead trout, Riverence also raises a limited supply of golden rainbow trout, and produces hot-smoked trout products.
For more information about Riverence, go to riverence.com or visit their social profiles @riverenceusa.