The burger boom keeps booming, with chefs innovating around every detail—from patty to bun. Creative combinations mark the opportunity today, starring global flavor touches, plays on familiar flavor systems or unexpected builds.
At ViewHouse Eatery, Bar & Rooftop in Denver, the Jalapeño Explosion Burger (above) ranks No. 1 on its menu of six burgers. Executive Chef Jose Guerrero strategically creates flavor and texture in every bite, ensuring a craveable result. A grass-fed beef patty is seasoned with a savory spice blend, topped with caramelized onion, sharp cheddar cheese and a housemade bacon-wrapped jalapeño popper, which is stuffed with mozzarella and cream cheese.
It's builds like this that demonstrate forward-thinking motion in the burger category. Intentional, creative and surprising elements all make up burger menu development today—with flavor, of course, always in deep focus.
Grass-Fed Beef
The term "grass-fed" has grown 99 percent on menus since 2013 and 16 percent over the past year, according to Datassential. Operators are calling it out, recognizing that it signals a number of premium cues for guests. We've seen grass-fed mentions take off on burger menus in particular, where chefs are keying into the flavor profile, provenance and health-and-wellness story that goes hand-in-hand with grass-fed.
At Craft & Commerce, a gastropub in San Diego, Executive Chef Ted Smith menus The C&C Burger, combining grass-fed beef with onion confit, white cheddar, secret sauce and a kosher dill on a brioche bun. "Grass-fed beef is more flavorful," says Smith. Another big flavor move comes from the secret sauce­—mayonnaise with sherry vinegar, horseradish and Espelette pepper powder.
Lamb Lovers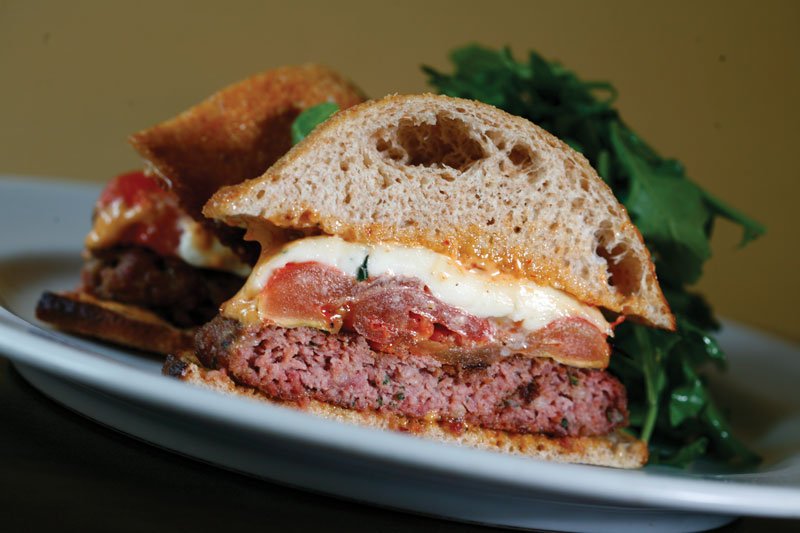 RiojaAt Rioja in Denver, Jennifer Jasinski's lamb burger is known for being thick and juicy, with a chunky grind and subtle smoky components.
American consumers are feeling more love for lamb. Retail sales of ground lamb were up 52 percent between 2015 and 2016, according to Datassential. Lamb is also proliferating across the menu, thanks in part to traction in Mediterranean, Indian and Middle Eastern cuisines.
At Travelle Kitchen + Bar, located in The Langham, Chicago, Chef de Cuisine Ricardo Jarquin features a lamb burger, tapping into the flavor system of the gyro sandwich. "I serve the lamb on a thick grilled flatbread, and accompany it with shaved cucumber, pickled onions, mint, dill, watercress and tzatziki dressing," he says.
Sourcing pasture-raised lamb, he relies on an 80/20 blend, then adds roasted red onion, garlic, parsley, mint, oregano and lemon zest to the meat. "The herbs and lemon really bring out the natural robust flavor of the meat," says Jarquin.
Meanwhile, at Rioja in Denver, Jennifer Jasinski, executive chef/owner, menus a Colorado lamb burger with housemade mozzarella, spicy aïoli and arugula salad. She prefers the trim from the lamb neck and shoulder.
Hey, Turkey
Turkey burgers are loved for their lean profile and ability to carry flavor. More chefs are elevating them with careful attention to every detail, enticing guests with craveable flavor builds.
At Roam Artisan Burgers in San Francisco, the Turkey Sunny Side Burger is topped with aged white cheddar, caramelized onion, greens, tomato and sweet chile sauce.
And Hopdoddy Burger Bar, a fast-casual burger concept based in Austin, Texas, serves up the Continental Club Burger: turkey, apple-smoked bacon, provolone, arugula, mayonnaise and basil pesto on whole wheat.
On the Menu
Pretzel bread and brioche have certainly made their presence known on burger menus, but other carriers are adding interest while delivering modern themes nicely.
Papi's Big Latin Burger Trio: Angus beef and chorizo homemade patty on toasted Cuban bread, with sliced avocados, Mexican cheese and chipotle sauce
—Las Margaritas, Atlanta
Kitchen Burger: Grass-fed Angus beef, aged cheddar, bacon, bread-and-butter pickles, challah bun
—David Burke Kitchen, New York
The Hippie Burger: Grilled portobello mushroom, arugula, avocado, oven-roasted tomato, Fontina cheese with a sherry vinaigrette drizzle on naan bread
—Union Hotel Pizza & Pasta Co, Santa Rosa, Calif.
Waffle Burger: Grass-fed beef, waffle bun, shallot jam, bacon, cheddar, fried egg
—The Sinclair, Cambridge, Mass.
Southern Short Rib
Southern accents have been adding charm to a number of dishes over the last few years. The marriage of burgers with pimento cheese is a happy one.
Highball & Harvest, an eatery in the Ritz-Carlton Hotel, Orlando, Fla., offers creative Southern cuisine, so the H&H Pimento Cheese Burger is right at home. "When you go to a traditional burger joint, pimento cheese is typically not an available condiment, so choosing to add it here made sense—it's a Southern staple," says Scott Pizzo, executive chef. "The uniqueness of Highball & Harvest pushes me to develop out-of-the-ordinary flavor profiles."
The H&H Pimento Cheese Burger sees two short-rib patties, yielding a richer, tender burger, topped with housemade pimento cheese, bacon, mustard and spiced pickles.
Bacon & Blue Cheese
An old-school burger pairing, bacon and blue cheese hit all the right notes. At The Stalking Horse, an English brewpub in Los Angeles, the Stalking Horse Burger ups that combination while making it a perfect brand fit. "I love the savory nuances of a classic blue cheese and bacon burger," says Trevor Faris, culinary director. "Our version combines rich and tangy Stilton with smoky bacon."
Pickled onion and rocket (arugula) add high notes, while a chickpea aïoli introduces textural contrast, all atop an Angus beef burger. "It's perfect with a cold—but not too cold—beer!"
The New Veggie Burger
Gone are the days when the only plant-based burger option was a dry concoction with unnamed ingredients in the blend, unceremoniously garnished with a tangle of sprouts. Chefs are seizing the veg-centric opportunity, translating it onto plant-based burger options.
"I'm not vegetarian, but I often order veggie burgers because I like to see which direction the creator goes in," says Derek Perez, executive chef of Luke's Kitchen + Bar, a modern American concept in Maitland, Fla. His Beet Burger kicks up both flavor and intrigue, with fire-roasted beets, smoked maitake mushrooms, smoke-box onions, quinoa, Florida-grown brown rice from Congaree & Penn Farm & Mills, black beans, and Luke's special seasoning blend.
Vegan Thousand Island special sauce, lettuce, tomato and Olde Hearth's soft white bun round out the profile. "It's healthy and, most important, delicious," he says. "The patty even appears to 'bleed' into the bun because of the beets."
On the Menu
Beet & Quinoa Burger with harissa goat cheese, baby arugula, brioche bun
—Birdsall House, Peekskill, N.Y.
Chickpea Burger: Chickpea patty, pico de gallo, avocado slices, mixed greens, vegan Sriracha mayo, brioche bun
—Bobcat Bonnie's, Detroit
Black Bean & Quinoa Burger with potato, lemon juice and parsley, grilled and topped with cheddar, avocado mayo, tomato, red onion and romaine on a potato bun
—Portage Bay Cafe, multiple locations in Washington